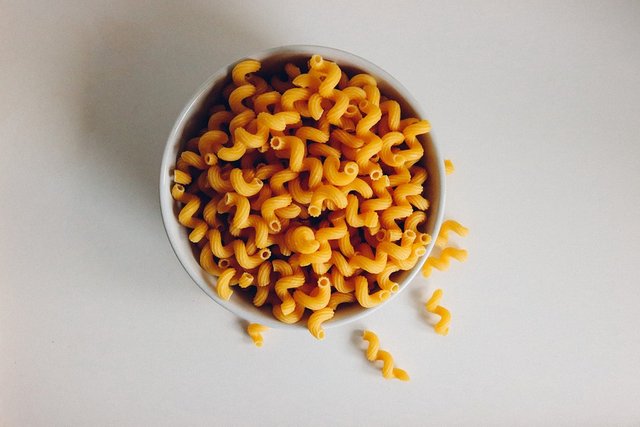 Hi there! This is my first post on bilpcoin and I'm starting it with my recipes! I'm going to tell you how to make cheesy chicken macaroni step by step at home. Recipes like noodles, macaroni, and egg omelet are for those teen students who don't know how to cook or are too busy to cook. These are the quick recipes on Earth I know. 
Making cheesy chicken macaroni with your favorite vegetables adds a different flavor you like.  I love to add vegetables, cheese, and chicken in my homemade macaroni recipe. This meal keeps me full for longer and happier.
All you have to do is now grab the ingredients we need and let's begin!
Ingredients
Chicken (breast, chopped, cubes)
Ginger (paste, 3 tablespoons)
Garlic (chopped 5 cloves)
1 Onion (thinly chopped)
Salt as needed
Red Chili Flakes (1 tablespoon)
Turmeric (Half tablespoon)
Tomatoes (2-3, chopped)
Cheese (as you like)
Macaroni (4-5 cups) 
Chaat Masala (I prefer National Fish Masala 'it tastes better than chaat masala actually)
Olive oil (2 tablespoons)
Water (2-3 cups)
Green Chili (4-6)
Cabbage
Capsicum
Method
In a pot, add 1 teaspoon olive oil, half teaspoon of salt, and macaroni. Boil the macaroni for 15-20 minutes. Strain the macaroni and set it aside.
In a cooking pan, add the two tablespoons of olive oil, onion, and garlic. Saute until the onions and garlic begin to brown. Add the chopped chicken breast and chopped ginger. Let the chicken change its color. After 2 minutes of cooking add 2-3 cups of water. Let it cook on a medium flame.
After 5-10 minutes add the tomatoes. Let it cook. Now add the red chili flakes, salt, and turmeric. After 5 minutes, make sure you cook the tomatoes properly. See the chicken if it's soft add the chaat masala (as needed) and the vegetables (cabbage, green chili, and capsicum).
Saute the vegetables and taste it. Now add the macaroni and cheese cook it for 3 minutes. Make sure you cover it so the cheese gets melt properly. 'ON A LOW FLAME'
For Garnishing:
Coriander (chopped)
Green garlic (chopped)
Garnish the macaroni and serve! Your cheesy chicken macaroni is ready to eat!
HOPE YOU LIKE THE RECIPE GIVE IT A UPVOTE 🧡
Posted using Bilpcoin