This is my entry for this week's @foodfightfriday .
Simple food is often the nicest food! When it comes to preserving food the same is true. Dehydrating surplus food is a great way to preserve it for later months without damaging it too much.
Of course, if you're anything like me, you remember how apple and pear slices would always come out really dark and unappetizing. (The taste was excellent, of course.) But what if you could keep the color nice and keep the great taste of the original fruit - without too much in the way of preservatives? Well, you can!
Here is the result of my dehydrating last August after I got a bunch of pears from the food bank. (I later did whole 10# apples the same way...)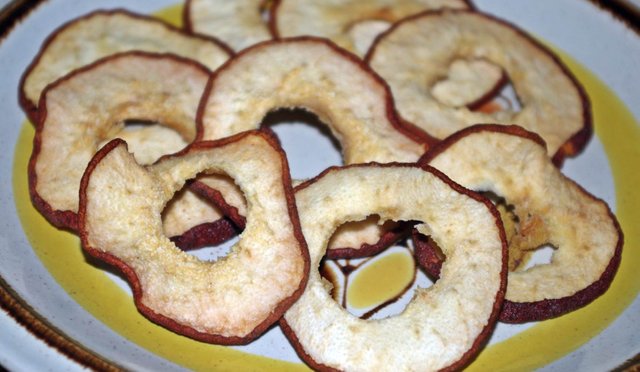 Don't they look great? So, what's the secret? (Keep reading.)
First of all, core and slice your pears.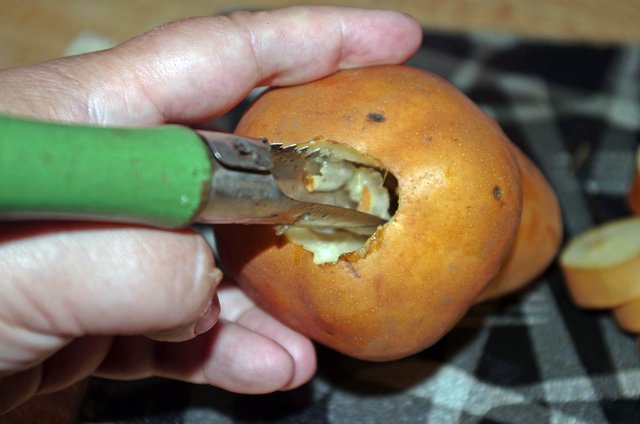 Here's a very old corer that my mother sent me (probably my grandmother's originally.)
And... sliced.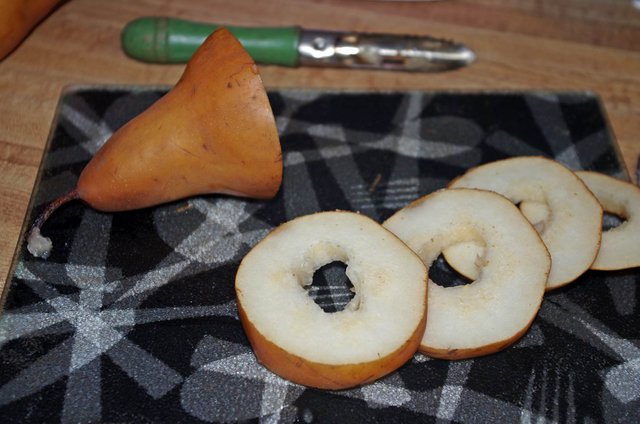 Next... (Here's the magic.)
I've got here a pint jug (US) full of water and 2 Tablespoons of honey per cup (so, 4 Tablespoons in all this time.)
Dip each slice in the honey water for 30-60 seconds.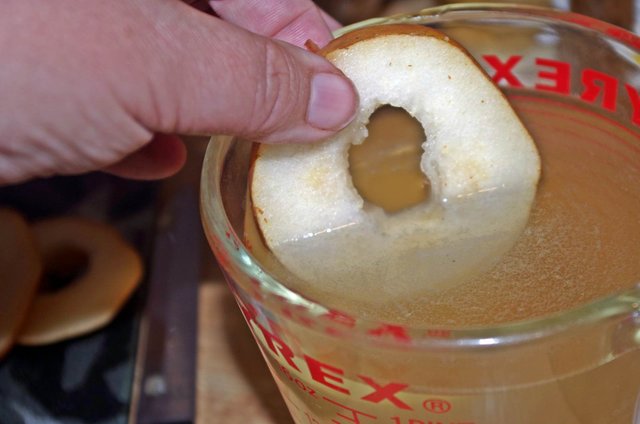 Place the slices onto your dehydrator trays. (Maybe next summer I'll have time to show you how I dried things off grid... simple and expandable.)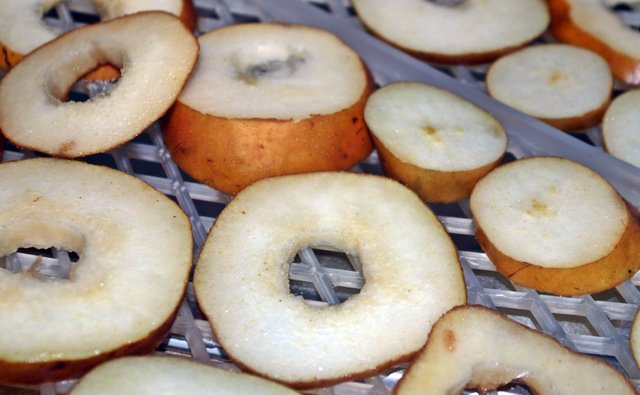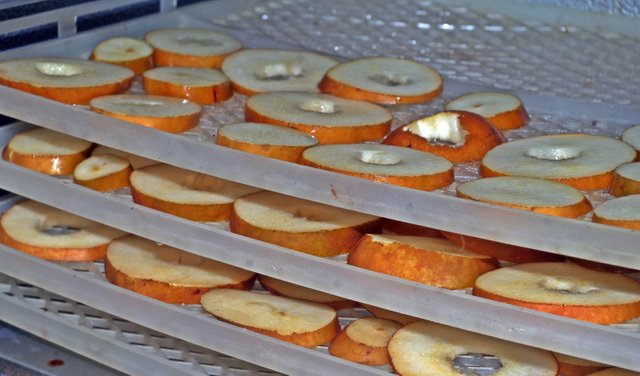 Use the guidelines for your dehydrator. Mine is an old $10 bargain that I got at my local thrift store (and carried home on a small shopping cart that I was given.) It only goes up to 140F, so that's where it stays for everything.
Check on your slices time and again... until most of the moisture is gone, but they're still soft and chewy.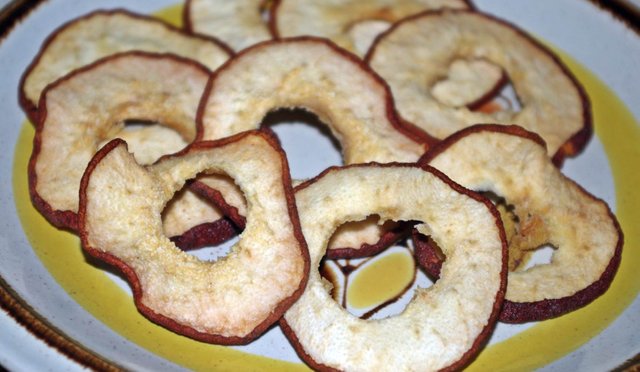 Here is what they look like at the end - all thanks to the honey water!!!
Of course, they didn't last long in the jars! But what a great way to get kids to eat more fruit!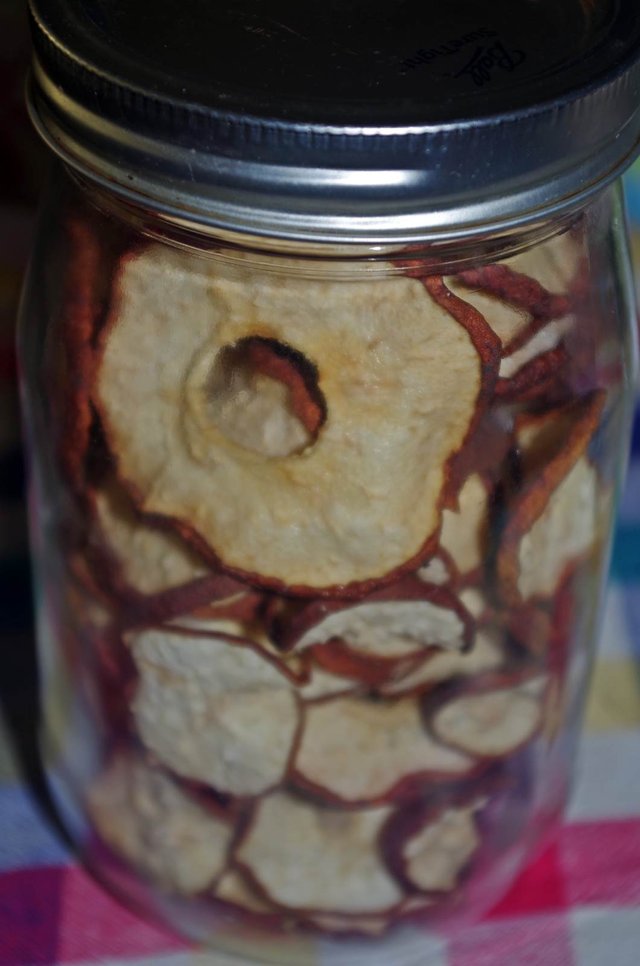 Recipe Cards
Nice and simple today.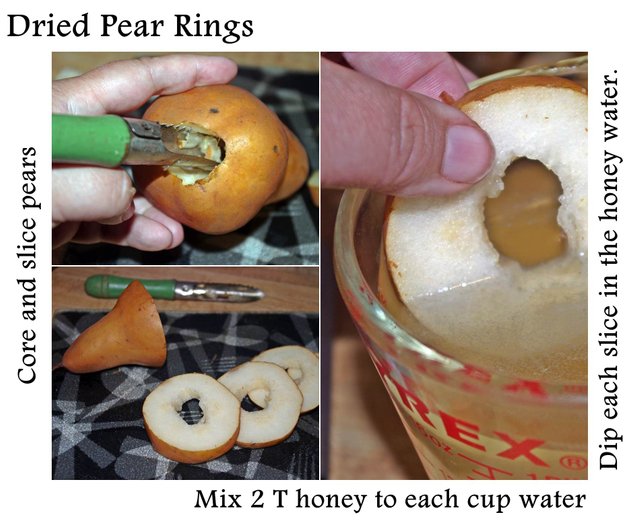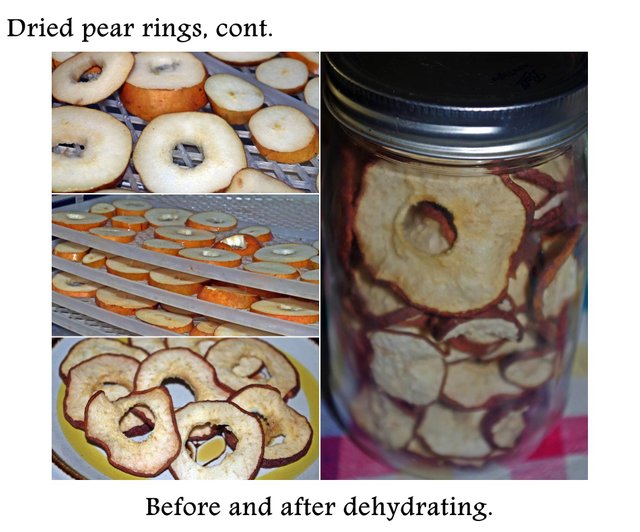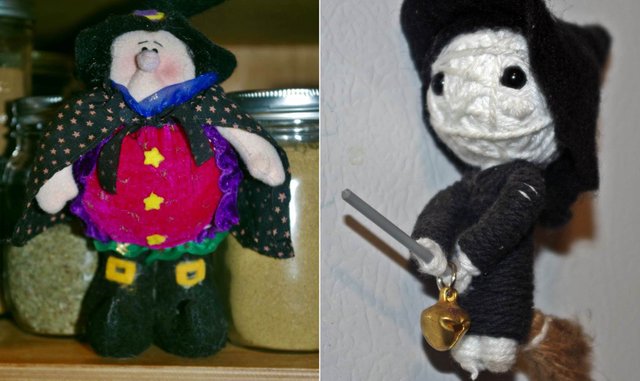 Two of my kitchen witches. One hung in my grandmother's kitchen as long as I can remember, so I have mine - adding a certain magickal spice to my cooking, presumably...
My grandmother's now lives in my mother's kitchen.
Previous recipes in Lori's Cookbook
(Links are for Steem... For Whaleshares and WeKu, simply place whaleshares.io or main.weku.io where the steempeak.com is.)
Holidays (Christmas, Thanksgiving, etc.)
Cranana-Chumpkin Bread
Cranberry-Berry Sauce (canning too)
Cranberry Juice Drink
Breakfasts
Basic French Toast
Buttermilk Pancakes - including low-carb and grain-free options.
Easy Suppers
Dirty Mac & Cheese
Simple Cheeseburgers
Spanish Rice
Italian Meatballs
Spaghetti and Meatballs
Main Courses
Fathead Stromboli
Garlic Curry Baked Drumsticks
Drinks
Side Dishes
Turmeric Rice
Garlic-Herb Bread
Breads
Cranana-Chumpkin Bread
No-Knead Bread
Fathead Dough - a grain free substitute for many bread situations!
Snacks
Oatmeal Chocolate Chip Cookies
Sauces
Spaghetti Sauce
Basic Salsa
Garlic-Herb Butter
Desserts
Peach Cornmeal Cobbler
Tapioca Pudding
DIY Ingredients
Canning
Rebel Canning - a general guide about what I do, and why I don't always follow USDA guidelines.
Cranberry-Berry Sauce
Cranberry Juice Drink
Meatballs and Spaghetti Sauce
Note: All photos are mine - Pentax K30.
Crossposted at Steem, Whaleshares, WeKu
---

Lori Svensen
author/designer at A'mara Books
photographer/graphic artist for Viking Visual
verified author on Goodreads
find me on Twitter
blogging on: Steem, Whaleshares, WeKu


---