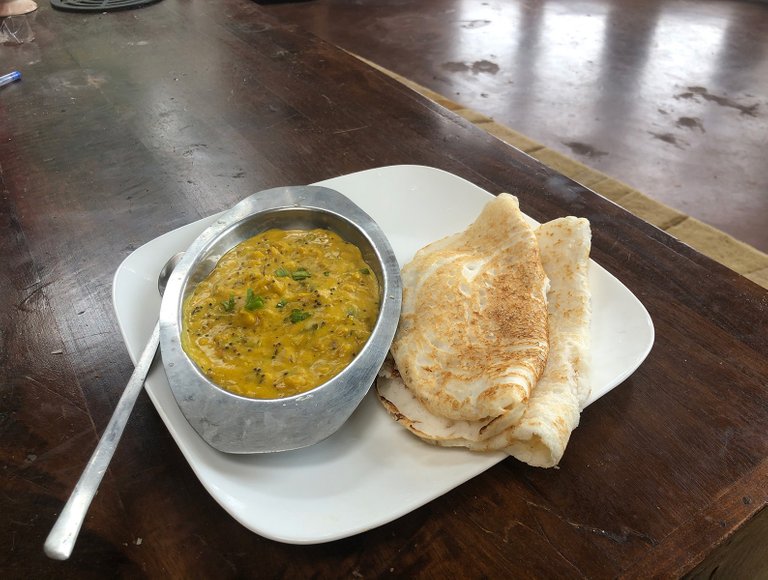 I was visiting my neighbour Vinay a few weeks ago, he lives with his very traditional father who also happens to be quite the cook! He made this delicious yet simple dish made almost only from chick pea flour! IT sounds very boring, but with the right spices and cooking technique, ends up being a very hearty, creamy, and filling meal that is full of protein and very vegan friendly. If you haven't tried Indian cooking before, or even if you have of course, this is a highly recommended recipe that you can make in 20 minutes and I guarantee will put a smile on your face, and belly ;) I made this dish with Dosa, which is a flat bread like bread made with fermented rice. It has a lovely sour taste due to the lactobaccillus fermentation, and sits very well in the belly. I'm working on reducing my carbs, but you can also have this with its traditional accompaniment, wheat flour flat bread.
If you do make this, let me know how it went. It LOVE to see a photo of you eating it ;-)
Ok, so here is how I made it!
Ingredients:
Gram flour-50 gm(4 tbsp)
1 Chopped onion
Green chilli and garlic (paste/crushed) 2 tsp
Curry leaves-5 to 7
Green chillis x 2
2 Spring onion
25 gm Asafoetida (hing)
1/3 tsp Cumin seeds
1/2 tsp Mustard seeds
1/2 tsp Turmeric powder
1/2 tsp Lemon juice
1 tbsp Salt to taste or 1.5 tsp Chopped coriander leaves
1 1/2 cup Water
2 glass(500 ml)
Cooking oil-3 tbsp ( I use coconut oil for taste)
How To Make It
Start by sieving the chick pea flour into a bowl and mix well with the water until it forms a smooth paste. It will thicken so it should be thinner than a pancake batter. Mix until your cat approves.





Heat a pan and add the oil. Then on low heat fry the cumin seeds mustard seeds, chilli, curry leaves until the seeds turn a light brown. Add asafotedia and fry for a few seconds.


Add onion and fry on medium heat until they are translucent. Add garlic and ginger and fry until cooked.




Add turmeric powder and cook on a low flame for 2 minutes. Add spring onion.



Add the water and cook on medium heat. It should be very liquid at this point, but will thicken up after we add the chick pea flour mixture. Cover and boil for a few minutes.




Add the chick pea flour mixture and stir well. Add more water if it is too thick.


Add lemon juice and salt to taste and mix well.


Cover an cook on low heat for 10 minutes.




Stir well and add coriander to garnish.


Serve with flat-bread or dosa.
The Finished Dish!

And.. The Finished Dish!

LET ME KNOW IF YOU TRY IT!