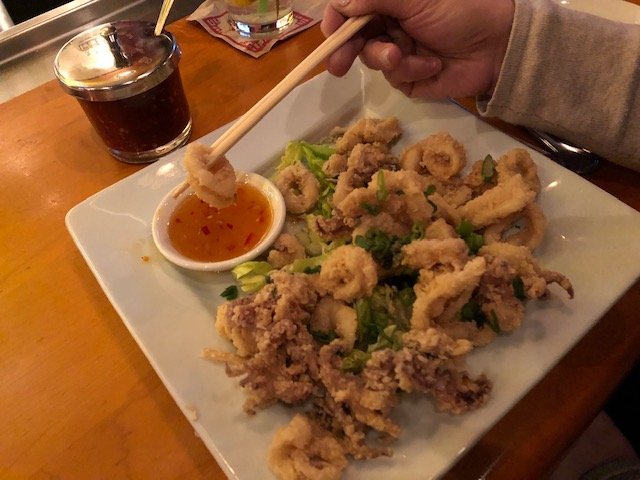 The GM for my restaurant has been on a cruise since late last week. That means me and the other manager have to cover all his shifts, with a few shifts being covered by other managers from different stores. Regardless, I've been working a lot this past week and haven't had a lot of free time. I usually come up with a #fff idea and let the wife know so I can have my time in the kitchen to do my thing....but the time just wasn't allotted this week. Partly because of my workload, partly because Wednesday was my birthday and we went out to celebrate. Her folks came over to watch the kids and we hit the road! NO KIDS!!! I REPEAT, NO KIDS!!! What does that feel like again? Oh ya, freedom. Though I do always miss the little buggers. So what did we get ourselves into???
What's the best way to release some pent up anger/frustration/stress and other pain points??? Shooting guns of course!
At Bills Gun Range, about a half mile from my house, they give you a free lane on your birthday. I took the wife here on her b-day a few years back, it was her first time. We shot my old mans .44, which is essentially a hand shotgun. It'll put a hole in ya the way a shotgun would, it just fits in the palm of your hand...the handle does anyway.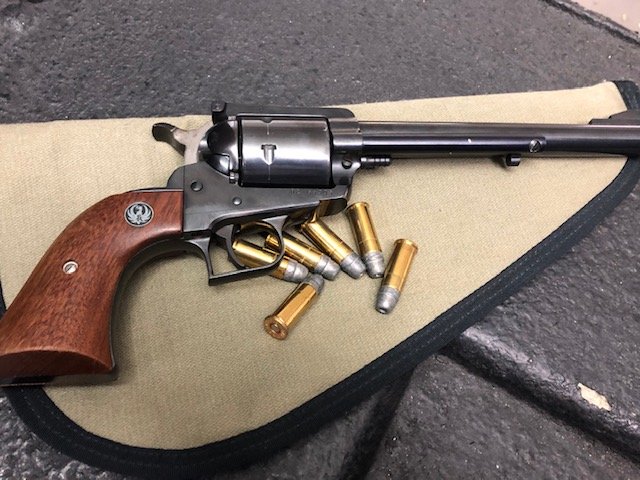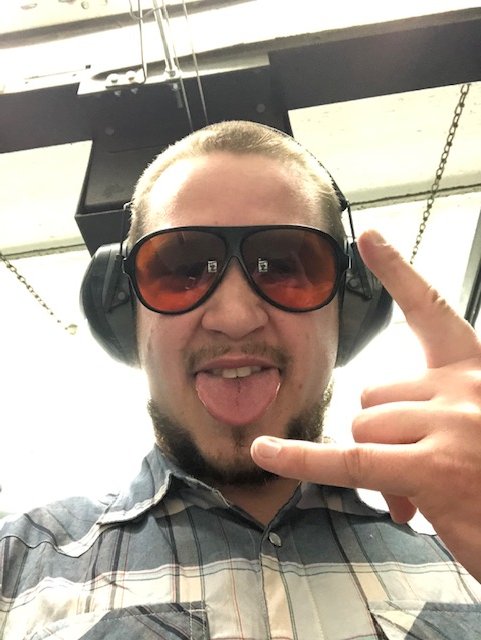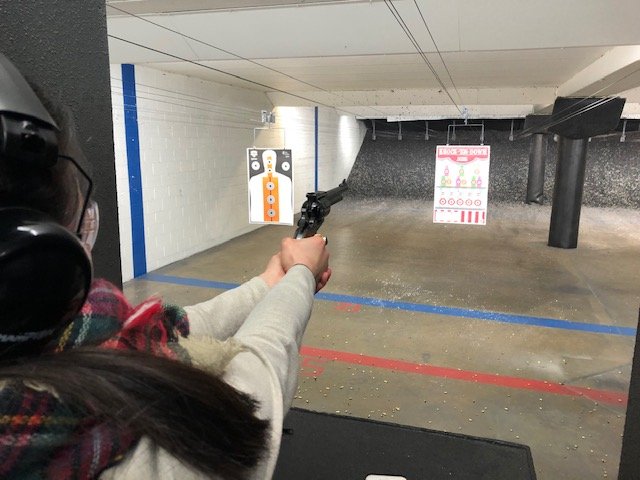 The .44 isn't something I would want to lug around all day though in the case of concealed carry. On the other hand, my brothers new Canik 9mm that he let me borrow is something I would for sure conceal and carry as it is much smaller and weighs less. I also found myself being able to group my shots together better. Which shouldn't be surprising considering the .44 kicks like a horse and the 9mm, albeit kicks, but more like a toddler, hahaha.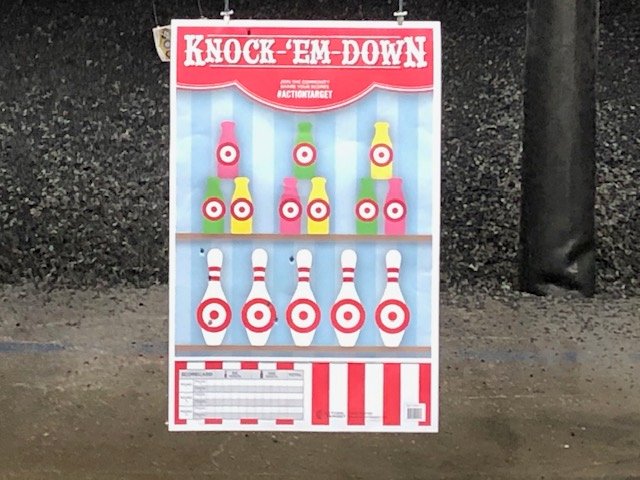 We put some more holes in the paper and after we decided we should go get our grub on. The destination? My old stomping grounds and the first restaurant I worked at, Big Bowl.
I got to catch up with two of my old server friends, the rest of the staff had turned over. It's crazy how fast the cycle of staff moves in the restaurant industry. We bellied up at the bar, got to chat with one of the old friends for a bit, and ordered some of our old favorites...we started off with my wife's favorite, fried calamari. We try calamari everywhere we go, and nothing has come close to beating what Big Bowl puts out. If you've never been, go and try it, and then lmk, you won't be disappointed.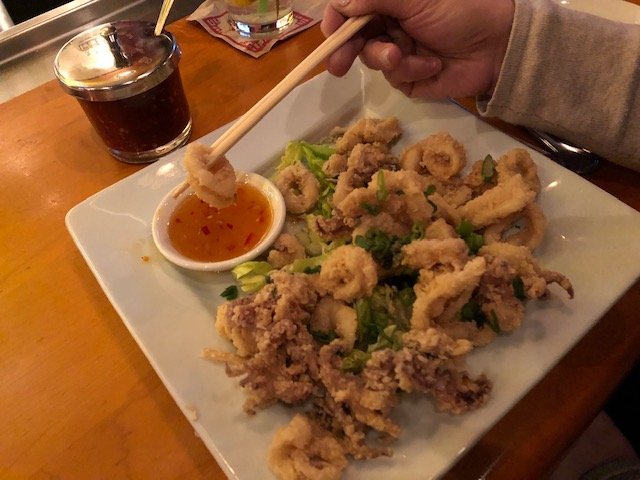 My favorite appetizer is an employee secret as it's not on the menu. When you work at a restaurant, you bore of the same old menu, so you get creative and start throwing things together, call it a food fight, if you will ;)
This is the spicy noodles with crunchy chicken added. It's the BOMB! A little kick with the cilantro, coll down with the cucumbers, peanuty soaked noodles, and the chicken gives the perfect crunch. It had been quite a while since I had eaten this and boy oh boy did it take me back.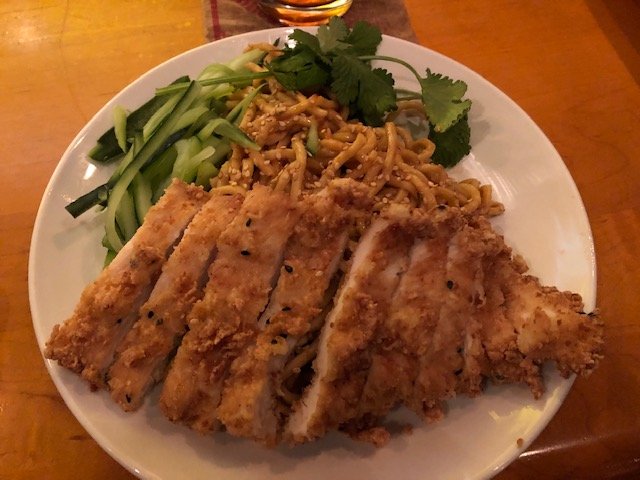 Time. It's always about time, isn't it? Well, we ran out of it. We told the in-laws we would be back around 8, and we were still at the bar at 8:15, woops!!! Time to down these free birthday desserts that my old co-worker hooked us up with.
Banana Cheesecake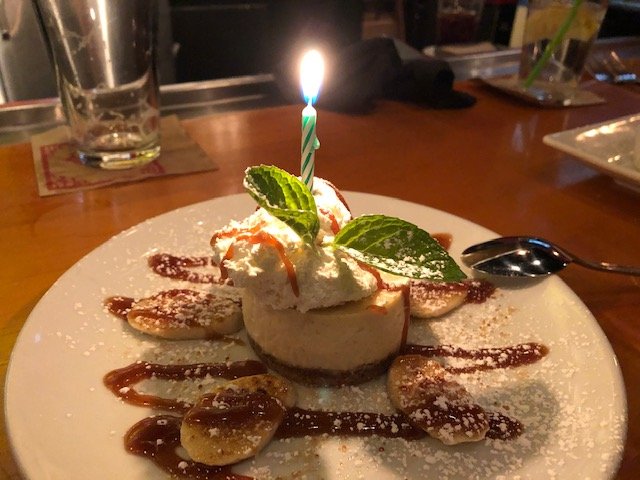 Ginger Creme Brulee.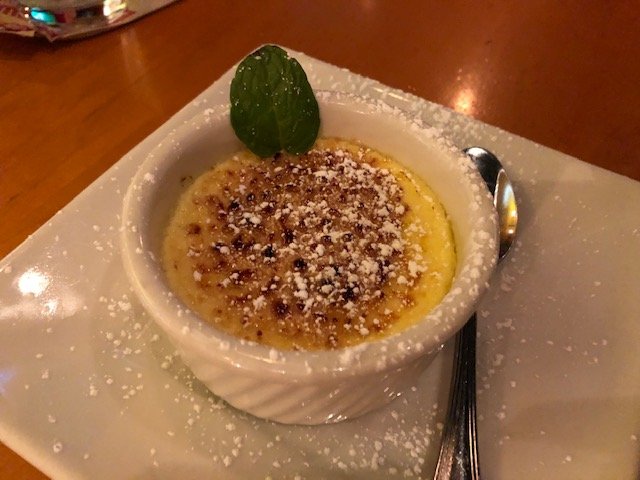 We had to order our entrees to go. I had Panang curry chicken, which if you recall, I replicated on one of these #fff posts. Mine was good, but it was missing the kaffir lime which was so very present in this one. The wife got a new menu item, cauliflower rice with tofu. She said it was good. We packed up and hit the road to get back to relieve the in-laws. But not before a quick birthday selfie to remember the occasion :)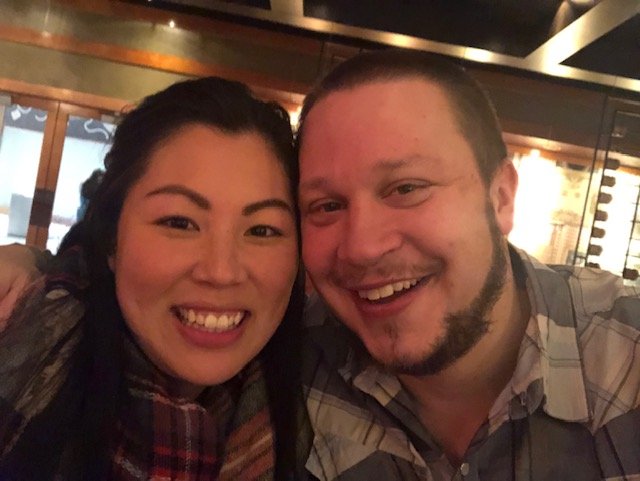 It was a great birthday! Thanks for taking a snippet of time out of your day to spend with me, happy #fff y'all! Steem on!