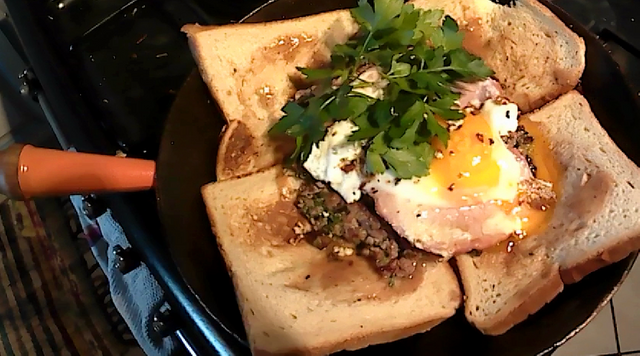 Welcome back to my silly time-lapsed videos!(Beware, this is the quickiest Quicky I made for now!) And welcome to my third entry to the awesome #foodfightfriday world! If you haven't checked out that hashtag, you're missing out, seriously, it's awesome!
Sorry for my lack of posting since my last two quickies, real life is really getting busy right now. Between giving a helping hand all over the place lately to finish building a house for a friend, doing the household for the family and playing some music for fun is not too much time left for writing posts or even creating timelapses...
Anyway. Here comes the fourth strike in my series of DIY out of a kitchen - I'll present you today:
Breakfast For Champions

The full cast is:

Some Beef with lots of
Garlic, Onions and Coriander leafs
Bacon and Egg
Toast
Parsley
Home Made Sweet & Sour Sauce
---
Have fun watching or even cooking this delicious breakfast and if you have a question, please just "hit me up" and I'll get back to you!
---
I use "only" organic grown ingredients, produced as local as possible! And while cooking I'm "always" listening to the Earfood Radio Eclectic on vimm.tv or greenhouse_radio_online
---
Peace Love and SlowFoodiness
Dan "The Dude" Mondoshawan
---
Be Impeccable With Your Own Word!
Handle Everything From A Neutral Point!
Find Truth By Asking Kindly!
Always Give Your Best To One And All!
And Your Life Will Always Improve!

---





---
All content is my own intellectual "property". Most pictures are taken with an old Fuji Camera, some pictures and most videos with an "essential b" and then worked on Gimp, MovieMaker or KdenLive. Otherwise you'll see a source indicated...
---
♫ ☕ ❤️ 😊 😃 😂 😎 😁 😉 ❤️ ☕ ♫