Every bite is packed with flavor and great nutrition! Make this as an appetizer when you really want to wow your guests! pigeon offal contains iron, zinc and vitamins A and B. (But quite some cholesterol too, so don't eat it too often. In addition, pregnant women should avoid eating too much vitamin A)
It's sweet and flavorful and a great way to enjoy eating pigeon offal! A quick recipe which you can make for a weekday dinner.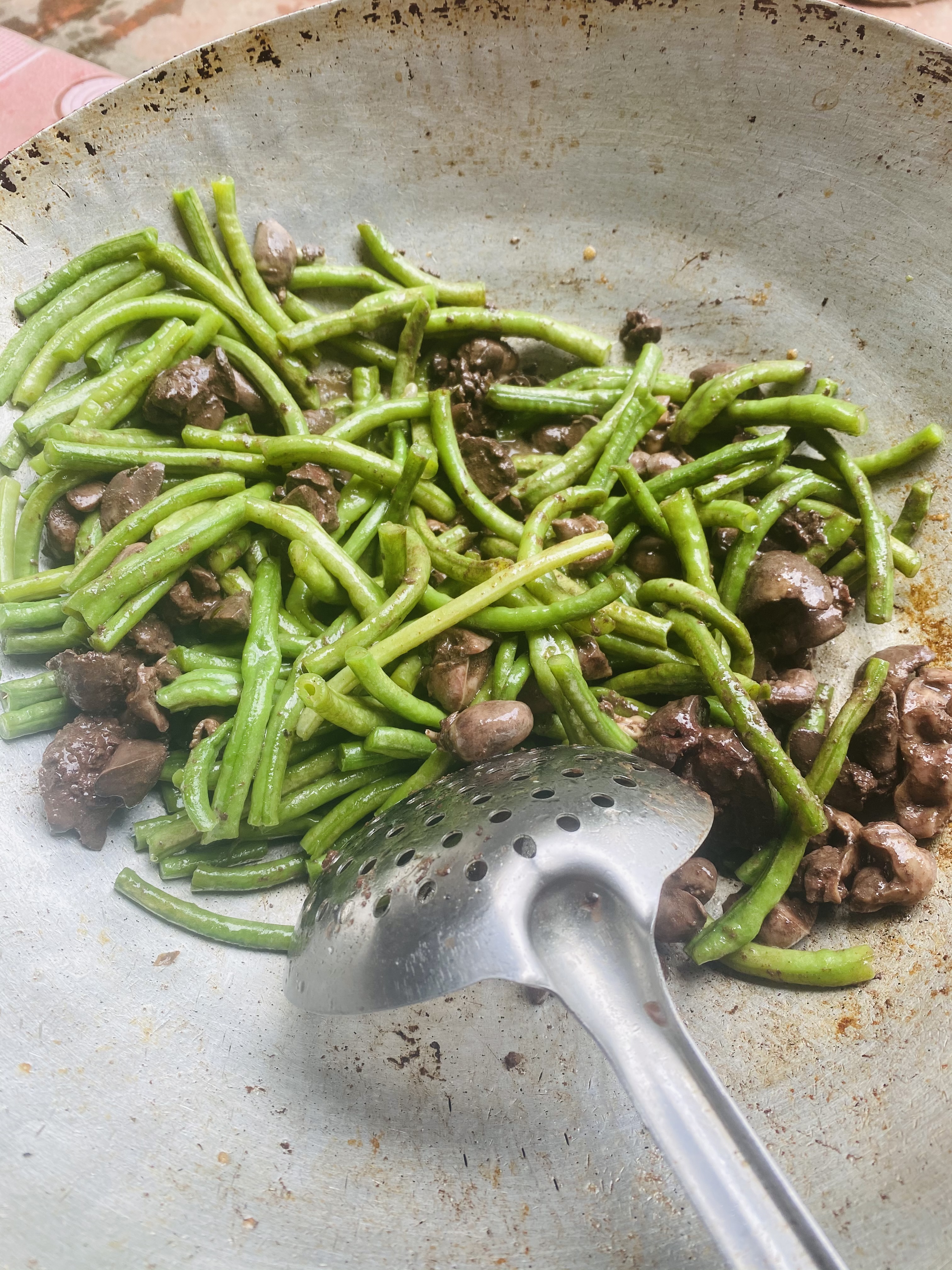 Mỗi miếng ăn đều chứa đầy hương vị và dinh dưỡng tuyệt vời! Hãy làm món này như một món khai vị khi bạn thực sự muốn khiến khách của mình phải trầm trồ! nội tạng chim câu chứa sắt, kẽm và vitamin A và B. (Nhưng có quá nhiều cholesterol vì vậy đừng ăn nó quá thường xuyên. Ngoài ra, phụ nữ mang thai nên tránh ăn quá nhiều vitamin A nhé)... Một công thức nhanh chóng mà bạn có thể làm cho bữa tối các ngày trong tuần.
Step 1:
Remove the hair and viscera of the pigeon, wash clean. To remove possible strong flavors from the offal, soak them in water with a few drops of lemon juice or vinegar or salt for about 20-30 mins. Pour them into a colander and let them drain for a few minutes. Cut the offal in smaller pieces because they need more time to cook.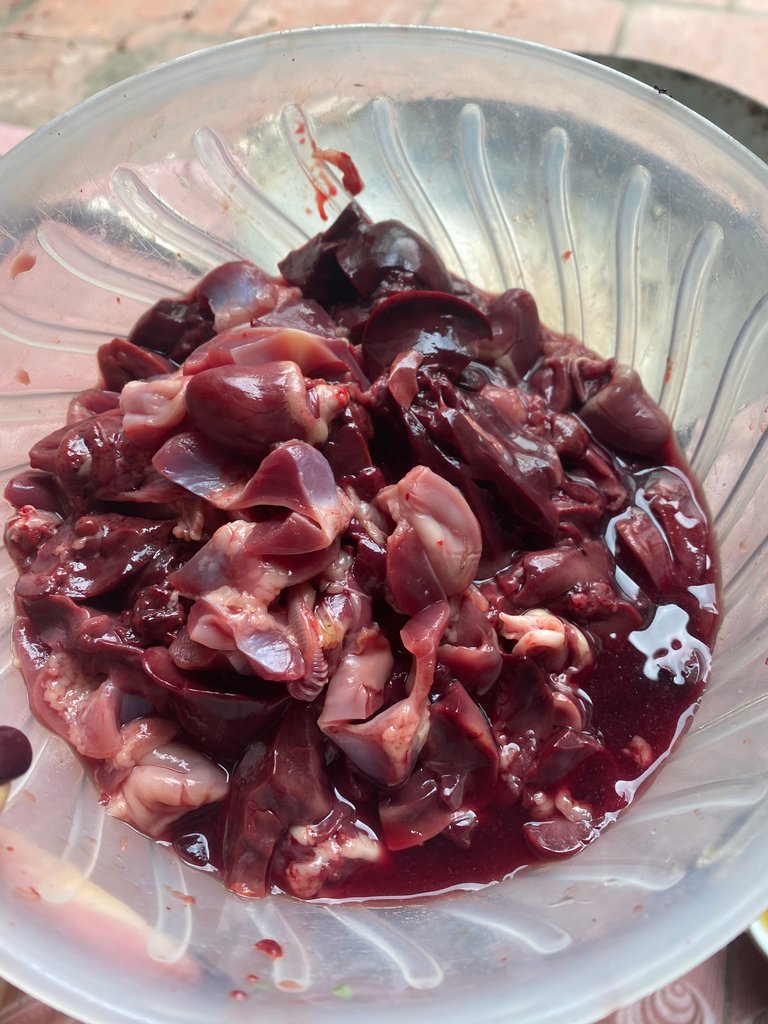 Nhổ sạch lông và nội tạng của chim bồ câu, rửa sạch. Để loại bỏ mùi vị nồng nặc có thể có từ bộ phận nội tạng, hãy ngâm chúng trong nước có pha vài giọt nước cốt chanh hoặc giấm hoặc muối trong khoảng 20-30 phút. Đổ chúng vào một cái chao và để chúng ráo nước trong vài phút. Cắt nội tạng thành những miếng nhỏ hơn vì chúng cần nhiều thời gian hơn để nấu.
Step 2:
In a large nonstick skillet, heat the oil. When the oil is hot add the pigeon offal (hearts, gizzards and liver) and stir-fry until the ingredients start to lose their pink colour or until any liquid has evaporated from the pan.. Taste for seasonings and adjust, if needed. I use fish sauce, seasoning, salt, and msg for this recipe. Stir carefully at the beginning to avoid breaking the liver pieces.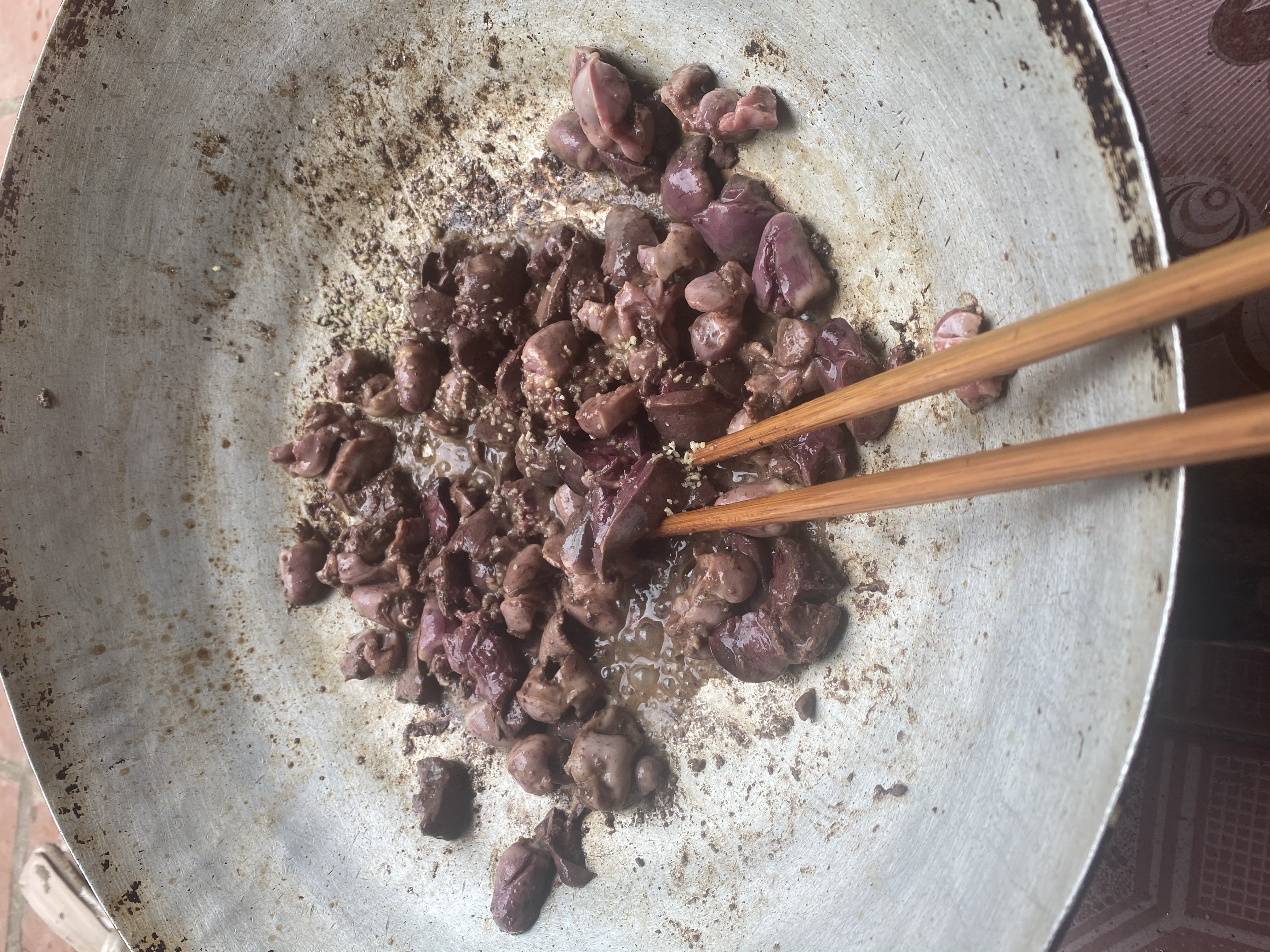 Đun nóng dầu trong chảo chống dính lớn. Khi dầu nóng, cho nội tạng chim bồ câu (tim, mề và gan) vào xào cho đến khi các nguyên liệu bắt đầu mất màu hồng hoặc đến khi hết chất lỏng bốc hơi khỏi chảo ... Nêm nếm gia vị và điều chỉnh nếu cần. Tôi sử dụng nước mắm, hạt nêm, muối và mỳ chính cho công thức này. Khuấy kỹ lúc đầu để tránh làm vỡ gan.
Step 3:
Long beans is an excellent source of many vitamins, minerals, and dietary fiber. I'm not a long beans lover. But I try to add it to our regular diet as much as possible. Typically quickly boiling or blanching is recommended to par-cook green beans in hot water for several minutes before sauteing.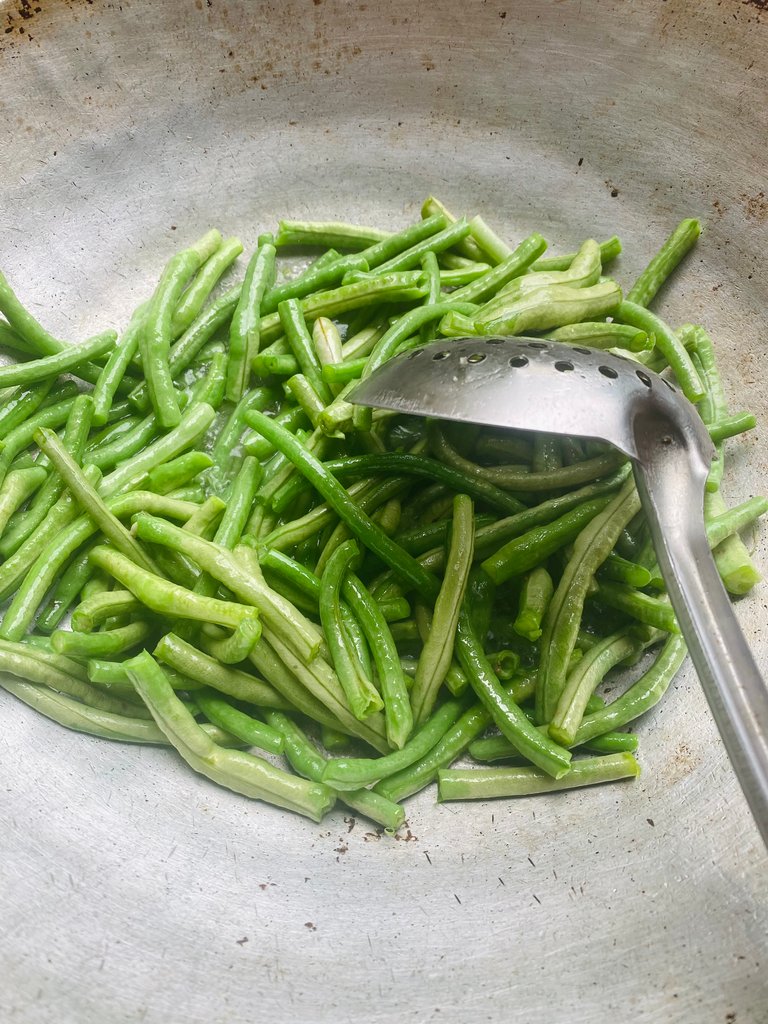 ---
---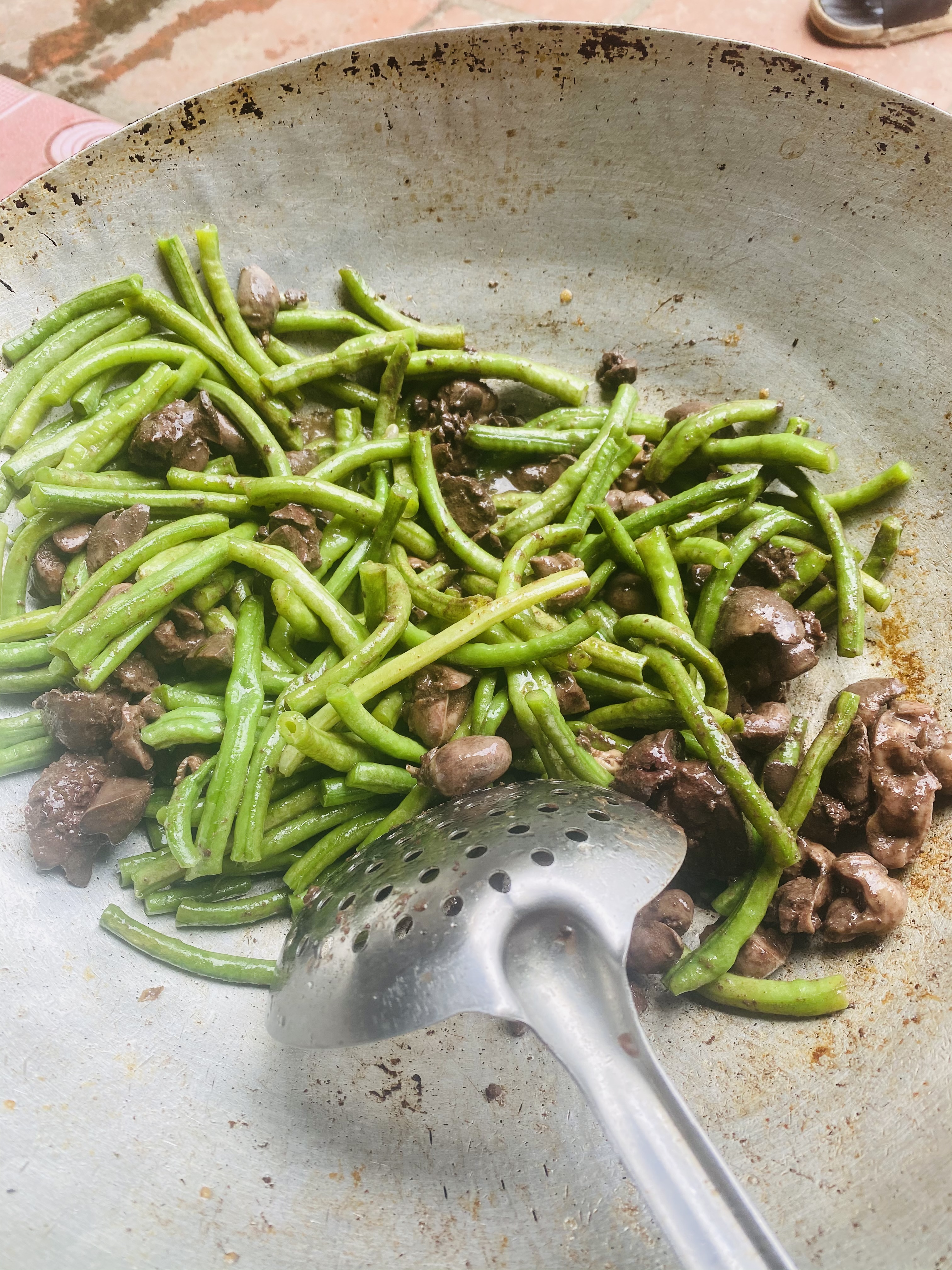 However, for this recipe, I eliminate the blanching step to cut down on the number of pots needed. I sauté the long beans in a pan with fat and add a bowl of water, I sauté for 10 minutes or until the long beans are soft. If the long beans are still not soft, continue to add water.Add seasoning and salt. When liquid has evaporated from the pan add pigeon offal. When completely cooked through ( (mix them for 2-3 minutes), remove from the heat and serve with scallion on top. You don't add any msg during the cooking process, msg is added at the end.
You can serve this dish with rice or noodles. This dish tastes better when it is warm, so serve it immediately.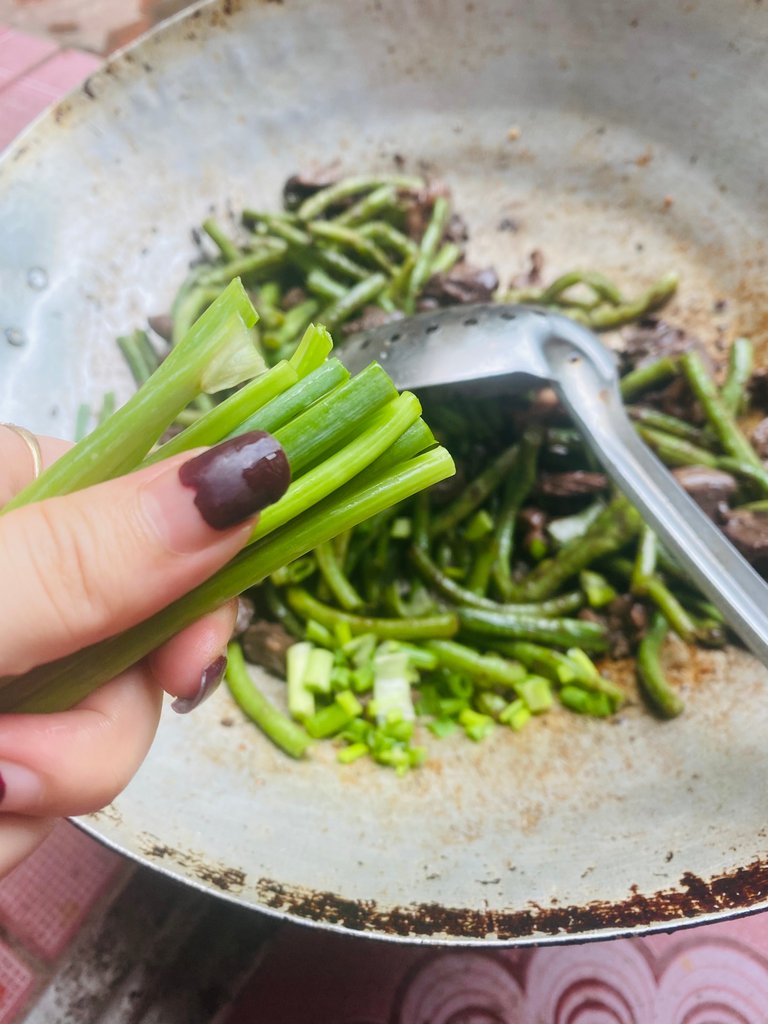 Đậu đũa là một nguồn thức ăn tuyệt vời của nhiều vitamin, khoáng chất và chất xơ. Mình không phải là người thích đậu đũa nhưng mình luôn cố gắng thêm nó vào chế độ ăn uống thông thường của chúng mình càng nhiều càng tốt. Thông thường, bạn nên luộc hoặc chần nhanh đậu trong nước nóng trong vài phút trước khi xào. Tuy nhiên, đối với công thức này, mình loại bỏ bước chần để cắt giảm số lượng nồi cần thiết. Mình xào đậu đũa trong chảo với mỡ và thêm một bát nước, mình xào trong 10 phút hoặc cho đến khi đậu đũa mềm. Nếu đậu đũa mà vẫn chưa mềm thì tiếp tục cho nước vào, nêm thêm gia vị và muối. Khi chất lỏng đã bốc hơi khỏi chảo, thêm nội tạng chim bồ câu. Khi đã nấu chín hoàn toàn ((trộn chúng trong 2-3 phút), lấy ra khỏi bếp và trang trí với hành lá ở trên. Đừng thêm mỳ chính vào trong quá trình nấu, hãy nhớ là thêm vào cuối cùng nhé.
Bạn có thể dùng món này với cơm hoặc mỳ. Món ăn này ngon hơn khi còn ấm vì vậy ăn luôn nhé.
All these photos belong to me