Its Saturday and i learned about the @denissemata sweet Saturday and offcourse i need to tell her about the kaiserschmarrn as they are called in German I think, and my cravings for them from time to time, when I am on holiday in Austria. It's cake-ish and very nice.
To add to my list of amazing sweets, for #sweetsaturday there's the Kaiserschmarrn, also known as Kaiserschmarren. Okay, technically this dessert can be eaten at any time of the year. But I only eat it when skiing abroad. I can eat this at any time of the day...because who doesn't love shredded bites of spongey pancakes with a delicious dipping sauce?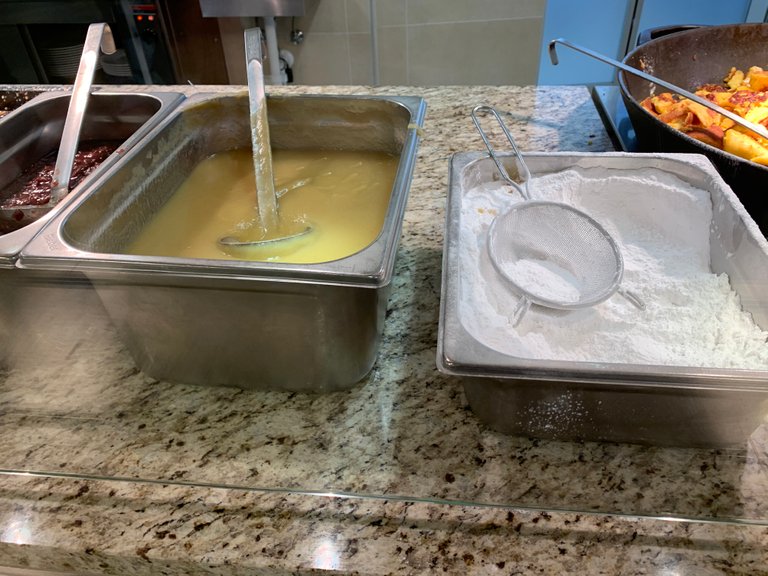 You can choose from just powdered sugar, applesauce and cranberry sauce. I choose apple. And added raw sugar. Yes I left my diet on the mountain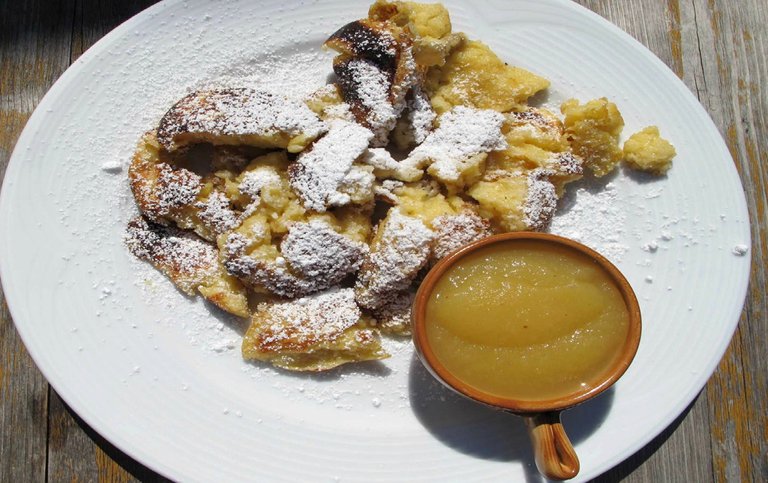 I know there are more desserts so I might do another Apfelstrudel dessert blog tomorrow.
About 2 years ago I've written about the 'best' time to submit a blogpost so you'll receive worldwide exposure. I came up with the term 4 o'clocky and I thought this might be a great idea to make a blogpost every day at 4 o'clock local time with this title. Every day I'll submit a blogpost about something that keeps me busy, a challange, a contest or something important enough to share so Lets blog on and See you every day here at 4 !
for the recipe of kaisersmarren watch the video
Thank you for stopping by, its highly appreciated, and please let me know your vision on steemit life in general.
Please remember, focus on being creative instead of being busy!
- "Consistent Actions, Create Consistent Results"
- "Not everyone is a blogger, but everyone has something great to offer"


Lover of Life and L❤️ve in General - @brittandjosie

I fully support witness and developer group @blockbrothers for the Steem blockchain. If you want to support them, they would appreciate your vote here.


They build Steemify, a notification app for your Steemit account for iOS.
Get it Here:



Member off the :
(c) All images and photographs, unless otherwise specified, are created and owned by me. @brittandjosie originals

Sources used : Pixabay and Pexels and with others its mentioned in my blog. I only use a canon camera and my iPhone.
I would like to thank You for Reading my blog but Feel free to leave me any feedback.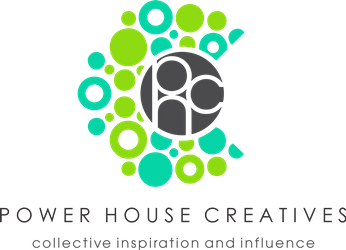 If you want to learn more about either of these projects, please visit: @heyhaveyamet or @steemterminal

#marlians, #neoxian, #creativecoin
#palnet #steemitmamas #powerhousecreatives #CC
#mediaofficials #steemterminal #heyhaveyamet #built-it