Chickpeas are delicious beans. These legumes are very useful in the kitchen and provide excellent flavour. On this occasion, they are prepared in the Catalan way.
My father-in-law used to cook chickpeas with spinach often and it always turned out delicious. Since he didn't give me a written recipe, I had to do a little research to find out the approximate amounts, because I more or less knew the ingredients. This recipe of chickpeas with spinach is the closest to the one I remember.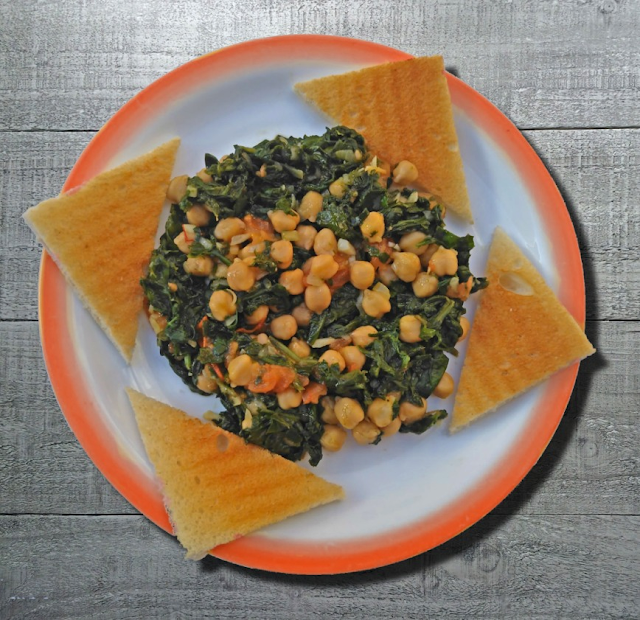 You can use jarred chickpeas, although I try to avoid them because they are not so healthy, as they are not freshly made and usually contain preservatives and additives. If you decide to prepare them at home, you have to soak the chickpeas for 8 to 12 hours in plenty of water.
Unlike other legumes, chickpeas should be put in the pot when the water is boiling, let them cook for two hours and if you want you can add salt at the end (I don't add salt). Spinach can also be bought from a jar (it's much less tasty and less healthy), or you can cook it in water or oil. In oil they have more flavor, but are less healthy and more caloric. You can use fresh or frozen spinach. Serve with triangles of bread lightly fried in olive oil, if desired.
Preparation Time: 15 minutes
Cooking Time: 10-15 minutes (if using jarred chickpeas)
Serves: 4
Ingredients:
1 garlic clove, peeled and crushed
1 small onion, peeled and chopped
2tbsp olive oil
a few strands of saffron
3 tomatoes, skinned, seeded and chopped
400g chickpeas
450g spinach, washed
Instructions:
Fry the garlic and onion in the olive oil until softened. Add the saffron and fry for a further minute. Next, add the tomatoes and cook for a further 2-3 minutes to make a thick paste. Add the chickpeas and mix well together.

Cook the spinach in a covered pan without any water for 1-2 minutes until it is almost tender.

Toss with the chickpeas and serve.