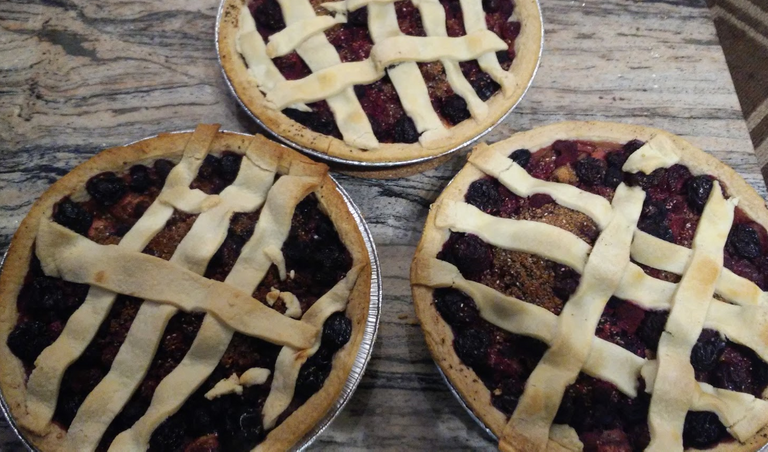 If you have a sweet tooth, yet are concerned for your health, as you should be, these are the healthiest apple-berry pies you could dig into. To boot, they're sugar-free. Don't peel your apples for pies (or anything). Unpeeled apples have a higher nutrient and fiber content. That's what we're looking for. Besides, the taste and texture is better too. Add your choice of berries, cinnamon, nutmeg, cloves, dried dates, and wham you have a powerful, delicious tasting dessert.
Core and cut the apples into little pieces, mix in the dry ingredients, be mindful not to overdue it with the spices especially nutmeg and cloves as they are powerful tasting, but powerful antioxidants too. Lay this mix out over your pie shells. Next, mix up the berries (I use frozen berries) with some of the dry ingredients. Pour this mixture over the top of the apple 'base'. Place in pre-heated oven, bake for 40 minutes at 350 degrees C covered, then remove cover and bake for 15 to 20 minutes to finish off. Remove from oven, let cool, and eat as you please. Enjoy a healthy and filling dessert!
Besides being nutritious, chia seeds will absorb the 'juices' and allow the pie mix to become gel-like. This holds it all together when you're ready to slice and serve. Ground flax, and hemp seed add fiber and omega's. Colorful berries add some of the most powerful nutrients for brain health, that we know of.
Note: If you're not into making pie dough, you can buy relatively healthy (no lard) shells at most grocers. (These pies were made with store bought shells.)
Ingredients:
Unpeeled apples
Raspberries
Cherries
Blueberries
Hemp seeds
Chia seeds
Flax seeds
1 cup dried dates
Cinnamon to taste
Vanilla to taste
Pinch of Nutmeg
Shake of Cloves
Pie Shell
0.5 cups avocado oil
1.25 cups whole wheat flour
0.5 teaspoon salt
0.5 teaspoon ground dates
6-8 tablespoons ice water