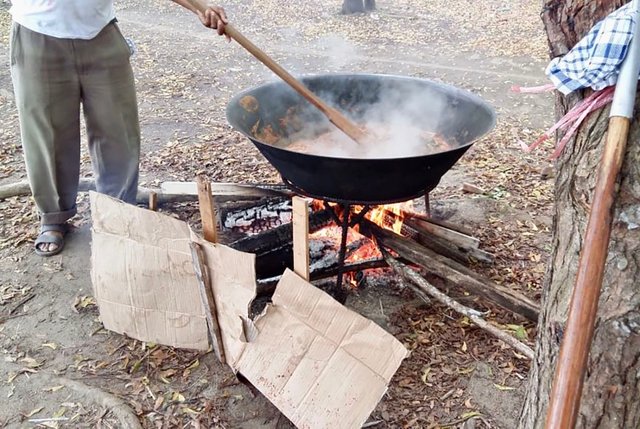 ---
Curry goat is one of the specialties of Aceh which is widely known in Indonesia. One of the culinary sought when tourists come to Aceh is a goat curry that is rich in spices. In every region in Aceh, goat curry sellers are easily found and each region has its own characteristics. Curry goat in Aceh Besar is different from goat curry in Aceh Utara.
Every particular celebration, goat curry seems to be a mandatory menu, such as the dissolution of the international seminar committee conducted by the Faculty of Economics and Business Malikussaleh University. The dissolution of the committee was held at Loskala Beach, Lhokseumawe, Wednesday (01/29/2020) by cooking Aceh's typical goat curry.
It was the first time I went to Loskala Beach Ujong Batee so I had to call a friend first. There is no guide and the road to get there is also very narrow, only one car can pass. If there are other cars from the opposite direction, one of them has to step back and look for a rather wide position so that the other car can pass.
That is what I experienced. Sometimes I have to give in, sometimes other people have to give in, depending on who has to back off further and easier. If no one wants to budge, then neither of them can continue the journey.
The road is narrow and a bit of grass in the rainy season, it is two problems in my opinion. But when he arrived at the beautiful Losala Ujong Batee Beach, especially while eating Acehnese goat curry, those two problems were immediately forgotten.
The aromas of goat curry are appetizing and mingled with the distinctive aroma of the sea, plus the sound of the waves sounding soft, making the lunch day more enjoyable. Time passes without being felt.
The Acehnese goat curry was cooked right on the beach. Usually, there is a world of vegetables in Aceh's unique goat curry, young jackfruit and pumpkin. That afternoon we enjoyed a goat curry with pumpkin in it.
The lunch at the seashore was attended by two professors from the Faculty of Economics and Business, Malikussaleh University, Prof. Apridar and Prof. A Hadi Arifin. Also present were Commander Korem 011 / Lilangswa Colonel (Inf) Purmanto and Head of Intelligence Section, Lt. Col. (Inf) Surya, Dean of the Faculty of Economics and Business Dr. Hendra Raza, two former deans Dr. Wahyuddin Albra and Dr. Faisal Matriadi, as well as other lecturers.
Acehnese goat curry is made from fresh goat meat mixed with coconut milk, clove seeds, cardamom, onions, anise, and so on. The seasoning is added first and sauteed. After sautéing, the goat meat is put into a large skillet and stirred until the meat is brownish. Then pour coconut milk with salt and tomatoes, then stir evenly until the sauce is thick and the meat is cooked.
Between the aroma of Acehnese goat curry that is rich in spices wafting up on the beach and the sound of the waves, we can forget the time. []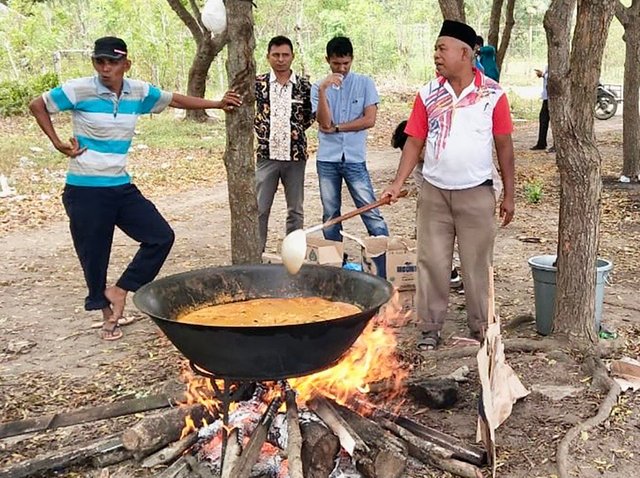 ---
---
---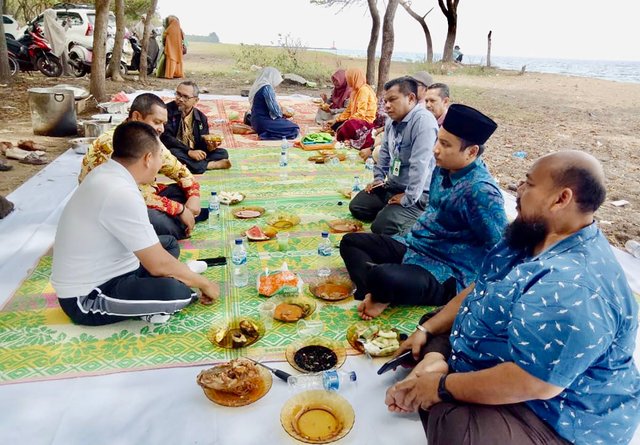 ---
Kari Kambing Khas Aceh di Antara Deburan Ombak
Kari kambing termasuk salah satu makanan khas Aceh yang dikenal secara luas di Indonesia. Salah satu kuliner yang dicari ketika wisatawan datang ke Aceh adalah kari kambing yang kaya dengan rempah-rempah. Di setiap daerah di Aceh, penjual kari kambing dengan mudah ditemukan dan setiap daerah memiliki khas tersendiri. Kari kambing di Aceh Besar beda dengan kari kambing di Aceh Utara.
Setiap perayaan tertentu, kari kambing seolah menjadi menu wajib, seperti kegiatan pembubaran panitia seminar internasional yang dilaksanakan Fakultas Ekonomi dan Bisnis Universitas Malikussaleh. Pembubaran panitia digelar di Pantai Loskala, Lhokseumawe, Rabu (29/1/2020) dengan memasak kari kambing khas Aceh.
Saya baru pertama kali ke Pantai Loskala sehingga harus menelepon kawan terlebih dahulu. Tidak ada penunjuk jalan dan jalan menuju ke sana juga sangat sempit, hanya bisa dilalui satu mobil saja. Kalau ada mobil lain dari arah berlawanan, salah satu di antaranya harus mundur dan mencari posisi yang agak luas agar mobil lainnya bisa melintas.
Itulah yang saya alami. Terkadang saya harus mengalah, terkadang orang lain yang harus mengalah, tergantung siapa yang harus mundur lebih jauh dan lebih mudah. Kalau tidak ada yang mau mengalah, maka keduanya tidak bisa melanjutkan perjalanan.
Jalanan sempit dan sedikit berlumput di musim hujan, itu dua masalah menurut saya. Tapi ketika sampai di Pantai Loskala Ujong Batee yang indah, apalagi sambil makan kari kambing khas Aceh, kedua persoalan itu langsung terlupakan.
Aroma kari kambing yang menggugah selera dan bercampur dengan aroma laut yang khas, ditambah deburan ombak yang terdengar lembut, membuat acara makan siang hari itu menjadi lebih nikmat. Waktu pun berlalu tanpa terasa.
Kari kambing khas Aceh itu langsung dimasak di tepi pantai. Biasanya, ada dunia jenis sayuran yang ada dalam kari kambing khas Aceh, yakni nangka muda dan labu. Siang itu kami menikmati kari kambing dengan labu di dalamnya.
Makan siang di tepian pantai itu dihadiri dua guru besar dari Fakultas Ekonomi dan Bisnis Universitas Malikussaleh, Prof Apridar dan Prof A Hadi Arifin. Hadir juga Komandan Korem 011/Lilangswa Kolonel (Inf) Purmanto dan Kepala Seksi Intelejen, Letkol (Inf) Surya, Dekan Fakultas Ekonomi dan Bisnis Dr Hendra Raza, dua mantan dekan Dr Wahyuddin Albra dan Dr Faisal Matriadi, serta para dosen lainnya.
Kari kambing khas Aceh dibuat dari daging kambing segar yang dicampur dengan santan, biji cengkeh, kapulaga, bawang, adas manis, dan sebagainya. Bumbu itu dimasukkan terlebih dahulu dan ditumis. Setelah ditumis, daging kambing dimasukkan ke dalam wajan besar dan diaduk hingga daging berwarna kecoklatan. Kemudian dituangkan santan dengan garam dan tomat, lalu aduk secara merata sampai kuahnya kental dan daging matang.
Dengan aroma kari kambing khas Aceh yang kaya rempah menguar di tepi pantai ditingkahi suara ombak, kita bisa lupa waktu.[]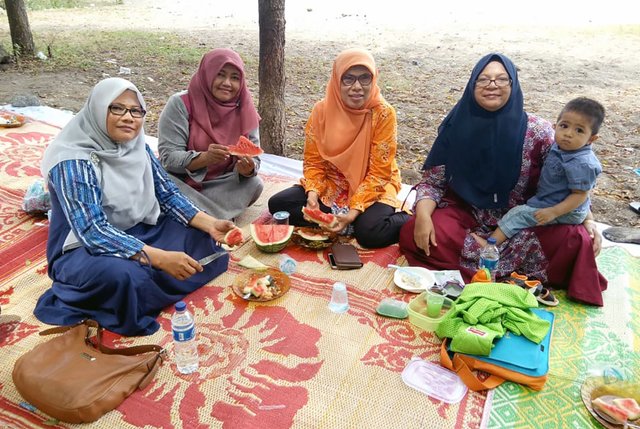 ---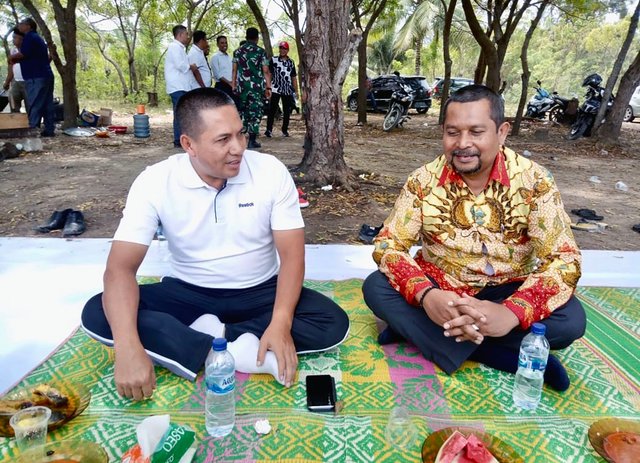 ---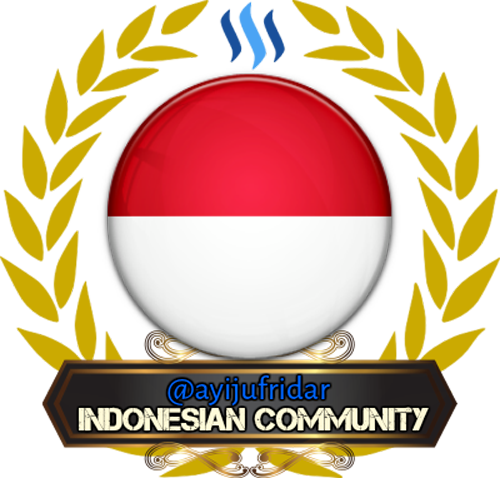 ---