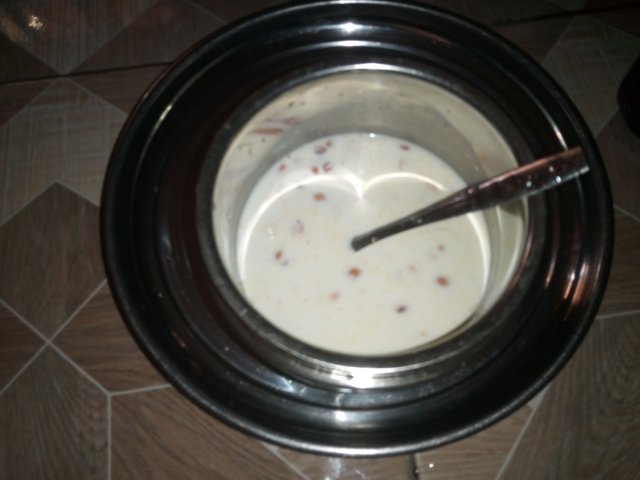 I am one conservative person, but joining steem has spiced the extrovertic part of me and this makes it easy to join the fun that we share on this blockchain. About a week ago, I stumbled the #milkandtators challenge hosted by @whatsup and I was fascinated by it. According to the prompt, he challenged steemians not to allow the fun and engagement component of Steem to die all in the name of pumping the price.
On consuming the post, I decided to take a shot of my appetizer to join the campaign. Coincidences are actually part of life. We must learn to accommodate and maximise them when they come. That's how I got to be doing a photoshoot of my Garri snack-meal right inside my room with the aim of particularly showing the "milked" composition of the meal.
Today, while Curating my feed, I saw the behindthephoto contest hosted by @nelyp and sponsored by @appreciator and decided to let my fans and steemians know the story behind the "milked" Garri snack-meal.
Garri is a popular food in Nigeria and widely consumed by the poor and the rich. It is simple to prepare and even a 4year old can smartly get it fixed for a meal. To some,Garri snack-meal can be considered as a full fledged meal while others take it as a snack and much better an appetizer. There were times it served as meal but now the story had changed.
Garri is a byproduct of cassava - (manihot esculenta). Prepared through a rigorous process of peeling, washing, grating pressing, seiving and frying from mature cassava tubers; Garri can be served as a snack and as a dough for soups.
---
The attached photoshoot of my tasty "milked" Garri snack-meal was basically meant to express the #milking context and to also show steemians one of our very rich food recipe galore. The shoot was very intentional but it's consumption was quite satisfying and "yummy". Being an amateur photographer, there were no special camera settings other than toggling between the flash/auto mode of my Infinix Hot 7 Android phone with 13 MP camera capacity to have a clearly viewable and high quality pictures.
---
I will briefly take you through the process of preparing a Garri snack-meal and if you can lay hands on the materials, then it can be done in few minutes.
---
Materials
All you need to fix a Garri snack-meal are:
Processed Garri (say 150g)
Milk (dry or evaporated, say 90g)
I also added fried groundnuts (pea nuts)
Drinkable cold water.
Procedure
Start by measuring the dry Garri into a clean bowl/plate,add your nuts and dry milk.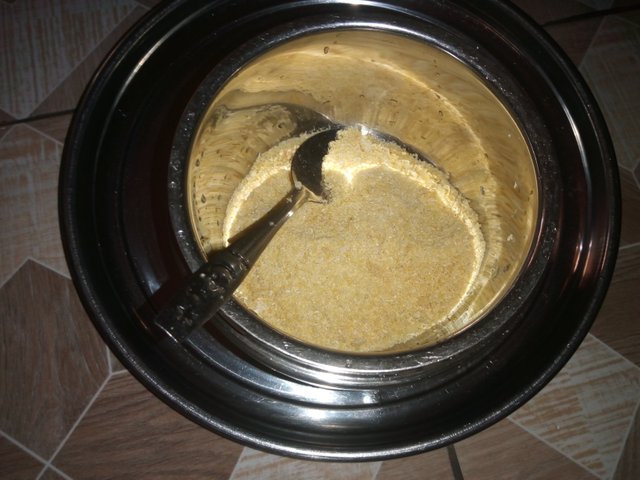 ---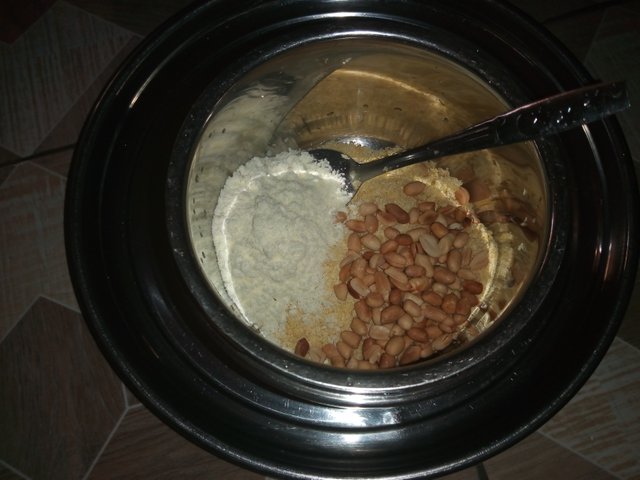 ---
Stir your mixture to a fine mix and taste it to ensure a tasty munch.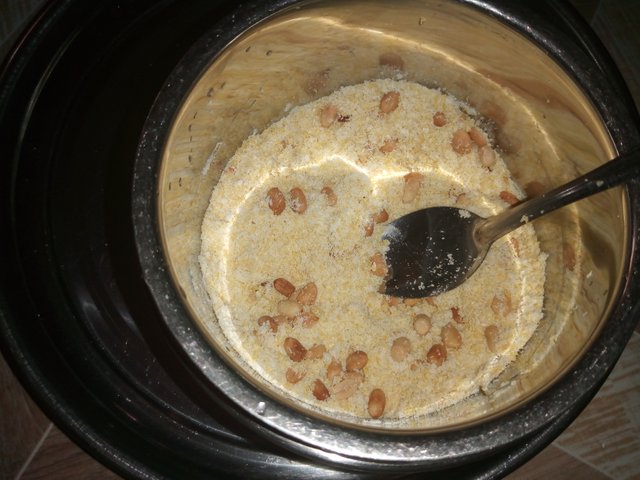 Add water to your mixture and stir to a fine blend then you're are done for a tasty milked Garri snack-meal😋. Do not add hot water as it would turn to a dough for soup. Thank me later.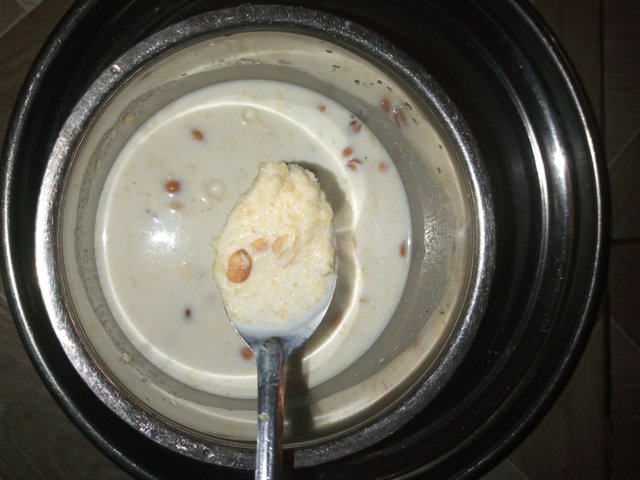 Sometimes, its fun to have to explain the process and motivation through which some of our creative contents were created. @behindthephoto is one of such projects on steem that mines that out. You may check up this blog for more information.