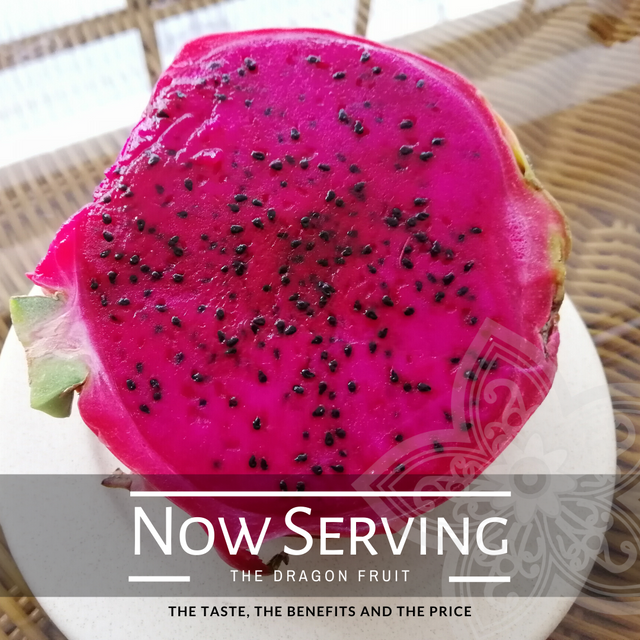 This is probably the first after a long time for writing #fruitsandveggiesmonday . I wanted to write about this yesterday but since I already posted and actifit based post I'd reserve it for today.
Behold....
For those who have attended #steemfest last November , like @travelgirl (who loves it) would recognise this massive suspecting poppy seed looking content fruit ; and a lot would actually wonder: are you sure you can eat the seeds?
(I can tell you the truth when I first saw the white version of it, I actually thought it was related to poppy seed kind of weird genetics)
The taste
Once you have acquire its unique sweet and slight sour taste you'd probably like it a lot; as I used to love to have half of this a day when it was a little less than 1 USD a fruit.
(now in Malaysia, this size of a fruit is about 2.16 USD, it has doubled the price ever since 5 years back... and THIS IS A LOCAL FRUIT)
The benefits
If you really want to read through all the benefits of of a dragon fruit you can easily google it for its information. But here, I'd like to share my own testimony on its benefits
Knowing it has massive red pigment and the slight sour taste reminds me of Vitamin A and Vitamin C; and true enough, if you look through even through webMD you will know that it is packed with vitamin C.
I also have frequent constipation if I don't consume enough fibre in me (even with a lot of water intake), and ever since I heard about it and when I frequently have it like 3 times a week, my bowels are very happy...
...or crappy and smelly stool output if there are some stuck debris at the corner of your colon.
That is probably because of the fibre and the seeds it is pretty much doing a deep colon cleansing for your body, without purging too much.
However, if you DO happen to eat too much, you WILL encounter "purging" as the detox intensified to the max.
I tried eating the whole fruit before and yeah, that was the side effect of it.
And you probably do not need that much of a dragon fruit. With that size, it's the right opportunity to share with a family member or a friend.
The Price
Unfortunately, as I have mentioned before, approximately 5 - 6 years ago you can actually acquire 3 HUGE 4 inch diameter dragon fruit for about USD 2.40; but right now, that is very rare and most of the time you'd probably get about 2.5 inch - 3 inch wide fruit for maybe, 2 for USD 2.40 in Malaysia.
I recall it is a lot cheaper in Bangkok; but I didn't go for that. I know @khimgoh said despite the white flesh dragon fruit (that is usually imported from Vietnam) isn't the best acceptable fruit in KL; but the white flesh ones in Bangkok were equally as juicy as the red ones in Malaysia.
Therefore, simple, healthy, clean, definitely vegan... and a fruit to devour if you have a chance to try it. You might find the taste odd, but it won't be horrific as the durian (for many travellers) and if your body is heating up and you are in South East Asia or Central America or even Australia (according to the site). Have it a go, and let your colon thank you later.
Until then

Thank You for Your Time