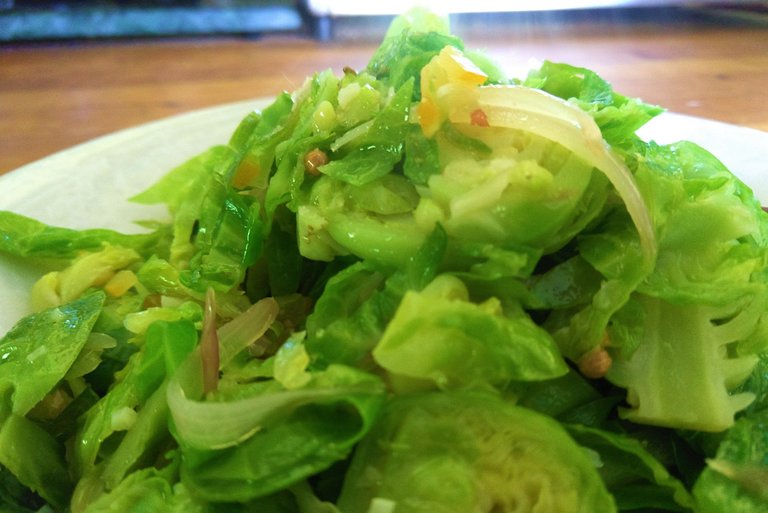 If you're still trying to decide how, or even if, to serve brussels sprouts for Thanksgiving, perhaps this quick, elegant and delicious recipe will help you choose.
You can slice all the ingredients long before your guests arrive, and the final preparation is easily done when the entree is done. Less drama! This dish also heats up well if you are bringing it somewhere else, but cool it down quickly after cooking to preserve the green color, and either heat it up there or even serve them at room temperature. I love them cold the next day too.
I've only made two or three servings in this batch, so increase amounts as needed.
---
Do these steps well before meal time, the day before if you like:
First, slice 8 ounces of brussels sprouts so that you have cross sections of the tiny cabbages. Many leaves will also come loose. Pay them no mind - they will be yummy too.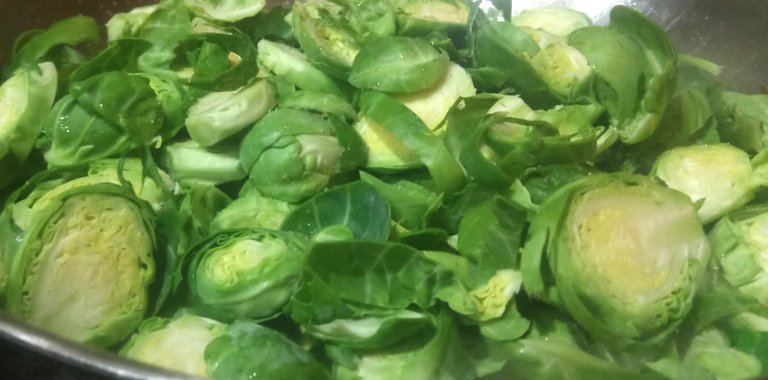 Slice a nice big shallot.
Mince one small clove of garlic. Not too much garlic please! The lemons are the star supporting player in this dish.
Cut the rinds of preserved lemons into a very small dice, but don't mince them. You will need one or two teaspoons of diced rind for 8 ounces of sprouts, more if you love preserved lemon and I do!
Preserved lemons are lemons that have been packed in salt and spices for a couple of weeks or more. These are both easy to make and easy to find for sale.
I apologize I do not have a picture of this step. I made a batch with preserved lemons without thinking to post about them, so I only have the one pix with the lemons in it, the first photo here. When I went to make a batch to photograph for the post, I found I was out of the lemons. All the rest of the photos are lemon-free, which was also tasty.
---
When the guests are milling about the table because the entree is finally done:
Heat avocado oil and olive oil in a saute pan. The olive oil tastes amazing with the lemon but burns easily, so use half avocado oil to raise the burn point.
I do not skimp on fat - do whatever you think is right.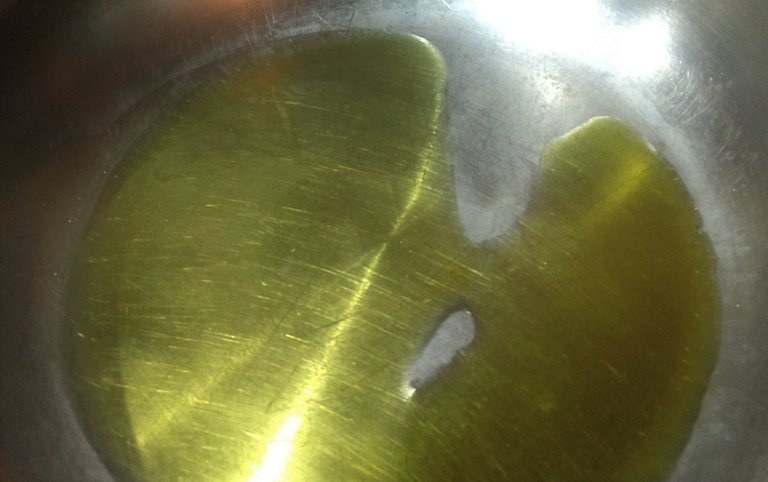 ---
Add the shallots and saute them for one minute, then add the garlic and cook just until the garlic releases its aroma, 10 to 20 seconds or so.
That's the garlic on the blurry spoon hovering over the pan. I found it very difficult to quickly take a shot of something that is cooking quickly! I guess that is a skill I still have to develop. I burned the shallots while attempting this feat too - thank goodness for photo cropping tools.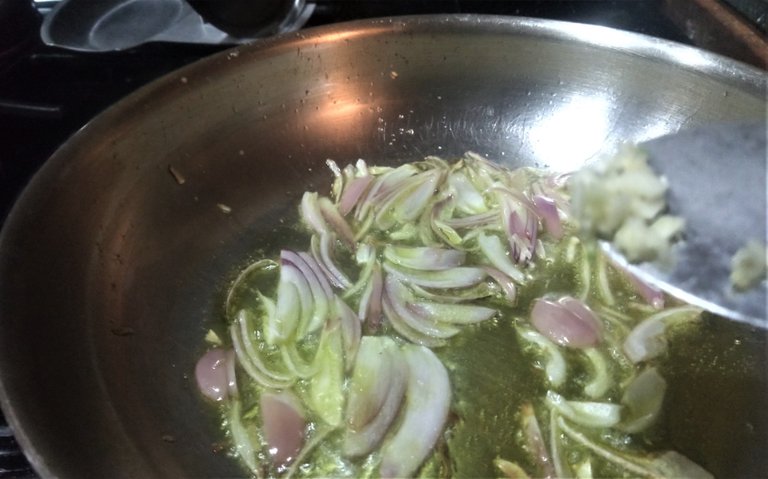 ---
Add the lemons, two-ish tablespoons of water, the sprouts and a healthy pinch of salt. Toss those all together, bring to a simmer, and cover. Cook on medium heat for three to four minutes.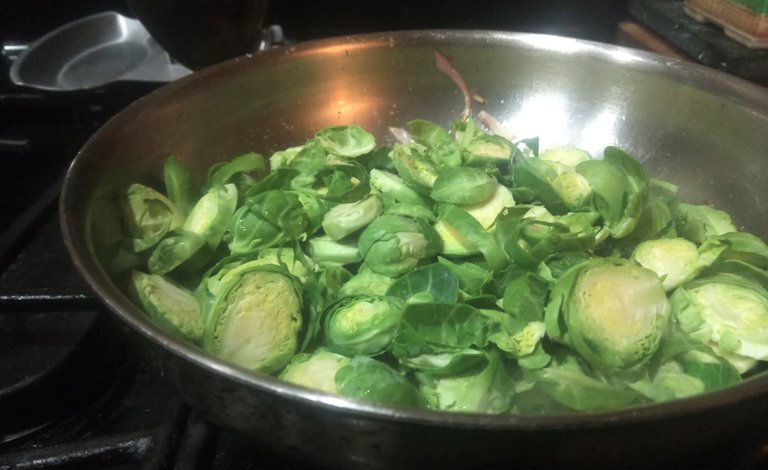 ---
When the sprouts are a brighter green, they are probably done, but taste one to make sure they are tender. Salt and pepper to taste. Put those babies on a platter, drizzle them with your best olive oil (or not), and watch them disappear.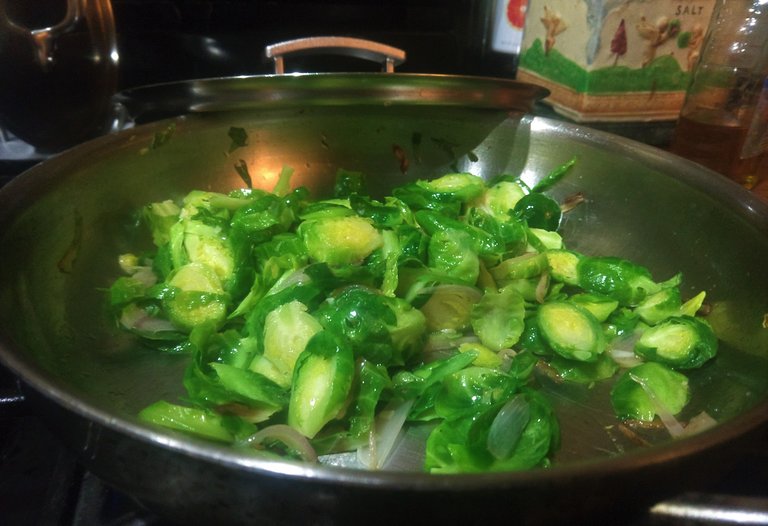 ---
Did you know? Brussels Sprouts are exceptionally high in Vitamins C and K. If you're on a blood thinner you probably should not eat many of these or other cruciferous veggies such as broccoli, cauliflower, cabbage and kale. But if not, indulge often! You'll be getting a great many important vitamins and minerals. They are also very high in folate and are fabulous to eat if you are pregnant. And new research suggests all cruciferous veggies have a high amount of a cancer-fighting component, glycosinolate glucobrassicin.
So raise a glass to all of our healths, and eat your veggies!
This is my first enty to @lenasveganliving's contest, Fruits and Veggies Monday. I've been reading many of the wonderful entries to this contest for months. Thank you all for your hard work, and I hope you like my tiny addition to the collection.

All images are my own unless otherwise stated.
source
---

---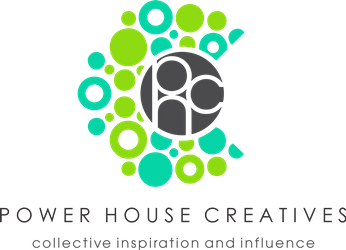 ---