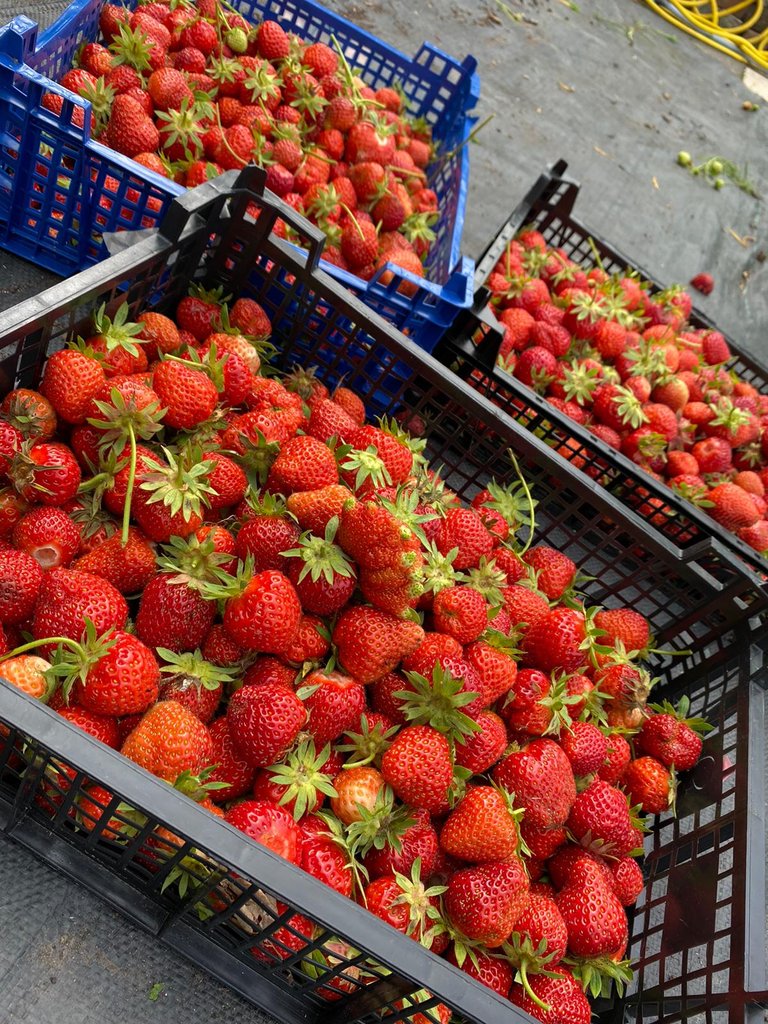 The first big Strawberry Harvests is well underway!
The plants have exploded over recent days due to the rain and ripe strawberries are coming at us thick and fast.
I think we bagged up a total of 5 freezer bags full so far. Stu spent a long time this evening removing the green bits with scissiors. Tedious job but a job well done none the less.
We are planning on making some smoothies with these so after any Vegan smoothie recipes or infact any recipes using strawberries.
There should be plenty more to come as well.
(Unsupported https://emb.d.tube/#!//('files':('ipfs':('vid':('240':'QmTv4QodrwsUvaEYYMEjTeqaLDWpGWsnoT93HeoFZQbgSD','480':'QmasLgCUz1cmcWFjtjn78TUmHTZTmNpbDLLm217Sd95AGD','src':'QmViuh3GFto5QR5zHk6tMTTDpqmemhv1BpSTJph3iAbxVk'),'img':('118':'QmTULFVLui3fTkb9MrJx7CnJVwubszofLWAyekW4f4FtQx','360':'QmWsKa7djmvHcY22oYB1ktRiyWaMaqCuUrRsr4LgQBuALa','spr':'QmQi7BzJwnYyUkcgn793cK536mo1eV5AMfcz9uwyemZrVQ'),'gw':'https:!!player.d.tube')),'dur':'5','nsfw':0,'oc':0,'tags':~'dtube','food';,'thumbnailUrl':'https:!!snap1.d.tube!ipfs!QmTULFVLui3fTkb9MrJx7CnJVwubszofLWAyekW4f4FtQx'))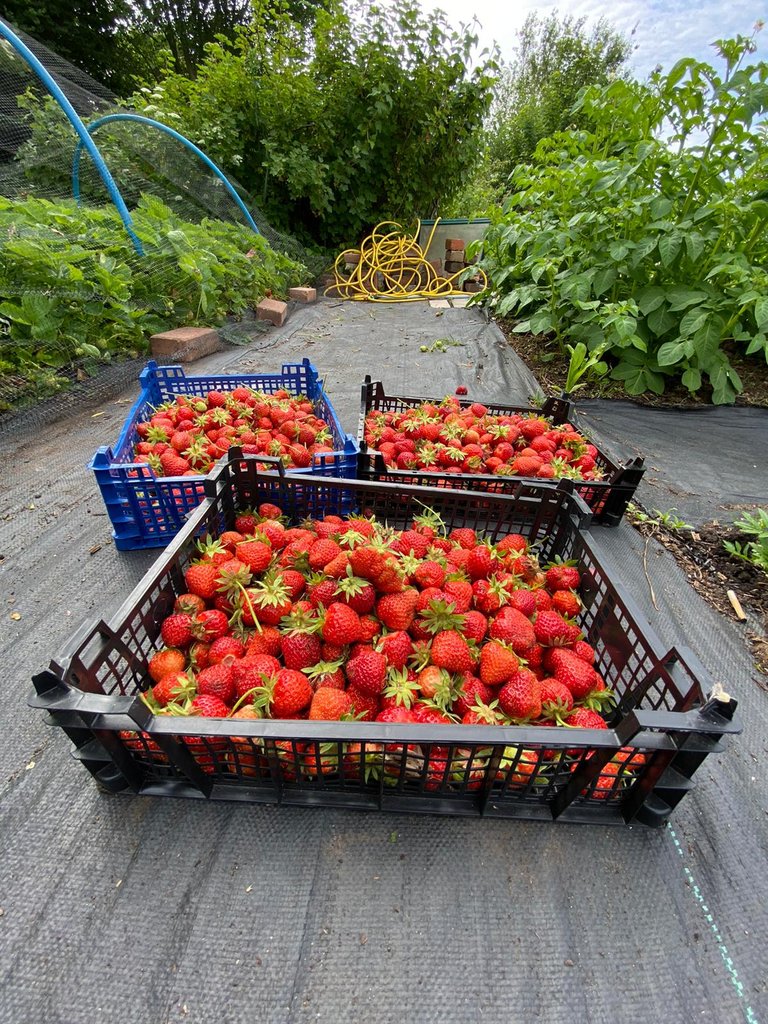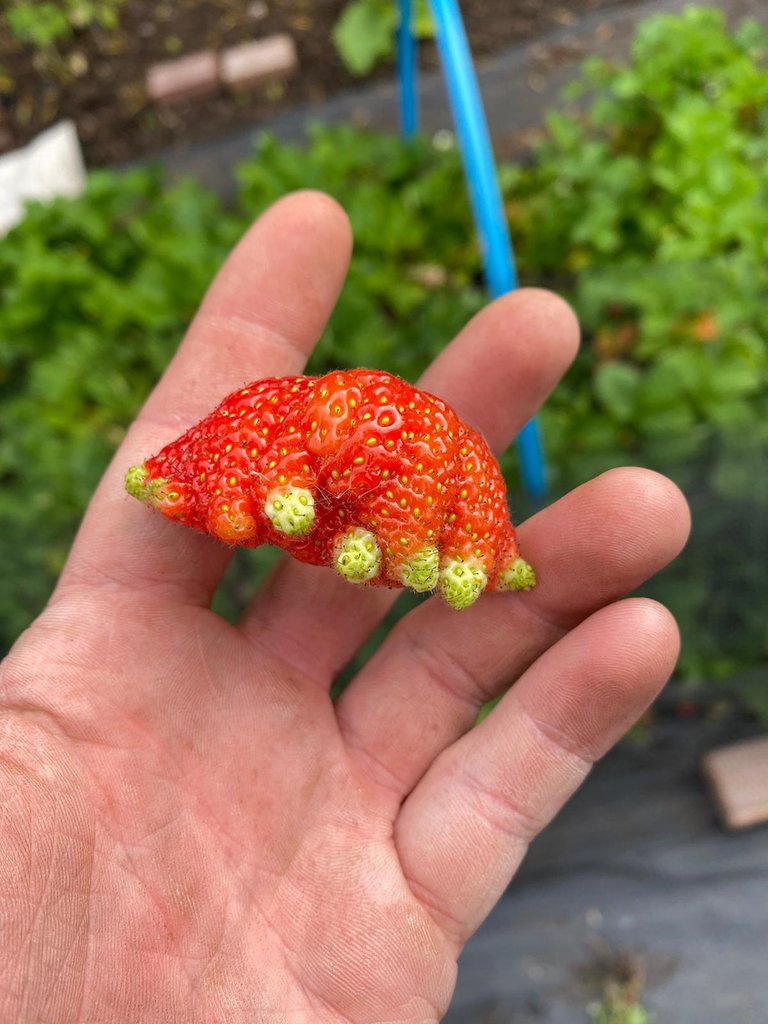 (Unsupported https://emb.d.tube/#!//('files':('ipfs':('vid':('240':'QmWR3ES8pJjyDwWKcr82ergsq2ERTZDwnfv4HZ46hn1EzQ','src':'Qma6xyAUhirR3HnrScqmvFeQEdkXqqPBQdtkVHRqrjqpri'),'img':('118':'QmQ88Qrfp6ebpmAqVi7U366FWs3YZyY9KEG8c4t6DnKdF6','360':'QmUqzv5rkCrpdELGN1B4Y9obavjz4VFGEKjtMQugHDdMhr','spr':'QmS2MDhyNirrYTvjQES2QR9U25Bah7NnVBduzRH3ZWs47C'),'gw':'https:!!player.d.tube')),'dur':'','nsfw':0,'oc':0,'tags':~'dtube','food';,'thumbnailUrl':'https:!!snap1.d.tube!ipfs!QmQ88Qrfp6ebpmAqVi7U366FWs3YZyY9KEG8c4t6DnKdF6'))