Hi everyone's!!!
---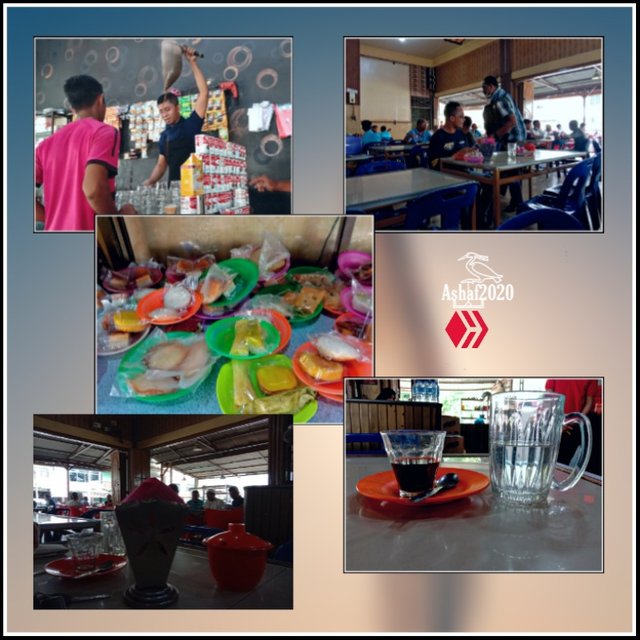 The picture you see in this post is one of the activities that takes place every day in the caffe named "Ulee Kareng Coffe" which is located in one of the centers of Lhokseumawe City that is included in the Pusong Lama Village area of ​​Lhokseumawe Aceh Indonesia.
This cafe is open day and night which means it never closes, this is because visitors never stop (quiet) in their daily activities.
This is because the location of the caffe is in the city center in the middle of Lhokseumawe City.
A. A coffee mixer is doing its activities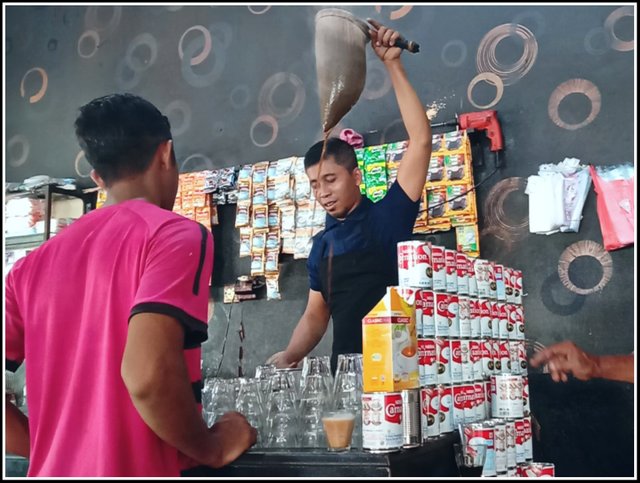 ⓵ One of the coffee mixers is doing his job
When you visit one of the cafes that provides all the needs of visitors the first you find is the coffee maker, who stands at an important position in the main location of the cafe.
A coffee mixer is one person who is very experienced in making coffee mixes, with a variety of styles that he has so that the results of his coffee blend are more delicious and stable when touched by the tongue of coffee lovers.
In a short time the raw coffee was professionally transformed into a variety of flavors in accordance with the requests of caffe visitors.
This coffee mixer is able to work for 10 hours in one operation in mixing, if we ask him then he will say that, it is one of the activities that become a hobby for him, when his heart is happy then the results of the coffee are more enjoyable and cool, so enthusiasts are increasingly interested in the taste.
B. Ulee Kareng coffee is its name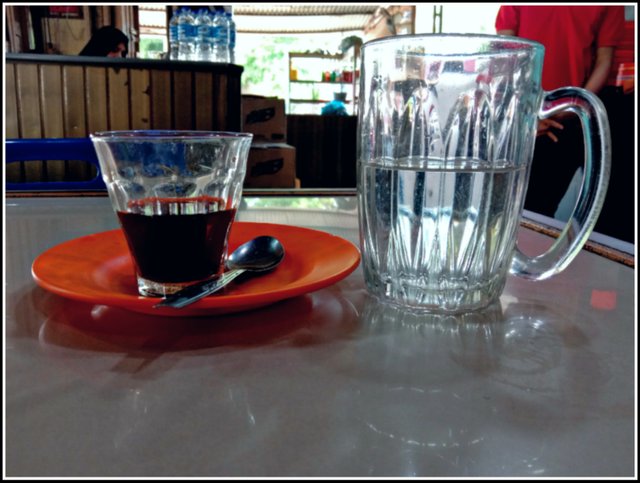 ⓶ A glass of coffee and water mineral
A glass of coffee and a glass of mineral water, looks normal, but if you try to enjoy it then you will find a delicious taste, such as:
1. Taste like sweet honey
2. Bitter taste that is not bitter
3. There is a taste of milk fat around 08%
4. There is a fruit flavor that is synonymous with coffee.
The four nuances of the taste are mixed in one taste, so therein lies the enjoyment of the coffee. So that people around the area give the nickname as Ulee Kareng coffee, the name is already very well known to every citizen because every citizen, especially men, always enjoy a glass of coffee.
This ulèe kare'ng coffee has its own secrets or has its own ingredient which is kept secret by its owner so that its delicious taste is different from other coffees.
C. Provides a variety of delicious cakes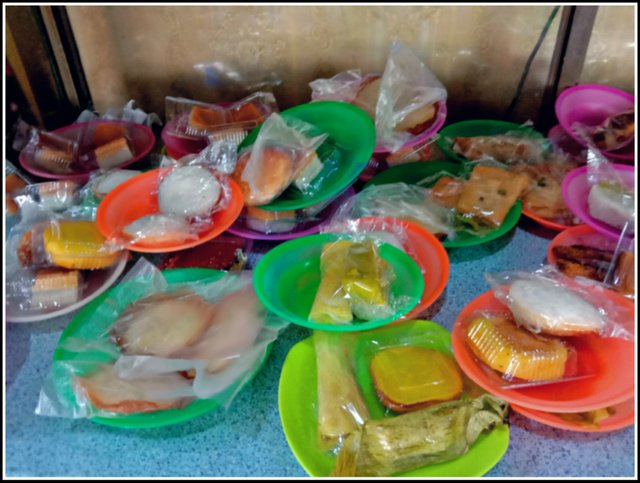 ⓷ Various cakes
It has become a habit of the local community when establishing a caffe. In addition to serving the main coffee drink, there are also a variety of delicious cakes with various flavors, this cake is the result of the creation of a local community that is closely related to local specialties. There are quite a number of cakes served by cafe owners, but there are cakes that are very well known and are the favorite cakes of local people such as:
1. Baloen Timphan Cake
2. Timphan Bue Cake
3. Samarinda Cake
4. Bolue kukus Cake
5. Apam Cake
And there are many other cakes that are neatly arranged on a shelf, so before consuming them, just look at them, you will feel an extraordinary sensation of pleasure.
Enjoy a glass of coffee is not complete if you do not feel a delicious piece of cake, or can be termed as a partner a glass of coffee
D. Convenient location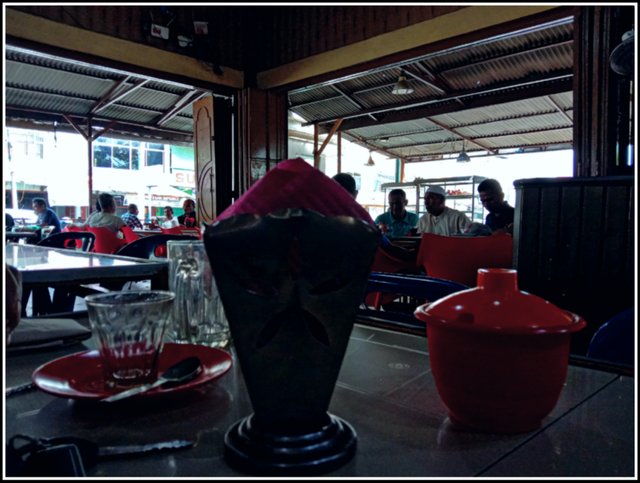 ⓸ Good atmosphere
If you read one of the characteristics of the Acehnese who are in Indonesian territory, surely you will get one big question in your mind. "Why are the Acehnese so comfortable and comfortable in the coffee shop?"
If we answer with a very detailed explanation, it will require very long and many answers, so there is not enough time to discuss it here. However, I have chosen several answers that are accurate and logical when viewed in terms of human psychology, are:
1. Aceh's coffee shop has a safe and convenient location
2. Visitors are given freedom of time and place
3. Visitors are given freedom in doing business
4. Visitors can do activities with fellow communities
5. and many other things that make visitors happy.
The freedom of visitors to enjoy something becomes the main priority in carrying out all activities to run comfortably and safely, so that the visitors become interested and feel at home in the caffe.
E. Visitors are always crowded at all times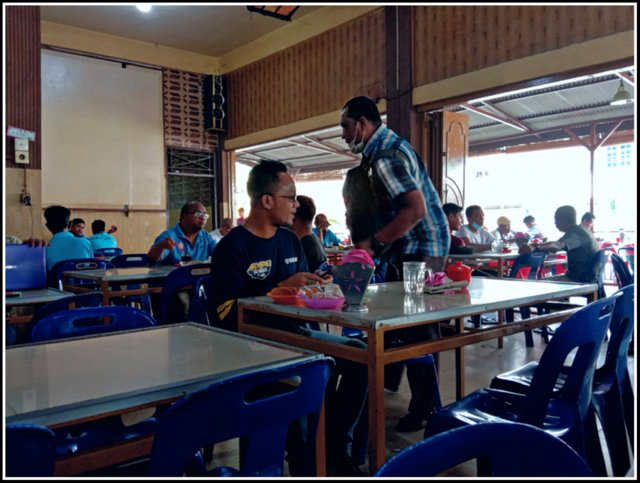 ⓹ Cafee visitors are enjoying a glass of coffee
As stated earlier that every caffe in Lhokseumawe, especially in the Aceh region, was never devoid of anyone visiting the location. So it is not surprising that in the Aceh region there are many people at each famous caffe both day and night. The visitors just come and enjoy a cup of coffee and a few pieces of cake to undergo daily activities.
Sometimes when certain times each visitor brings his family to enjoy a cup of coffee in a particular caffe, but what is very often visited by the local time is the caffe Ulee Kareng Lhokseumawe Aceh. Why? Because the location of the caffe is one location that is very convenient for everyone, then the service is also very friendly and always be pleasing to every visitor.
Caffe Ulee Kareng which is located in the center of the city of Lhokseumawe Aceh is one of the famous cafes in the city when compared to other cafes in the Lhokseumawe City area of ​​Aceh.
Thus a glimpse of the state of the caffe in our city. Hope you enjoy it, thank you very much.

Classification of photo & writing
| In the photo with | VIVO Y12 smartphone |
| --- | --- |
| Photo Settings | profesional |
| Camera | smartphone VIVO Y12 |
| Photografer | @ashaf |
| Themes | Ulee Kareng Lhokseumawe Aceh coffee shop ✉ |
| Text reference | Personal observasi ✎ |
| ✈ | |