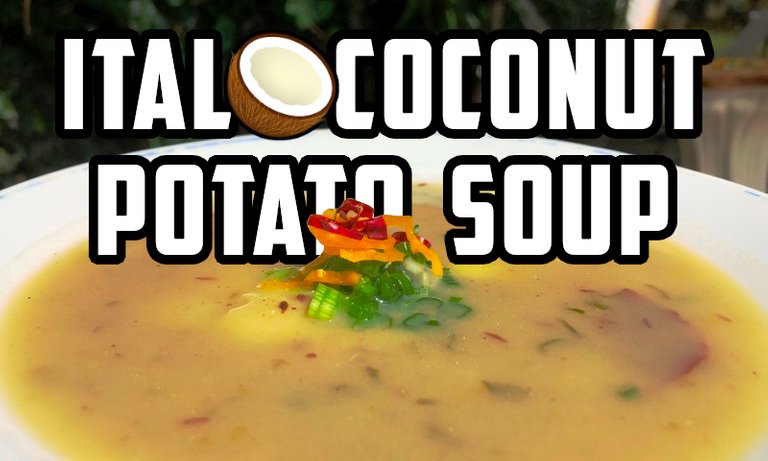 This coconut potato soup is a family favorite, and delicious with rice, rotis, bread, crackers, or even just all by itself.
It has been far too long since I've shared a #plantbased recipe, but our new kitchen at our rental only has a hotplate and a rice cooker, something I mentioned in my previous recipe post
.
Needless to say, the food preparation situation is not ideal, but as we are migrants, we don't have the means or the desire to invest in furniture and kitchen appliances.


     At our former Ital restaurant in Cambodia, this soup was a commonly featured soup on our daily thali. I thought it would be perfect for the newest @Qurator Hive Top Chef Competition, so I've decided to share it with you all.
     We don't cook with coconut milk here, mostly because it's not an ingredient you can buy fresh from the market like in most Cambodian towns. Worse yet, we can't even buy fresh shredded coconut meat in Suriname, so we resort to making coconut milk from frozen shredded meat, something that is perfectly normal here.
     This soup is very hearty, and the quality of the coconut milk will affect the final product. I must say this dish tastes better when prepared in Cambodia, but it still gave us the feeling of nostalgia for our former business.

🥥 Coconut Potato Soup Ingredients 🥔

⋆ 1 big potato (boiled,peeled, and mashed)
⋆ coconut milk - 1 cup
⋆ 4 medium potatoes (boiled, peeled, and chopped)
⋆ cumin seeds - 2 tsp
⋆ besan - 2 tbsp
⋆ fenugreek seeds - ½ tsp
⋆ black pepper - ½ tsp
⋆ bay leaves - 2
⋆ dry red chilies (cut into pieces) - 2
⋆ ginger (minced) - 1 tbsp
⋆ garam masala - ½ tsp
⋆ sea salt - 1 to 2 tsp
⋆ green onions, fresh chilies, dried chilies (sliced) - 2 tbsp

👨‍🍳 Preparation Method 🔥

STEP 1

     Combine the boiled mashed potatoes, coconut milk, minced ginger, black pepper and 2 cups of water, and stir to make a uniform paste.

     Arrange the ingredients for quick access while cooking.

STEP 2

     Heat 3-4 tablespoons of oil in pot and add the cumin seeds.Quickly add the fenugreek seeds and saute a few more seconds.

STEP 3

     Now add the besan, dry red chilies, bay leaves, and saute while stirring until fragrant.

STEP 4

     Add the coconut milk paste and cook while stirring until the oil begins separating.

STEP 5

     Now add 3 to 4 cups of water, boiled potatoes, garam masala, and salt to taste.

     Bring to a boil and reduce heat to a simmer and cook 5 to 7 minutes.

     Coconut potato soup is ready, enjoy!!
     This soup is one of Monkey-B's favorites, and she really loves it when I add fried tofu to this. It's a delicious soup, and you can jazz it up with anything else you have lying around.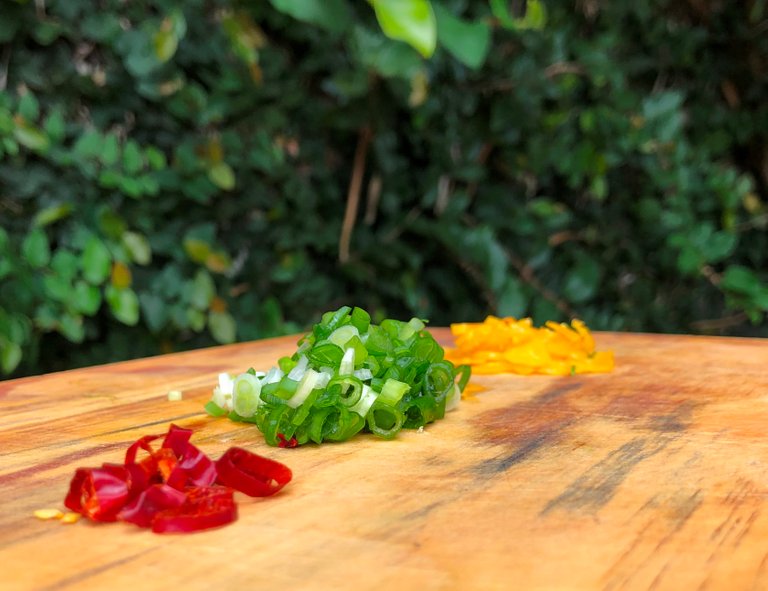 I happened to have several green onions, Madame Jeanette chili peppers, and dried red chilies, so I sliced them up to enjoy with the soup.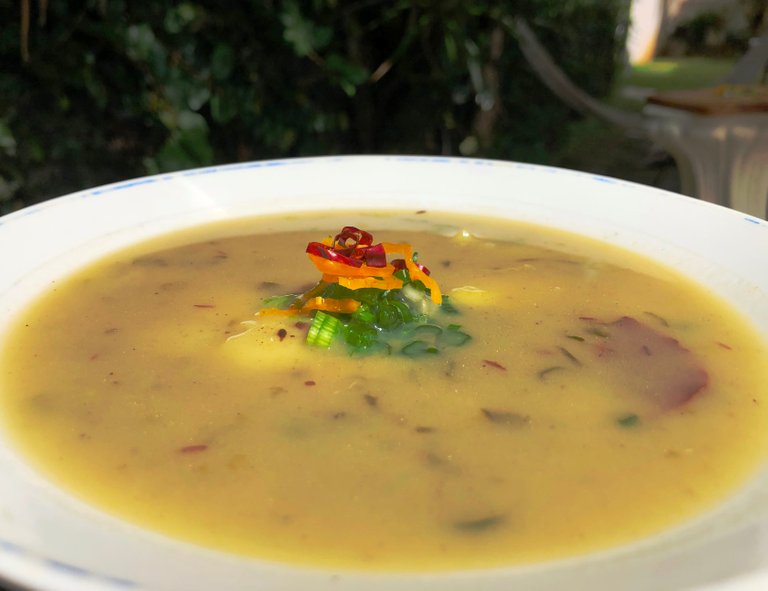 Food tastes better when you eat it at ground level with loved ones.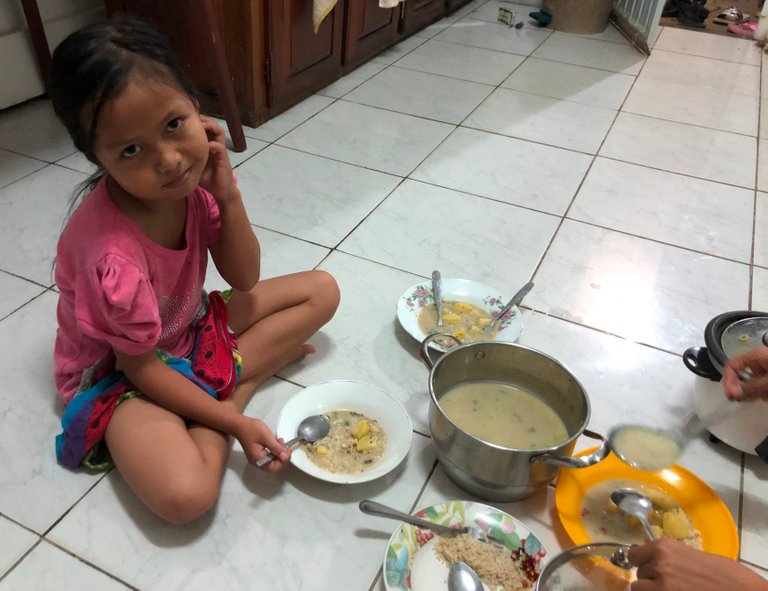 🙏 THANKS FOR READING 🙏
If you enjoyed this post, please upvote and reblog.