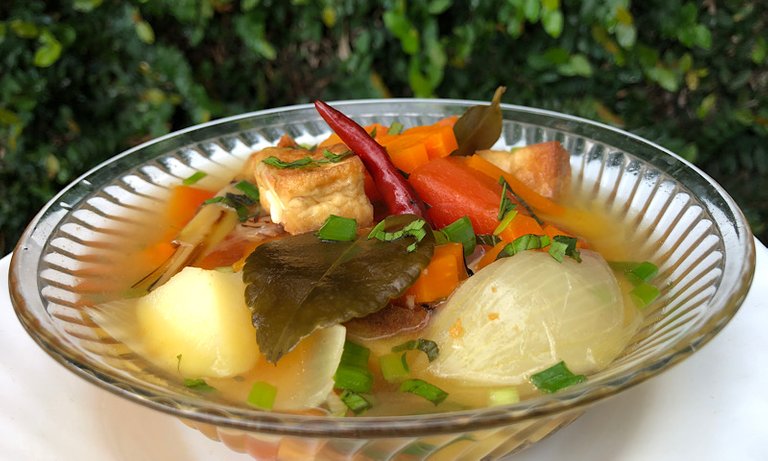 I didn't have an idea before today to make a soup for @Qurator's Hive Top Chef this week because I didn't have ingredients to make it. This morning I walked to the market a bit far from my apartment, I saw they have papayas for sales today.
They have only sweet papayas and old papayas, no green papaya. Suriname is really difficult to buy green papaya in the store or market, so I take one old papaya. I want to make papaya soup but I do not have lemongrass, so I think not have lemongrass, it's okay.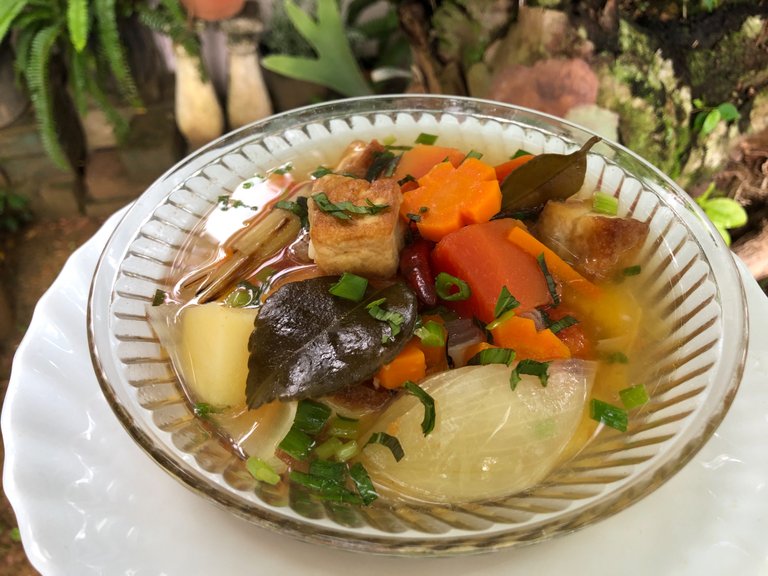 We know a house have lemongrass growing near the China store close to our room. When I come back home with my husband we go to ask the people to buy a little lemongrass from the people but they give me free. This recipe is all Ital, so is okay for vegetarians and vegan people.

👩‍🍳 Papaya Soup (Ital) Recipe 🔪
វិធីធ្វើស៊ុបល្ហុងបួស

Ingredients
1/2 old green papaya or 300g
1 onion
1/2 of carrot
1 small potato
150g fried tofu
3 green onions
basil, a little
4 cloves garlic
1 small piece galangal
3 dried red chilies
3 lime leaves
1 lemongrass stalk
1-1/4 tsp salt
1/2 tsp brown sugar
1 tsp soy sauce
3 1/2 cups water
Roast cloves garlic, galangal, chilies, onion, lemongrass. After peel onion, garlic and galangal, and wash water and cut.
Step 1

Peel papaya, carrot, potato and cut them.

Step 2

Boil water and put roasted cloves garlic, galangal, chili, onion, lemongrass and lime leaves, salt, sugar, soy sauce, and boil it a few minutes.

Step 3

Then put papaya, potato, carrot, boil it 20 minutes.

After put fried tofu, boil it a little and put green onion, basil and taste.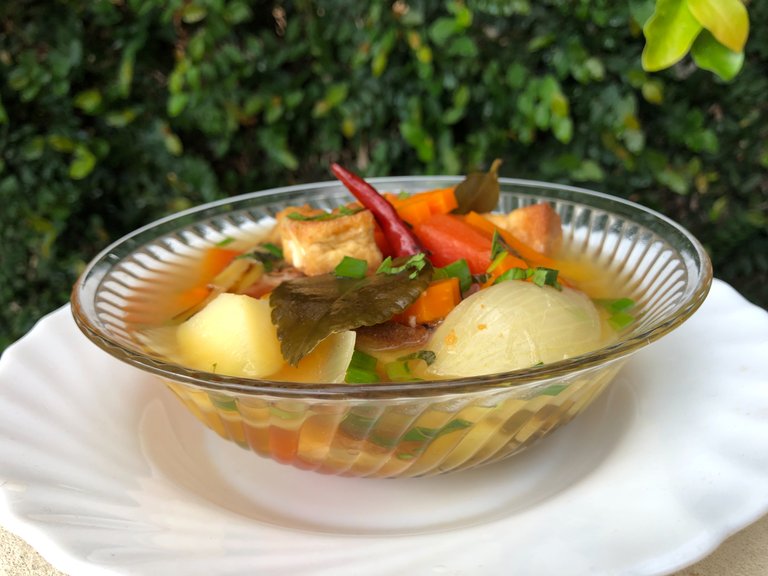 🧄🔥 Roasted Chili-Garlic Sauce 🔥🌶️
ទឹកជ្រលក់ខ្ទឹមសម្ទេសអាំង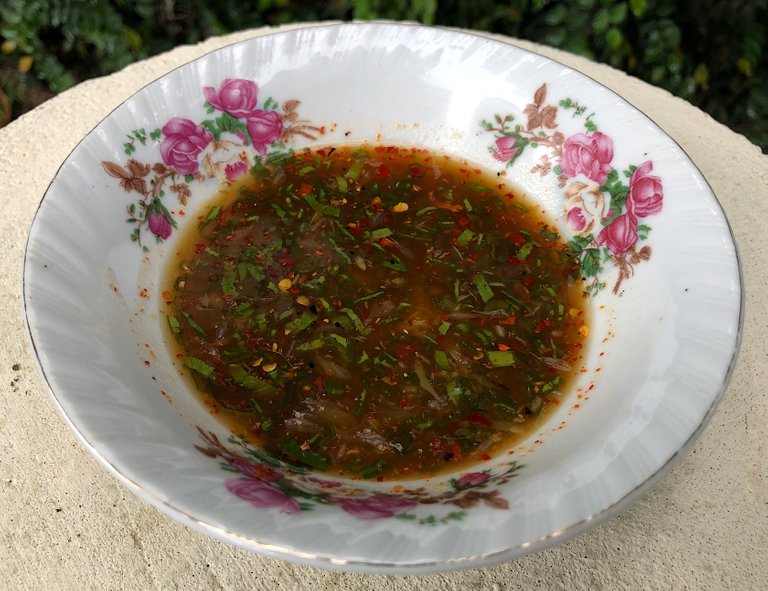 Now I will to show you the recipe to make roasted chili-sauce to eat with soup. I like this sauce with soup and brown rice a lot.
Ingredients
1 small lime's juice or to taste
1/2 tsp salt
1 tsp sugar
1 tbsp soy sauce
5 tbsp water of the soup
5 basil leaves
a little green onion
7 roasted cloves garlic
5 roasted chili or to taste
Cut basil, green onion like small. Then crush roasted garlic, chili, salt, sugar very well. Then put lime juice stir it and put it in small bowl.
Then put water from soup and basil, green onion, stir it and taste, it is ready. Have a wonderful day everybody.

🙏 THANKS FOR READING 🙏
If you enjoyed this post, please upvote and reblog.