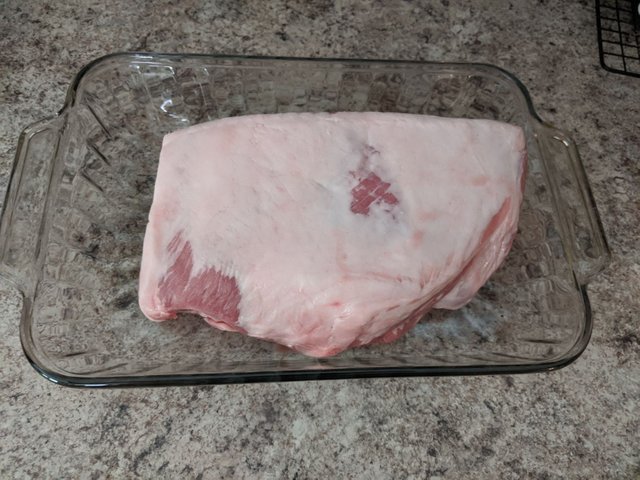 ---
It is a pretty rare occurrence that @mrsbozz goes out of town without me. This weekend was one of the few exceptions as she went down to Dayton, OH to hang out with her sister and watch our niece play in a softball tournament.
They were actually supposed to meet up in Ft. Wayne, IN, but the tournament there got cancelled which forced them to find a different tournament in a different location.
All of these plans were in place before Covid-19 really picked up, so when I knew she was going to be out of town I contacted my friend to see if he wanted to do some fishing over the weekend.
Sadly, because Covid came along, he hasn't even gotten his boat out of storage. With fishing off the table, I decided to smoke a pork shoulder instead.
I headed to the butcher shop and asked them if they had any pork shoulders. The guy came out of the back cooler with a monster 25 pound pork shoulder. Since it would mostly just be me eating the end product I knew I didn't need that much. Plus I didn't want to spend days tending to the smoker...
I had him cut the shoulder in quarters and I took two of them home with me. The total cost was right around $10 if I remember correctly. I vacuum sealed and froze one of the quarters and then I left the other one out to smoke on Friday.
Okay, now that I got most of the talking out of the way, on to the pictures!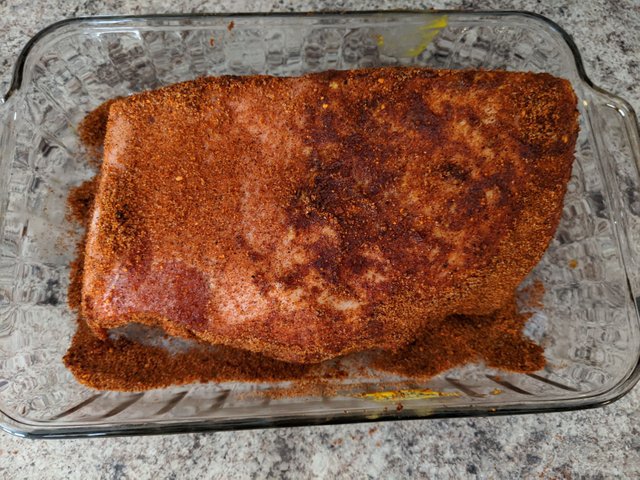 ---
I applied my rub to the pork shoulder the night before and put it in the fridge to sit.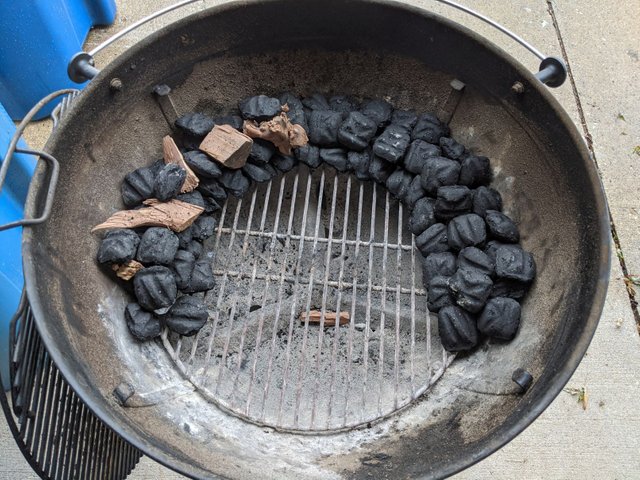 ---
I have done ribs on my Weber Kettle, but I have never done a pork shoulder. I did some research online and found that the "snake" method is a good way to do large cuts of meat for long periods of time. I used Kingsford charcoal briquettes and some apple wood for the smoke.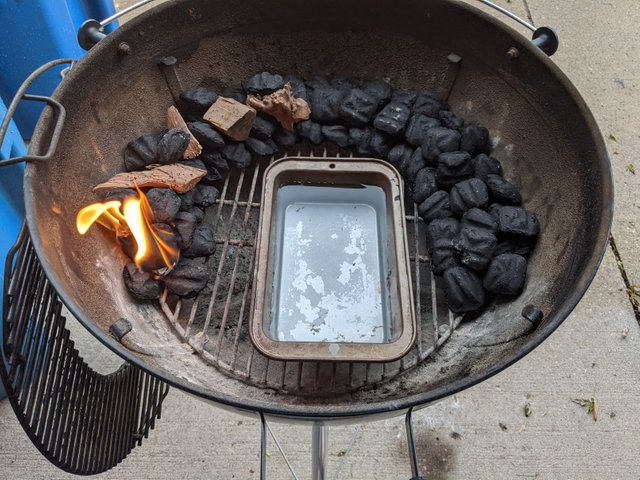 ---
I ended up having to get some coals going in my chimney starter to add to the end of the "snake". It wasn't a big deal though.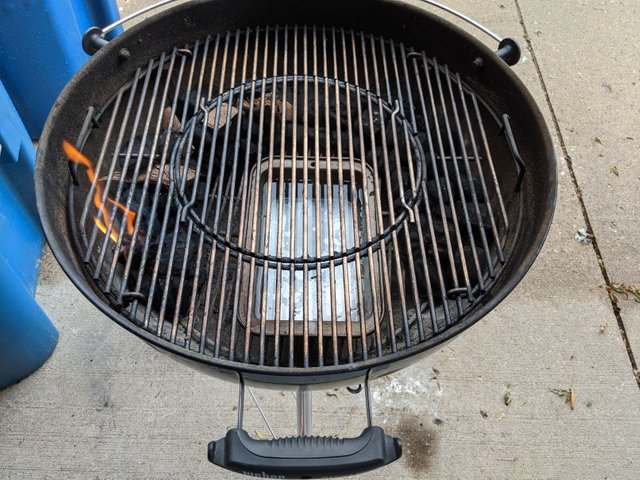 ---
Eventually, everything was ready to put the meat on!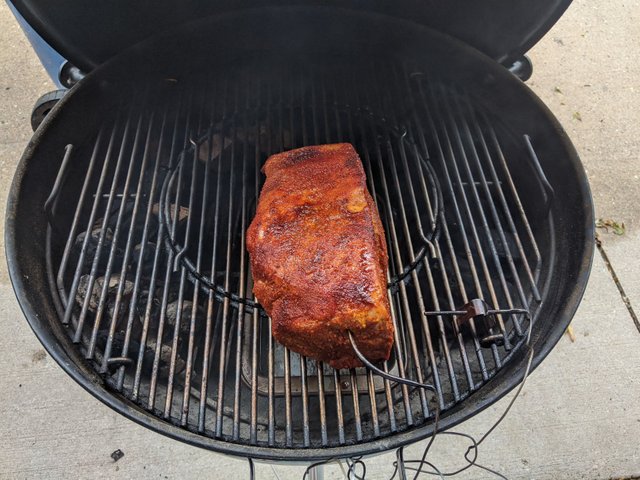 ---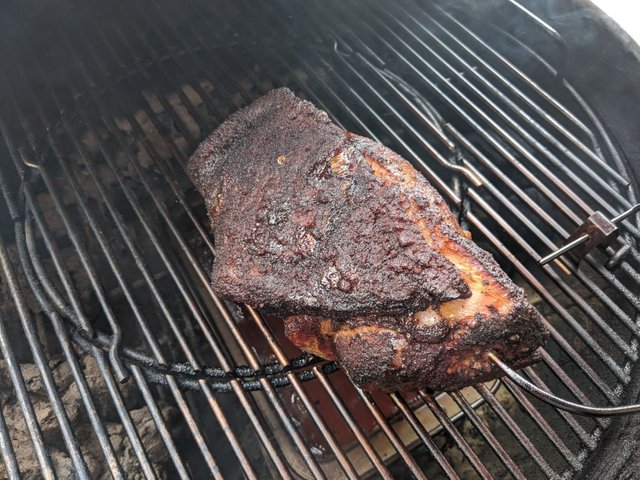 ---
I put the pork shoulder on the grill at about 10 AM and I took this picture about five hours later when the internal temperature of the pork was stalled between 145 and 160 degrees. I then wrapped it in foil so it could finish cooking and I pulled it off the grill at around 6 PM when it was at 195 degrees.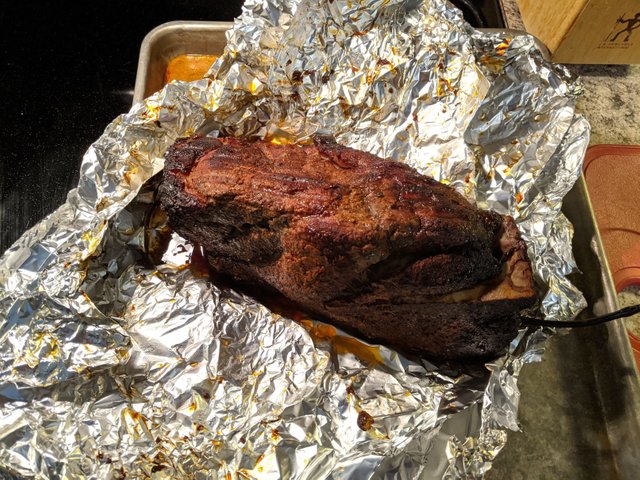 ---
You can kind of see that the foil wrap made the "bark" from the rub a little mushy. That is one of the trade offs you get for wrapping it in foil. I would have liked to have let it go to about 205 degrees, but my buddy and I were getting hungry.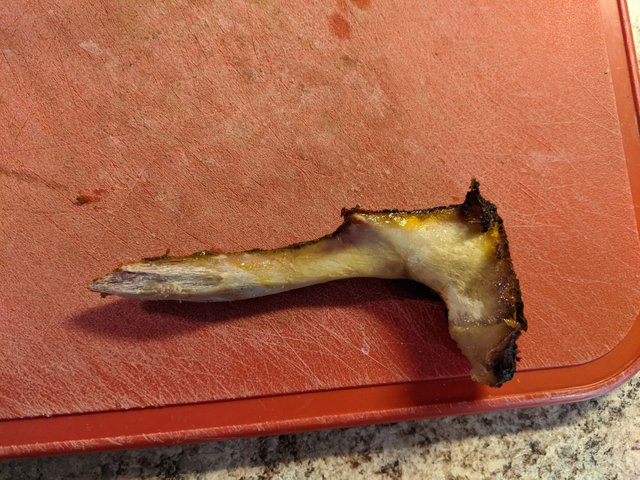 ---
Proof that I didn't pull it too early... the bone pulled out clean.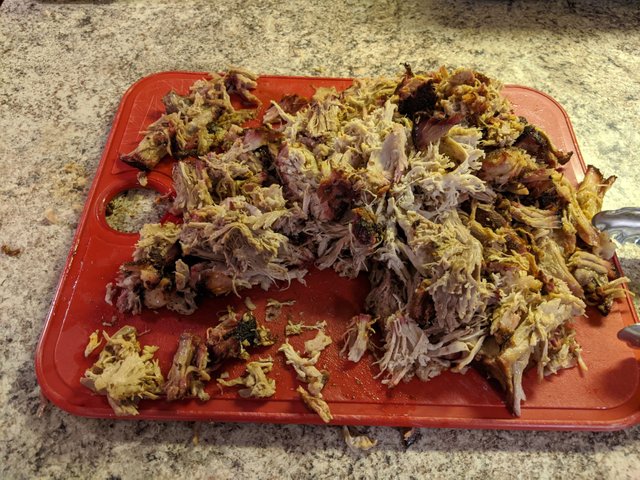 ---
It actually made the perfect amount for my buddy and I to have two decent sized plates for dinner. I gave some to my parents and some to my other friend and then I have been eating the left overs for the past couple of days.
The "snake" method worked out very well. I only had to make occasional small adjustments to my dampers to keep my grill temp at 225 to 250 degrees. Based on the amount of charcoal that was still unlit I could have went several more hours with this method.
That is what I love about the Weber Kettle grills, they are so versatile for any cooking style!
---
---

---
@eos.detroit BOID Team Leader
Join our Discord here