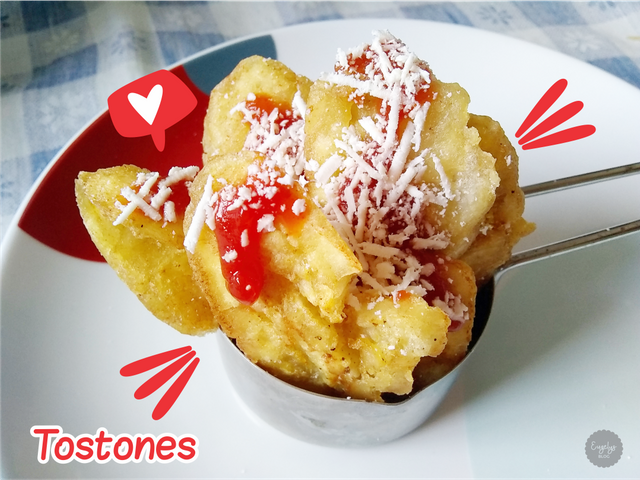 Los tostones forman parte de la gastronomía del Caribe y generalmente se realizan con plátano verde pero aquí en Venezuela también podemos hacerlos con Topocho, tipo de banana parecido al plátano verde pero de tamaño y sabor distinto.
Tostones are part of the Caribbean cuisine and are generally made with green plantains but here in Venezuela we can also make them with Topocho, a type of plantain similar to the green plantain but with a different size and flavor.
Es usual ir a la playa y encontrar en el menú ofrecido a los visitantes estos deliciosos bocadillos crujientes, es un placer comer Tostones bajo una palmera frente al mar y, por supuesto, en casa también (jajaja).
It is usual to go to the beach and find in the menu offered to visitors these delicious crunchy snacks, it is a pleasure to eat Tostones under a palm tree in front of the sea and, of course, at home too (hahaha).
Hoy voy a mostrarles esta sencilla receta realizada con topochos cultivados en mi casa.
Today I'm going to show you this simple recipe made with molehills grown in my home.
Como datos curiosos les comento que quien cultivó esta planta en casa fue mi abuelita (92) y que esta planta tiene una particularidad. Da un racimo de topocho y esa será su única producción pero a su alrededor nacerán otras plantas que son "sus hijos", cada una dará un nuevo racimo. La naturaleza es sorprendentemente sabia.
As a curious fact I would like to tell you that the person who grew this plant at home was my grandmother (92) and that this plant has a particularity. It gives a bunch of topochos and that will be its only production but around it other plants will be born that are "its children", each one will give a new bunch. Nature is surprisingly wise.
Tostones de Topocho
Ingredientes Ingredients
Topocho o plátano verde.
Aceite para freír.
Sal.
Topocho or green plantain.
Oil, for frying.
Salt.
Preparación Instructions
Pelar el topocho (también podemos realizar esta receta con plátano verde).
Peel the topocho (we can also make this recipe with green platain)

Cortar en láminas y freír hasta que tomen un color amarillo claro.
Cut into slices and fry until light yellow.

Retirar, aplastar un poco, agregar sal y freír por segunda vez. Escurrir en papel absorbente.
Remove, crush a little, add salt and fry a second time. Drain on absorbent paper.

Y listo... Ready!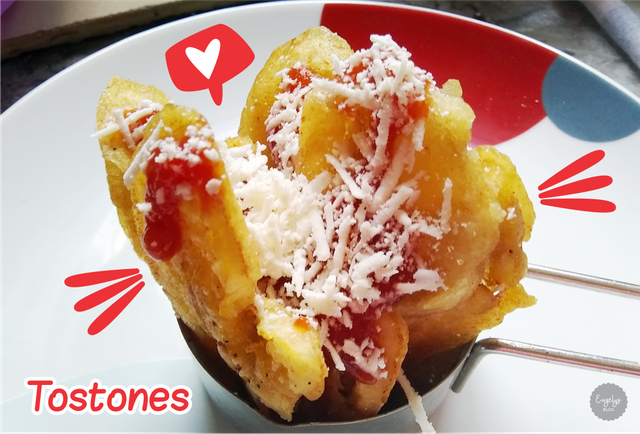 Me gusta acompañarlos con salsa de tomate y queso blanco rallado.
I like to accompany them with tomato sauce and grated Venezuelan white cheese.
Nota: No debemos abusar de los alimentos fritos pero de vez en cuando un bocadillo como este es delicioso.
Note: We shouldn't abuse fried foods but once in a while a snack like this is delicious.
Gracias por pasar por aquí, gracias por detenerte a leer o a escuchar, gracias por comentar, gracias por votar ¡Gracias por todo tu apoyo!
Thanks for stopping by, thank you for stopping by to read or listen, thank you for commenting, thank you for voting.

---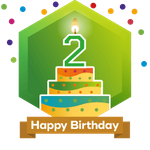 ---
---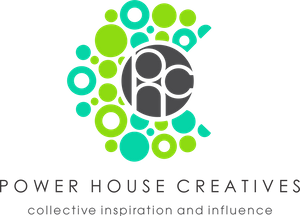 ---
---