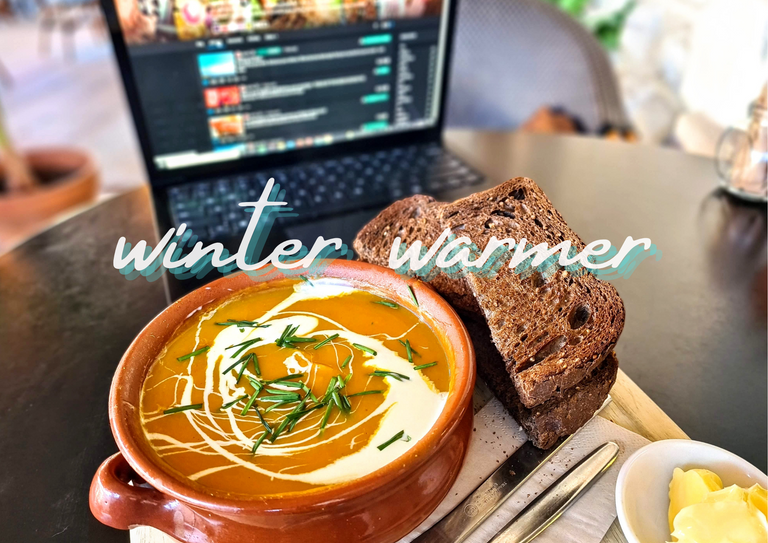 I know, it's summer for a lot of you folks but here it's winter and whilst where I live it's generally a mild winter, rarely sub-zero temperatures, it still gets cold and I'd say that for most people being cold isn't a very nice state to be in; I'll include myself in that category.
Thinking about being cold reminds me of the wisdom of a great man who said:
When you're cold you better warm up and when you're warm you're not cold anymore so you don't need to warm up any further, because you're not cold.
There's some pretty poignant wisdom right there right? Ok, I'll be honest, a great man didn't say that at all - A knucklehead did; me of course. #mumbojumbo
---
We've had a spate of cold winters days over the last week or so due to some fronts pushing up from Antarctica. That means days of 9-10°C [about 48F] and nights down to around 4-5°C. I know, some of you northern hemisphere people are laughing right now.
It's rained a lot also and there's been some wind, not gale-force, but enough to bring temperatures down due to the wind-chill factor. It's winter though and to be expected. I'm not complaining as I don't mind winter, in fact I prefer it over the 45°C+ summer days we get, but at the same time it inspires a need in me...To be warm.
I find I turn to different foods in winter and I eat a lot of soup. This isn't a bad thing as I tend to like soup and most are quite healthy; although the amount of bread that often accompanies the soup adds additional carbohydrates to my intake which, as a diabetic person, I need to watch. Also, I care what I look like - I'm 51, not dead! So I eat it but limit at the same time if that's even possible.
I hit the café I go to every day and decided soup and toast would be nice, quite fitting as it's a little cool. The owner changes the soup every couple of days and is always looking for something different, unique; there's much trial and error with the customers as the lab-rats. I'm ok with that though as there's very little error. They get it right mostly and when not...Well, I'm not that fussy so I eat it anyway.
The concoction was sweet potato and leek with a hint of ginger and sweet chilli; There was other stuff in it like garlic and onions, celery and so on but they called it spicy sweet potato, leek and ginger. It was delish! There was some home made dark rye toast on the side and they politely put the butter on the side so I could limit the amount if I chose; I slathered it on as if I had an endless supply of course!
I sat there with my winter warmer soup feeling pretty content; it was grey outside, the rain fell on and off and it was quite cool but from my perspective it was warm, comfortable and pretty soupy really. I was content.
---
It made me think about the effects of temperature on how we eat and why we feel like certain things at certain times. I know I tend to eat more fresh food like salads and fruit in the summertime; lighter foods I guess. Whilst in winter it's hearty stews, roasts and soups. I guess there's logistical reasons for that; better produce in summer, not wanting to have the oven or cooktop burning on hot summer days and possibly being out more, more active, in the warmer months rather than ensconced in ones home...But it's also a feeling, or so it is for me, the feeling of wanting to be snuggled and warm. I wonder if others are the same?
Feel free to drop a comment or two below and tell me if you eat differently in warmer or cooler months and what you eat. Do you have winter warmer foods you turn to like soup, stews and casseroles? In summer do you find you eat lighter foods, fruits and salads and more fruit? Let me know, or just drop a comment about how awesome my quote above is.
---
Design and create your ideal life, don't live it by default - Tomorrow isn't promised so be humble and kind
Discord: galenkp#9209
The image is mine