Hi, friends. As the title says, I am Venezuelan and today I want to show you what is eaten at the table in the ordinary days of Venezuelans, wherever we are.
Hola amigos. Como bien lo dice el título, soy Venezolana y hoy quiero mostrarles lo que se come en la mesa de los días comunes y corrientes de los Venezolanos, donde quiera que estemos.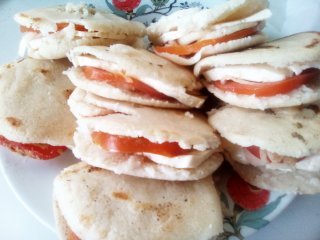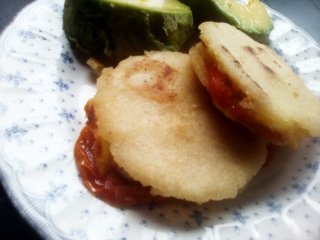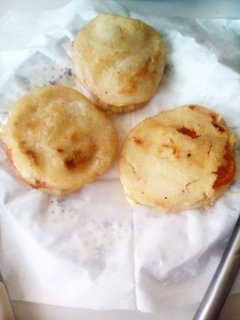 The Breakfast./ El Desayuno
Arepa is the typical Venezuelan dish that cannot be missing from the table at breakfast, and often at two or three of the day's meals. The arepa is made with pre-cooked corn flour and is roasted or fried, then opened and some filling is added, which is usually butter and grated cheese. It is accompanied by a delicious coffee with milk.
La arepa es el típico plato del Venezolano que no puede faltar en la mesa en un desayuno, y muchas veces en dos o tres de las comidas del día. La arepa la hacemos con harina de maíz precocida y se hacen asadas o fritas, luego se abren y se le agrega algún relleno que generalmente es mantequilla y queso rayado. Va acompañado de un rico café con leche.
These arepas in the photo are called ¨Mamá Pancha¨, Pancha was the name of a lady in the state of Trujillo who always welcomed us with these rich arepas, filled with cheese, tomato and onion wheels and seasoned with Adobo (a rich mixture of spices) then fried and served with coffee with milk.
Estas arepas de la foto se llaman ¨Mamá Pancha¨, Pancha era el nombre de una señora en el Estado Trujillo que siempre que la visitábamos nos recibía con estas ricas arepas, rellenas de queso, ruedas de tomate y cebolla y condimentado con Adobo (una rica mezcla de especias) luego se fríen y se sirven con café con leche.
Lunch./ El Almuerzo.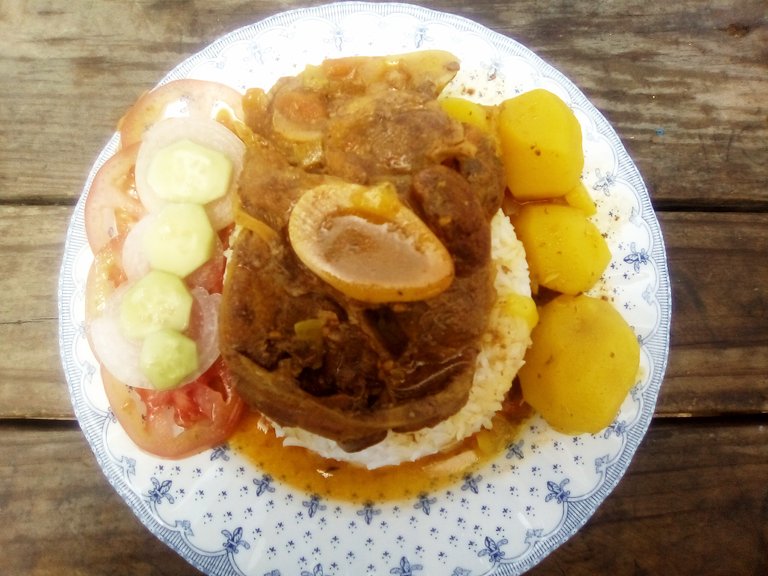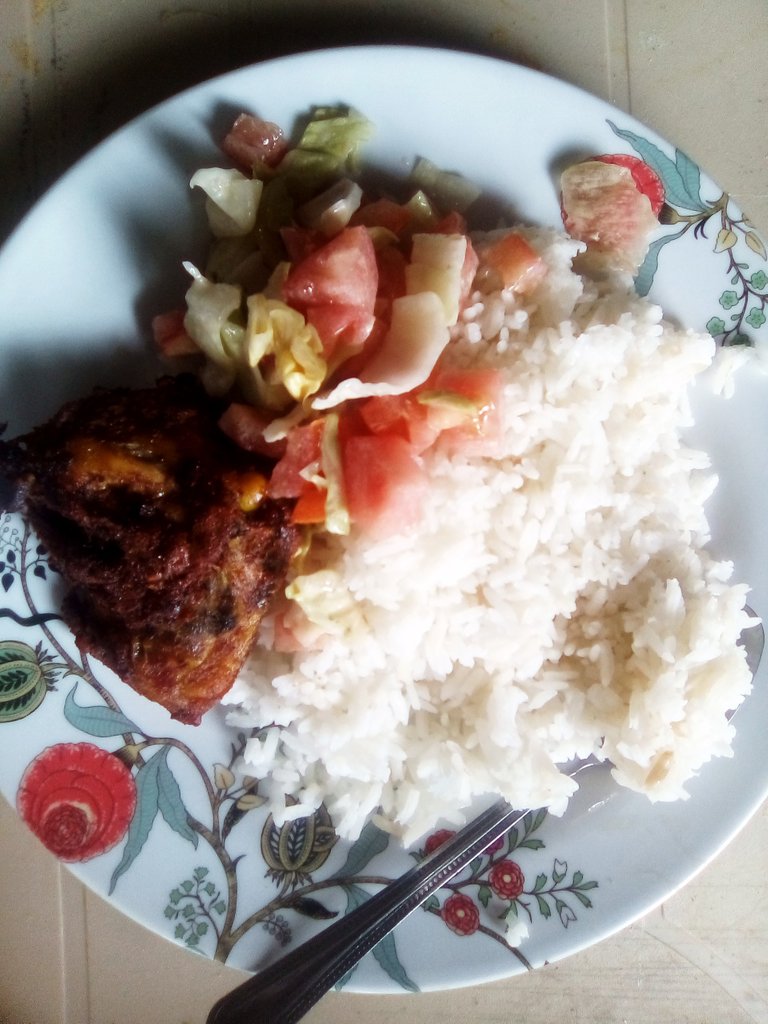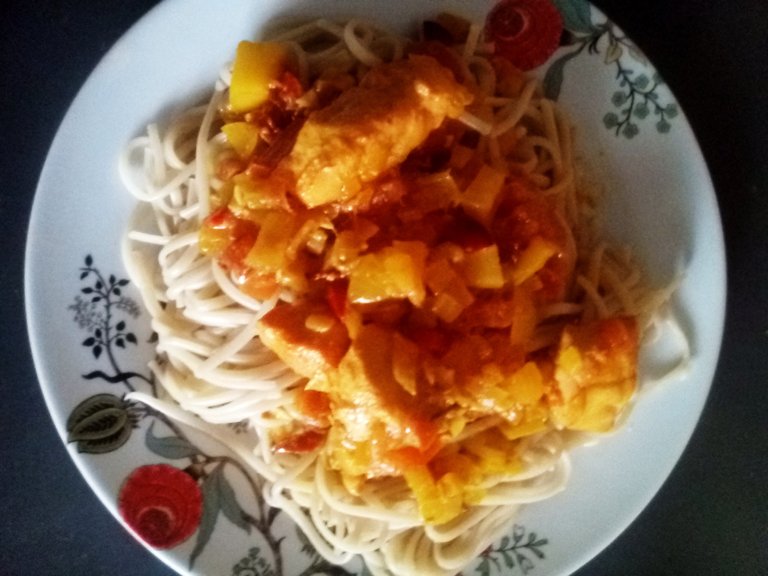 For lunch we serve rice, animal protein and vegetable salad. The first dish is a tasty osso buco with rice and salad and some banana or tostones wheels. The osso buco is the part of the cow's leg and comes with a bone in the middle. The osobuco is stewed and served with rice and salad. For this occasion we made plantains in tostones which are fried one first time, then they are flattened with something and fried again so that they are crunchy.
Para la comida del almuerzo servimos arroz, proteína animal y ensalada de verduras. El primer plato es un sabroso osobuco con arroz y ensalada y unas ruedas de plátano o tostones. El osobuco es la parte de la pierna de la vaca y viene con un hueso en medio. Se guisa el osobuco y se sirve con arroz y ensalada. Para esta ocasión hicimos plátanos en tostones los cuales se fríen una primera vez, luego se aplastan con algo y se vuelve a freír para que queden crujientes.
The second dish is fried chicken legs with rice and salad. We add ketchup to the rice, we love its sweet taste on the rice. And when we want to change the lunch menu we go for the pasta. The pasta sauce can be ground meat, chicken or vegetables, but it must have grated year cheese and ketchup hehe.
El segundo plato son muslos de pollo frito con arroz y ensalada. Al arroz le agregamos salsa Ketchup, nos encanta su sabor dulce sobre el arroz. Y cuando queremos cambiar el menú del almuerzo nos vamos por la pasta. La salsa de la pasta puede ser de carne molida, de pollo o de verduras, eso sí, debe llevar queso de año rallado y salsa ketchup jeje.
The Dinner./ La Cena.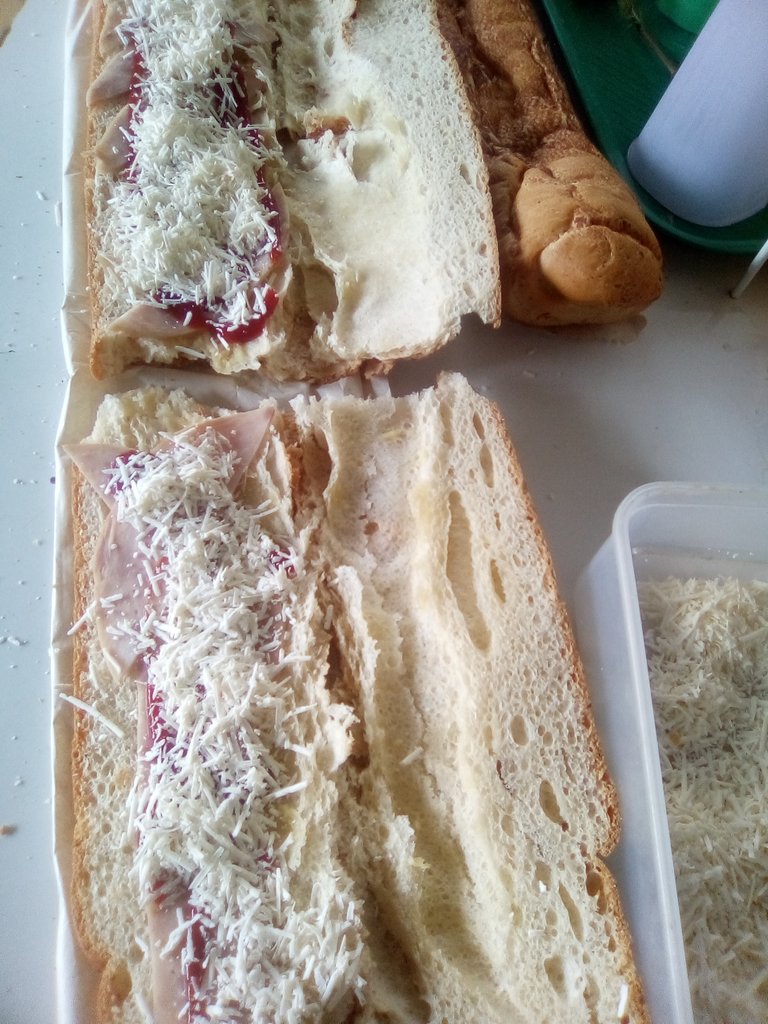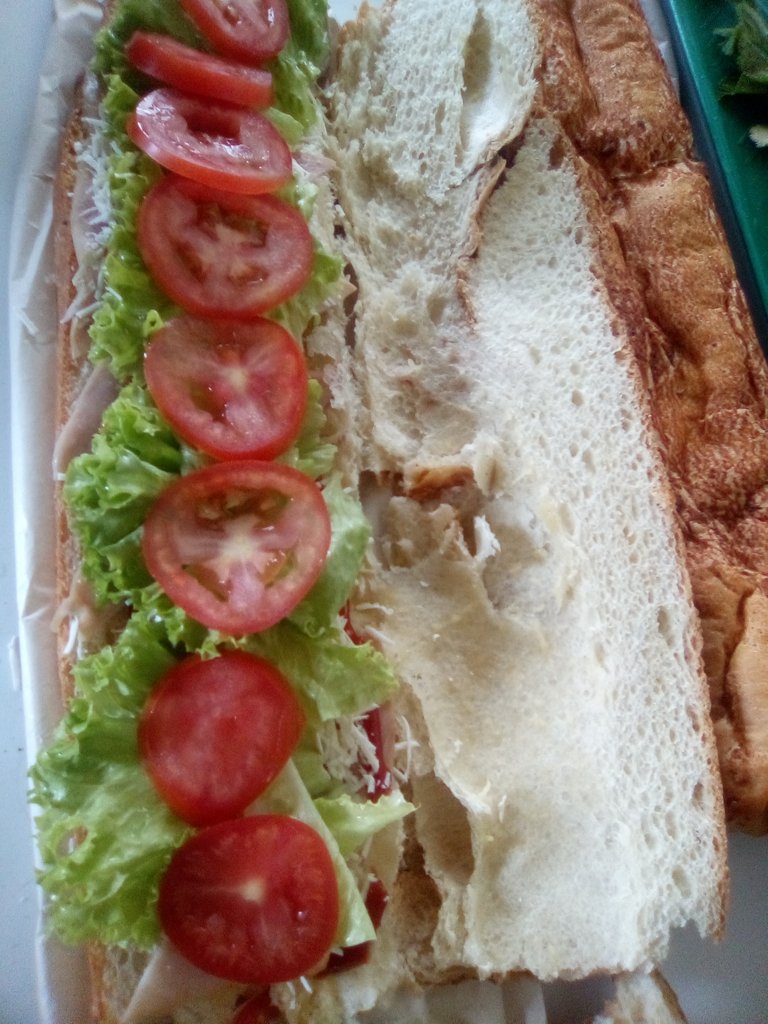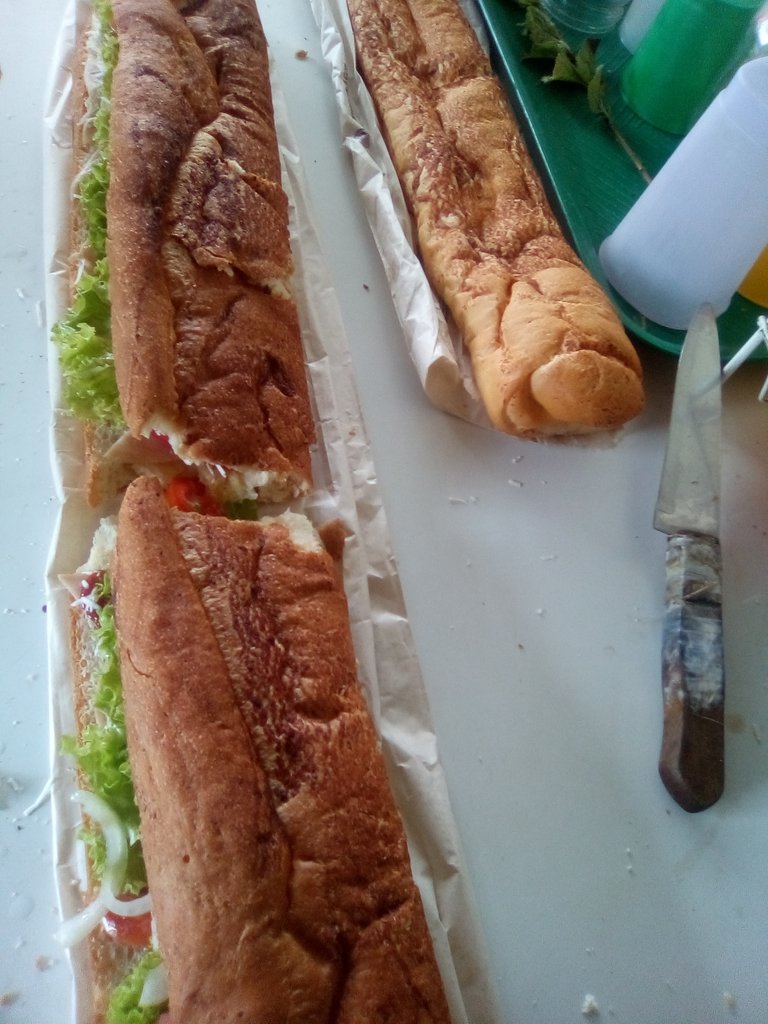 At dinner, if we don't eat arepas again, we leave with a nice bread filled it with cheese and vegetables. As you can see, we are cheese lovers and we like raw vegetables in our meals. Where there are children we have to vary the dishes because they get bored, luckily the 4 grandchildren eat vegetables without the trauma of not liking them.
En la cena, si no comemos arepas de nuevo, nos vamos con un rico pan relleno de queso y verduras. Como ven somos amantes del queso y nos gustan las verduras crudas en nuestras comidas. Donde hay niños hay que variar los platos ya que ellos se aburren, por suerte los 4 nietos comen verduras sin el trauma de que no les gusta.
This is my entry to the contest organized by my friend @zord189, if you want to participate just tell us which country you are from and how is the newspaper on your table at home, what do you eat, which are the most used dishes for meals.
Esta es mi entrada al concurso que organiza el amigo @zord189, si quieres participar solo dinos de qué país eres y cómo es el diario en la mesa de tu casa, qué comen, cuáles son platos más usados para las comidas.
https://hive.blog/hive-114105/@zord189/hive-creative-contest-or-food-tastic-contest-details