Hello friends. @zord189 wants to know what we are cooking? He is a guy who likes to cook, I have seen him in his duties in some publications, so this challenge will give him a range of recipe options from different countries.
With the Christmas season just over, we were able to display many of the dishes that we use at our table during these holidays. In my case, an international sweet dessert recipe supplants our traditional Black Cake this year.
Wikipedia tells me that they come from Sweden and Denmark and that it has always been an expensive dish in terms of the cost of its ingredients. That must be why it is not seen in stores.
Without preambles, here is my recipe: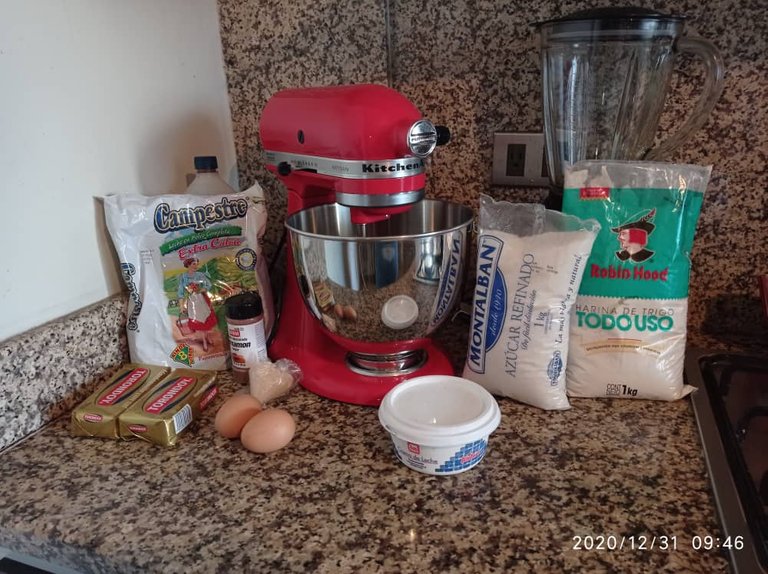 Ingredients for the mass:
240 ml of warm liquid milk.
100 grams of sugar
2 eggs
15 gr of instant yeast
100 g of butter
700 gr of Wheat Flour
Preparation of the roll:
Place the warm milk, yeast, eggs, butter, sugar and flour in a bowl. Mix to form a dough that does not stick to your hands. We let the dough rest and then we roll it out to add the filling.
Ingredients of the filling:
110 g of butter
250 grams of brown sugar
25 gr of ground cinnamon
Preparation of the filling:
After spreading the dough, add the soft butter over the entire surface of the dough. We sprinkle the sugar and cinnamon and we will make a roll that we will cut into 3-centimeter pieces. We place on a baking tray and let it rise for a few minutes. Then we take to the oven for about 10 minutes or until golden brown, at 220 degrees C.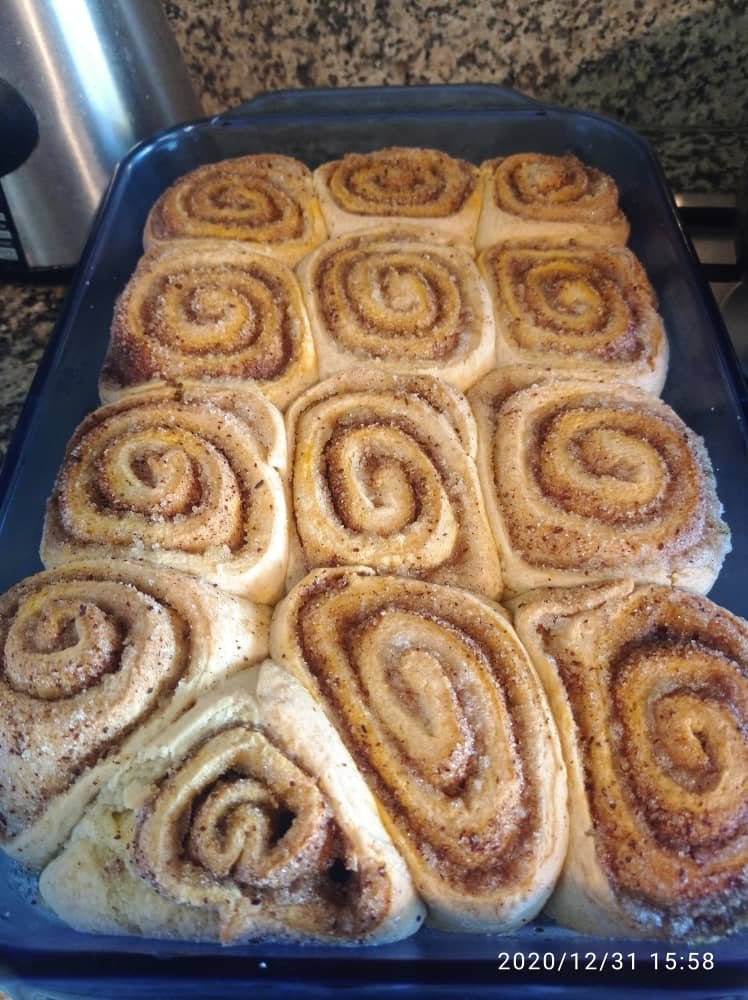 Glaze Ingredients:
250 gr of cream cheese
110 g of butter
450 gr of sugar glass
splash of vanilla
Glaze Preparation:
Beat cream cheese and butter until creamy. Add the powdered sugar and vanilla. Spread the loaves while they are still warm.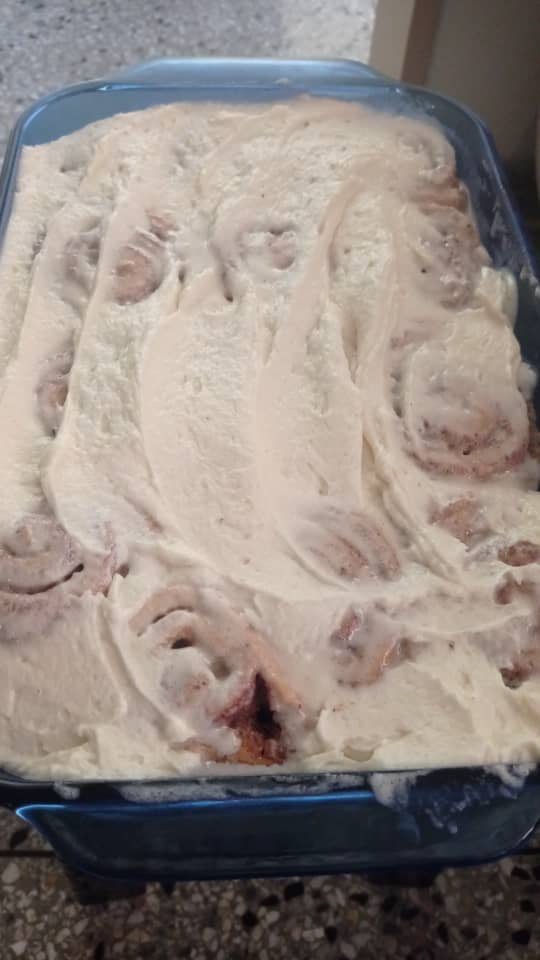 I hope you like my recipe, we loved it. Makes 13 loaves which can be cut like a cake (as we did for 15 people to eat) or if you dare you can eat by individual pieces.

Traducción al Español:
Hola amigos. @zord189 quiere saber Qué estamos cocinando ? Ël es un chico que le gusta cocinar, lo he visto en sus menesteres en algunas publicaciones, así que este reto le dará un abanico de opciones de recetas de diferentes países.
Acabando de terminar la época de navidad pudimos mostrar muchos de los platos que usamos en nuestra mesa en estas fiestas. En mi caso, una receta internacional de postre dulce suplanta nuestra tradicional Torta Negra este año.
Me cuenta Wikipedia que provienen de Suecia y de Dinamarca y que siempre ha sido un plato costoso en cuanto al costo de sus ingredientes. Debe ser por eso que no se ve en tiendas.
Sin más preámbulos aquí va mi receta:
Ingredientes para la masa:
240 ml de leche líquida tibia.
100 gr de azúcar
2 huevos
15 gr de levadura instantánea
100 gr de mantequilla
700 gr de Harina de Trigo
Preparación del rollo:
Colocamos en un bowl la leche tibia, la levadura, los huevos, la mantequilla, el azúcar y la harina. Mezclamos hasta formar una masa que no se pegue en las manos.Dejamos reposar la masa y luego estiramos con rodillo para agregarle el relleno.
Ingredientes del relleno:
110 gr de mantequilla
250 gr de azúcar morena
25 gr de canela en polvo
Preparación del relleno:
Luego de extendida la masa agregamos la mantequilla blanda por toda la superficie de la masa. Espolvoreamos el azúcar y la canela y haremos un rollo que cortaremos en piezas de 3 centímetros. Colocamos en una bandeja de hornear y dejamos levar unos minutos. Luego llevamos al horno durante unos 10 minutos o hasta que se doren, a 220 grados C.
Ingredientes del glaseado:
250 gr de queso crema
110 gr de mantequilla
450 gr de azúcar en polvo
chorrito de vainilla
Preparación del Glaseado:
Batir el queso crema y la mantequilla hasta cremar. Agregar el azúcar en polvo y la vainilla. Untar los panes cuando aún estén calientes.
Espero te guste mi receta, a nosotros nos encantó. Rinde 13 panes los cuales se pueden cortar como una torta (como hicimos nosotros para que comieran 15 personas) o si te atreves puedes comer por piezas individuales.