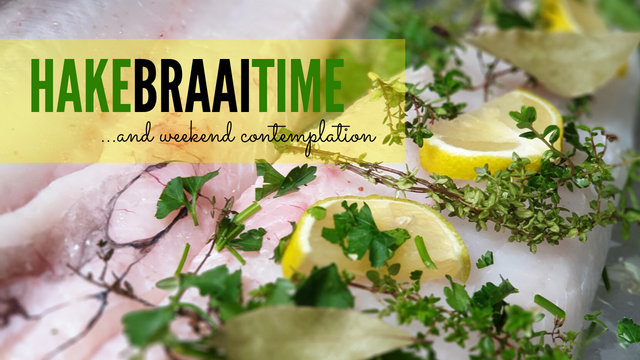 The weather is starting to cool down considerably here in Cape Town, so we are enjoying what will probably be the last of our warm, sunny days for the season.... in fact, I think there is a cold front heading our way tomorrow - nonetheless, today has been a beautifully sunny and still one... the perfect Saturday.
Despite being really busy during the day time, I know that moving forward with Jude doing online schooling full time, I am going to have more flexibility and hours to put into some of the things and ideas that I have had had milling around my head.
Sometimes you actually just need to be still in order to allow time for those ideas to flourish. I did a little bit of that today in the garden, coupled with some much needed natural vitamin D.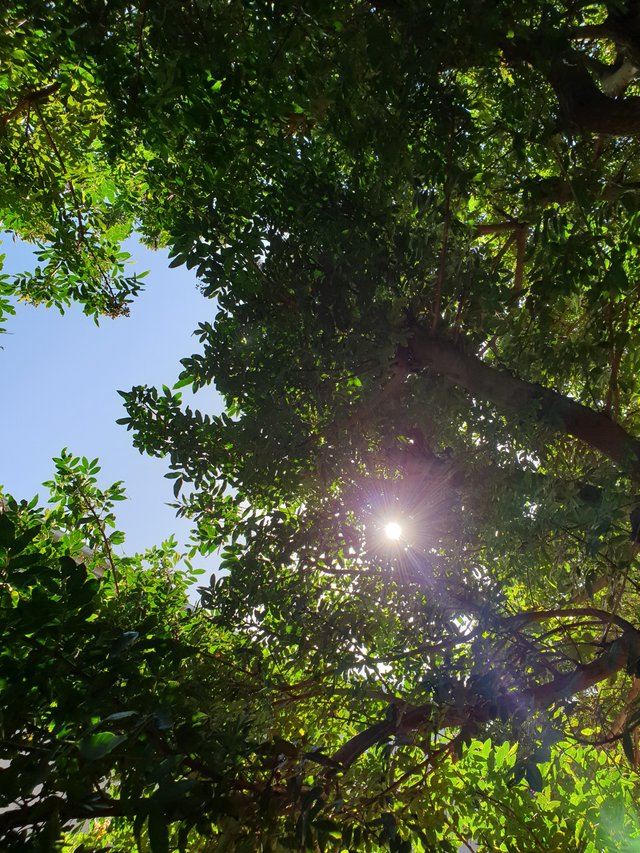 Aside from that, we decided that it was a good day for a braai, but opted to do a fish braai for a change so we picked up a nice fresh filleted hake from the super market yesterday. As my mom will be eating the fish with us, I had to keep the seasoning really simple and in line with her new dietary guidelines...
So it was simply a little bit of flax seed oil, some fresh lemon thyme, a couple of bay leaves, a little bit of pink himalayan salt, chopped parsley and a few sliced of fresh lemon. Folded the two halves closed and wrapped in the foil ready to go! That will cook on medium coals for about 15 minutes a side.
I will be sure to add an edit of the finished product :)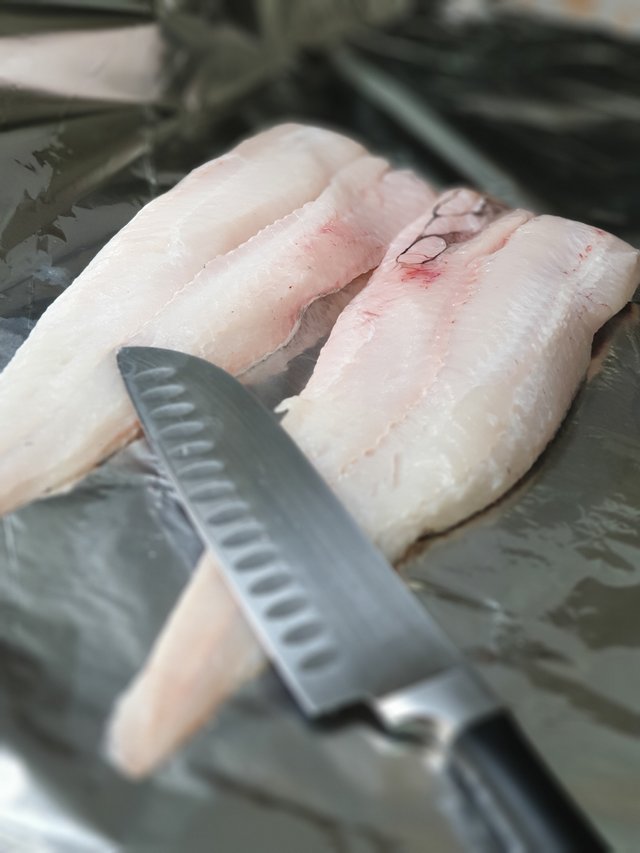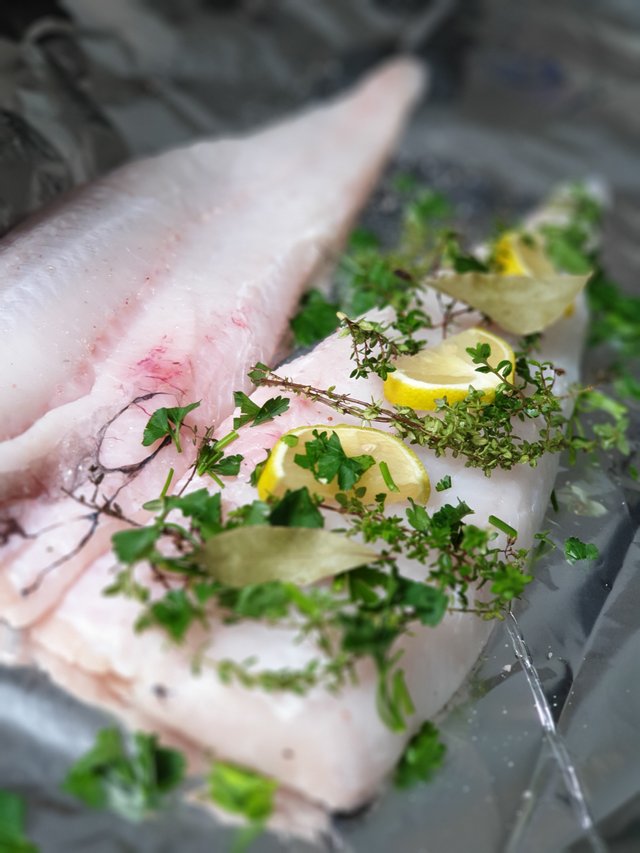 A few days ago when we did a shop for my moms new foodie stuff, I think was just a little over zealous lol and when looking in the fridge this morning, I realised that the cauliflower and spinach both needed to be used otherwise they were just going to become waste... and I am very much a waste not, want not kind of girl, so I opted to prep something which could and will be accompanying the fish.
Both cauli and spinach are great in a creamed style dish, but I cannot say I have ever put them together... until today that is... lol! Sadly, my mom won't be able to enjoy this part of the braai with us, but I will make her something equally as tasty for her side.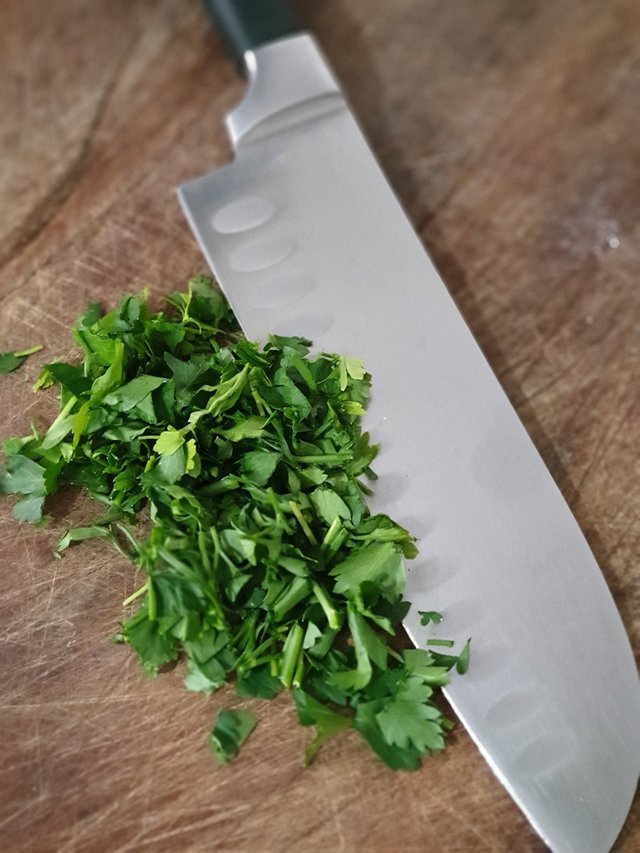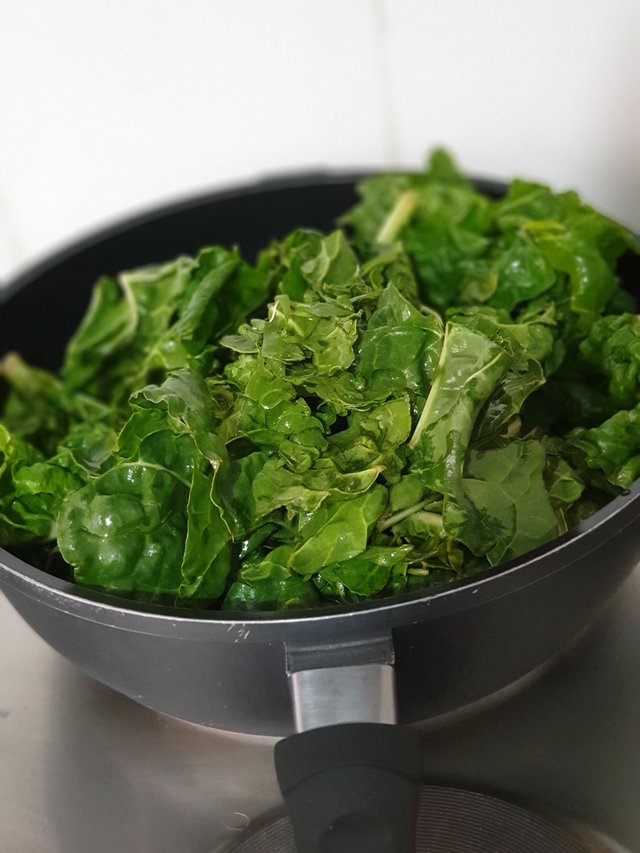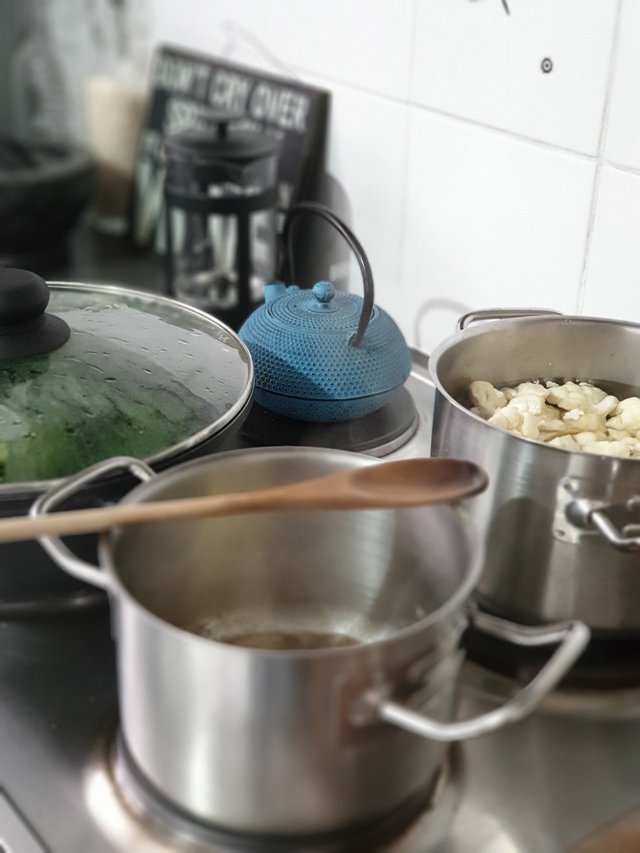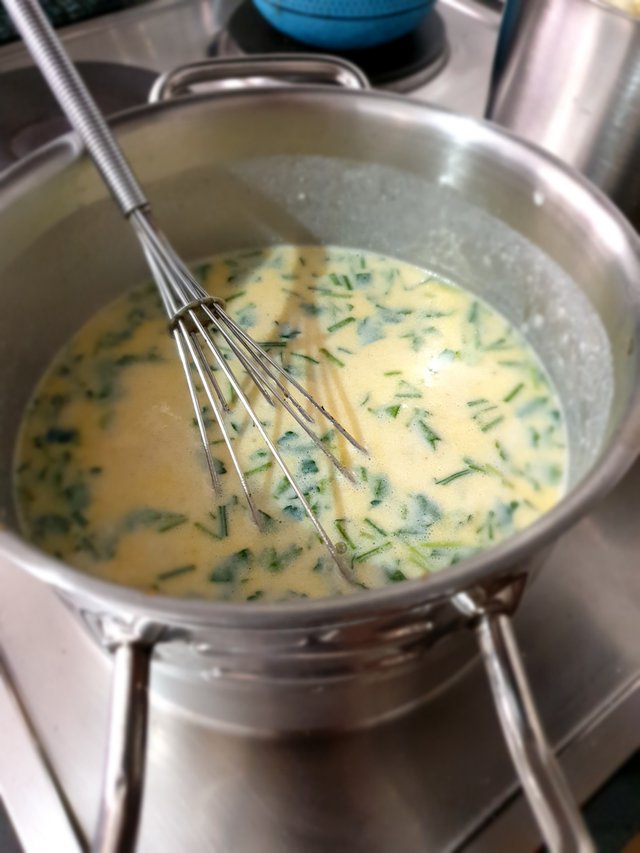 So I sauteed the spinach in a little olive oil for about 5 minutes and then set it aside to drain and cool whilst I cooked the cauliflower and prepared a nice garlic and parsley infused white sauce.
Once it was all ready, I popped it into a baking dish, added the sauce and then topped it with grated cheese, a little ground black pepper and some dried parsley - so now all I have to do is pop it under the grill a little closer to the time! I cannot wait - YUM!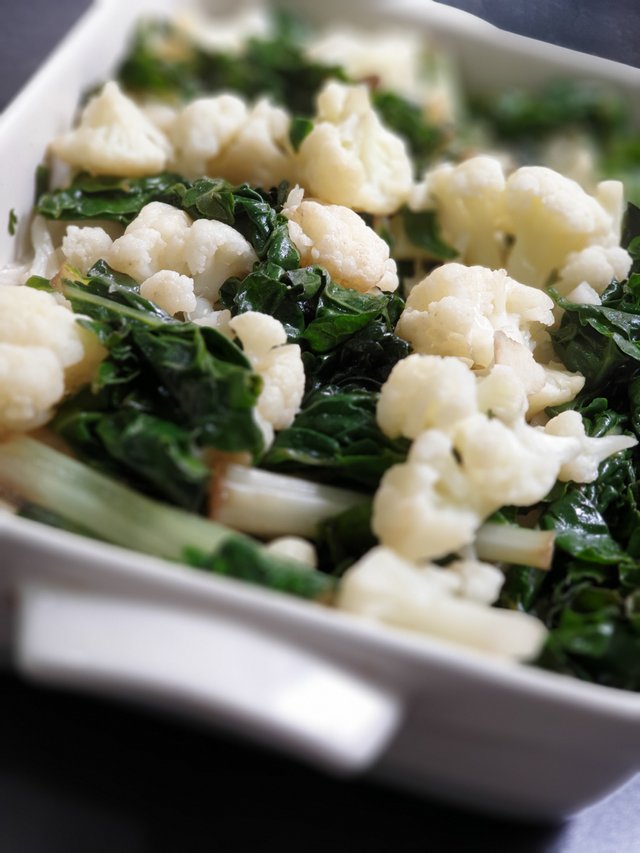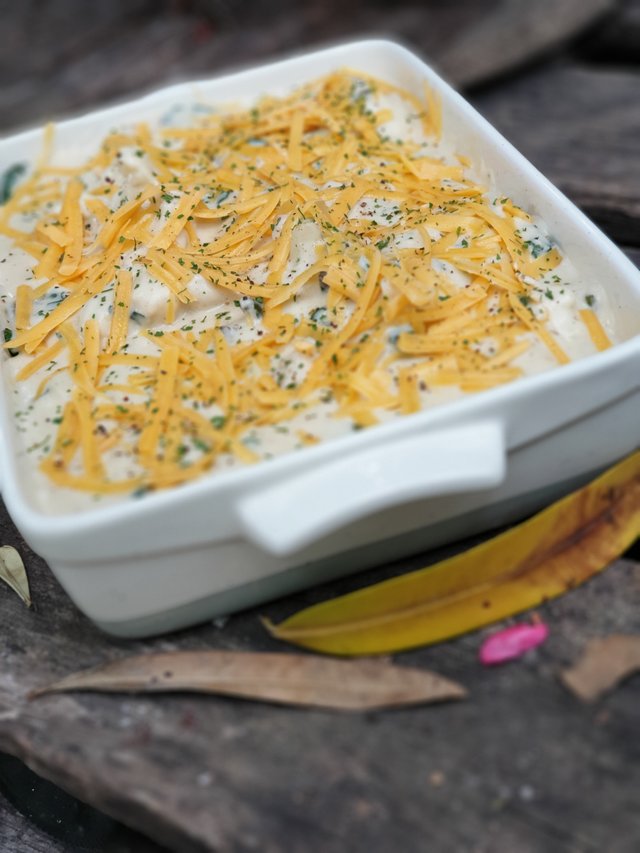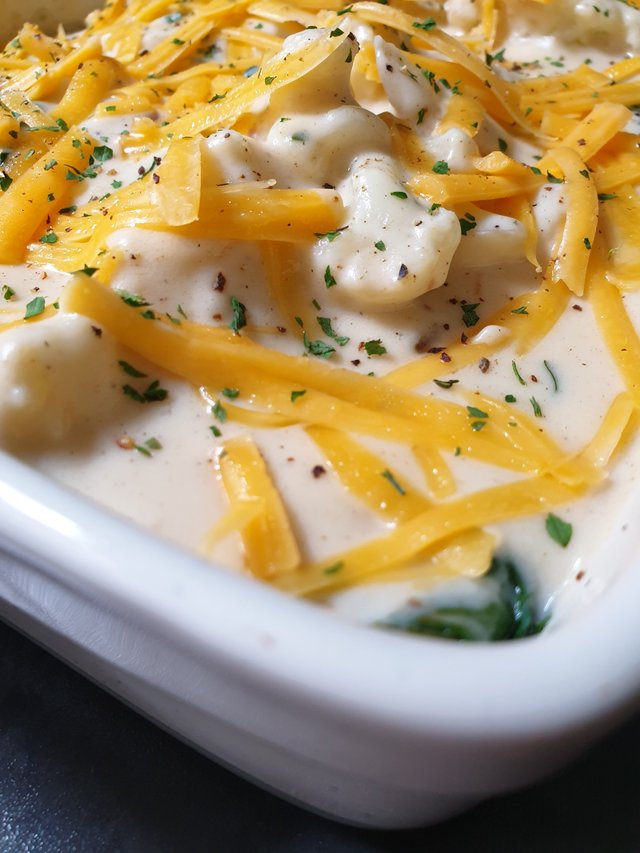 I didn't get to quite as much as I had wanted to today, but simply thinking about it all was just as satisfying and I think I needed a day of "down time" - it was good! Tomorrow is another day and nothing makes me more productive than solid, rainy weather... so hopefully the weather man got it right and it can be a nice cosy day indoors - just a pity there won't be any red wine to accompany the productivity lol.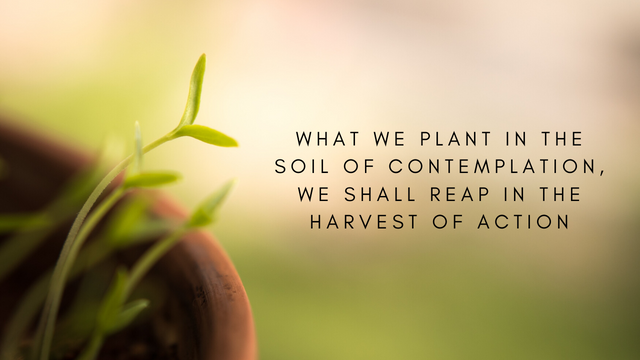 ❤ HAPPY SATURDAY PEEPS ❤
Hope you all have a truly blessed day
❤❤❤
Until next time...
Much Love from Cape Town, South Africa xxx
Jaynielea
FOUNDER OF THE POWERHOUSE CREATIVES
JOIN ME ON TWITTER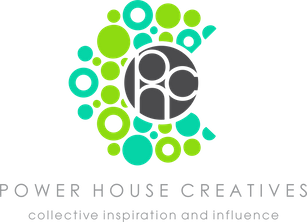 A community dedicated to producing quality content in multiple genres,
offering our subscribers a read worthy feed.
JOIN OUR DISCORD COMMUNITY
SUBSCRIBE TO OUR COMMUNITY FEED
LIKE OUR FB PAGE
FOLLOW US ON TWITTER

Created by @derangedvisions

ALL IMAGES ARE MY PROPERTY UNLESS OTHERWISE CREDITED