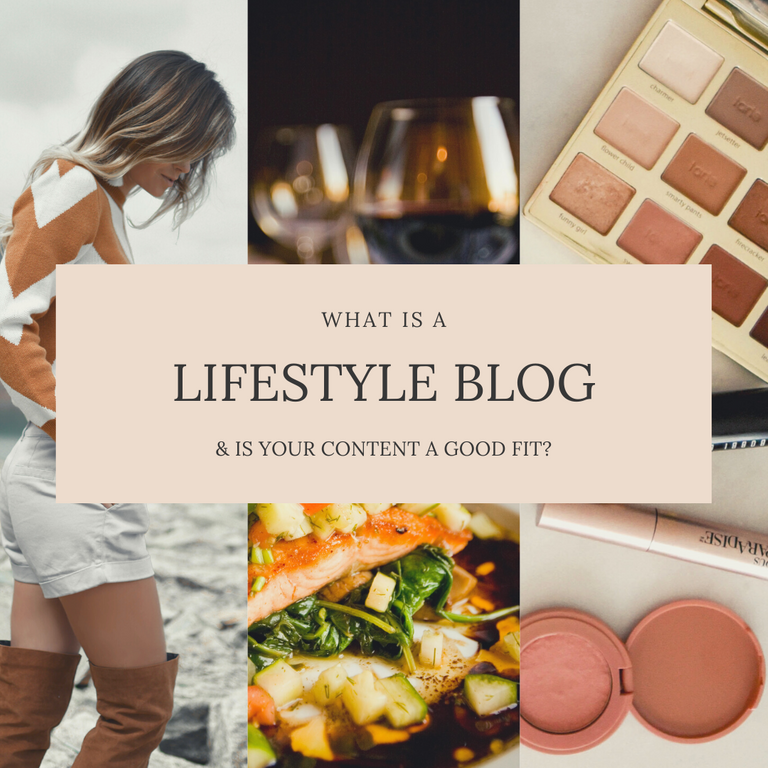 The title of "lifestyle blog" can come across as a little vague and I think what many people seem to get confused by is the actual intent behind it. I am hoping that through this post, I can shed a little bit of light on the matter, so the people wanting to publish their content to our Lifestyle Lounge community have a clearer understanding of what would be suitable for the feed.
Traditionally you will find that a lifestyle blogger initially focuses on one particular topic or niche until their blog is better established and then broaden the content variety as it develops naturally – but as we are a community of bloggers – either and both work well.
So what we are looking at here in essence is what makes up a lifestyle BLOG, rather than a lifestyle blogger. By definition, a lifestyle blog is comprised of content which is representative of and inspired by the authors life and daily activities, primarily focused around topics such as food, fashion, beauty, travel, wellness, mind-set, technology, parenting etc. But what sets it apart from a "general" blog is the purpose behind the content shared. The KEY factor being that it offers and/or adds some kind of value to the reader experience and this comes through the information given in the post itself.
For your shorter, more photographically driven posts, revolving around topics like fashion, food etc. I gave some insight and info in THIS post. In short – it is the difference between adding value to the readers life or not. What I mean by adding value to the readers experience is including product / experience INFORMATION and direction.
When looking at the "mindset / wellness" aspects... Let's say for example your write about a really crappy day you had. Perhaps everything went wrong and you felt the need to vent – that is fine, BUT (and it's a BIG BUT) – it is NOT a lifestyle post if you do nothing but whinge endlessly. What WOULD turn a post like that into one considered a "lifestyle post" is if you added the dimension of mindfulness or wellness to it.
Yes, you had a frustrating day but the way in which you share that with your audience can vary greatly. Perhaps you add a little bit of humour to the general theme of frustration, ultimately seeing the "lessons" behind the experience or maybe you dissect the experience and share positive ways in which to handle such day to day frustrations. Either of these suggestions instantly take a "whinge post" and turn it into something which inspires, motivates or simply adds a smile to the readers face – thus giving them some food for thought in respect to their own life. I stumbled across a really great example of this the other day. Take a look at THIS POST by @galenkp.
Whether it is your daily beauty routine, test driving a new car or sharing your new meal plan – your PRIMARY objective and underlying message should be to EDUCATE and INFORM the reader in a generally positive and engaging manner as well as (when applicable) giving product info, price, location etc.
I think there is a lot of potential for such a niche on Hive, and plenty of people wanting to write as well as explore such content but people need to develop a better understanding of what that actually entails so that they can not only improve the quality and professionalism of their blogs but also develop the levels of engagement on their content published.
Browsing a lifestyle blog feed should be like having a magazine at your fingertips. There should be a little bit of everything offered to the subscribers, but delivered in a very specific manner. It can be very challenging to guide people simply via blog posts as each message or piece of info will only be considered by those who actually see it. It is for that reason, I have decided to open a server on discord for those on Hive that really want to explore this "niche" of blogging on a regular basis. This space would only really be beneficial and applicable to those of you that want to predominantly focus on lifestyle blogging as well as being a part of building the Lifestyle Lounge community feed itself – in terms of professionalism, aesthetics and overall reader experience. Ultimately, I would like our community feed to be easy on the eye, professional and most importantly ENJOYABLE and informative! If you feel that you would like to be a part of this journey and the Lifestyle Lounge Discord community, then you can hop on HERE.
I realise that there are many Hive users that may enjoy sharing lifestyle content but are not necessarily interested in being a part of a Discord server and for this reason, I will continue to write posts which help guide and educate people. I will regularly pin those posts to the top of the community feed.
For the sake of content again, I would like to reiterate as to what IS and what IS NOT suited to our community page, please take a look at the outline below. There are many great and also applicable communities on Hive and I think it is really important that we make use of the right spaces for what we share, so for the "NO'S" list below, I have added suitable community link suggestions for such content.
There were certain topic genres that originally were going to be allowed into the community, which I have now decided against. One being recipes for instance. Whilst recipes are indeed applicable to lifestyle in a sense - there is already a well established food community on Hive and those posts should be reserved for that space. So the "food" category in our community will be reserved for food product news, tips, trends and info.
Another one is needlework and sewing etc. There is a fantastic Needlework community on Hive already, so the "FASHION" aspect will be reserved for posts which either share a product you have designed and made which is available for purchase - or general fashion trends, insights, tips etc.
YES TO…
Saleable Product design / creation
Product / venue / restaurant reviews & news
Product unboxing
Fashion / Decor / Design insights, tips, trends & news
Mindset / Wellness posts incl. motivational and inspirational content
Upcoming trends in all the above mentioned niches
"Tried & tested" blogs (food products, fashion, beauty etc.)
Food and health NEWS, TIPS, TRENDS & INFO only!
"Appics / Instagram style" photo shares NB: READ THIS POST AS A GUIDE
NO TO…
Click on the genres listed below to be directed to a suitable community suggestion
Poetry
Fictional writing
Vents, rants & random
Book Reviews
Musical Performances
Religion
Politics
Finance
Recipes
General NON-SALEABLE Needlework
Hive Blog Challenges
General Hive Contests
So, with some of the details "hopefully" made a little clearer - I am really looking forward to connecting and working with those of you that are wanting to venture into the genre of "lifestyle blogging" more frequently. It is going to be FUN and I think will add a whole new dimension to Hive in general. So, if you are game - you can JOIN THE LIFESTYLE LOUNGE ON DISCORD HERE.
❤❤❤
Until next time...
Much Love from Cape Town, South Africa xxx
Jaynielea

JOIN US ON DISCORD
SUBSCRIBE TO THE LIFESTYLE LOUNGE COMMUNITY HERE
JOIN US ON TWITTER


ALL IMAGES ARE MY PROPERTY UNLESS OTHERWISE CREDITED
HEADER IMAGES USED COMPLIMENTS OF UNSPLASH