I'm sharing Seed Crusted homebaked Bread and homemade Basil Hummus to kick off the year 2020 with all our Fruits and Veggies Monday foodies.
My fledglings were still home for the holidays and they simply love hot homebaked bread, so bread was quickly kneaded and placed in my Wonder Bag to speed up the proving.
Not actually a good idea but sometimes us Moms have to bend the rules to feed hungry and impatient mouths!

I learnt some time back that there are some theories around Gluten intolerance - some claim the real culprit in Celiac disease is Glyphosate, the active ingredient in the herbicide, Roundup®, which is used to spray wheat crops just before harvesting, a shocking and common practice by wheat farmers.
The Netflix documentary COOKED on the other hand theorised that many people suffering from Gluten intolerance probably would not suffer any adverse reactions if they were to eat sourdough bread made the old fashioned way such as by a baker named Richard Bourdon in rural Massachusetts, who explained the importance of proper fermentation of grains to aid digestion.


Gorgeous Sourdough bread we bought some time back from a farm bakery in the Drakensberg Champagne Valley where they make artisan sourdough bread from their own stone ground flour; the taste and texture cannot be beaten!



OK, so I went right off the tracks there, let us get back to the menu for today!
THE BREAD
I used Stoneground Wholemeal Flour with a selection of seeds added, as well as encrusting the bread in seeds - Sunflower, Flax , Sesame and Pumpkin Seeds.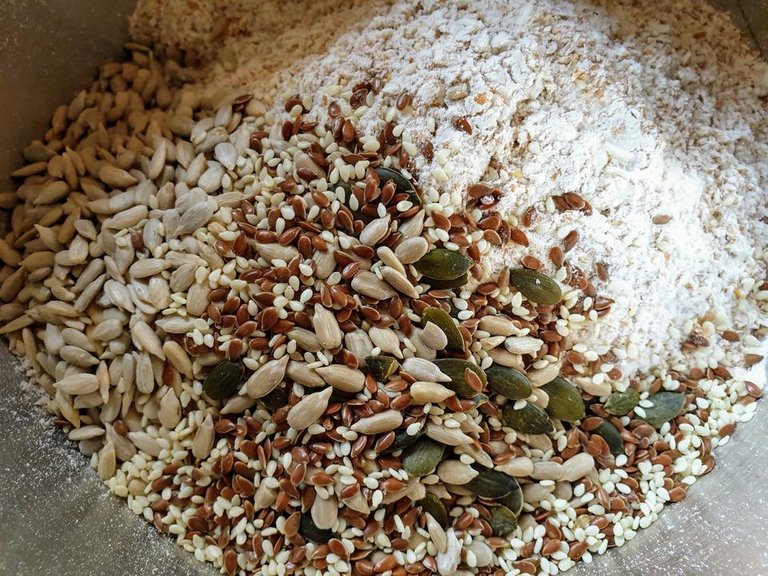 Pans were sprinkled with seeds and extra seeds were scattered on top of the dough, placed back into the Wonderbag for the final proving before baking.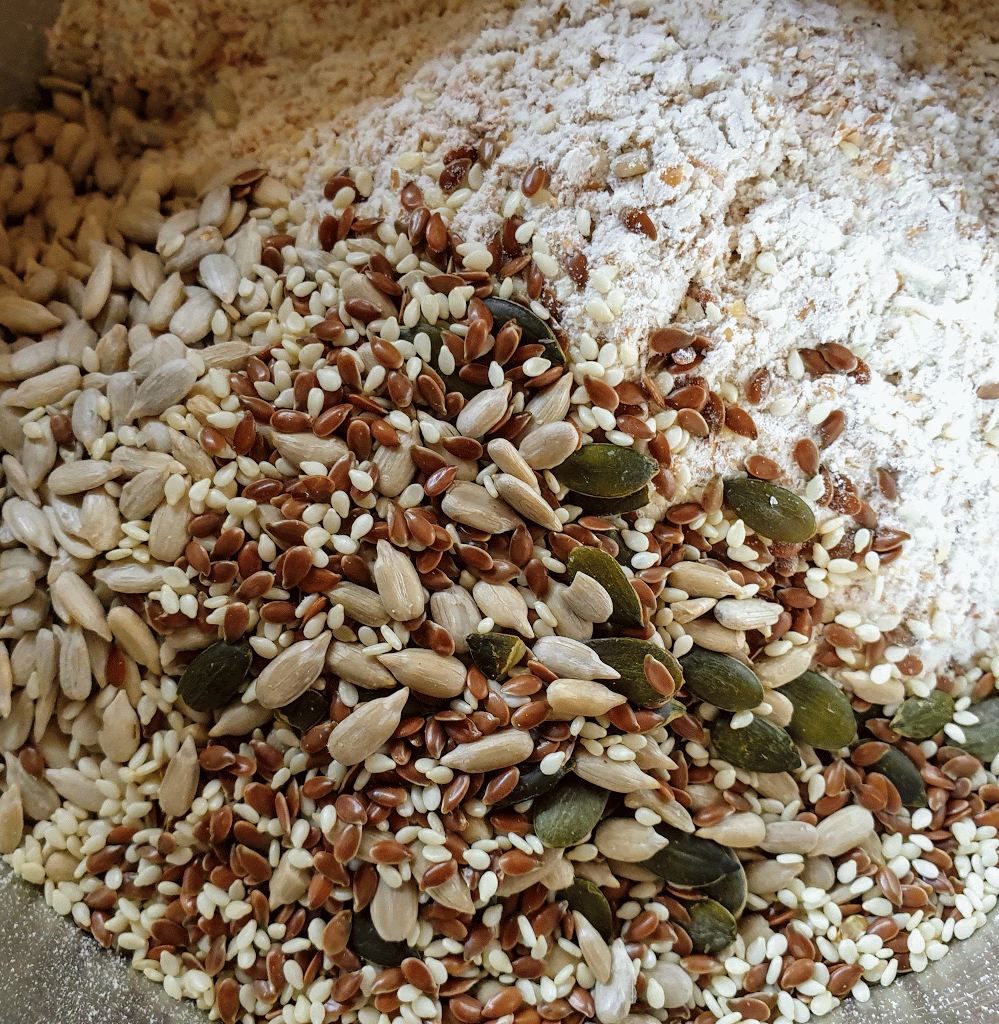 BASIL HUMMUS
I've tasted some good store bought hummus, but nothing beats the homemade version! Most recipes used either Tahini which is fairly costly, or Sesame Seeds, but I had run out of the latter.
The final product still tasted amazing!


I placed the following into my trusted old food blender:
1 cup drained Chick Peas
1 clove Garlic
2 Tbsp Lemon Juice
Handful Sweet Basil leaves
2 Tbsp filtered Water
1/4 tsp Salt
1/2 tsp Cumin Seeds

Gorgeous creamy Hummus with a slight green tinge from the sweet Basil.

The taste was amazing! Think I've already said that, but it really was good!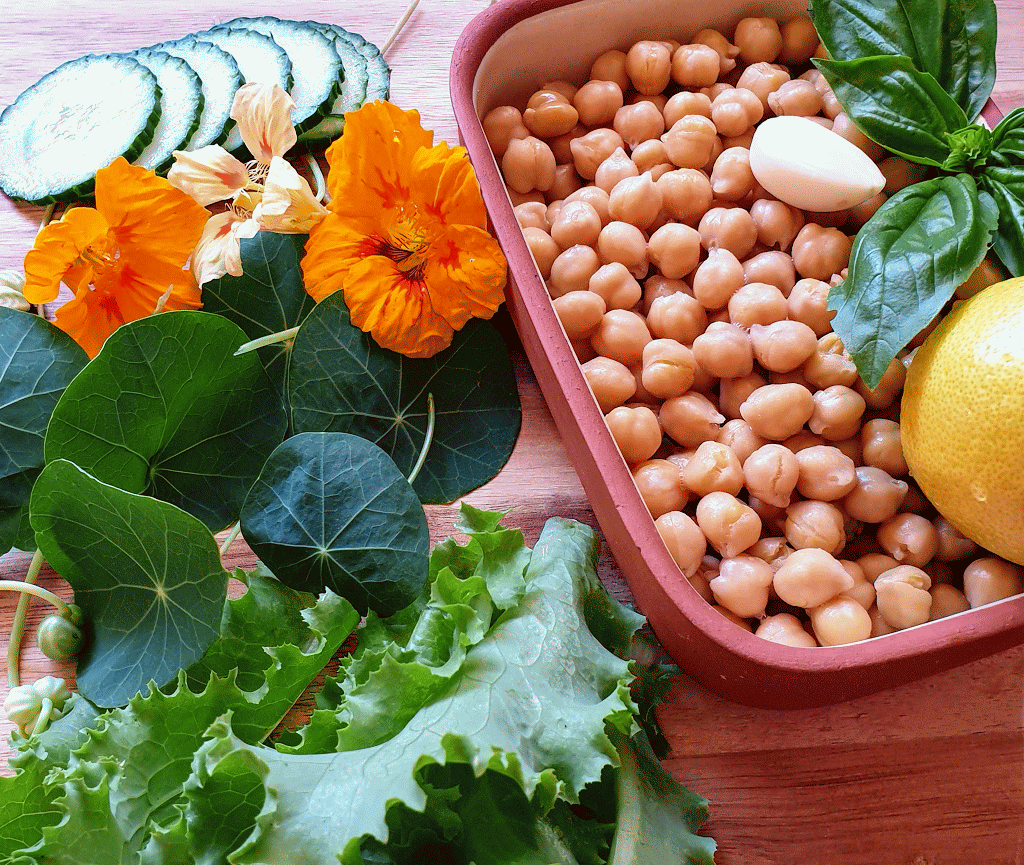 So now I had something good to use for an open sandwich topping - creamy Basil Hummus, paper thin Cucumber slices, the natural antibiotic Nasturtium leaves and flowers as well as the superfood Mung Bean Sprouts.


A deliciously healthy open sandwich perfect for the hot and humid summer we're currently experiencing!



Hope everyone is having a good 2020 so far; but let's spare a thought and say a prayer for the people affected by the fires in Australia.
Looking forward to seeing your contribution to this week's Steemit Fruits & Veggies Monday Contest, hosted by our gracious hostess @lenasveganliving.
A huge shout out to Lena as well as the lovely @plantstoplanks and @vegansofsteemit for the generous weekly prizes, much appreciated by all of us!
Not forgetting a big thank you to the wonderfully talented artist @barbara-orenya, the creator of our lovely Wonkies and all the generous curators who brighten up our Mondays!
You are all amazing!


---


Connecting the people of #STEEM across South Africa. #steemsa
JOIN US ON DISCORD (South Africans Only)
JOIN US ON TWITTER
JOIN US ON FACEBOOK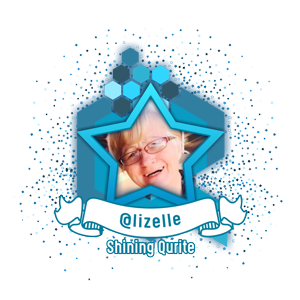 Original Content by @lizelle

Thank you for stopping by

Copyright @lizelle - All Rights Reserved