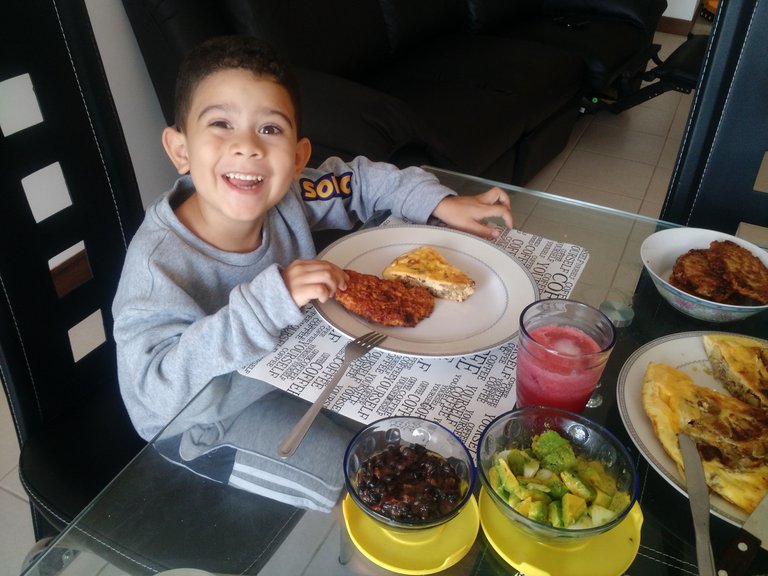 A food tastic challenge is a blast at creativity rather than knowledge. Cooking is an art, but enjoying the process and tasting unexpectedly interesting dishes not only because of the fantastic summoning of @zord189, but also because of what's in the pantry and the fridge.
So, I can say that today we are in luck because I feel enthusiastic about a crumbled fish pudding and we have what it takes and more, to put something creative, attractive and delicious on the table, even more, when you have to please the palate of a child who is not yet a lover of vegetables and likes little of the fish, but a lot of the egg in any of its presentations. So I will include them in the pudding that, after remembering that the oven is not installed yet, degenerated into an omelet or "cuajado", as it is called in my land to this type of dish made with a base of beaten eggs.
I am not used to sticking to recipes, I start from the essence of it, but I always put in or take out according to my taste or need. This dish is traditional in the east of my country and usually includes eggs, stewed shredded fish, and fried banana. I decided to enrich it with aubergines, potatoes, carrots, and cheddar cheese, although I later discarded the carrot because I remembered that the child does not like them and identifies them easily by color.
So I dismissed the fried banana and added potato and eggplant squares. I beat four eggs with a pinch of salt, a tablespoon of wheat flour, and a tablespoon of Parmesan cheese.
I put a layer of beaten eggs in the frying pan with a little bit of oil and I added the fish, potatoes and eggplants, Parmesan cheese, cheddar cheese, and finally another layer of beaten eggs. I put the lid on and cooked at medium heat, turned it over with the help of the lid, and continued cooking at low heat for a while.
Meanwhile, I took a leftover meal from the previous day out of the refrigerator to recycle it and prepare a side dish for the omelet. It was like a cup of cooked rice with diced meat, so I added an egg and some flour and water, mixed it up and made some croquettes.
I also prepared an avocado salad with onions in vinaigrette, I reheated some black beans I had prepared, I completed with a stimulating sideburn shake...
And, voila, a fantastic lunch!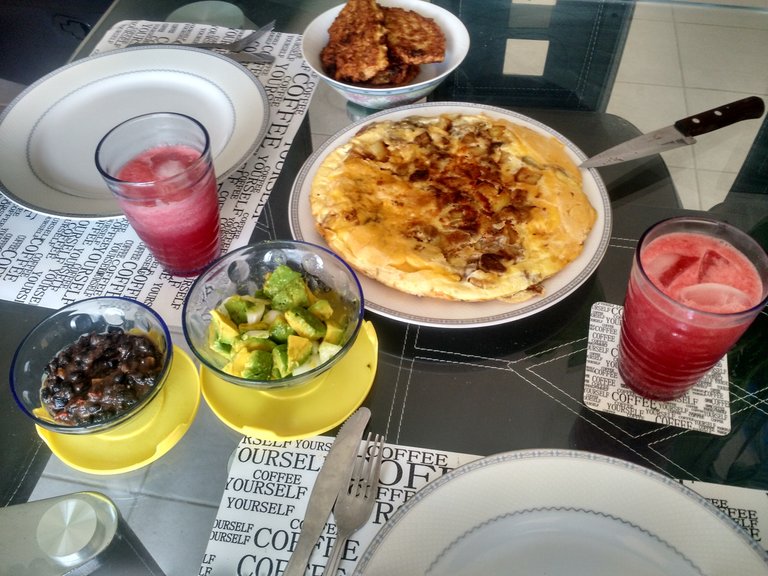 @zeleiracordero
18/08/2020
In response to @zord189Hive Creative Contest | Food-tastic (Contest Details)