This post is written in dual language so you will get a text completely in English followed by one completely written in Spanish.
Este post esta escrito en doble lenguaje por lo que conseguirá un texto completamente en ingles seguido de uno completamente escrito en español.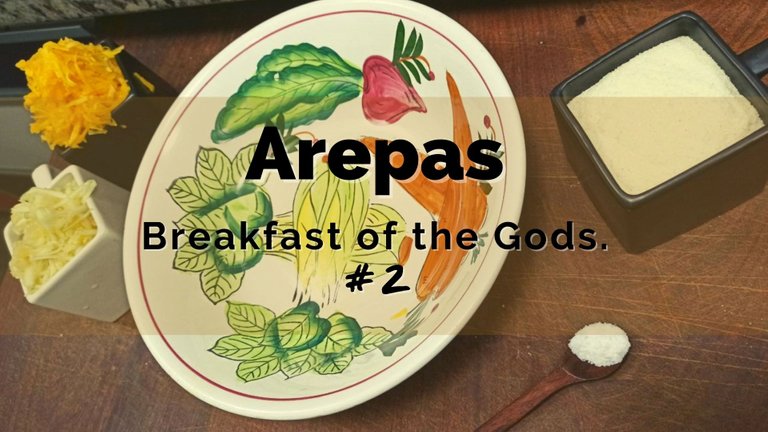 If you haven't read the first arepas post I'll leave the link here.👇

Arepas
Venezuelan breakfast par excellence
Many say that the arepa was born in Colombia, I do not know if it is true, but what is a fact is that it represents Venezuelans to perfection. Arepas are a bread made of ground and pre-cooked corn flour. The interesting thing about an arepa is the different fillings it has, which is something very Venezuelan. You can find them filled with meat, chicken, cheese, vegetables, among other accompaniments. The fun is there, each person is free to choose his or her own flavor.
Venezuelans have an interesting mix of culture product of the integration of European immigrants and Latinos in search of opportunities; So consequently we are quite different people among us, the cuisine is usually a mixture of many cultures, and the dishes that are prepared here are usually peculiar. While in Cumana I had the opportunity to organize a concert for @joseacabrerav, while making the flyer I asked him how he described the musical genre he played and he explained that he has no flag or color, "I make my arepa". He plays in his own way and everyone is an arepa, unique and with personality. The Venezuelan woman reinvents herself whenever she can, that made the recipes better and better. In my family women make arepas with different vegetables and greens, that is what I bring you today.
My Roots... in the form of ideas to combine your breakfasts.
Zucchini and pumpkin Arepas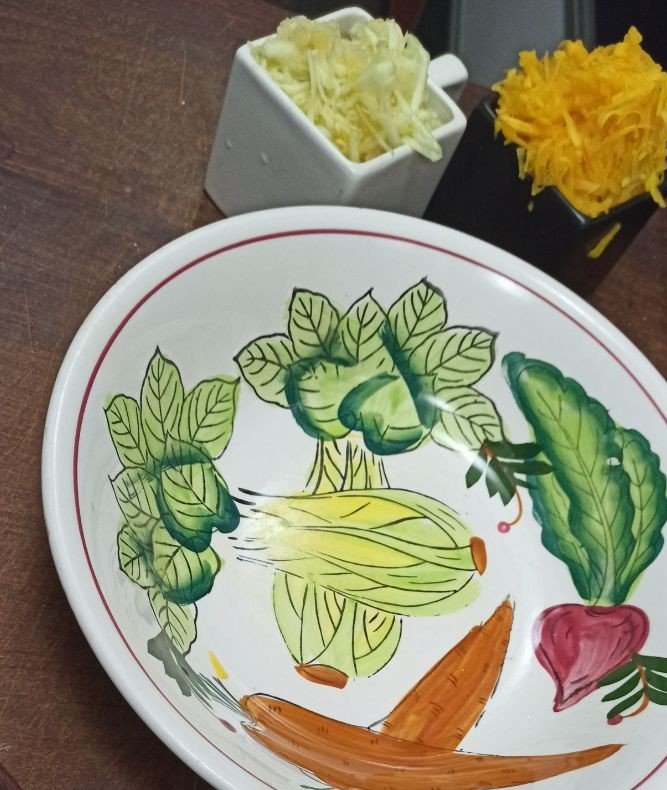 Ingredients:
1 cup of pre-cooked corn flour
200gr of grated zucchini
200gr of grated pumpkin
salt to taste.
Preparation:
In a bowl mix the previously grated zucchini and pumpkin, add salt to taste and gradually mix with the flour, let stand a couple of minutes so that the flour is hydrated and you can know the true contexture. (this prevents it from cracking) knead again until it is soft but firm and moldable.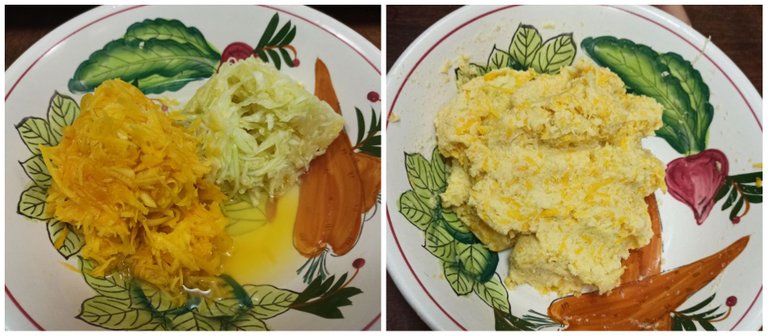 ---
Here we use griddles to make the arepas, its local name is budare or aripo which is the name by which it is known in the east of the country.
The griddle is placed to heat up before starting to knead, so they do not stick, there are also those who put a little oil or non-stick, but if you let it heat up well it should not stick.
---
---
Once you feel that the dough is ready we give it a round shape, the idea is to make a ball and then flatten it, the thickness is up to you, there are people who make them chubby and they also have their charm, but I usually make them thin so that they are ready in less time.
This can be a 10 minute process at medium heat, approximately 5 minutes on each side.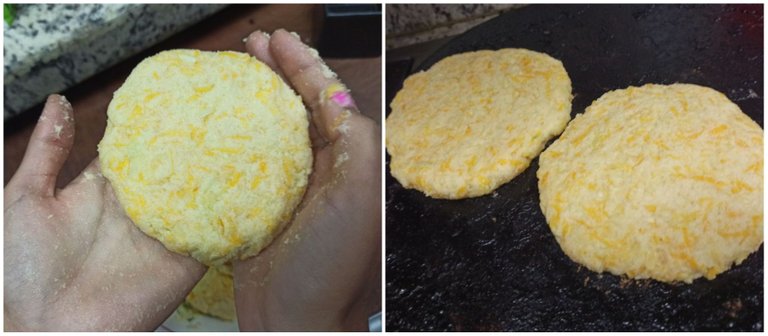 ---
When the dough starts to puff up and the sound is hollow, they are ready! open them, spread with some butter and fill with whatever you prefer... To finish with this recipe I made a vegetable side dish and served it cold.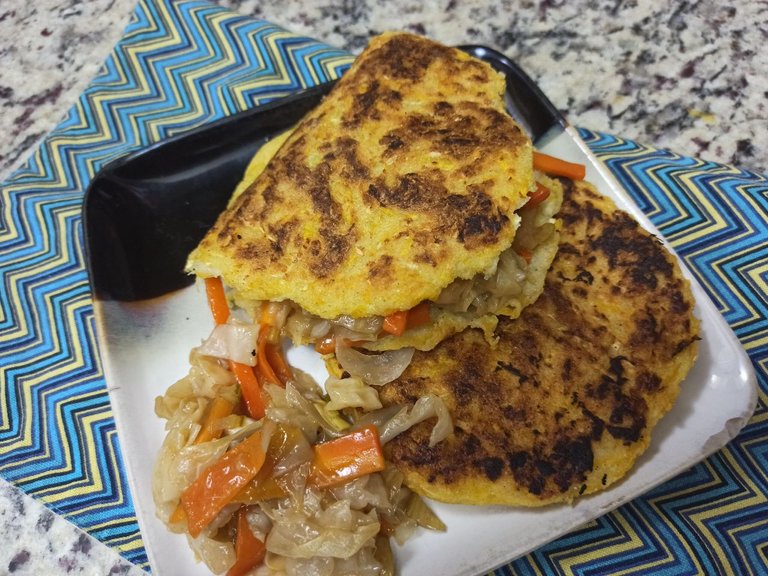 Ocumo Arepas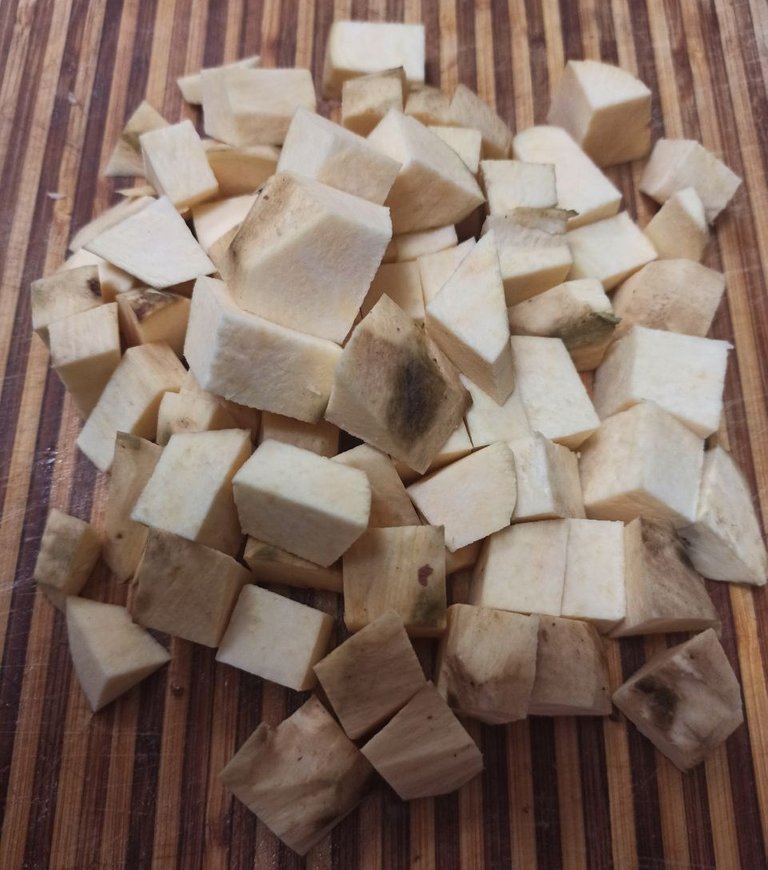 The ocumo is a very common vegetable in Venezuela, we use it to make soups, creams, stews, baby food bases, among a million other things thanks to its versatility and nutritional power.
Ingredients:
1/2 cup of pre-cooked corn flour
1 cup of cooked ocumo (approximately 200gr)
1/4 cup of the water used to cook the ocumo.
Salt to taste.
Preparation:
Wash, chop and cook the ocumo until it is soft, strain and reserve the liquid while letting it cool a little. Once we can touch it without burning, we begin to mash it to a puree.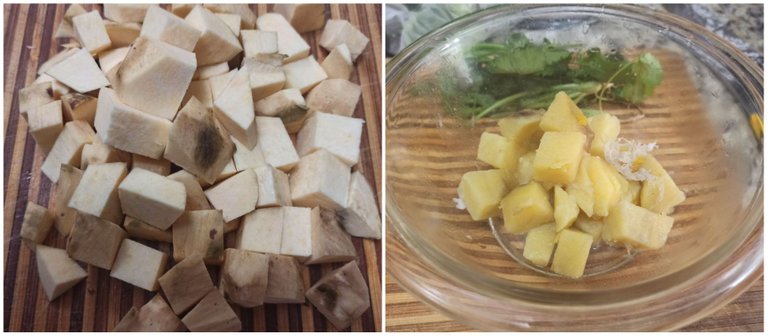 ---
Add water, salt to taste, mix and begin to add the flour little by little until it begins to form a ball, knead well for at least 5 minutes and feel if you need more water or more flour, always remember that the flour takes time to hydrate so it can get harder as time passes.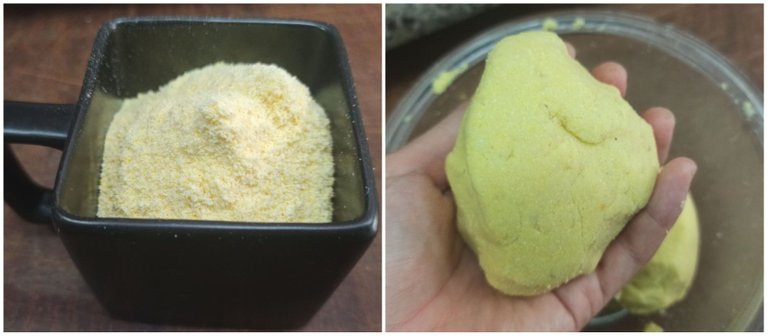 Once the dough is ready, begin to make small balls and give them the typical arepa shape and then place them in a frying pan, griddle or budare. On the griddle the arepas last about 10 minutes approximately on each side, REPEAT the trick to know if they are ready is to tap them and when they sound hollow like a drum, it is because the dough is already cooked inside.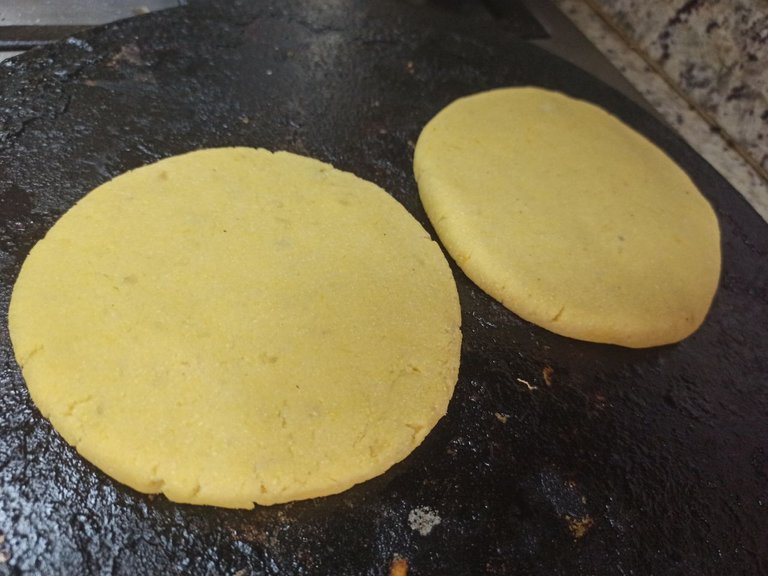 In Venezuela there are those who usually prefer this type of breakfast and mix the arepas with things like milk, cream of potato and cheese, among other variations, for my part I accompanied these arepitas with a vegetable soup.
Soon I will bring you a couple of ideas for vegetarian and delicious fillings.
Comments
Arepas are a low sodium food, ideal for people who cannot eat salt and besides being gluten free, they are also an excellent source of energy and carbohydrates.
With this I end today's post thanking those of you who always take the time to read me.
Best vibes to everyone.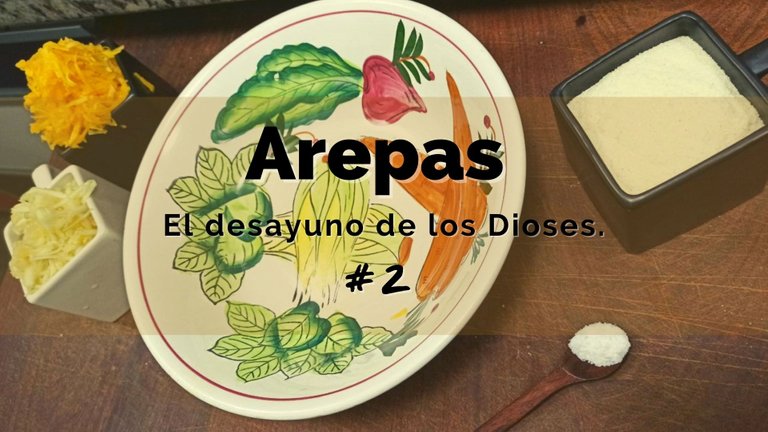 Si no has leido el primer post de arepas te dejare el link por aquí.👇

Arepas
Desayuno Venezolano por excelencia
Muchos afirman que la arepa tuvo su nacimiento en Colombia, yo no se si sea cierto, pero lo que si es un hecho es que representa a los venezolanos a la perfección. Las arepas son un pan hecho a base de harina de maíz molido y pre-cocido. Lo interesante de una arepa viene dado según los distintos rellenos que esta posea, que eso, "si es algo muy venezolano". Las puedes encontrar rellenas de carne, pollo, queso, vegetales, entre otros acompañantes. Lo divertido se encuentra allí, cada persona es libre de elegir su sabor.
los venezolanos tenemos una mezcla interesante de cultura producto de la integración de inmigrantes europeos y latinos en busca de oportunidades; Así que en consecuencia somos personas bastante diferentes entre nosotros, la gastronomía suele ser una mezcla de muchas culturas, y los platillos que aquí se preparan suelen ser peculiares. Estando en Cumaná tuve la oportunidad de organizar un concierto para @joseacabrerav, mientras hacia el flyer le pregunte que como describía el genero musical que interpretaba y el me explico que no tiene bandera ni color, "yo hago mi arepa". ÉL toca a su manera y es que cada quien es una arepa, única y con personalidad. La mujer venezolana se reinventa siempre que puede, eso hizo que las recetas fueran cada vez mejores. En mi familia las mujeres hacen arepas de distintos vegetales y verduras, eso es lo que les traigo hoy.
Mis Raices... en forma de ideas para combinar tus desayunos.
Arepas de calabacín y auyama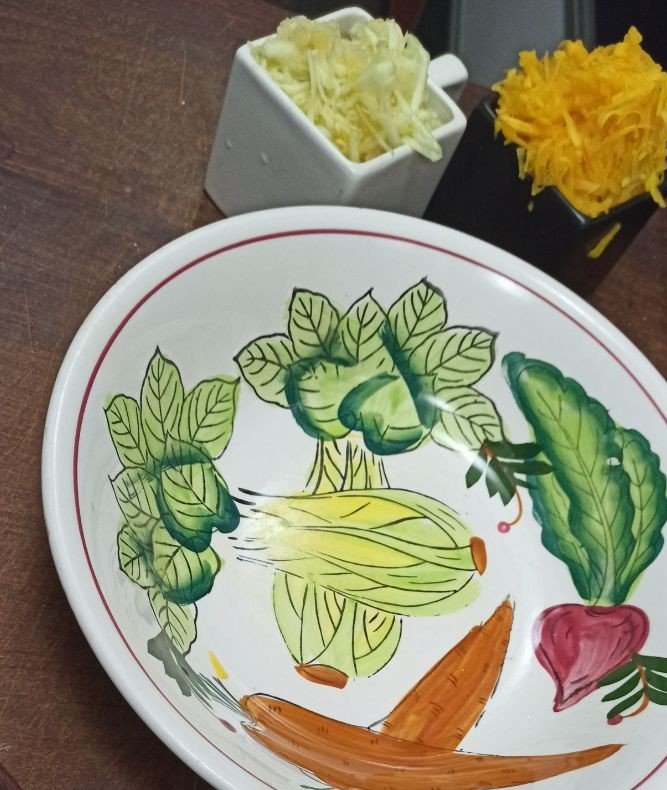 Ingredientes:
1 Taza de harina de maíz pre-cocido
200gr de calabacín rallado
200gr de Auyama rallada
sal al gusto.
Preparación:
En un bol mezclamos el calabacín y la auyama previamente rallados, le agregamos sal al gusto y vamos poco a poco mezclando con la harina, dejamos reposar un par de minutos para que la harina se hidrate y puedas conocer la verdadera contextura. (esto evita que se agriete) amasamos nuevamente hasta que este suave pero firme y moldeable.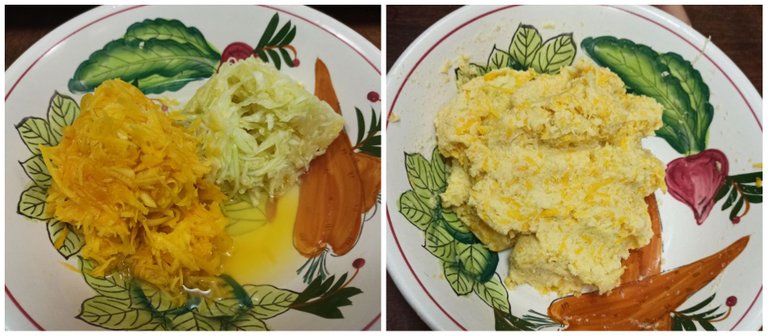 ---
Aquí usamos planchas para hacer las arepas, su nombre local es budare o aripo como le digo yo que me crie en el oriente del país.
Se coloca la plancha a calentar antes de comenzar a amasar, así no se pegan, también hay quienes le colocan un poquito de aceite o anti-adherente, pero si dejas que se caliente bien no debería pegarse.
---
---
Una vez sientas que la masa esta lista le damos forma redonda, la idea es hacer una bolita y luego ir aplastándola, el grosor lo elijes tu, hay personas que las hacen gorditas y también tienen su encanto, pero yo normalmente las hago finitas para que estén listas en menos tiempo.
Esto puede ser un proceso de 10 minutos a fuego medio, aproximadamente 5 minutos de cada lado.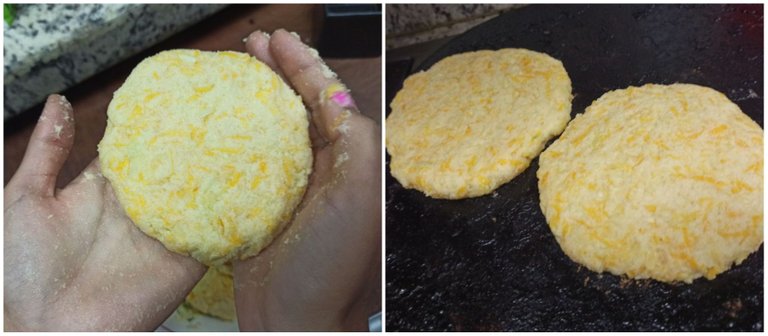 ---
Cuando la masa comienza a inflarse y su sonido sea hueco, ¡ya están listas! abrimos, podemos untar con alguna mantequilla y rellenar con lo que prefieras... Para finalizar con esta receta hice un complemento de vegetales y lo serví frio.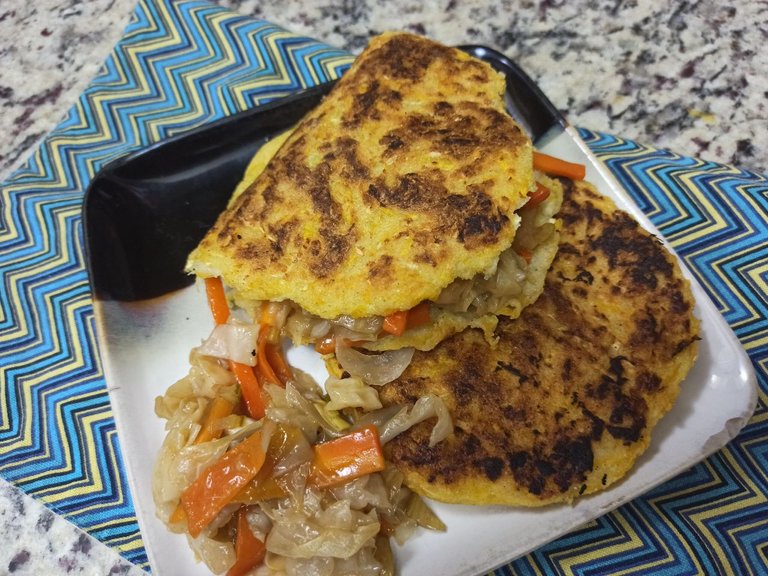 Arepas de ocumo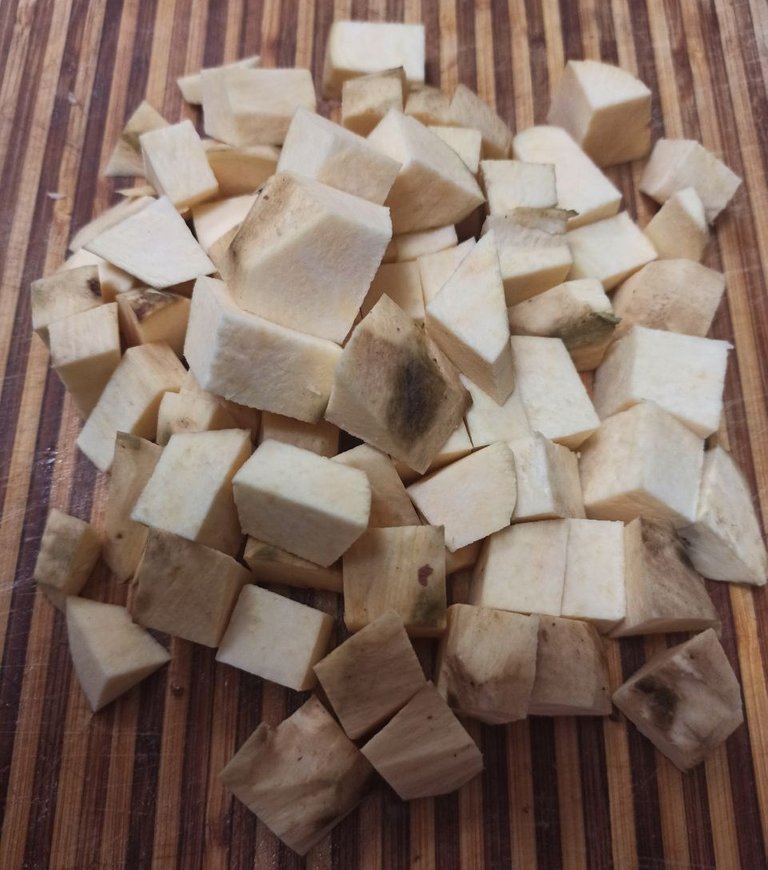 Ingredientes:
1/2 taza de harina de maíz pre-cosido
1 taza de ocumo cocido (aproximadamente 200gr)
1/4 de taza del agua con la que se cocino el ocumo.
Sal al gusto.
Preparación:
Lavamos, picamos y ponemos a cocer el ocumo hasta que este blando, colamos y reservamos el liquido mientras dejamos que se enfríen un poco. Una vez podamos tocarlo sin quemarnos, comenzamos a triturar para que quede un puré.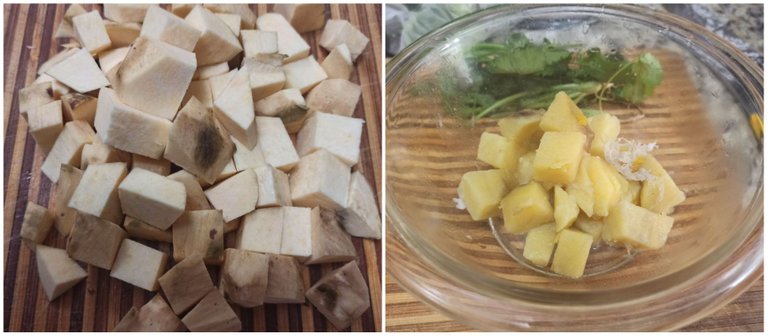 ---
Agregamos agua, sal al gusto, mezclamos y comenzamos a agregar la harina poco a poco hasta que comience a hacerse bolita, amasamos bien por al menos 5 minutos y vamos sintiendo si necesita mas agua o mas harina, siempre hay que recordar que la harina tarda en hidratarse por lo que puede ponerse mas dura a medida de que pasa el tiempo.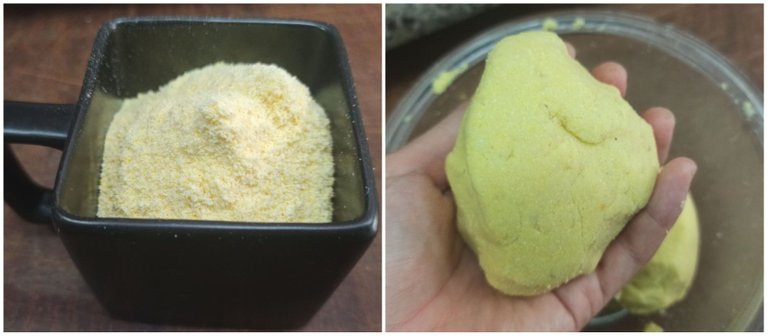 Una vez tengamos la masa en su punto, comenzamos a hacer bolitas y le vamos dando la típica forma de arepa para posteriormente ir poniéndolas en una sartén, plancha o budare. En la plancha las arepas duran unos 10 min aproximadamente de cado lado, REPITO el truco para saber si están listas es dándoles golpecitos y cuando suene hueco como tambor, es porque ya la masa esta cocida por dentro.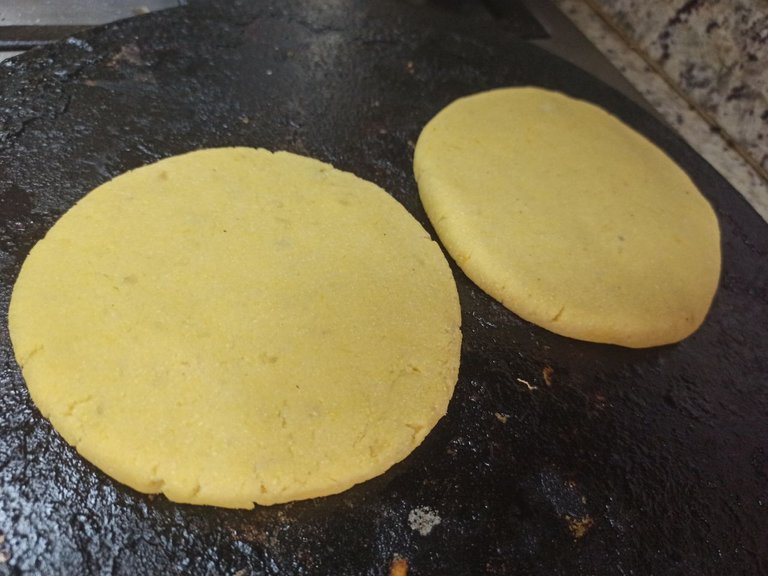 En Venezuela hay quienes suelen preferir este tipo de desayunos y las arepas las mezclan con cosas como leche, cremas de papa y queso, entre otras variaciones, por mi parte acompañe estas arepitas con una sopa de verduras.
Pronto les traigo un par de ideas para rellenos vegetarianos y deliciosos.
Comentarios
Las arepas son un alimento bajo en sodio, siendo ideal para personas que no pueden comer sal y ademas de ser libre de gluten, también es una excelente fuente de energía y carbohidratos.
Con esto finalizo mi post de hoy agradeciendo a aquellos que se toman siempre un tiempecito para leerme.
Las mejores vibras para todos.