On an average day, there is no other body part that works as much for us as our hands. From the second we awaken until we drift back off to sleep our hands are busily awaiting there next order from our minds. Chores, work and time can wear them into a roughened mess, leaving us wondering how to get them back to soft and supple?
Well wonder no longer! A homemade sugar scrub that can be whipped up quickly and easily will do the trick softening them. You can make it in small batches and store by your sinks that way when you have an extra minute throughout the day give your hands a little pampering! It will work at keep your cuticles in check and leave your skin velvety smooth. Plus it feels fantastic, so lets get your scrub on!
Hit the kitchen, you have more beauty supplies here than you probably realize and we'll need to gather what we need. I prefer to make my sugar scrub with a brown sugar, but white will do fine too. An oil will help bind the mixture and add moisturizing attributes to it. Olive oil is a wonderful moisturizer, but almond and jojoba are my personal favorites additions for for this particular task. We'll also want some honey, just a little, and some liquid form of Vitamin E. You can pick up the capsules at your local drug or health supply store and just snip the tips with scissors to squeeze out the oil.
And the recipe is.......drumroll please....
1 cup brown sugar
1/4 cup oil - olive
3 teaspoons oil - jojoba or almond
1 teaspoon honey
2 Vitamin E capsules or 1/4 teaspoon straight Vitamin E oil
Depending on the moisture content in the sugar more or less oil might be needed, so add it slowly while mixing until you've reached your desired consistency. If you're a fan of essential oils, they too make luscious additions, just be sure you are using on that safe for your skin and that you use it in very small amounts, as essential oils are highly concentrated. Try a 1/2 teaspoon of lavender for a treat that will smooth and relax or tea tree for a scrub with astringent powers.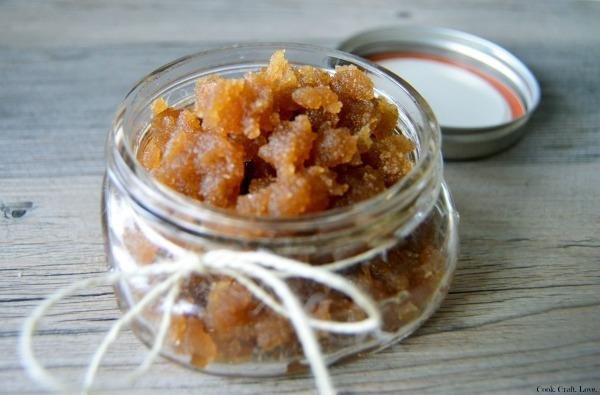 source
Store your completed beautifying product in a tight jar where you'll remember to use it, again my suggestion is right next to the sink. Wet hand and scoop some out, be sure to cover the backs and cuticles and scrub away. A fantastic follow up would be your favorite body moisturizer or oil. Try this right little pampering treat right before but slather the moisturizer on well and put on cotton gloves to wake up to baby soft hands that are ready to not only work all day but look great doing it.