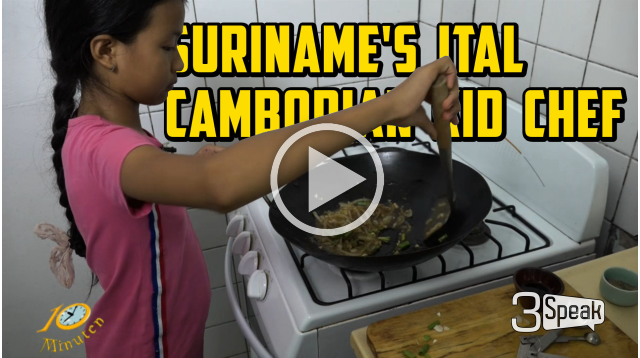 ---
The Jeugdjournaal stopped by again to film Srey-Yuu cooking some traditional Cambodian food, Tempeh Lok-Lak to be exact.

👩‍🍳 Suriname's Ital Cambodian Kid Chef 🔪

CHEF-IN-TRAINING 👩‍🍳
     Jeugdjournaal.sr wanted to do a follow up filming with Srey-Yuu after her interview about her Hive blog. They wanted to know if Srey-Yuu could cook any traditional Cambodian foods that would be of interest to a Suriname audience.
SELECTING A DISH 🤔
     @Sreypov and I talked about it with Srey-Yuu, and even though she hasn't learned many dishes, she decided Lok-Lak would be a dish fairly easy for her to prepare on camera.
NOT YOUR AVERAGE LOK-LAK 🎲
     If you're not familiar with Lok-Lak, it is a French-inspired Vietnamese dish which as become more popular in Cambodia with time, and some even consider it one of the national dishes of Cambodia.
     Lok-lak's translation is literally "dice," and the dish is usually made with small chunks of cubed beef similar in size to dice. As we are Italists, we follow a #plantbased nutritional healing diet, so we payed honor to the Javanese history of both Cambodia and Suriname by using tempeh as the featured ingredient.
     I must admit I love the dipping sauce more than dish itself, but the lime-pepper sauce with served with Lok-Lak is absolutely out of this world, but yet so simple.

🙋‍♀️ Want The Recipe? 🙋‍♂️

     @Sreypov has already shared this recipe on her profile, so here is the link to that post just in case you want to make this dish, but want more detailed ingredients and amounts.

Official Jeugdjournaal Full-Length Video

     If you want to see the entire episode of the Jeugdjournaal episode featuring Srey-Yuu's cooking, below is the offical YouTube upload from Jeugdjournaal's channel.
10 Minuten Jeugjournaal
Website: jeugdjournaal.sr
YouTube: youtube.com/10MinutenJeugdjournaal
Facebook: facebook.com/10MinutenJeugdJournaal
Instagram: instagram.com/10MinutenJeugdJournaal

🙏 THANKS FOR WATCHING/READING 🙏
If you enjoyed this post, please upvote and reblog.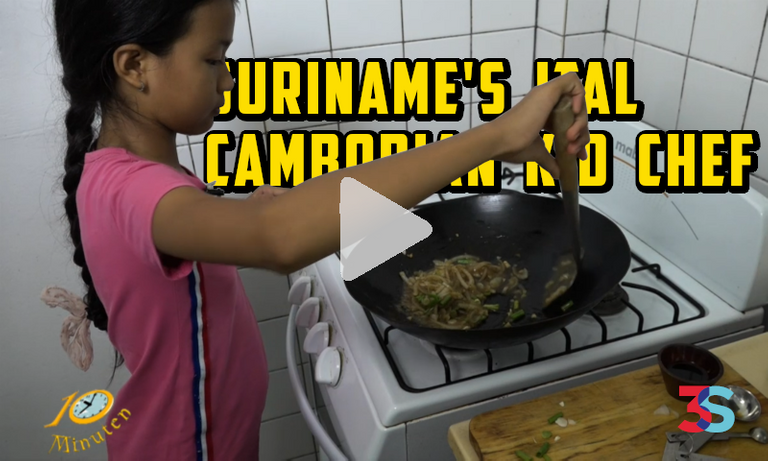 ---
▶️ 3Speak