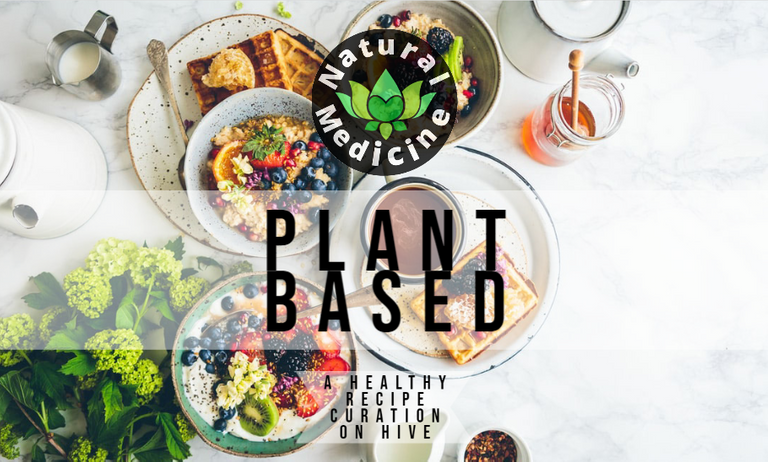 Greetings again, @JustinParke here with another selection of this week's awesome #plantbased recipe posts to share. We've got everything from fresh-baked bread to soup and salad, beverages and a dessert top everything off.
I made this curation while hungry, still unsure if it was a wise decision or not, but my eyes were a little more focused on the pictures this week. I was up til 2:00am translating and mediating a dispute in Cambodia via webcam, and I woke up a bit underslept.
Finally back home after a day full of errands, exhausted and hungry, I sat down to create this post, and I simply curated all the things I want to eat right now. It seems everything in this curation post are things I haven't eaten or seen in ages, from quinoa to jicama, plant-based milk, and guavas.
I put together an oversized meal in my mind from all the recipes in this post, and made sure to include a beverage and dessert as well. The winner of this week's beneficiary is @dwiitavita, for showing me you can eat fern leaves, a food group I didn't even know existed.
A side note - you may have noticed that we've moved from @lotusshares to @naturalmedicine, and Plant Based will be replacing Earth Healing. Earth healing topics will still be supported, of course, so keep using the tags #ecotrain and #naturalmedicine for any content that nourishes and supports our beautiful planet!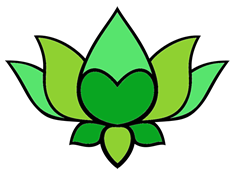 How to Be Curated by PLANT BASED
Use the tags #naturalmedicine #vegan or #plantbased
WE don't mind what community you post in - although we prefer you post in the Ecotrain or Natural Medicine communities!
Ensure your recipes are plant based - although we don't preach any diets, this curation would like to focus on plants rather than dairy or meat additions to recipes.
Use clear, well focussed photographs - and ORIGINAL content!
---
---
🍞 FOOD ART TO START? 👨‍🎨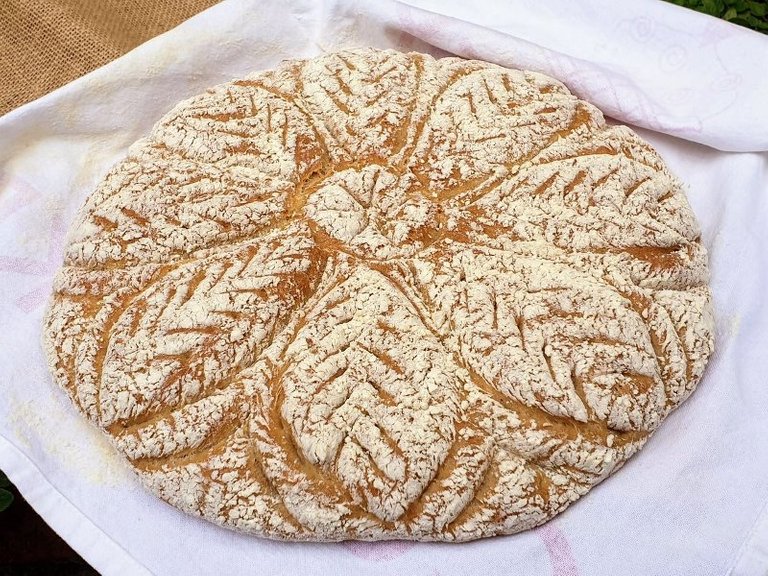 Rebooting with Bread Art
by: @lizelle
     Some wonderful bread was baked by @lizelle in South Africa, but she used a WonderBag to aid in proving the dough. The WonderBag is a South African invention as I understand it. This bag provides extreme heat retention and insulation. Simply bring your food to desired heat on a traditional stove or oven, and then transfer it to this heavily insulated bag to finish cooking.
     Inspired to do a reboot, @lizelle made this bread with art in mind, and it turned out quite beautiful, but I'm a sucker for whole wheat breads, and would be happy to devour this with or without the added decoration.
     What an awesome and eco-friendly way to bake some beautiful bread. I know many Jewish friends who make food on Friday evening before Sabbath sundown, and then wrap it in several blankets and towels in an effort to keep the food hot as long as possible.
🥖 GOT BREAD, NOW THE SOUP & SALAD 🥗🍲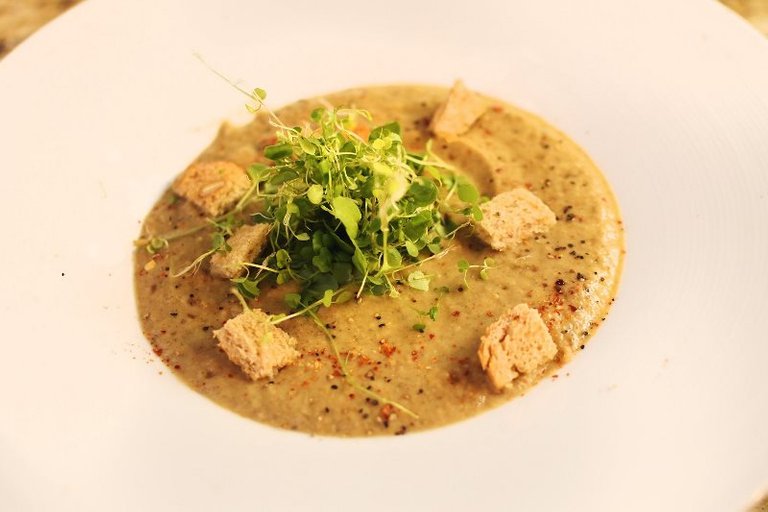 Roasted cauliflower mushroom soup and jicama cabbage salad
by: @carolynstahl
     I absolutely can't eat bread without something to dip it in, so I started browsing for something to accompany @lizelle's whole-wheat bread, and I found a soup and salad combo from the lovely @carolynstahl, whom I believe has been quite busy with a new job, but took some time to share these delectable creations.
     An experienced vegan chef knows it takes a bit more effort and skill to bring complex flavors out of #plantbased dishes, so there are usually a few more steps in a vegan recipe when compared to a similar dairy or meat counterpart.
     Even though the soup she prepared is quite simple, the added extra effort to roast the vegetables before using them to make her soup puree makes all the difference, and I'm sure it give this soup and incredible earthy flavor. The jicama salad seals the deal. I haven't seen a jicama in so long it made miss our cold-pressed jicama-ginger juice from our former restaurant in Cambodia.
🍅 MORE SALAD 🥗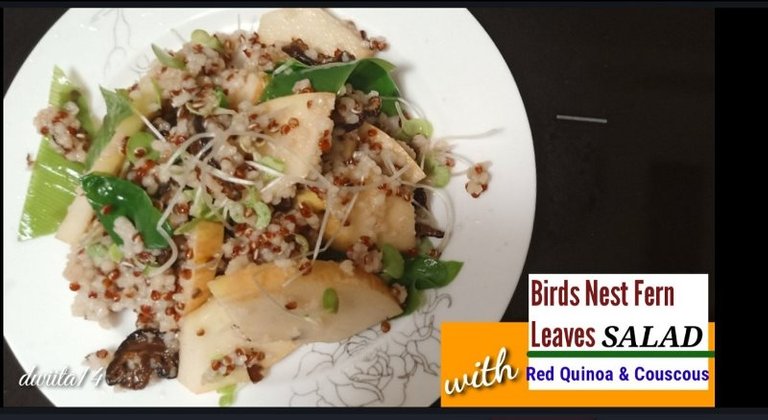 My Vegan Dishes | Birds Nest Fern Salad with Red Quinoa & Couscous
by: @dwiitavita
     It seems everybody is cooking with ingredients I haven't seen in ages, and then @dwiitavita comes along and makes a salad with quinoa, something I haven't seen since our previous home in Ecuador, and a totally new ingredient I have never heard of, nor would've imagined edible.
     The word "NASA" leaped out at me immediately when reading this post. I had to know more, as I don't usually see a mention of space travel in a vegan recipe. The featured ingredient is Bird's Nest Fern leaves, and to think I didn't even know ferns were for eating.
     I have long heard ferns can clean indoor air quite effectively, but apparently NASA endorses/recommends the Bird's Nest Fern as indoor plant to fight air pollution. So now this beautiful salad has me missing quinoa and wanting to eat a fern.
🍲 TIME FOR PROTEIN 💪
DELICIOUS STEWED LENTILS:🍲 SUPER VEGAN FOOD
by: @anicruzmh
     I feel that perhaps my new role curating #plantbased recipes and foods for @naturalmedicine could be compared to a trip to the market, but only in the sense that it shouldn't be done when hungry.
     Writing this post, I am actually very hungry and craving protein, specifically the legume kind. I am glad to have stumbled upon this delicious bi-lingual English-Spanish lentil soup recipe from @anicruzmh. My tummy is telling me to eat this protein-rich lentil stew, but I will have to curate protein until dinner is ready in a few hours.
     Reading through this recipe lentil stew recipe reminded me of the delicious soups and stews we used to eat daily in Ecuador. I am actually quite happy to eat a stew like this for breakfast with some rice, as I prefer to start my day with beans or lentils.
🥤 NOW I'M THIRSTY 🧉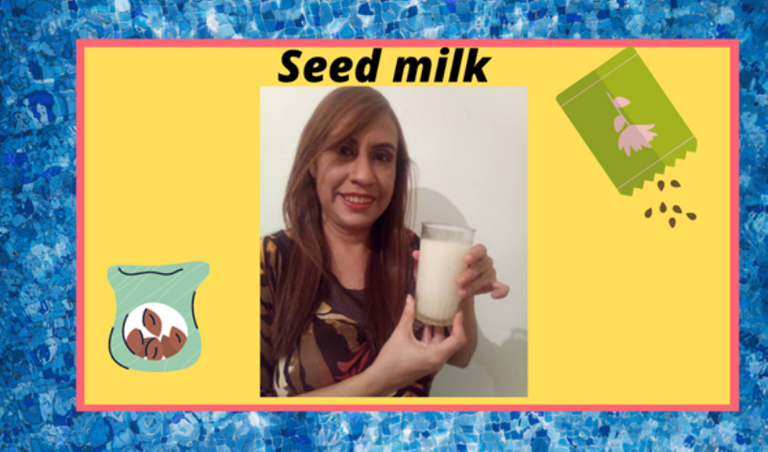 TheTerminal September Cookbook Contest - Vegan SEED MILK
by: @heyravegas
     All this food curation left me thirsty, and luckily I found a satisfying beverage. @heyravegas prepared a #plantbased milk substitute. but this is not your average soy or almond milk.
     This seed-nut milk is prepared with a wide variety of ingredients, from almonds to flax seeds, sesame seeds, and more. I have never made nor tried a homemade vegan milk quite like this, and now it's got me wanting to create a version here in Suriname with stuff we can obtain locally.
     @heyravegas also went to the extra effort of sharing this beverage in the form of a bilingual post, so we thank you for making this post accessible to both English and Spanish speakers.
🧁 A LITTLE SWEET-TOOTH 🦷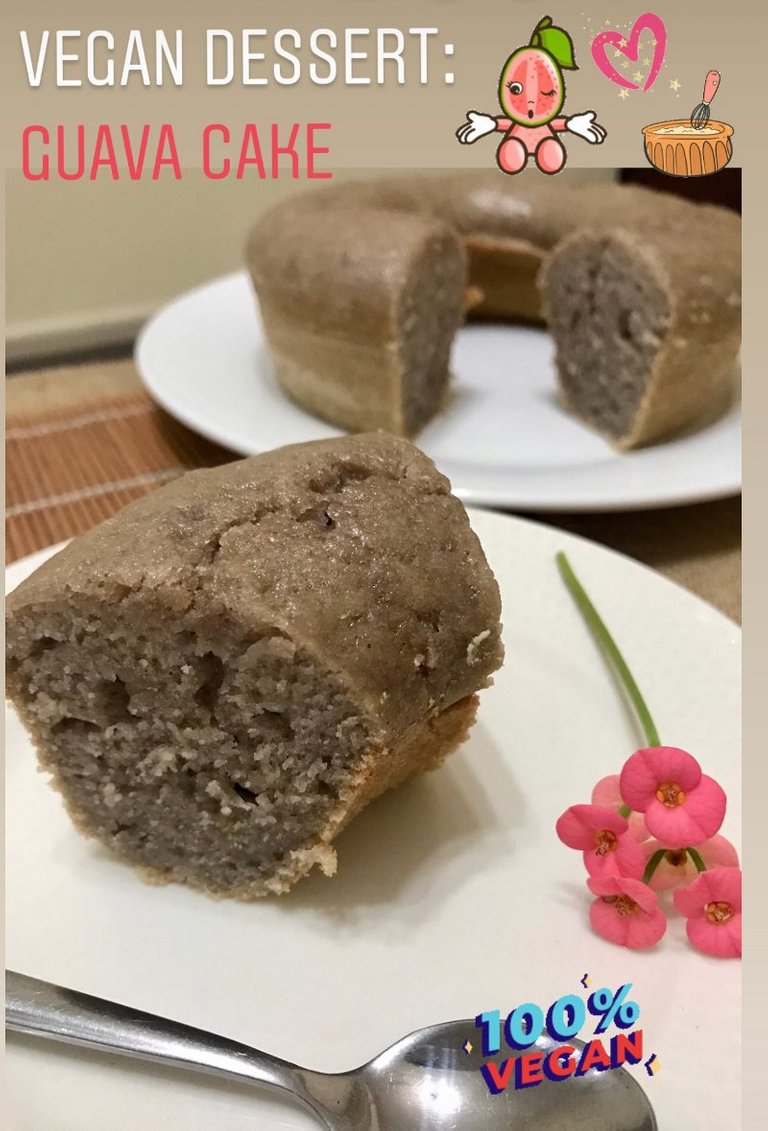 Vegan Dessert: Guava Cake 🍰🌱😋
by: @bothanikha
In last week's curation, @larka showed us three different delicious corn-based dishes, and now she's back with a guava spongecake that I must get my hands on. I don't think I have ever eaten a guava cake of any kind, and this looks absolutely yummy.
Guavas aren't too common here in Suriname, but my family and I used to buy a bag of guavas at least once a week in our former home, Cambodia. I've been missing this fruit for so long, and then I stumbled upon this delicious dessert, and knew it was perfect for this week's #plantbased dessert curation.
Many of us know that baking breads and cakes without dairy sometimes results in difficulties, especially when converting a dairy cake recipe into a vegan cake recipe. In this recipe, @larka replaced what would typically be eggs with flaxseed-water, a very common vegan substitute for eggs when baking.
We hope you get involved with posting lots of yummy #plantbased #vegan #naturalmedicine #ecotrain recipes! Both communities are now also supported by OCD, so good quality posts might also get a little bit of extra love. Stay healthy, stay safe, and stay happy!

Earn Instantly For Writing Good Natural Health Content
If you would like to earn rewards for sharing your natural health content on www.naturalmedicine.io, you can sign up for a free FREE account by emailing welcome@naturalmedicine.io. Read more about us on our Welcome Page. We support writers sharing about herbalism, TCM, yoga, meditation, vegan and other healthy diets, as well as earth centred practices such as foraging, permaculture and biodynamics.

Please consider delegating to help keep this collective going. For any questions, come ask in our friendly Discord here !