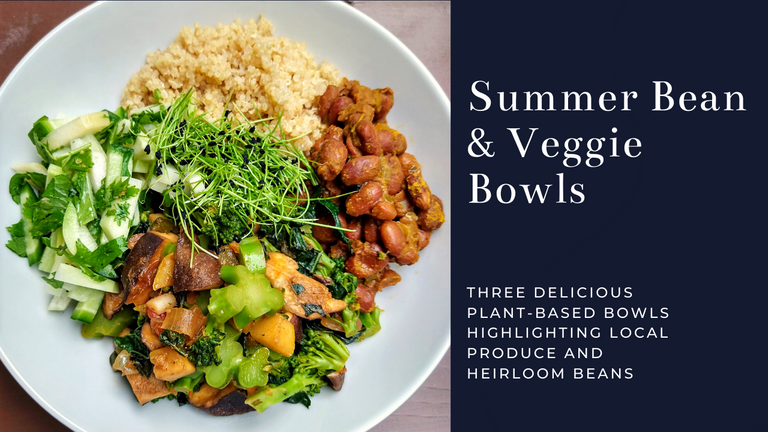 Hello all! It has been quite a bit since my last post, but the summer is turning out to be a busy one. Lots of great things going on between work and family/friends, and of course it is prime gardening season. Between going picking for seasonal fruit at the local farms and picking straight from the backyard garden--much of my free time is being spent in the kitchen making sure none of the seasonal goodness goes to waste. From the garden right now the Zucchino Rampicante continues to show out.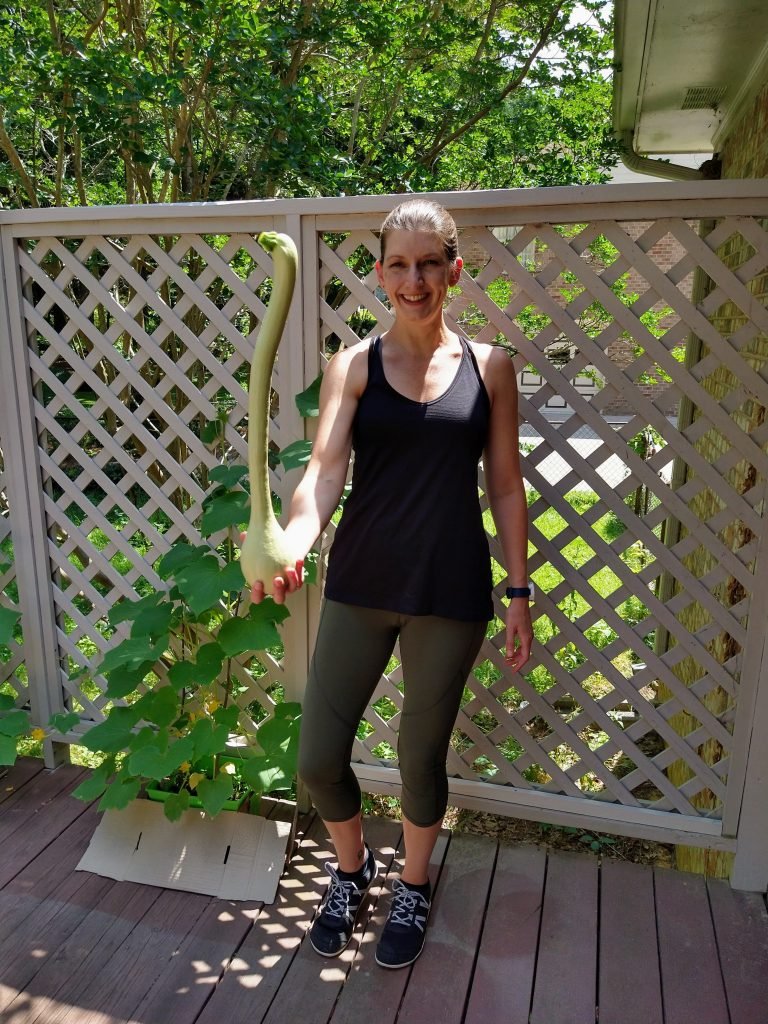 This is just one of the many that have just exploded off the vines! I have at least four that size on the kitchen counter right now waiting to be utilized. So far they've been grilled, sautéed, added to soup, dehydrated into chips, and shredded into muffins. I've shared a few and chopped one up yesterday to see how it would freeze. I may share another one or two because while I just plucked the last of the mature ones, I think now that these energy-sucking monsters are off the plants more are starting to grow. They are quite delicious, but as with many of the seasonal all-stars--can get a little monotonous if you end up growing too much!
Surprisingly, none of the bowls I have on the menu today feature my zucchini, but there is plenty of other seasonal goodness both from the garden and the farmers market thrown in. Along with a few of my heirloom beans from Rancho Gordo , which I have been enjoying so much I just recently put in a second order. As per my usual of late, no specific recipes per se, but plenty of inspiration for combinations I hope you will give a try in your own kicthens!
---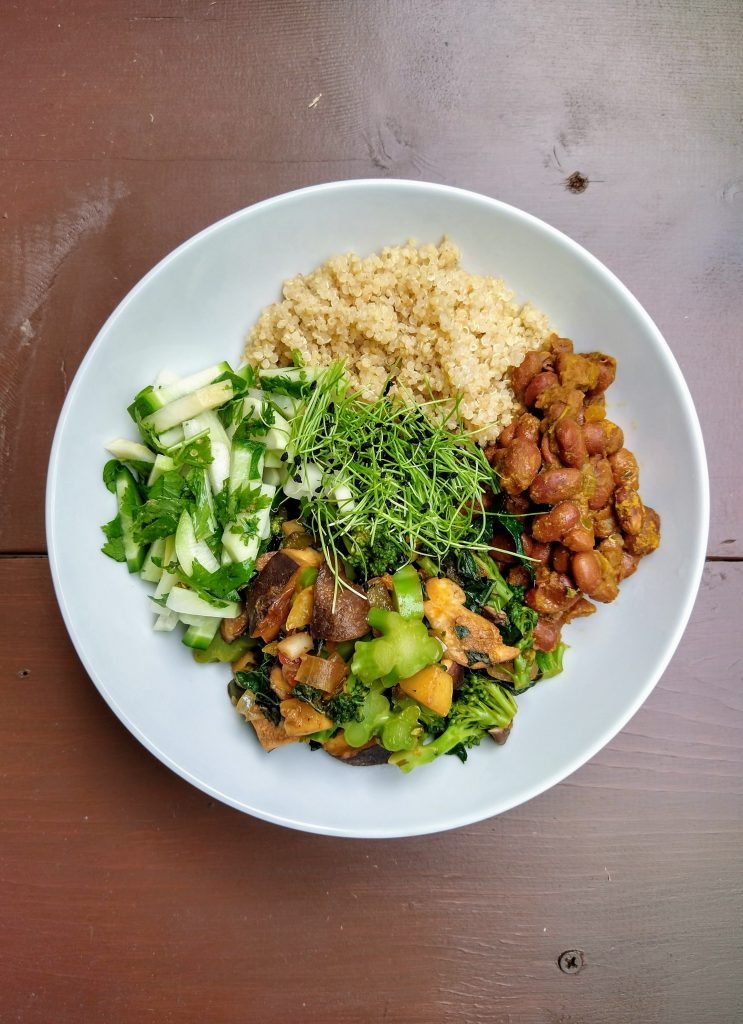 First on the pass: slow cooked Hidatsa Red Beans with onion, garlic, jalapeno and turmeric, chili powder, cumin and ground coriander. The beans came out so tender and flavorful. I had cooked a batch ahead of time and froze about half, so these thawed out before cooking with all those wonderful seasonings the second time around. The veggie medley on the side also started out with the trio of onion, garlic and jalapeno before adding broccoli, shiitake mushrooms and kale. For a fresh bite on the side I made a slaw with kohlrabi from the garden and radishes from the farmers market. Dressed simply with lime juice and fresh cut cilantro.
A little bit of quinoa on the side for more protein and fiber, plus delicious leek microgreens on top for an extra pop of onion-y flavor! I had never tried leek micros before, but one of my awesome farmers has started bringing them to the market on occasion and I have really enjoyed using them. I think I added a splash of Garlic Cilantro Balsamic Vinegar before tucking in. This one was definitely a keeper!
---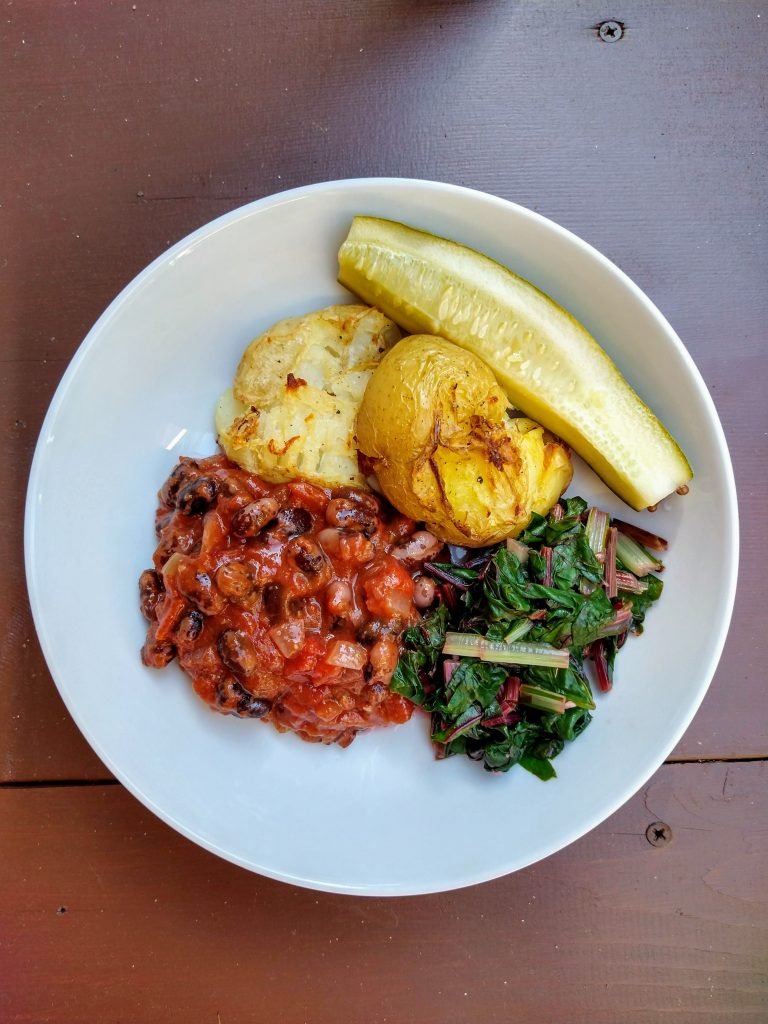 Another selection from my Rancho Gordo stash, the Vaquero beans are stunning little black and white gems before cooking, and they still kept a little of the color even after cooking through. This was another simple preparation where I had made the beans ahead of time, but then tossed some onions and fresh tomatoes in a pan before adding a vegan store-bought BBQ sauce (sometimes easy is the name of the game) and the beans to simmer together while I cooked the rest of the meal.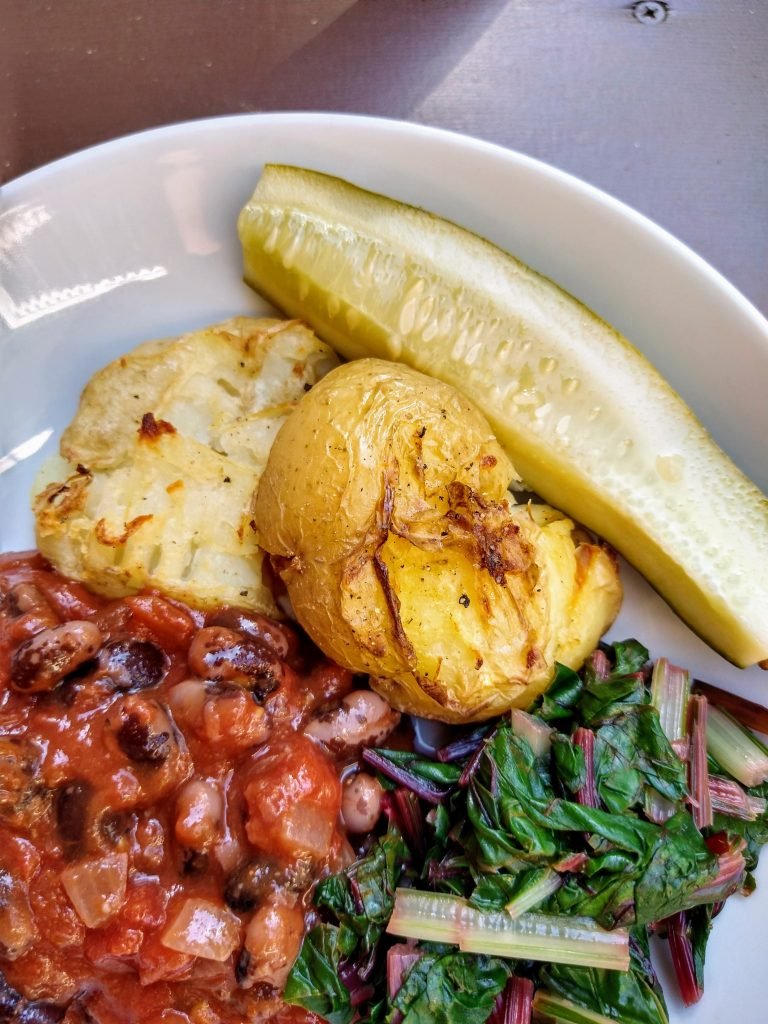 Potatoes are popping back up at the market, so I opted for a two part smashed potato recipe I've seen shared a few times recently on social media. I boiled creamer potatoes for about 20-25 minutes, before taking out and lightly smashing on a sheet pan. From there I spritzed on just a bit of good olive oil and a sprinkle of seasoning before adding to a 400-degree Fahrenheit oven and baking until golden on top. I could have boiled these just a bit longer. However, they still came out good enough to try again for a slightly different preparation than usual.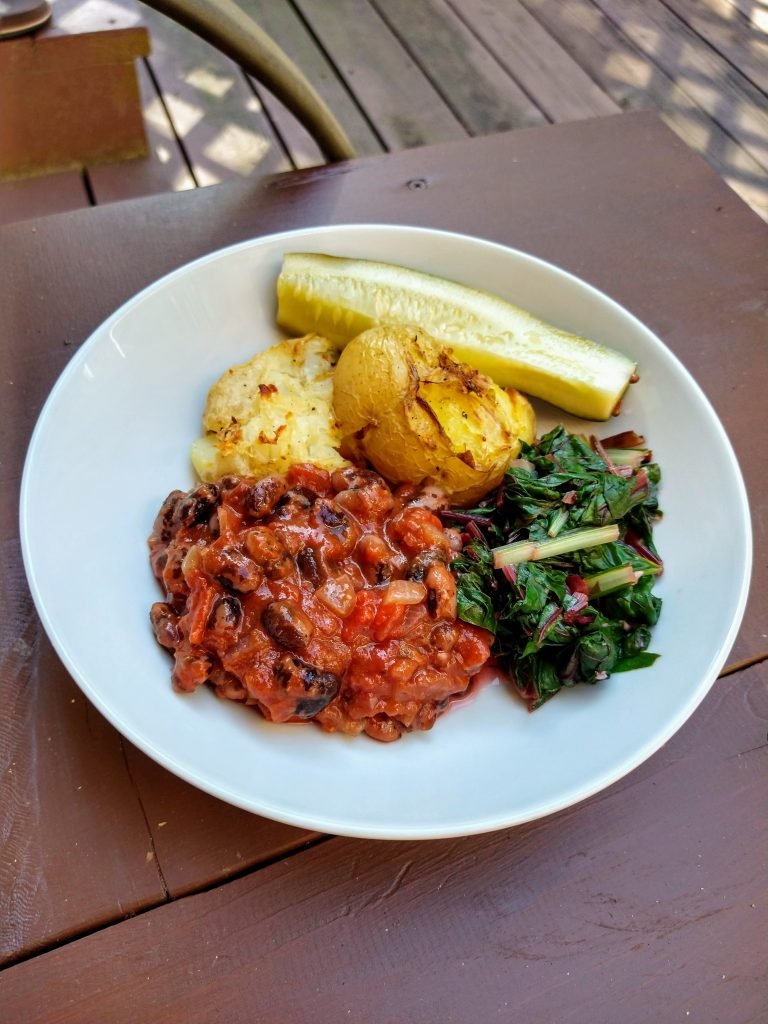 The bowl was finished off with simple wilted Swiss Chard with lemon and garlic, and a homemade quick pickle. The cucumbers are started to mature in the garden, so I imagine plenty more pickles will be gracing our plates ahead! Which reminds me--I did pickle some of the zucchini, as well. 😂
---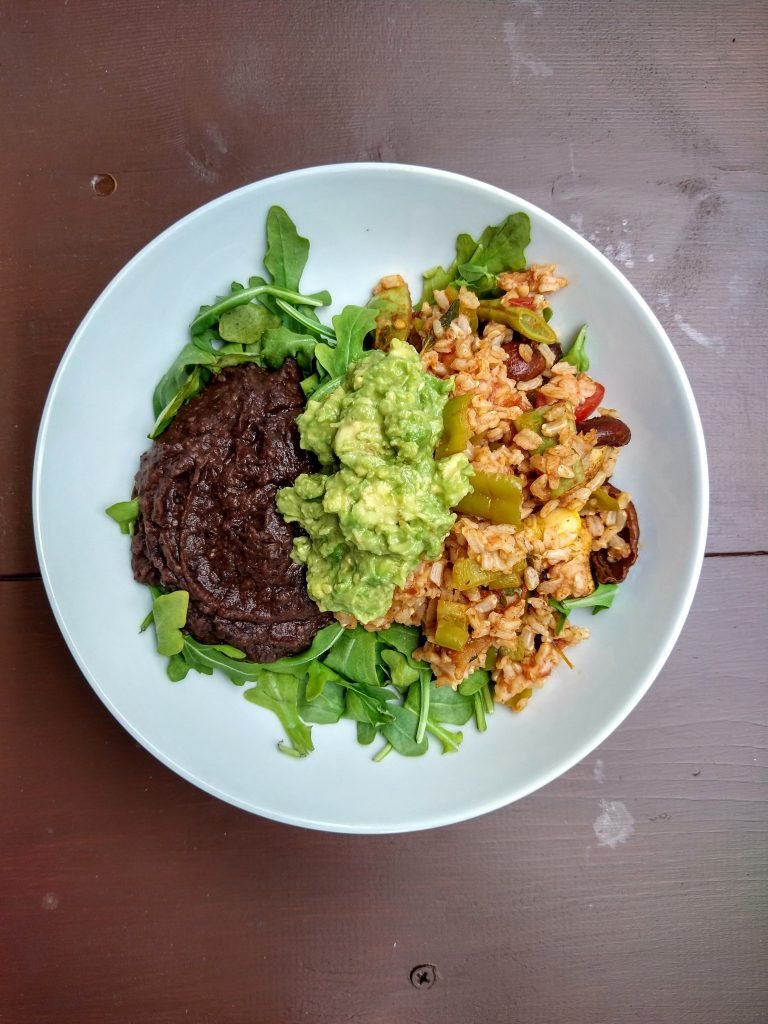 Last up, a variation on a classic. You've probably seen similar version to this one on the blog before. The boyfriend is always a fan, so he doesn't mind when this is on repeat. He had been requesting "refried" beans for a while, and given we did taco night for Father's Day with my family, it was the perfect time to oblige. There's a recipe in Vegan Under Pressure for vegan, pressure cooker refried beans that I found a few years ago. They come out fantastic every time, no matter what type of beans I use. This time was black beans, and luckily the recipe makes enough we had plenty of leftovers for meals this week.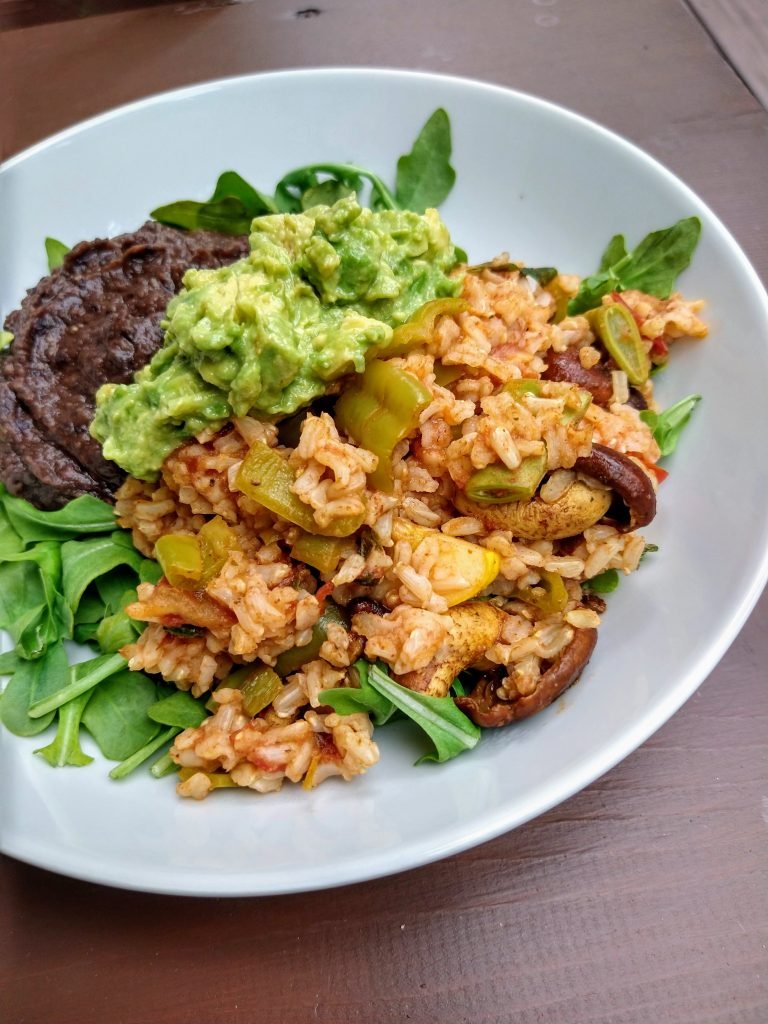 Along with the beans and homemade guacamole I made a rice and veggie mixture. The brown rice I cooked separately with a bit of chili powder and veggie stock. The veggies were a bit of a mish mash of some items from the garden and the market. Onions from the market went in with green bell peppers and a jalapeno before adding a few chopped patty pan pulled right from the garden and one of the first juicy heirloom tomatoes of the year. I added some more chili powder and cumin to the vegetable mixture and let it all cook until soft before adding to the cooked rice. I finished the mixture off with cooked chestnut mushrooms from the market which I cooked in the pan after scooping the rest of the vegetables out so they could soak up some of the residual flavor.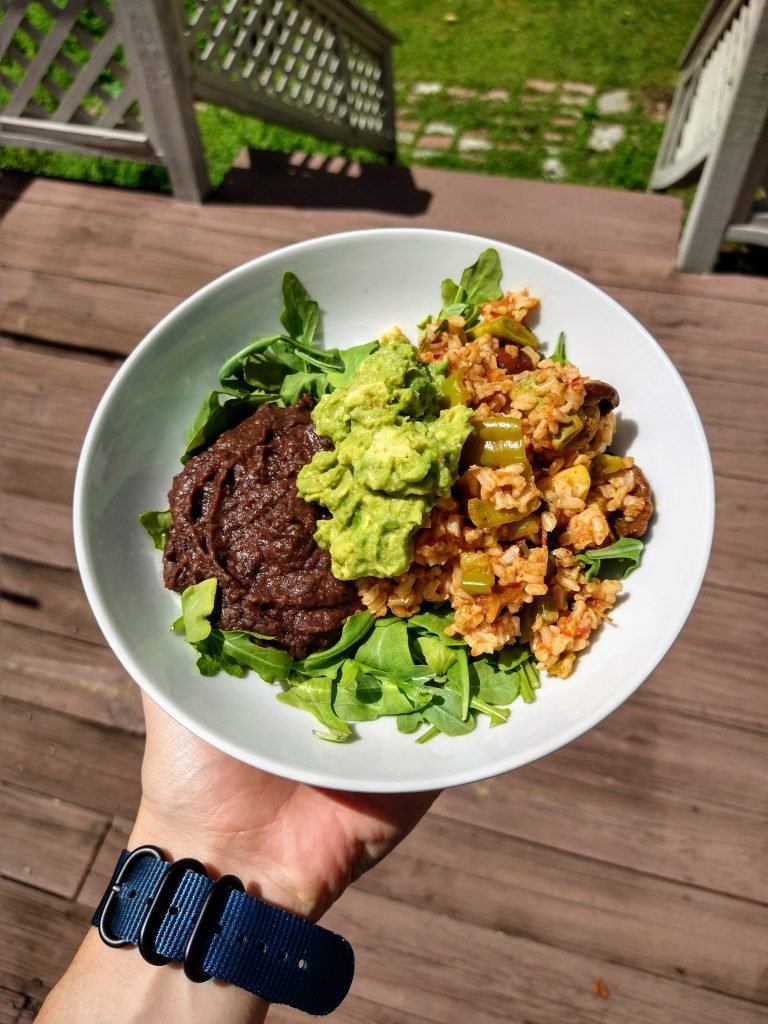 The tacos were good, but it made a killer "salad" over top fresh arugula, as well. Serious bowls of goodness going on these last few weeks!
---
Great fuel to keep me going during a busy season. I really do enjoy trying all the different beans there are out there. The seasonal pinkeye and lady peas will be popping up at the market soon, along with butter beans to add a local option to my protein choices, as well. I will be excited to get in the different varieties I ordered from Rancho Gordo this time for even more kitchen fun.
Coincidentally my 8-year veggiversary is coming up in the next few weeks. Around the 4th of July in 2013 I gave up meat for good. Back then I stuck to the typical vegan protein options--black beans, chickpeas, brown lentils and a bit of tofu. In all these years my eyes have been opened to all the other options just in the bean spectrum, let alone varying lentils, cowpeas and things like tempeh and soy curls, which I had never heard of before ditching the meat. Just like each apple variety tastes different (Honeycrisp vs Mutzu vs Granny Smith...), heirloom beans each have their own subtle taste and texture differences. If you think eating vegan is boring, you're definitely doing it wrong!
Cheers to many more years of delicious plant-based bowls to come! Thanks for sharing in a small part of my journey with me as you sample the flavors through my blog. 😊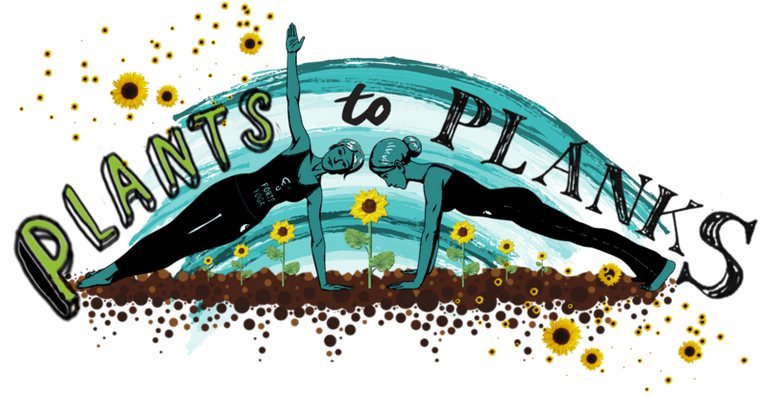 Banners by @woman-onthe-wing and @dksart

Join The Best Natural Health Community on Hive
---
Posted from my blog with Exxp : https://plantstoplanks.com/summer-bean-veggie-bowls-a-trio-of-plant-based-meal-inspiration/
---