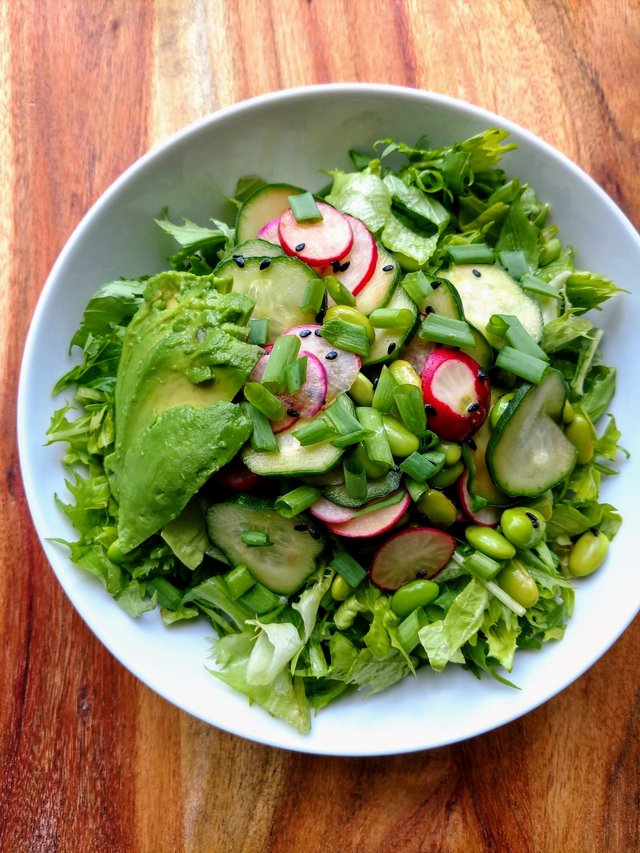 Spring is well and truly in full swing, with all the vibrant colors continuing to pop out all over the landscape. We've actually had quite a nice season here in Georgia, in my opinion, so I wouldn't mind it lasting a bit longer before the summer kicks in. No color truly speaks of this time of year to me more than vibrant green. Between the foliage outside and the produce on my plate, there's not a day that isn't filled with the pop of color throughout. This week in particular turned out to be quite the homage to spring green!
My meal prepping is of course still full of leafy greens that I procure from all of my wonderful farmers. So much of the seasonal produce available right now can be found in shades of green--beans, snow and snap peas, zucchini, kohlrabi, cucumbers, and of course the leafy stuff, including herbs in abundance. I am not usually a huge cucumber fan, but they are hitting the spot in my salads right now. This past week I marinated thinly sliced cucumber and radish in a mix of gochujang, rice wine vinegar, tamari and black sesame seeds before serving it over a bed of gorgeous fresh lettuce with edamame, avocado and green onions from the garden. Talk about a refreshing lunch!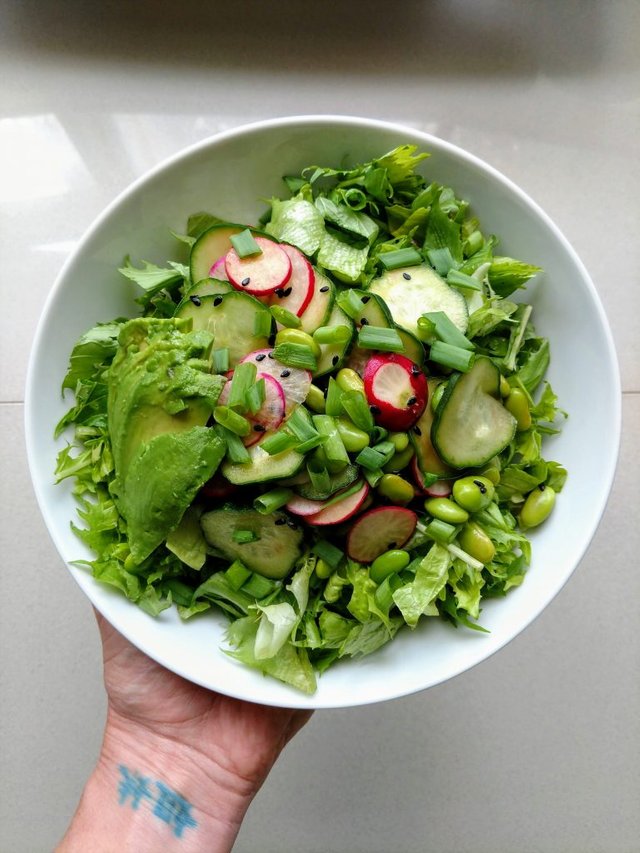 Salads can be hit or miss for me sometimes, but lately they really have been a hit. Especially when I get the opportunity to sit out on the back porch to eat one while listening to the birds and soaking up a little midday sunshine. As I said in my last post, I am doing my best to really be more mindful during mealtimes and appreciating the nourishing food in my bowl. Loading up with lots of crisp veggies helps you take your time since they take a bit of chewing to break down. That's not a bad thing as it means you're consuming plenty of wholesome fiber that's so good for feeding those good gut bacteria and scrubbing out your insides in your digestive tract and beyond!
---
Speaking of fiber...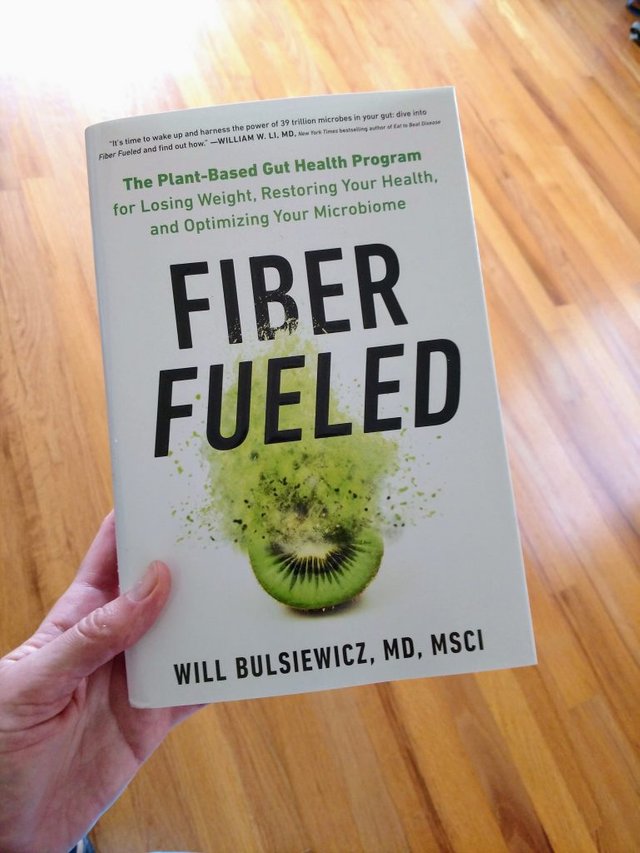 I was really excited to get my new copy of Fiber Fueled in the mail. This book by Dr. Will Bulsiewicz just came out a few weeks ago, but I've been anticipating it for quite a while. The good doc is a gastroenterologist here in the US who has become a big proponent of a plant-based diet for healing all sorts of problems related to our gut microbiome. Everything from autoimmune diseases to anxiety to stroke and dementia has a possible root in what we put into our mouths. I've followed him on Instagram for quite some time now, and really enjoy the mix of the easygoing way he presents information paired with the quality and care he puts into making sure he shares the research behind his posts. I'm only a small portion into the book now, so I'll make sure to write up a full review when I finish it soon!
---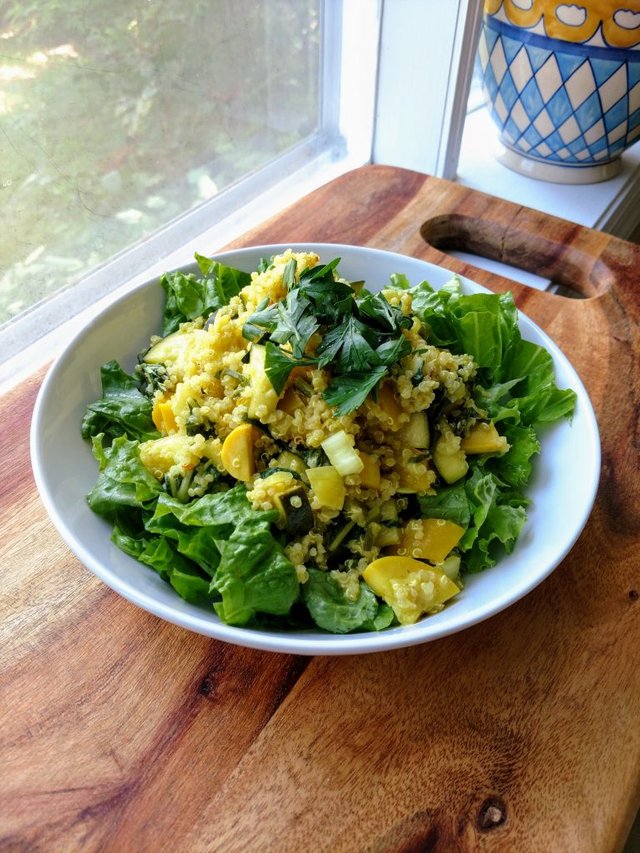 To continue on our journey through the verdant displays in my kitchen, with the start of summer squash season I whipped out a classic from my blog and cookbook to make with some of my farmers market goodies this week. This summer curry is one of my favorite recipes to pull out this time of year. I adapt it a little bit each time depending on what vegetables I have for the week or which grain I want to add to the mix. This time around I used quinoa to supply extra bulk to the meal along with plant-based protein. Did you know quinoa is one of the only plant-based sources that supplies all essential amino acids? The myth that vegans and vegetarians have to combine protein sources within the same meal has been debunked for a while now, but it is still important for any well rounded diet to make sure you're including a variety of sources of whole grains, nuts, seeds, legumes, fruits and veggies.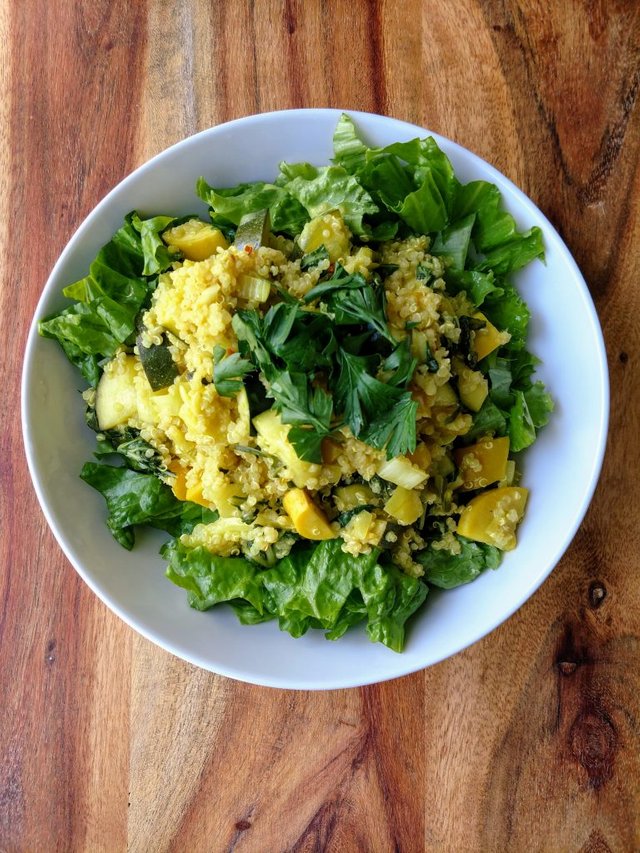 No surprise I turned this one into a bit of a "salad" again, as well. I tend to buy so many leafy greens each week since they are soooo good and fresh from the local farmers that everything gets tossed over top of a few handfuls. The parsley from the garden was an extra pop of color and flavor, too.
---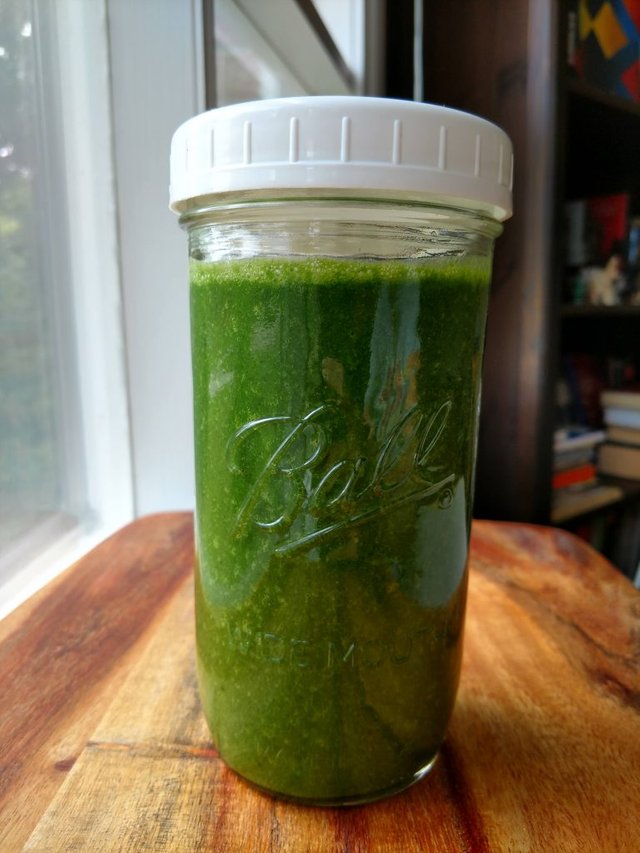 Smoothies are another item that are sometimes hit or miss for me as I often prefer to chew my fuel than drink it. However, they really are a great way to sneak in plenty of those extra greens in my day for a snack or post-workout beverage to help with recovery. This one started out being inspired by my Hive pal @anggreklestari's date drink since I did put in some of my Medjool haul, along with a few bananas, oat milk, flax seed and maca. I had a whole bunch of kale that had not been earmarked for other use in my meal prepping, so in it went, as well!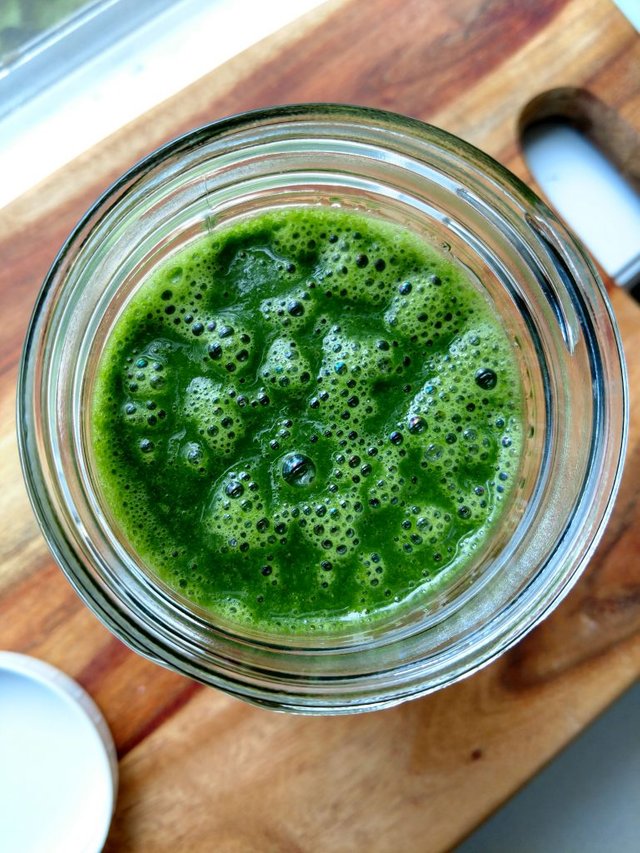 Some people get turned off by such colorful smoothies, but I know it is packed with nutrients to help me recover from my recent return to more running on top of my usual workouts and class schedule. The kale provides lots of antioxidants for cell repair, and the dates and bananas have plenty of magnesium and potassium that are especially important for muscle recovery. Despite the savory look, the fruit provided plenty of sweetness to overpower the grassy kale.
---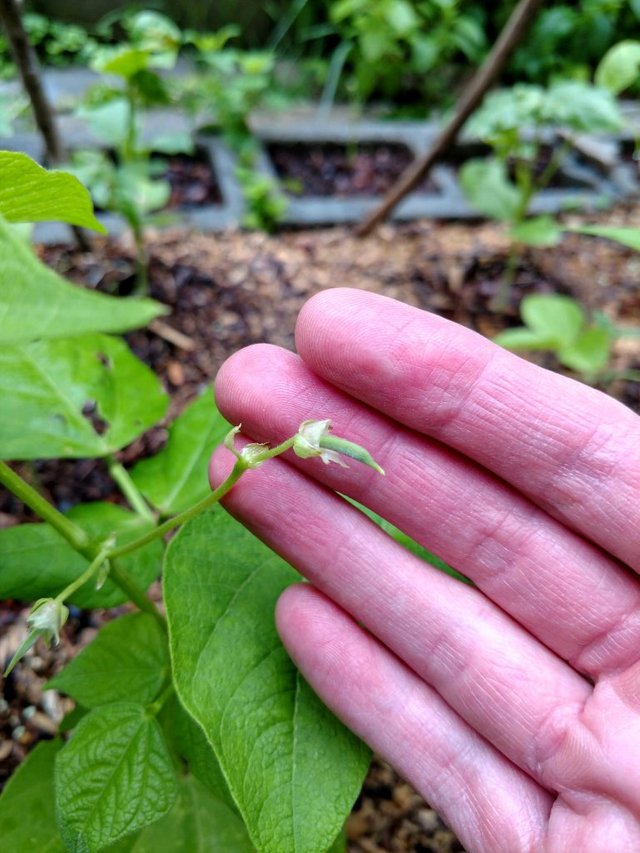 I'll finish out this colorful post with a tiny little baby bean from the garden! I am a sucker for watching for the first sign of what's to come after our plants start flowering. Nature never ceases to amaze me with all her glory and wonder. Since we've never grown beans before, this was particularly fun to see. I am pretty sure these are the BORLOTTO DI VIGEVANO NANO seeds that I ordered from Baker Creek. I'm sure I'll do a full garden update shortly to share everything else that is growing, but for now these were too cute not to share. I hope they put a smile on your face as well as mine!
I also hope this post inspires you to bring some green into your day today. Take the time to sit outside and soak in the beauty of nature or add a handful of leafy greens to your next meal. It nourishes the eyes as well as the stomach. 😉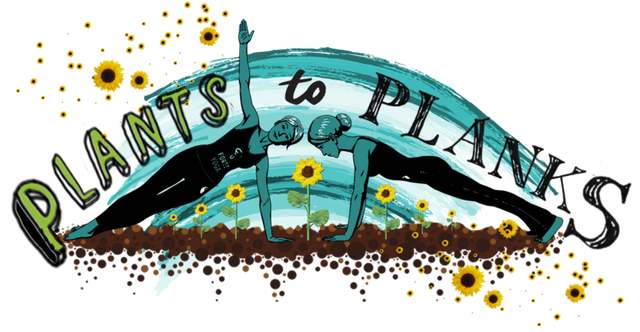 Banners by @woman-onthe-wing and @dksart

Join The Best Natural Health Community on Hive
---
Posted from my blog with SteemPress : https://plantstoplanks.com/todays-post-brought-to-you-by-the-color-green-%f0%9f%8c%b1/
---