Finally we are seeing some growth outside with the end of the frosts and May showers!
We are a month behind on that saying
April Showers Brings May Flowers
It wasn't until the end of May where we started to see some of my bulbs blooming and the beginning of the berry bushes coming into bloom but once they started the yard is now busting with blooms! And bees, butterflies and other pollinators (plus mosquitoes have hatched big time!)
Have a look...
Looking Down Onto Greens Garden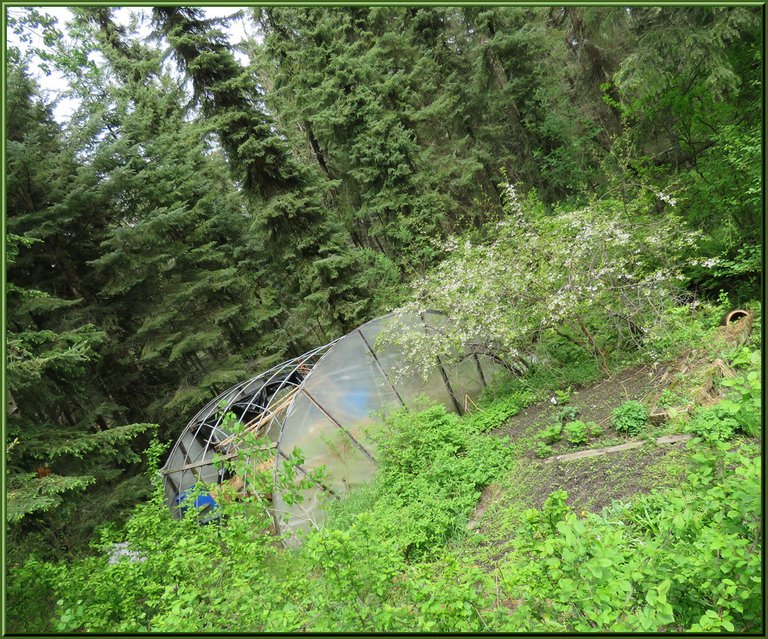 That is what I call my "Greens" garden which is close to the house for easy picking.
I grow salad things like lettuce (which is seeded and coming up plus a few producing plants I started indoors), kale (I planted out my plants I had been growing inside for the winter same as with my rhubarb chard), arugula, cilantro,green onions,chives, radish and the sweet cicely is a perennial that comes up in this garden.
In the front is my one lone tulip (other than the tulip tarda) that has come into bloom.
Greens Garden Plum and Haskap in Full Bloom. Seedlings Coming Up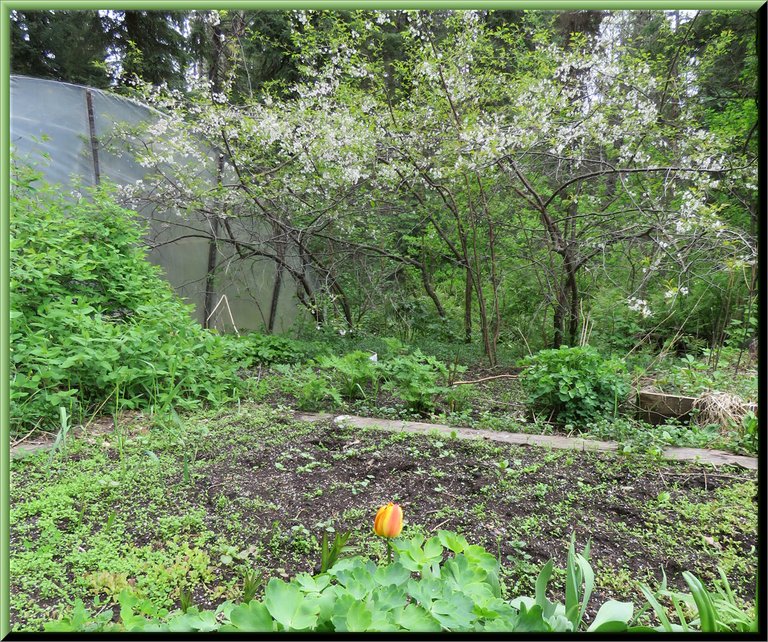 Another view with berry bushes in bloom is off the deck towards the bird feeder that is surrounded by Saskatoon bushes.
View From Deck Looking Towards Bird Feeder Surrounded By Saskatoon Berry Bushes in Full Bloom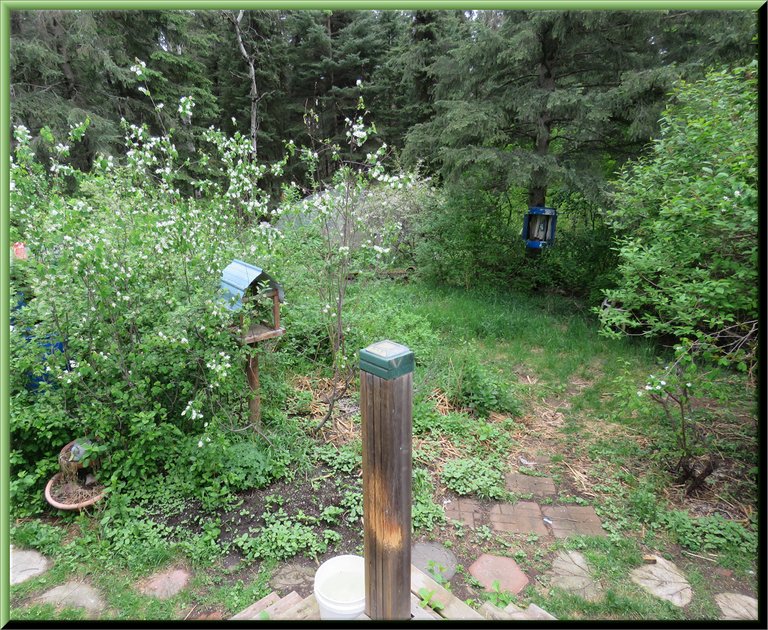 By the sun room the chock cherries were starting to open and the one right against the wall of the sun room was in full bloom (the extra heat must have been the reason for that.)
Choke Cherry Bush in Bloom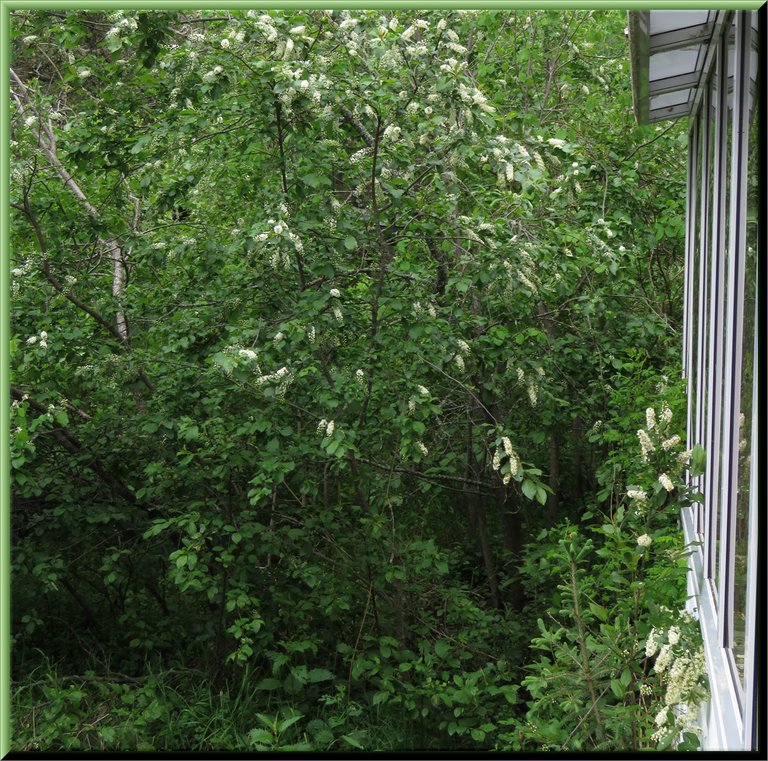 Close Up of Small Choke Cherry Bush in Full Bloom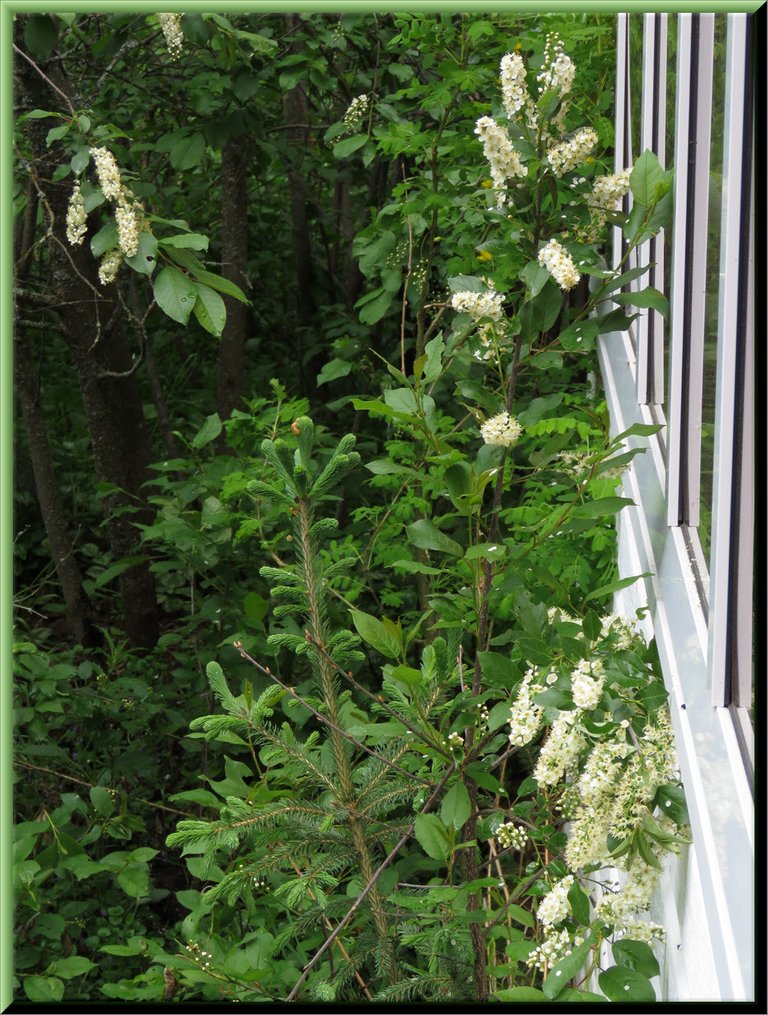 One of the earliest berry bushes to bloom and produce is the Haskap and we have them in a few places through out the yard.
Bee Flying To Haskap Bloom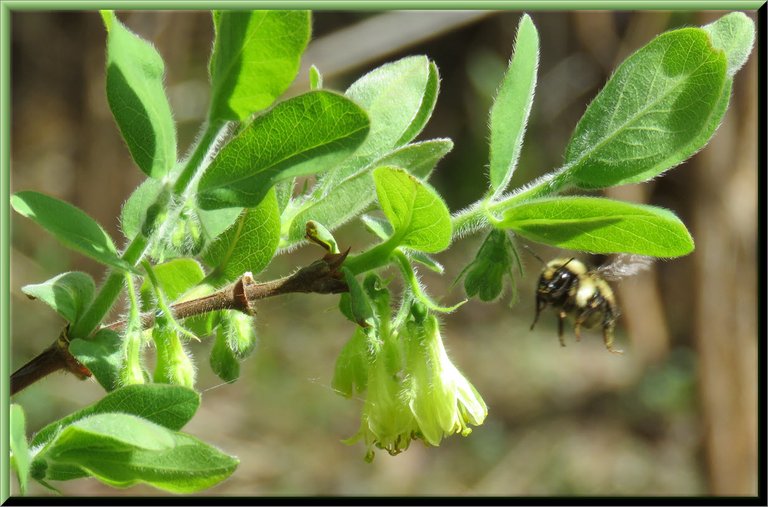 One of the earliest flower to bloom in the garden is the lovely colored blue squills. They seemed to attract these blue butterflies which made for a pretty sight!
Butterfly Upon the Blue Squill Flower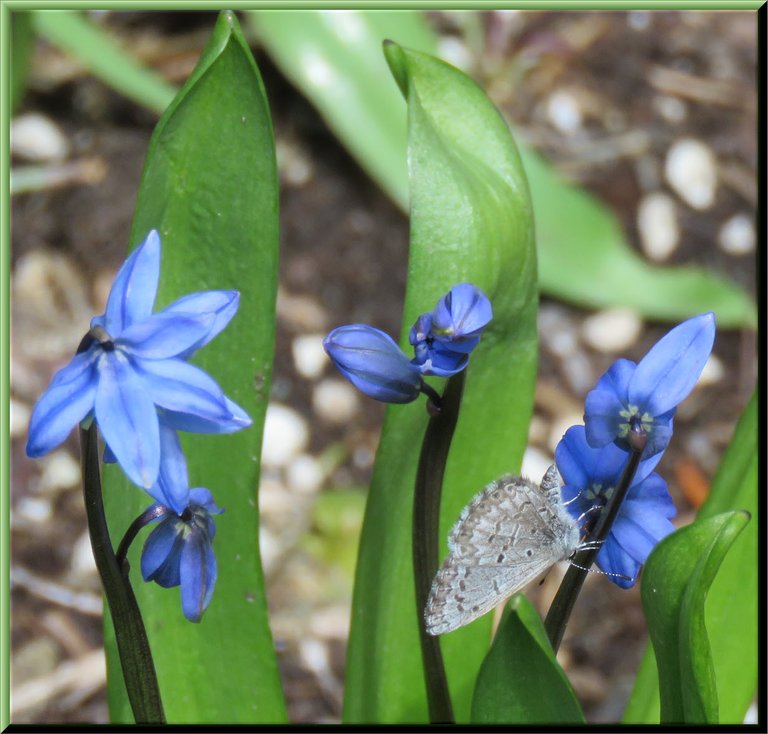 Over by our lane it is lined with marsh marigolds that you might have seen in my Wednesday Walk post.
Here we have a pollinator visiting it...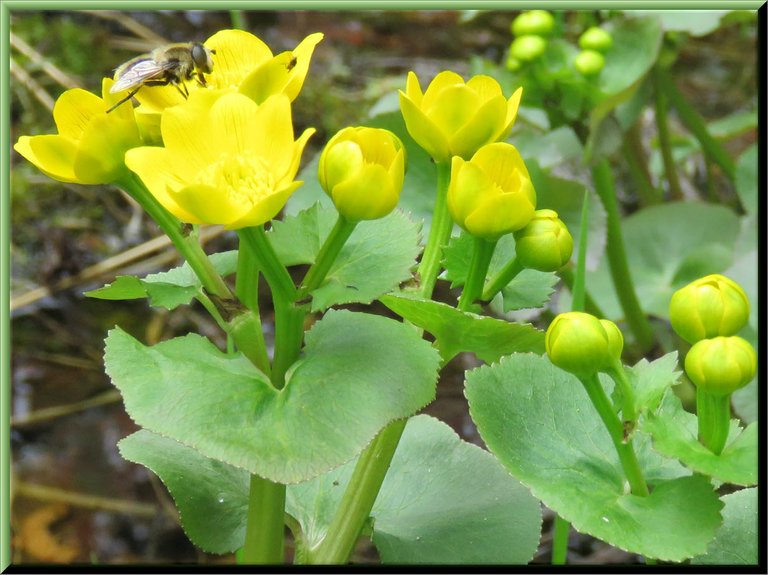 Also growing along our lane is current bushes and they were in full bloom.
Currents in Full Bloom By Marsh Marigolds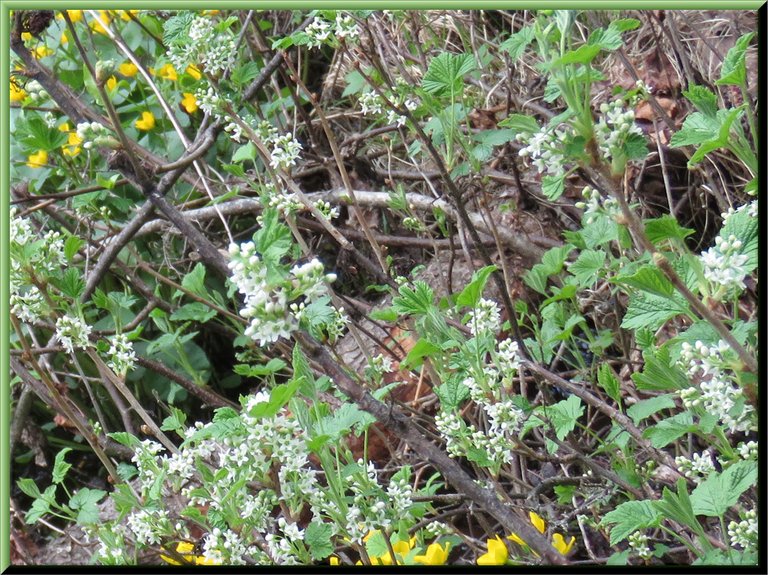 Another wild flower that comes up in the garden is this white violet. I'm always happy to see their tiny faces!
Close Up Violet Blooming in the Garden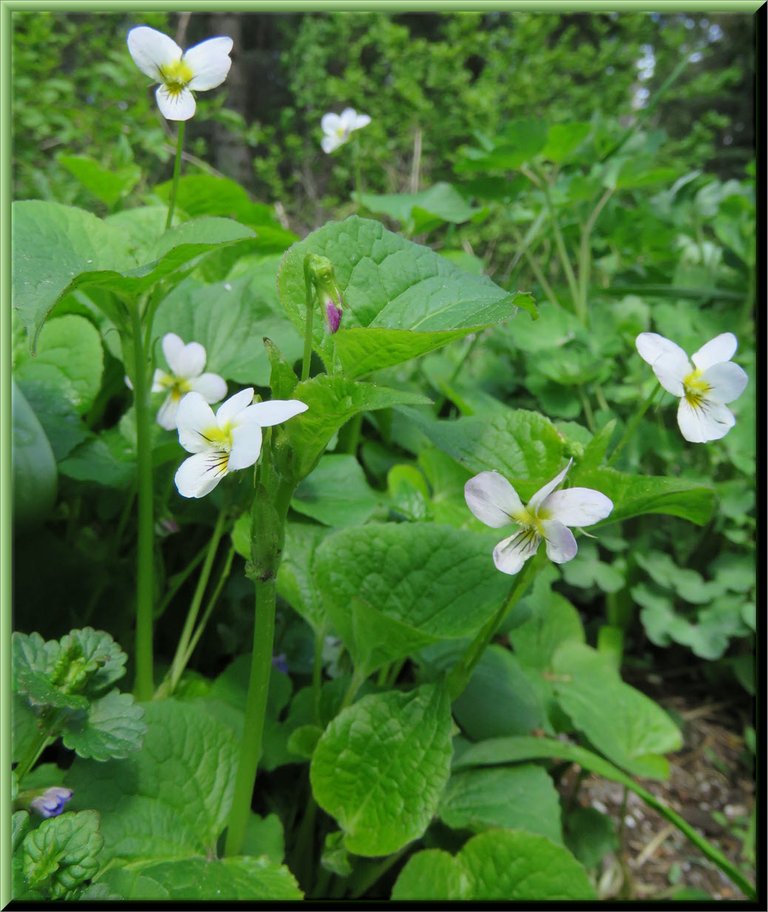 Although i haven't had much luck with the regular tulips the smaller Tulip Tarda do well for me and line one corner of the garden. they are even earlier than the squills!
Tulip Tarda in Bloom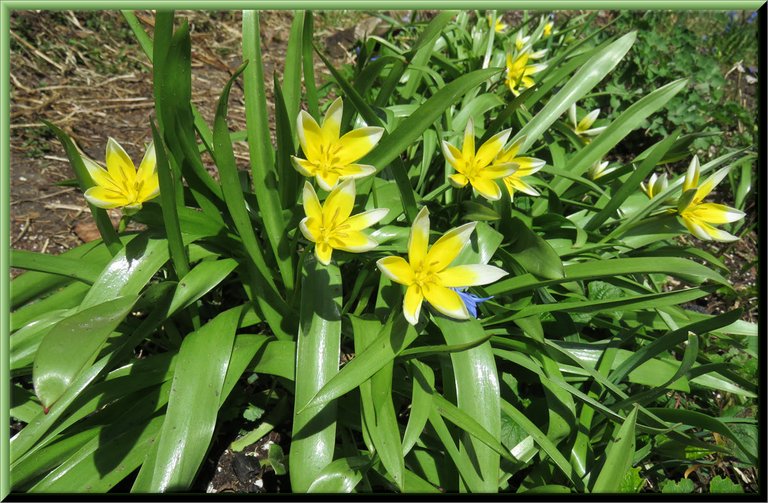 Up on the deck where I've been hardening off my tomato and pepper bedding plants (plus a few others too), we have been having lots of pollinators visiting which is great for the fruit production!
Close Up Pollinator on the Hungarian Black Pepper Flower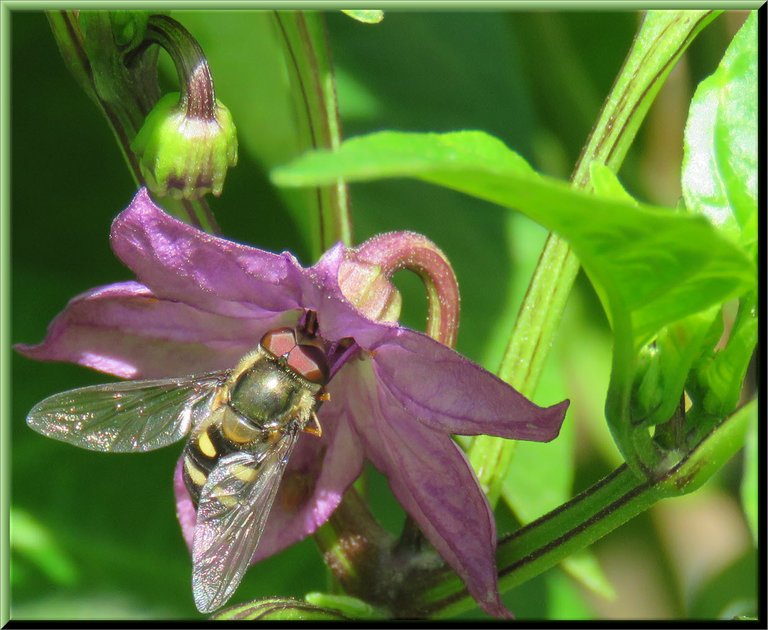 Butterfly Visiting the Blooming Tiny Tim Tomato Flowers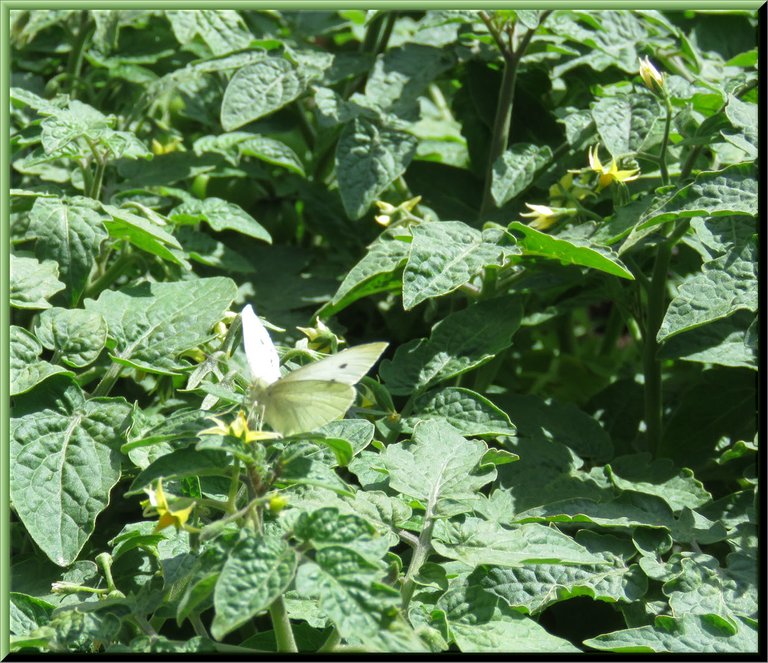 Here is a big old bumblebee visiting the pepper flowers. there was quite a few regularly visiting the pepper flowers but they didn't seem to like the tomato flowers as much.
Close Up of Bumble Bee in Flight Over Pepper Plants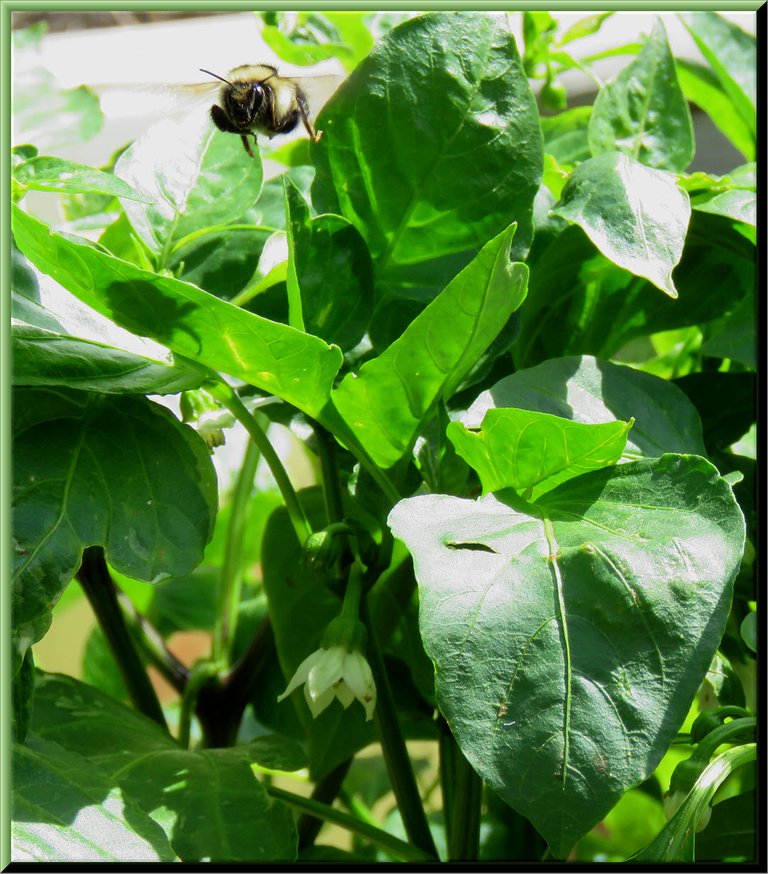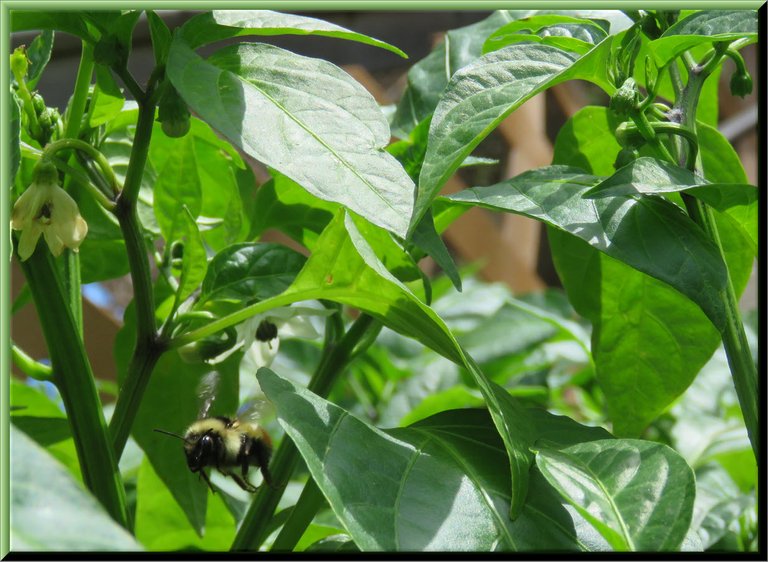 Cluster Tiny Tim Tomatoes on Plant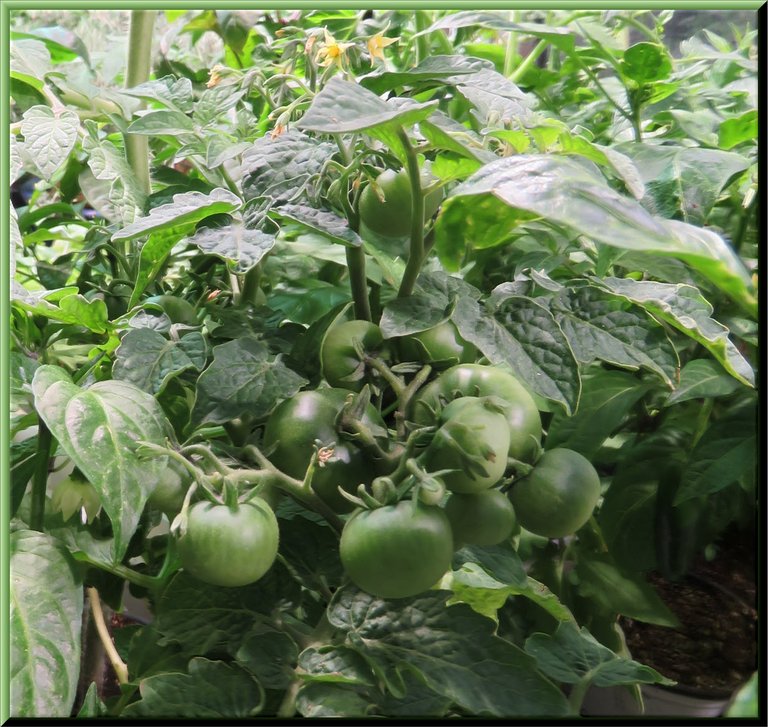 Peppers Forming on the Pepper Plants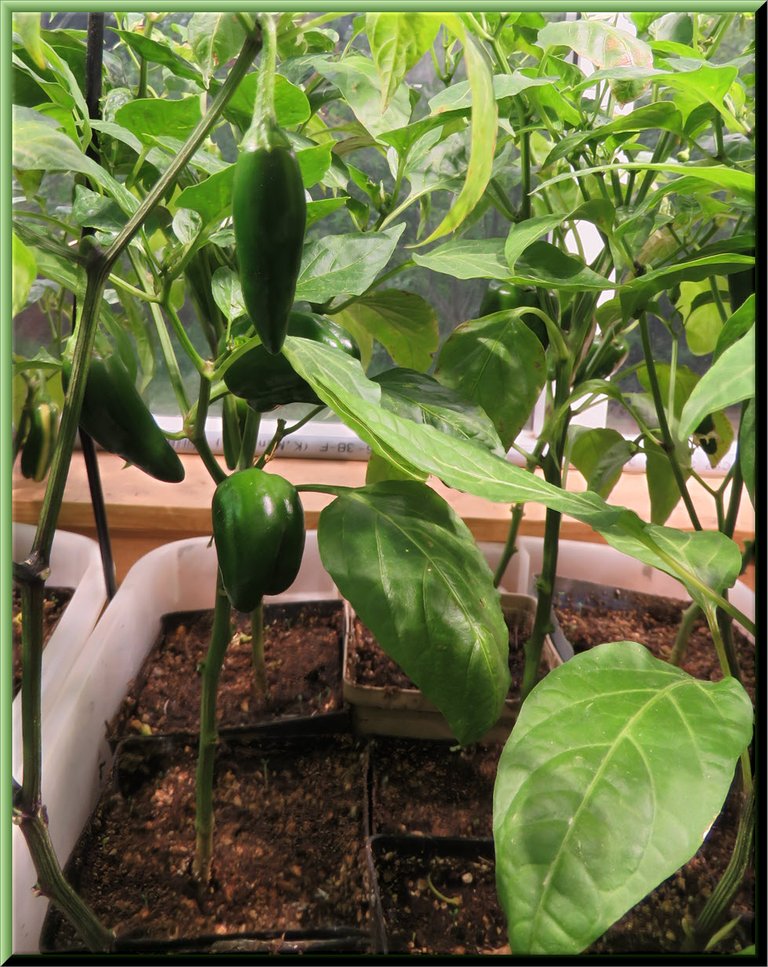 My garlic is growing well. I didn't get it planted in the fall so I potted up some that were sprouting and started them indoors under the lights so they had some green growth on them before I popped them in the garden.
I had seeded the area in front of them with some lettuce and just after I seeded them I seen a sparrow hopping around checking it out.
White Throated Sparrow Hopping Around the Freshly Seeded Garden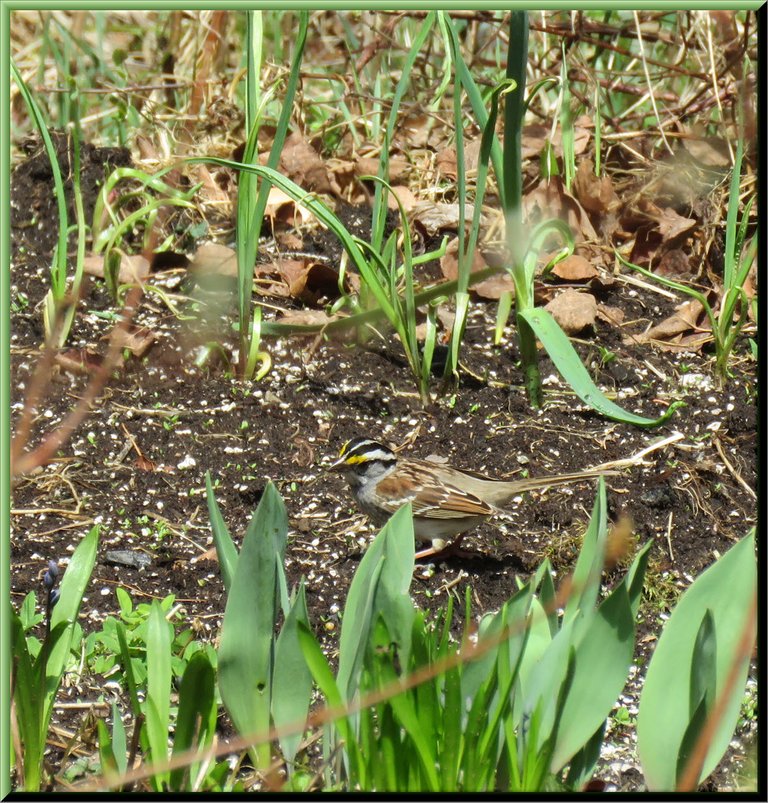 White Throated Sparrow by Chive Plant Checking Me Out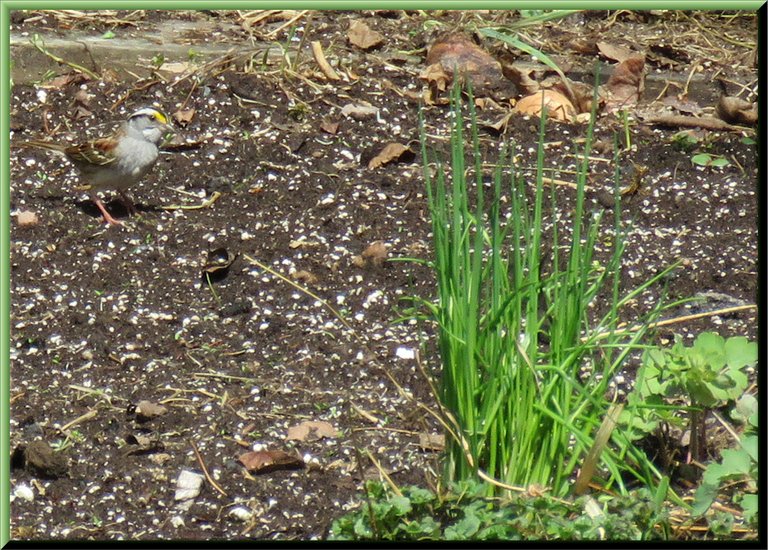 When it is warm and sunny out I take my bedding plants outside on the deck but when it's cool and rainy or at night time I bring them in under the grow lights.
I have lots of tomato and pepper plants plus some celery, squash,cucumber, cilantro and a fresh crop of basil plants to replace the old ones that had been growing and providing great pesto makings for me all winter.
Overview of Grow Room on a Raining Day with Bedding Plants Inside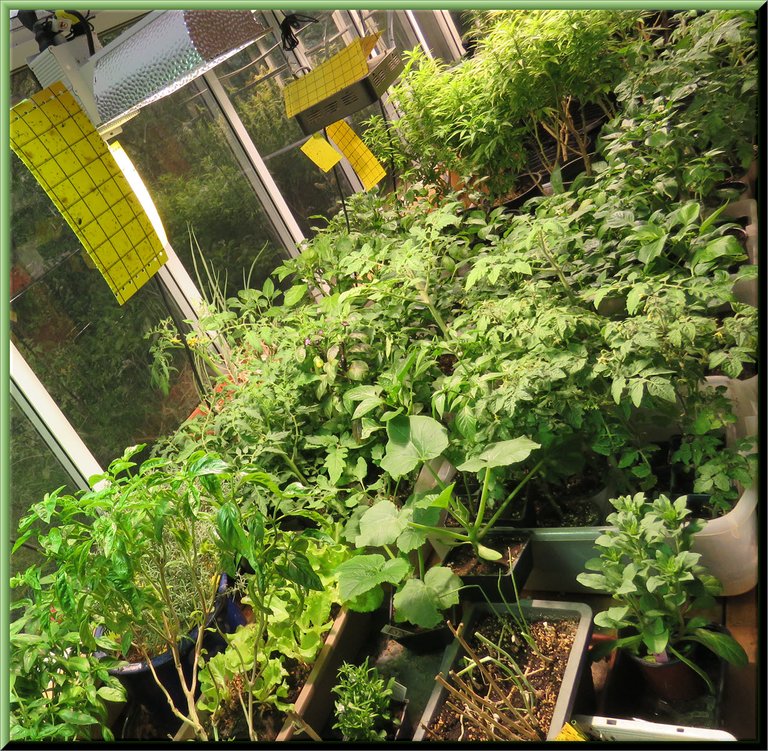 New Crop of Basil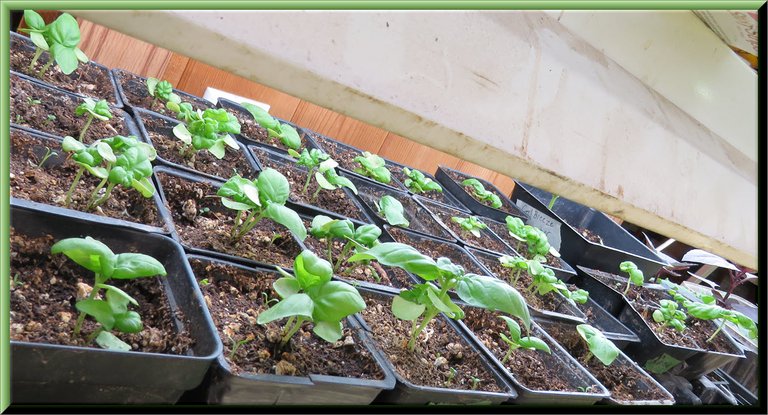 Indoors we have been growing a crop of Cannabis plants and they are only a couple of weeks away from harvest and looking good!
Cannabis Plants in Bud 2 Weeks From Harvest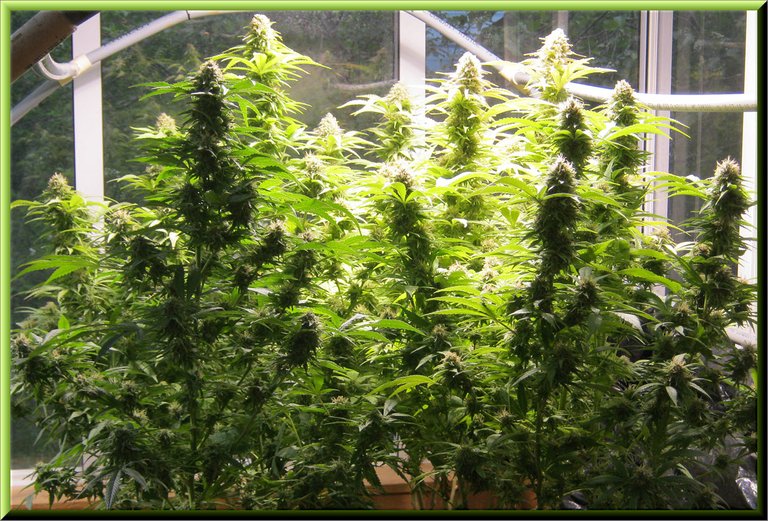 One last picture outside the sunroom where the forsythia had been blooming earlier. It is in the sunken garden which I use to have a rock wall with succulents growing but thte grasses and such took over and I let it be.
Statuary with Forsythia in Bloom Behind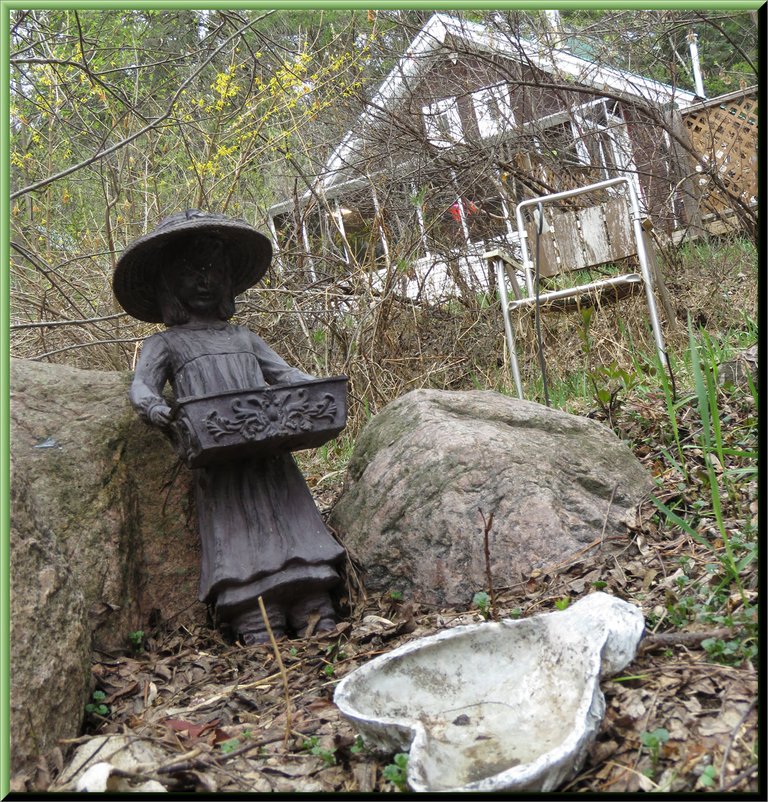 Join in the Hive Community Garden Journal Challenge - May Details here. Share your garden or just come see what other gardeners are up to around the world!
Thanks for stopping by!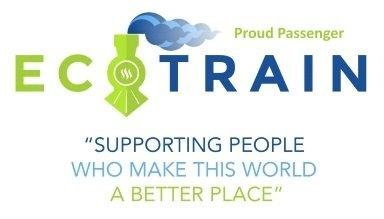 Discover previous ecoTrain magazines at @ecoTrain plus news on the Eco-Village at www.ecovillages.io

Join The Best Natural Health Community on Hive

MINDFUL LIFE is a Natural Medicine project which supports meditators on HIVE Discord II Community**

Creating Abundance on Hive