Today I pick green vegetables in the garden. I made soup for lunch from it. Here Suriname lockdown 100% now.
We are a very difficult time to buy somethings we need. I will try to make the food everything we have. I feel too tired when to hear this info.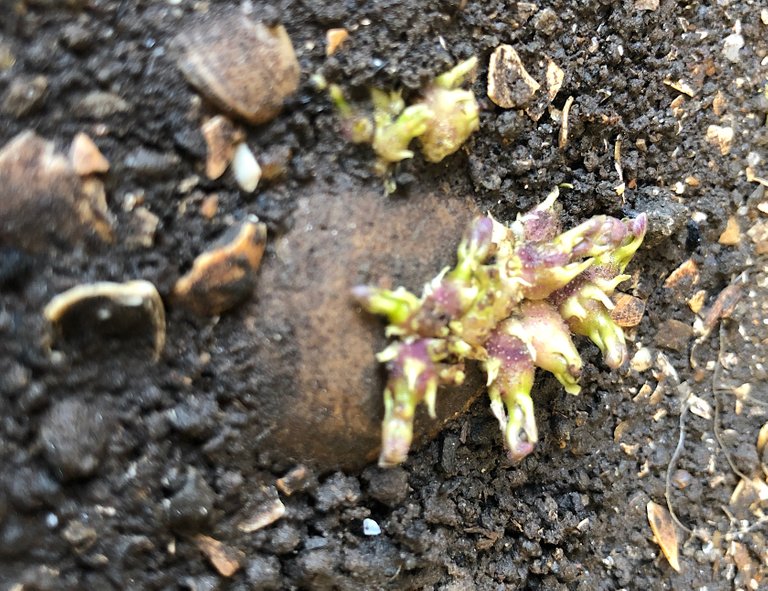 This is potatoes I grow up a few days. I buy potatoes to eat but I keep so long time to make it then it's growing up itself. 😁 I am growing because like that. 😆

The Garden

| I pick green chilli for make sauce. | I pick tomato for salad. |
| --- | --- |
| I pick spinach for soup. | I pick it for soup. |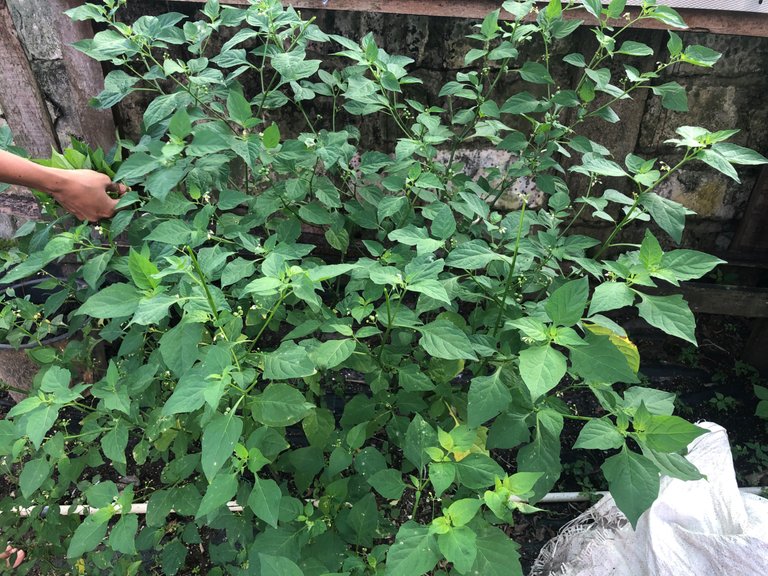 My landlord tell me it's medicine and it's veggie, people in here like eat it so much. I pick it for my soup. Now my family like it also.
| Green onion grow up last night. | This is luffa I pick it for soup. |
| --- | --- |
| This is chili in Suriname very spicy and so hot but looking very cute. | I looks love this chili. I don't pick it, keep it for play looks. |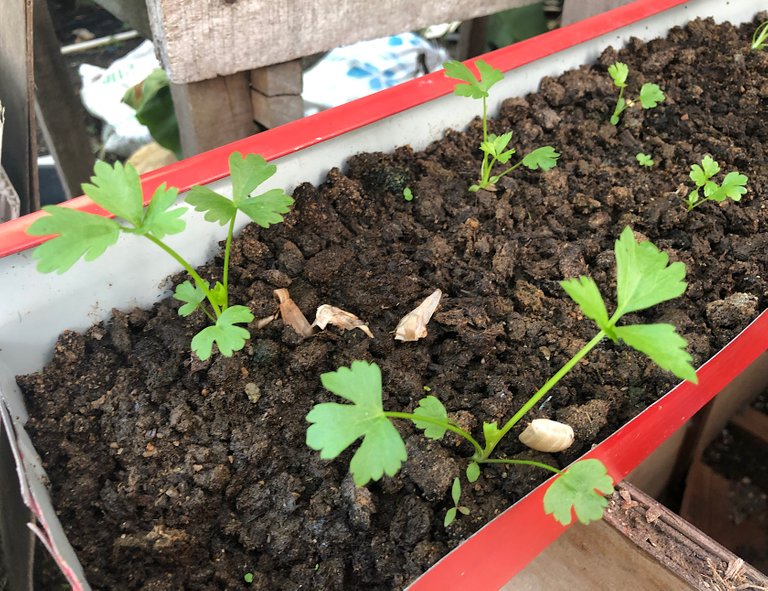 This is coriander my landlord grow it a few weeks ago. In the vegetable market not have it but China store has it very expensive. I like to use it some my food.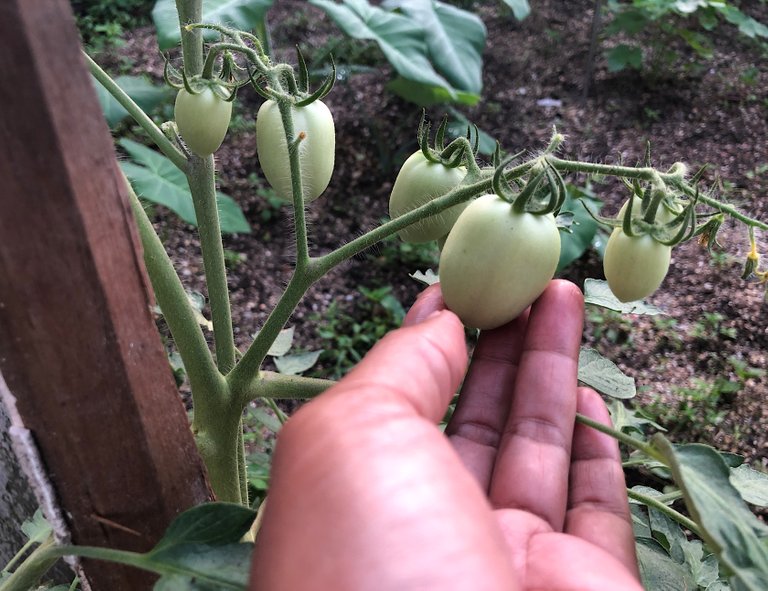 The tomatoes very good, a few days ago I picked it for my recipe, tomato salad with toasted rice.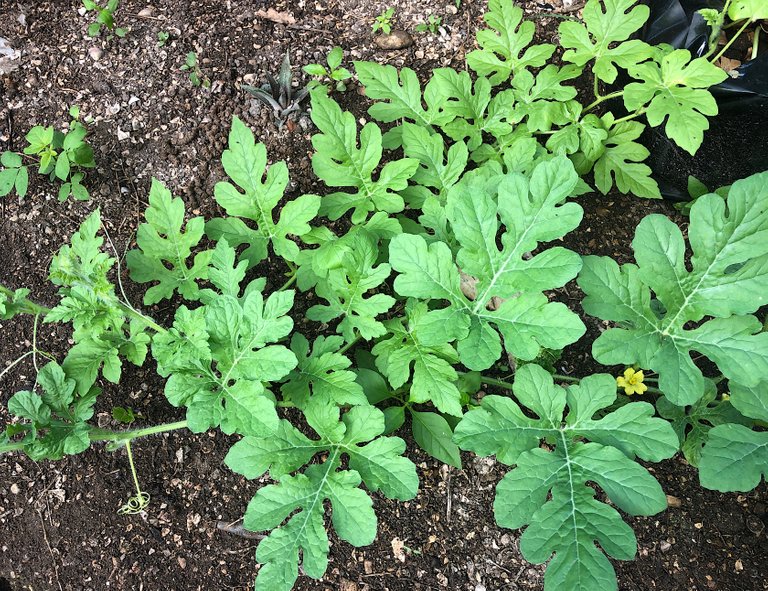 the watermelon
Before I grow up more vegetables the other but when we want to leave here, we are stopped it.
But it's not good luck for my family when we are to leave here they lockdown because coronavirus. Now we are starting grow it again.
Because we can't leave here maybe a long time. But I hope everything good better soon and coronavirus end very soon.
| This is the baby peanut. | Ivy gourd or tindora. |
| --- | --- |
| Bell pepper. | Water morning glory. |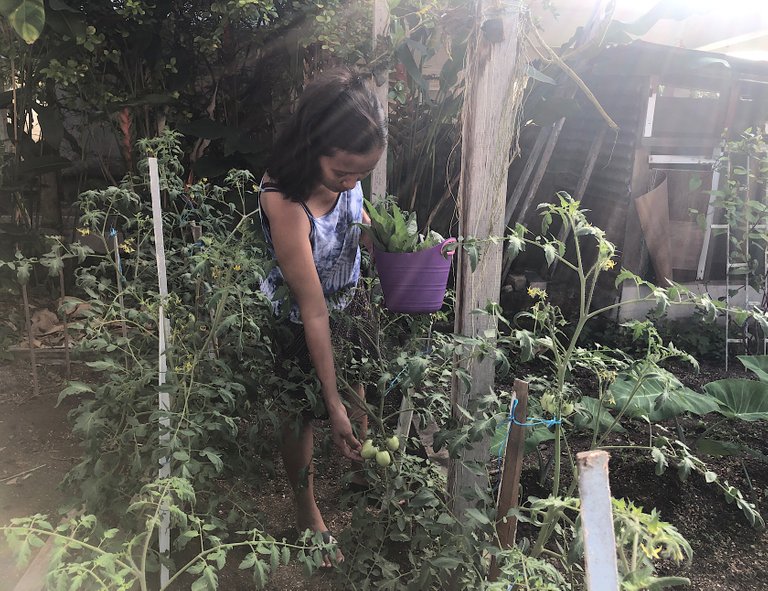 This is a photo not clear because the light of the sun. I like it because it's beautiful of natural. My daughter @kidsisters take pictures to give me.
| The vegetables soup | Chili sauce. |
| --- | --- |
Today I made soup green vegetables with tofu. And I made chili sauce eat with soup also.
My husband like chili sauce with vegetables soup very much it's style my country.
I not show my recipe soup vegan because I know all people know make it. Have a great day to you all. 😊💕💕

🙏 THANKS FOR READING 🙏
If you enjoyed this post, please upvote and reblog.

WE PROUDLY SUPPORT