Saludos cordiales, comunidad de Foodies Bee Hive. En esta ocasión les traigo una preparación para quienes quieran reducir un poco su consumo de carne o simplemente para quienes quieran probar algo nuevo, albóndigas de berenjena, que en este caso serviremos gratinadas y en salsa de tomates.
Warm greetings, Foodies Bee Hive community. This time I bring you a preparation for those who want to reduce their meat consumption a little or simply for those who want to try something new, eggplant meatballs, which in this case we will serve au gratin and tomato sauce.
---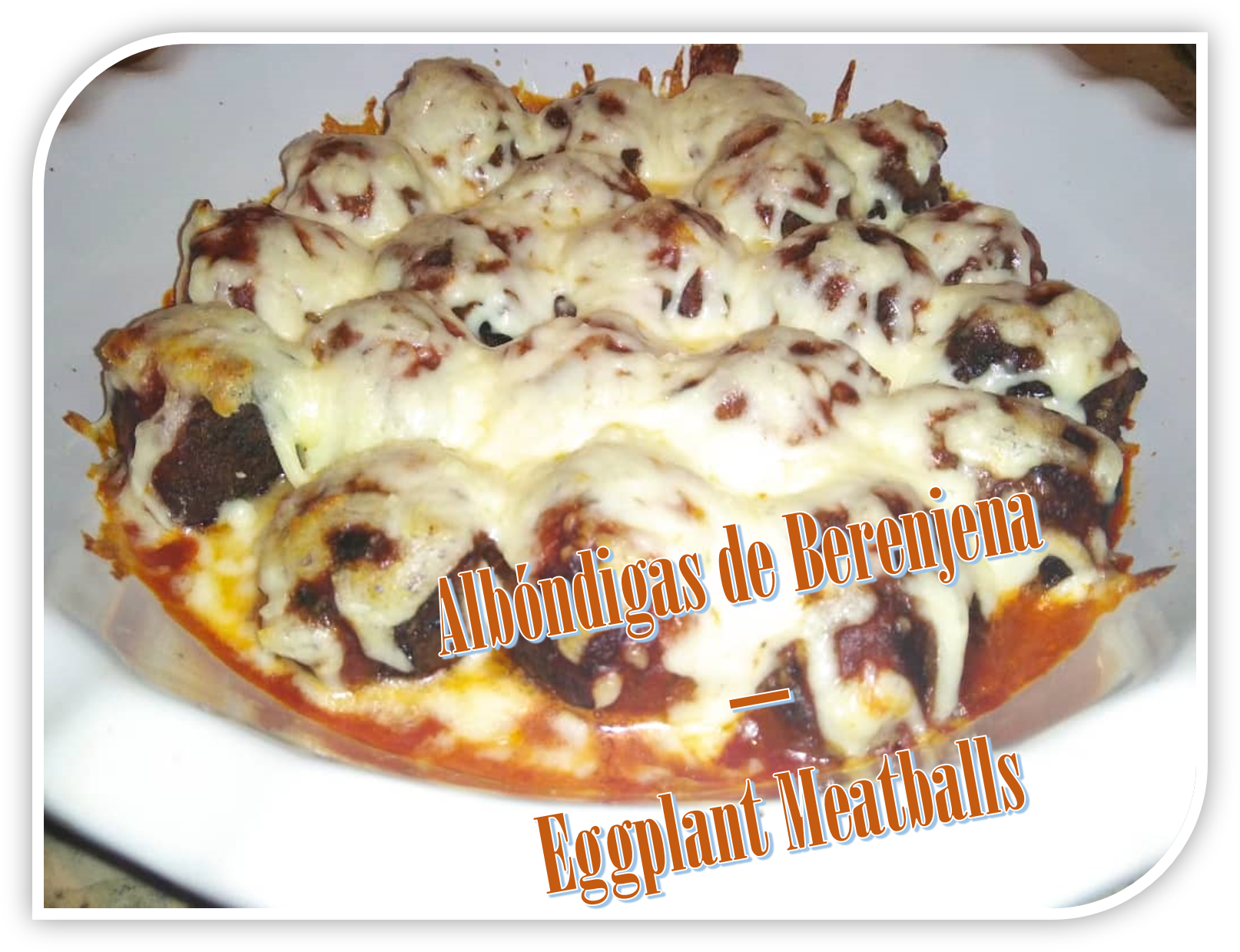 Ingredientes
2 berenjenas, en mi caso son medianas, pero mientras más grandes, más albóndigas podremos hacer.
1 y 1/2 tazas de una mezcla de perejil, apio, cebollín, cilantro, perejil y ajíes dulces, cortados pequeñitos.
1 huevo.
1 taza de pan rallado.
1 taza de harina.
1 taza de salsa de tomate de su preferencia, yo use una salsa común de supermercado.
200 gr de queso mozarela.
Sal, pimienta y sazonador al gusto.
Ingredients

2 eggplants, in my case they are medium, but the bigger they are, the more meatballs we can make.
1 and 1/2 cups of a mixture of parsley, celery, chives, cilantro, parsley and sweet peppers, cut into small pieces.
1 egg.
1 cup of bread crumbs.
1 cup flour.
1 cup of tomato sauce of your preference, I used a common supermarket sauce.
200 gr mozzarella cheese.
Salt, pepper and seasoning to taste.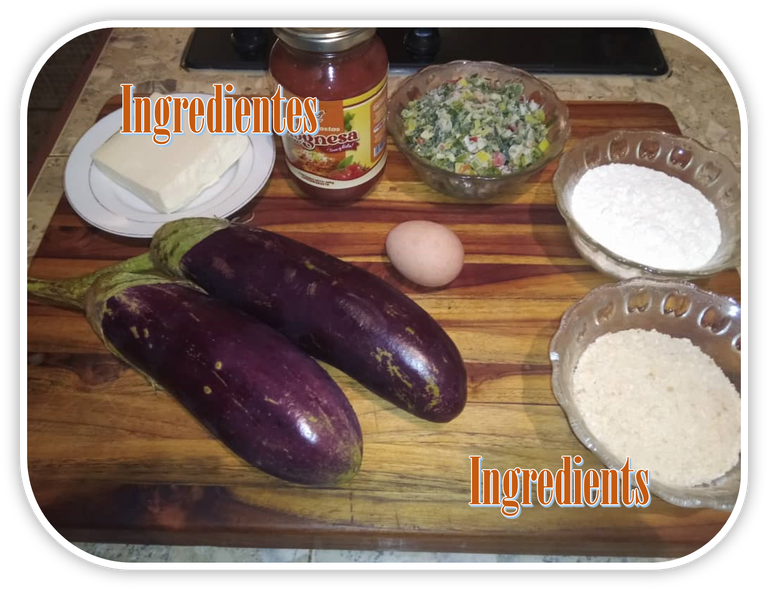 Procedimiento
Para empezar, pelaremos las berenjenas (1), si lo desea puede dejarle la piel o parte de ella, pero yo prefiero quitarla toda, así obtenemos unas albóndigas más homogéneas y en lo particular a mí no me gusta la piel de la berenjena, luego las cortaremos en cubos pequeños (2), y reservaremos.
En una sartén, con dos o tres cucharadas de aceite, colocaremos la mezcla de vegetales cortada finamente (3), y saltearemos hasta que empiecen a marchitarse (4), entonces agregaremos los cubos de berenjena (5) y mezclaremos todo (6), dejaremos que se cocine por unos cinco minutos.
Procedure

To begin, peel the eggplants (1), if you wish you can leave the skin or part of it, but I prefer to remove it all, so we get a more homogeneous meatballs and in particular I do not like the skin of the eggplant, then we will cut them into small cubes (2), and reserve.

In a frying pan, with two or three tablespoons of oil, place the finely chopped vegetable mixture (3), and sauté until they begin to wilt (4), then add the eggplant cubes (5) and mix everything (6), let it cook for about five minutes.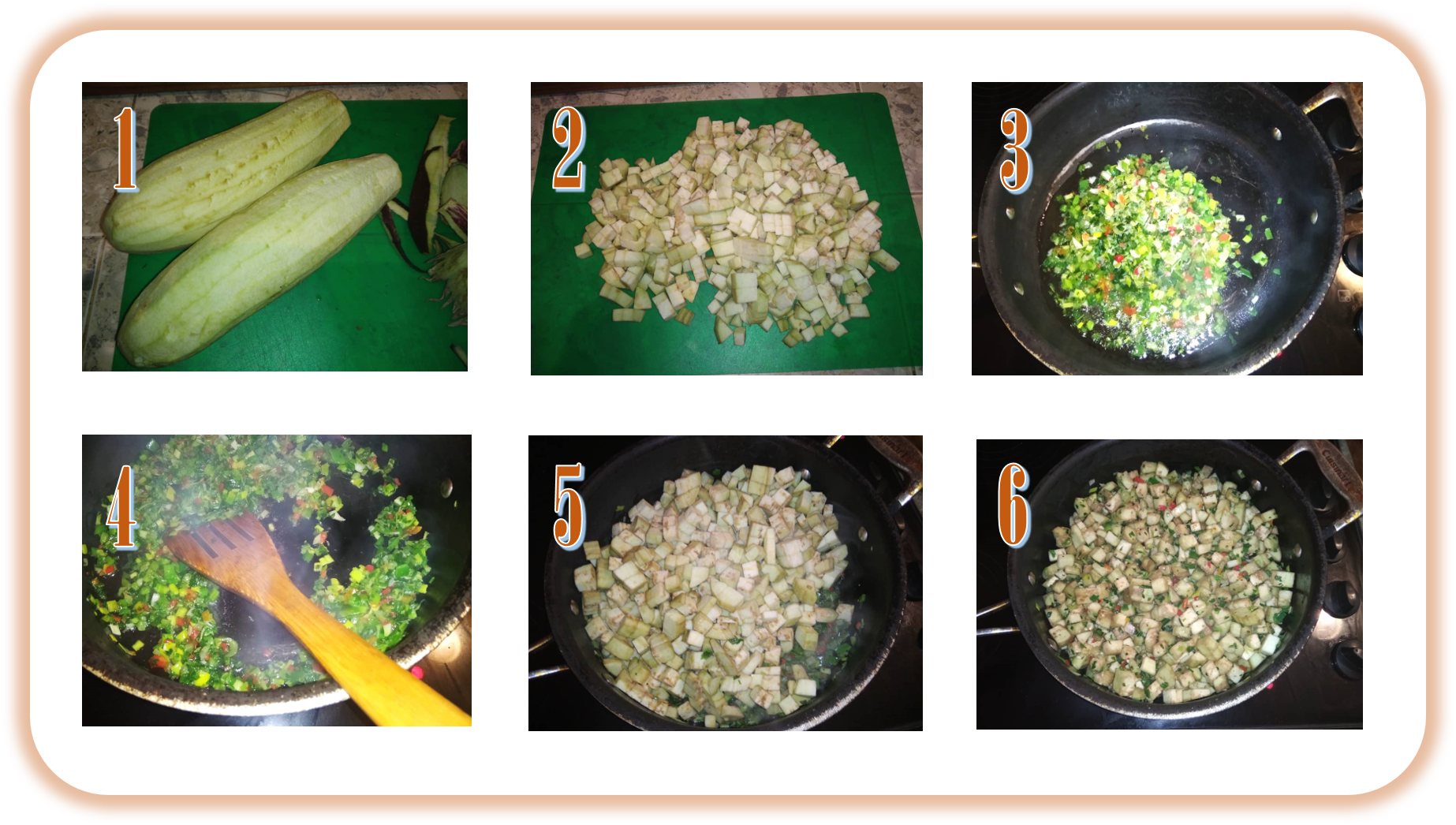 Pasado el tiempo, las berenjenas empezarán a ablandarse (7), sazonaremos con sal, pimienta y sazonador al gusto, continuaremos cocinando, hasta que los cubos de berenjena empiecen a deshacerse formando una mezcla pastosa (8), controlaremos la sazón y reservaremos en un bol, para dejar que enfríe a temperatura ambiente (9).
Cuando se haya enfriado, le agregaremos un huevo (10) y lo mezclaremos haciendo un poco de presión con un tenedor, para ir aplastando los cubos de berenjena, sin llegar a convertirlo en un pure homogéneo, luego agregaremos el pan rallado (11) y continuaremos mezclando, debemos obtener una consistencia tal que puedan hacerse bolitas compactándolas con la mano (12), si con la cantidad indicada de pan rallado no lo logra, puede añadir más.
After the time, the eggplants will begin to soften (7), season with salt, pepper and seasoning to taste, continue cooking until the eggplant cubes begin to fall apart forming a pasty mixture (8), check the seasoning and set aside in a bowl to let it cool to room temperature (9).

When it has cooled, we will add an egg (10) and we will mix it making a little pressure with a fork, to go crushing the eggplant cubes, without turning it into a homogeneous puree, then we will add the breadcrumbs (11) and we will continue mixing, we must obtain a consistency such that they can be made balls compacting them with the hand (12), if with the indicated amount of breadcrumbs it does not achieve it, you can add more.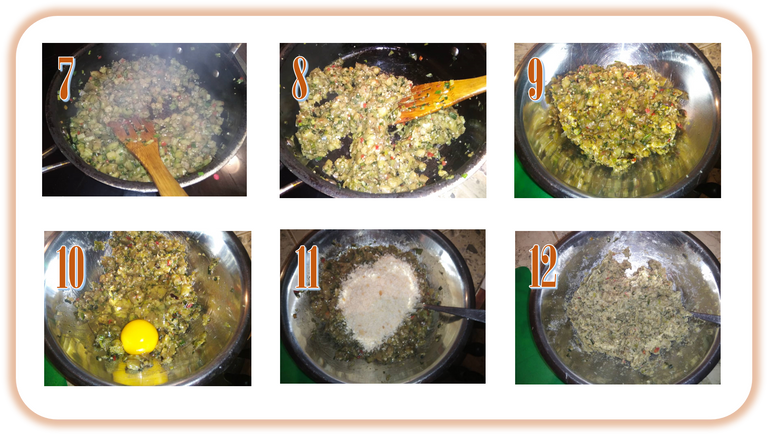 Para hacer las albóndigas nos humedeceremos un poco las manos y así evitaremos que la mezcla se nos pegue, tomaremos un poco y daremos forma de bola de unos cuatro o cinco centímetros de diámetro (13), luego la pasaremos por una taza con harina (14), y la revolcaremos con cuidado de no aplastarla, hasta cubrirla toda (15) y reservaremos, haremos lo mismo con toda la mezcla de berenjena, hasta acabarla (16), finalmente las freiremos en abundante aceite, el tiempo suficiente para que se doren por fuera (17).
Mientras las freímos prepararemos el recipiente donde gratinaremos las albóndigas cuando estén listas, para ello, sólo agregaremos la mitad de la salsa de tomates en el fondo y la extenderemos (18).
To make the meatballs we will moisten a little our hands and thus we will avoid that the mixture sticks to us, we will take a little and we will give form of ball of about four or five centimeters of diameter (13), then we will pass it through a cup with flour (14), and we will roll it with care of not crushing it, until covering it all (15) and we will reserve, we will do the same with all the mixture of eggplant, until finishing it (16), finally we will fry them in abundant oil, the sufficient time so that they are browned on the outside (17).

While we fry them we will prepare the recipient where we will gratinate the meatballs when they are ready, for it, we will only add half of the tomato sauce in the bottom and we will extend it (18).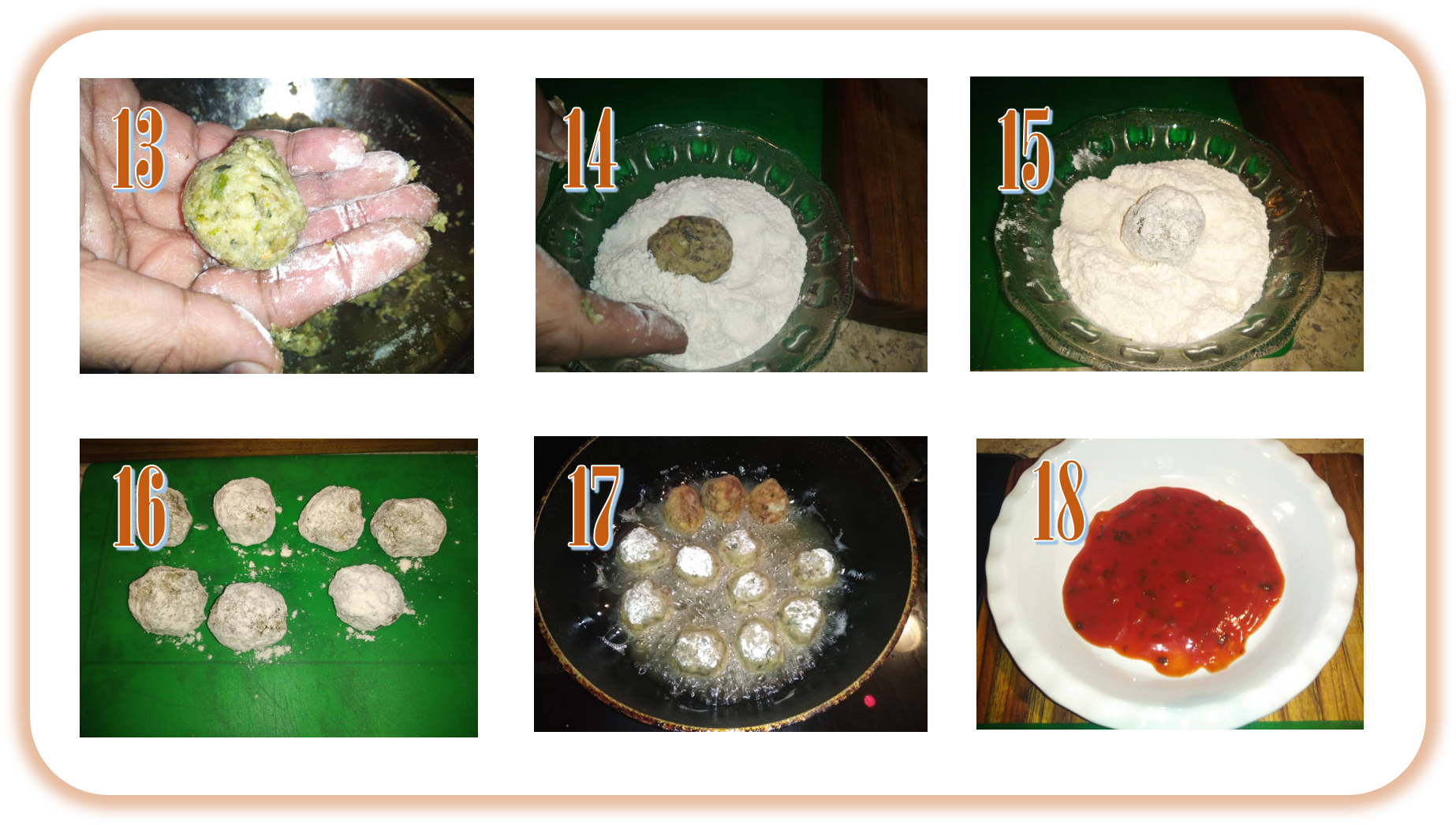 Cuando las albóndigas se hayan dorado, las colocaremos sobre la capa de salsa de tomates (19) y luego las bañaremos con el resto de la salsa (20), y cubriremos con la mozarela rayada (21), finalmente las llevaremos por 10 a 12 minutos, a un horno precalentado a 200°C, si es posible con el ventilador encendido, sacaremos cuando el queso se haya derretido y se haya dorado por arriba (22).
When the meatballs have browned, place them on the layer of tomato sauce (19) and then cover them with the rest of the sauce (20), and cover with the grated mozzarella (21), finally take them for 10 to 12 minutes in a preheated oven at 200°C, if possible with the fan on, take them out when the cheese has melted and browned on top (22).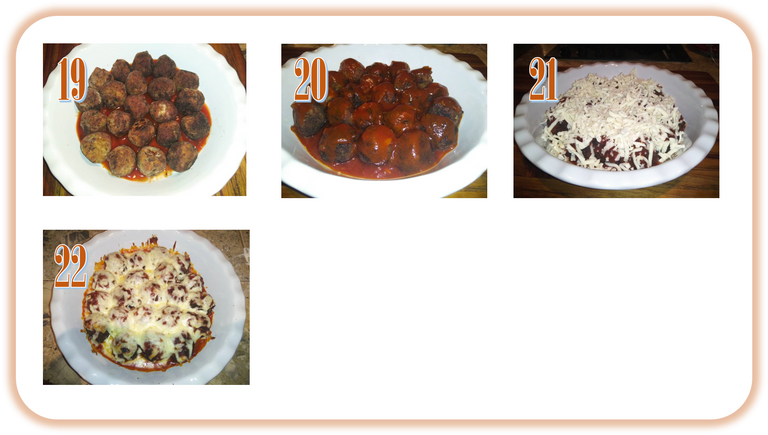 Estas albóndigas son exquisitas, son crujientes por fuera y suaves, casi cremosas, por dentro, se pueden comer tal como lo haría con las de carne, acompañándolas con pasta, puré de papas o como fue nuestro caso con pan. Acabamos preparando unos ricos sándwiches con unas mini baguettes caseras y vegetales.
These meatballs are exquisite, they are crunchy on the outside and soft, almost creamy, on the inside, they can be eaten as you would with meat, accompanied with pasta, mashed potatoes or as in our case with bread. We ended up preparing some delicious sandwiches with homemade mini baguettes and vegetables.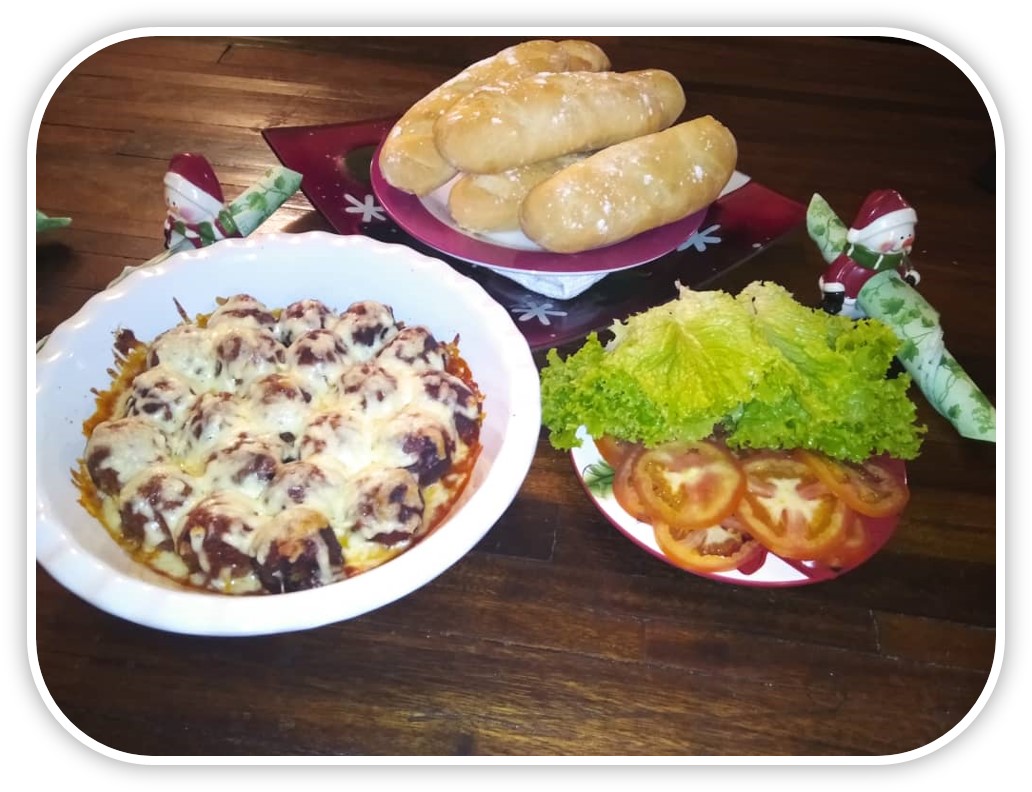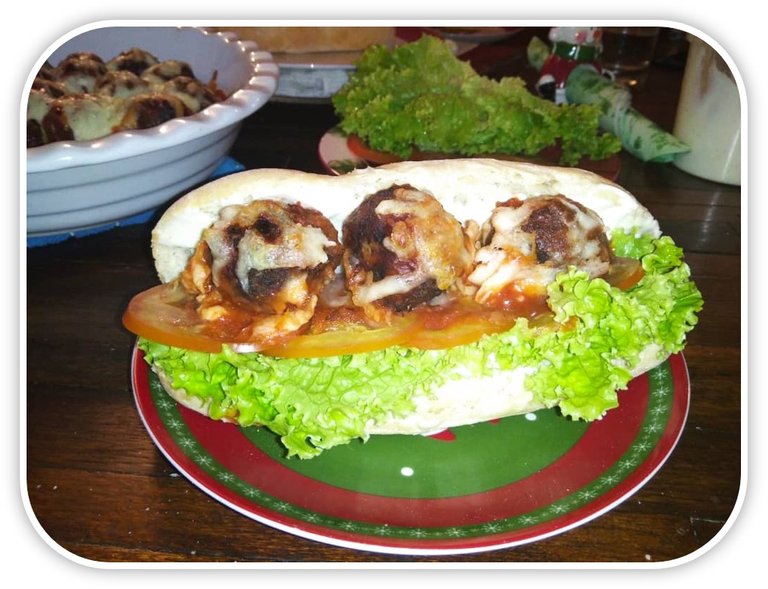 Texto y fotografías de @amart29, Barcelona, Venezuela, noviembre de 2022
Todas las fotografías fueron tomadas con un movil Redmi 8A