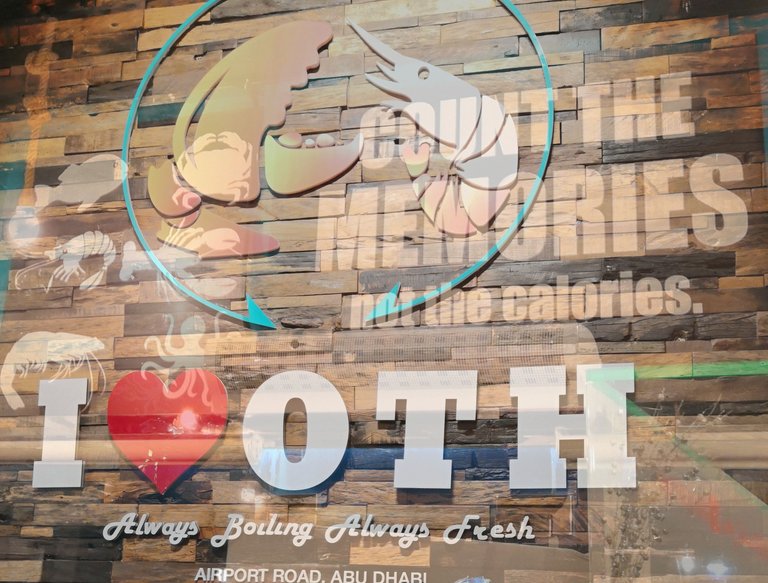 Double celebration
Last Sunday was an extra special day - - it was our Little Miss' birthday and of course, Father's Day. We usually just celebrate birthdays at home with me doing all the cooking but since it's a double celebration I decided it's time to go out of our cave and dine out for a change.
The Little Miss and the Husband both love seafood (well, including me, but not the two boys) so we went to Off the Hook Seafood restaurant not too far from our home. This branch is smaller than the others and it was a bad move that we came without reservation. It was a Sunday and there were lots of customer so we had to wait for about half an hour before we got a table.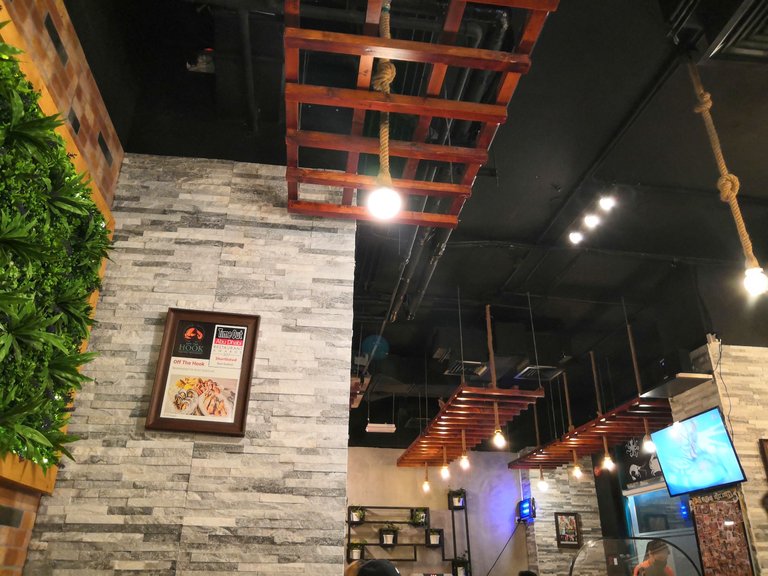 I love the design of the restaurant. The warm colors give a cozy vibe and the faux plant wall next to us makes the room look fresher and brighter too.
Kids' Meal as we wait
We got seated and gave our order which was another waiting game. Good thing, I ordered Chicken Nuggets meal for my youngest (yeah, yeah, chicken in a seafood restaurant, lol!) that was served early so the kids had something to nibble as we waited for our main meal. This also came with a chocolate milk which was Little Man's favorite.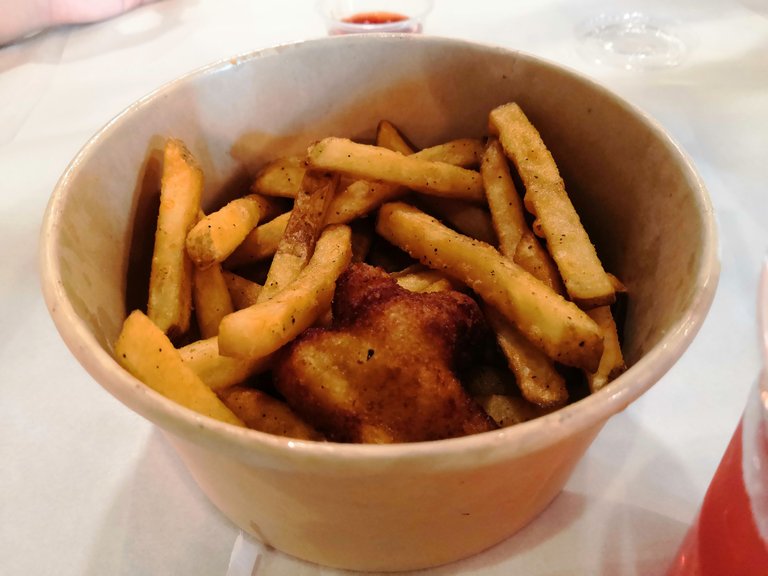 Chicken Nuggets + Fries
Unlimited Waiting Drinks
The main meal seemed to have taken forever before it came. The kids were becoming uneasy, just sitting there doing nothing. Our bottomless drinks had been served so we satisfied ourselves with the cold drinks in the meanwhile.
Little Man entertained himself by playing with the ice cubes. The food here are served directly on the table lined with wax paper so this one is clean, don't worry. hehe.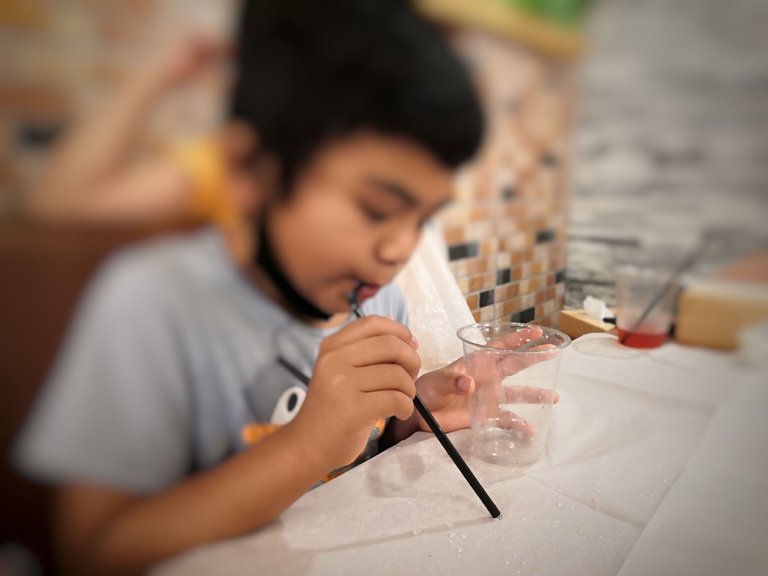 Seafood Galore!
Yay! Our order finally came after forever! Now time to put on our gloves and plastic aprons! A heavy meal to follow. It was a seafood mix good for 3 - 4 people which included crabs, shrimps, mussels, crab balls, corn on teh cob, unlimited rice, and unlimited drinks.
They have a selection of sauces and spiciness level you can choose from to serve the seafood with. Our favorite is the mushroom and onion sauce, mild spiciness for the kids. Our other favorite sauce, the OTH Special, I asked to be served with the extra crab balls we ordered.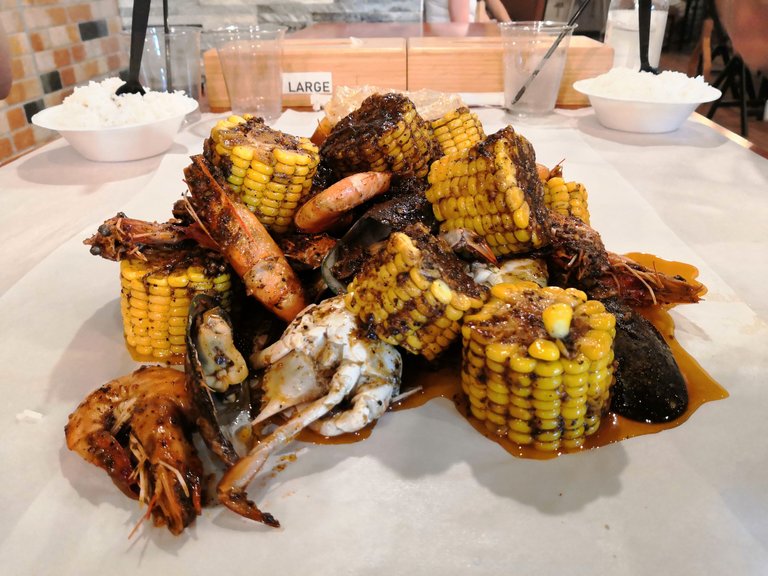 The Little Miss enjoyed her food a lot, eating with her hands. For a moment I though she would ask for extra rice!
Hammered Fish
We also got to try something new (I guess) from their menu. It's the hammered fish -- sea bream coated with a lot of salt then baked in the oven.
Oooohhh... looks fancy!
The staff who served it gladly hammered the fish.
Was it worth it?
I personally felt it did not do justice for the sea bream. The sea bream is a very meaty and fish and honestly, just a bit of salt and lemon would do. Anyway, this was waaaay too salty for my taste and we did not really enjoy the dish. :(
We took the suggestion of the staff and got their new Asian sauce to go with this dish. The sauce has a curry-like flavor. My eldest liked it while the husband and I preferred the original OTH sauces we usually order.
Count The Memories, Not The Calories.
This was the restaurant slogan which I think really resonates with everyone who comes here. I don't think anyone would enjoy eating here alone. Most who come here are families or big group of friends.
And nope, coming here with your calorie intake in mind is not fun. Seafood with this yummy sauce should be paired with rice. Lots of rice. :D and of course, a good conversation to share great memories with your loved ones!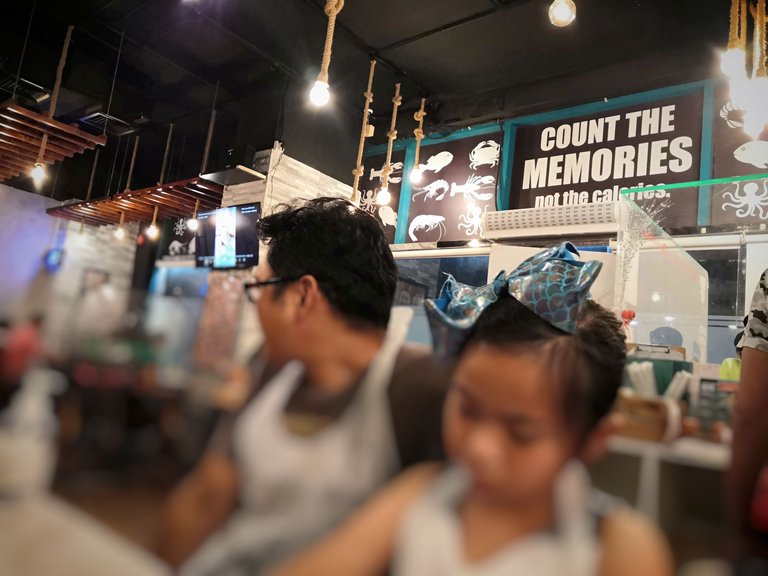 Happy Fathers' Day, daddy! And Happy Birthday to our Little Princess.❤️