I already had dinner well and truly mapped out in my brain. Dahl (already cooked and in the fridge), steamed baby bok choy and a spicy rocket salad. I had everything sorted and in the fridge. I DID, however, want to get in a few early evening desk hours, so I thought I'd just grab one ripe avocado for a 5pm munchy for my currently-homeschooling 15 year old daughter. To buy me some extra quiet and focus time. As it happened, I was at Dr Wang's Chinese Medicine Dispensary picking up some herbal magic, and I was less than 5 mins walk from my fav organic avocado guy. Too easy.
And then it all unravelled.
2.30pm on a HOT Monday afternoon. The Kad Luang market was already deserted and the vendors had an air of quiet desperation about them. I consistently buy from the same reliable vendors with organic produce, and so "my guy" lit up when he saw me.
"Madame! So happy you back to my shop. Today I have avocado just the way you like!!
And it's true. He did. A LARGE tray of avocados needing to be eaten within the next 1-2 days and zero customers imminent. Usually ripe and ready to eat is sold out by 11am and is the source of much discussion between us - the restaurants snap up all the "perfect today" avocados and the rest of us have to buy housebricks and wait. LOL. I have been buying from this guy for years. I chose two avocados and gave them to him to weigh, thinking I was being generous.
"Madame take 1 kilo today? Very hot and tomorrow ting."
"Ting" is the Thai word for "throw out."
"OK. Give me one kilo", I answered, smiling but mentally already beginning to rethink dinner.
"Madame like purple potato. From mountain people. I remember Madame like! My brother grow but restaurant no buy anymore. You need 2 kilo or want more?"
And so I left with this: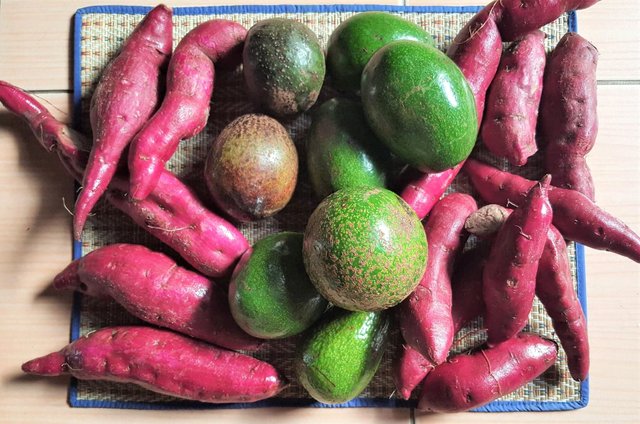 And 2 kilos of organic passionfruits that he also remembers I like. He has an excellent memory. 🤣
Total cost? Just under $5. Eight avocadoes (he threw in 2 exta at the end, "for loyal customer", 2 kilos of organic mountain purple potato and 2 kilos of organic passionfruit.
Driving home I had no less than 4 internal conversations with myself running in my head. First conversation I was mentally shelving my plan, reorganising limited fridge space and rethinking how to redo dinner and not waste. Second conversation was about western IG & social media people I follow and their seemingly absurd ideals of preparing a week's meals and smoothie fruit in advance. As if nature delivers Her abundance in neat amounts to suit our waste-not mindset and schedule. 😆 My third mental conversation was about conscious shopping-eating and how people seem to leave the ethics of buying from people we know out of the equation. Knowing the person makes it so much harder to decline, cos you have to look him in the eye when you do. Fourth conversation was about connection to our organic supply chain, and how if HE can't sell all (or most) of his avocados and purple potatoes and passionfruit, then next year he probably won't be there anymore.
What kind of world do I want?
I almost never meal plan. And I eat intuitively, at weird hours. But during Covid-19 with a radically reduced income, I've been trying to use EVERYTHING well and buy only what we need, rather than tossing it on the compost (with thanks) when plans go awry.
It's HARD to learn to know your farmers personally, cos it somehow makes it very personal when they have a production glut. And yet, if we don't reschedule ourselves to accommodate our farming friends, we will have no right to complain when organic doesn't mainstream. So, I shelved my evening work plans in lieu of cooking and concocted a simple meal to use as much purple potato and avocado as possible.
First - scrubbed and sliced the potatoes lengthwise and popped them into the steamer. Yes, almost every rice cooker in Asia these days doubles as a steamer. So handy!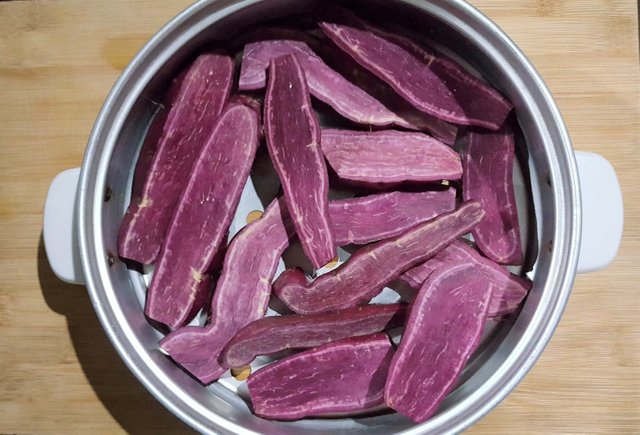 Are these mountain potatoes not amazing? They're NOT sweet but have a lovely creamy texture. Dripping with cancer-preventing anthocyanins.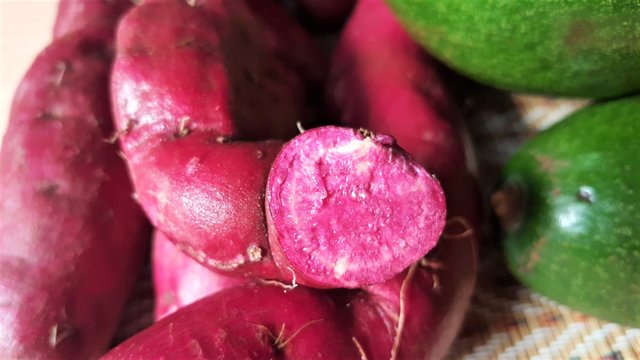 While they were steaming, I made an improvised guacamole.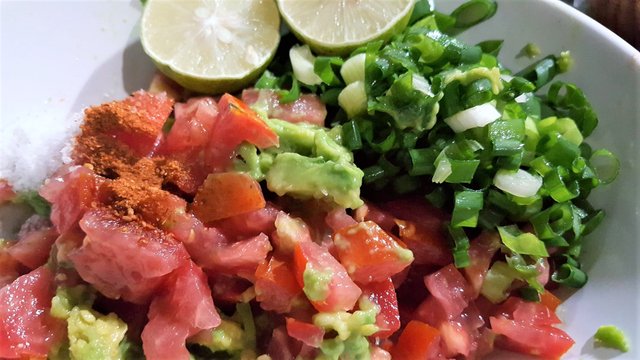 The little Thai mountain avocados from Chiang Dao are world class in flavour and texture. At their peak - he was not wrong and gave me his best.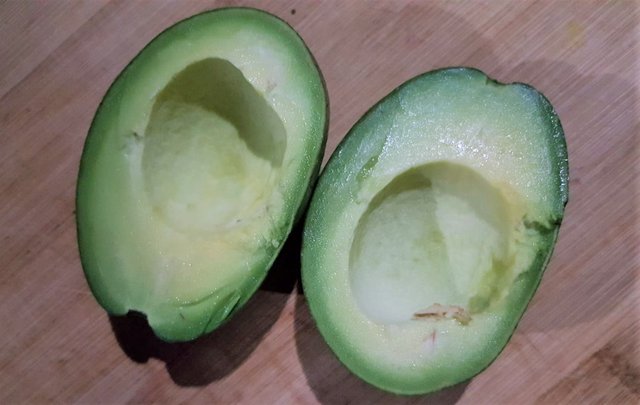 15 minutes later I had this ready to plate: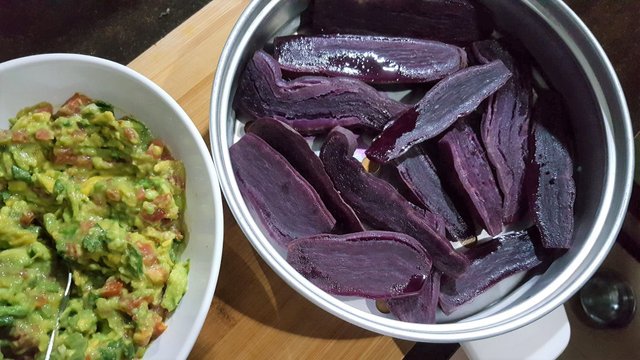 I made a bed of potato: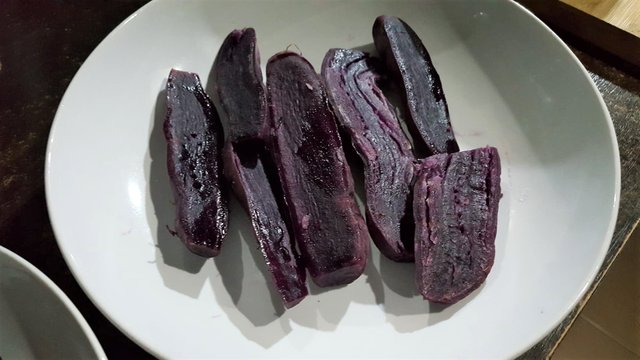 And served the guacamole over the top.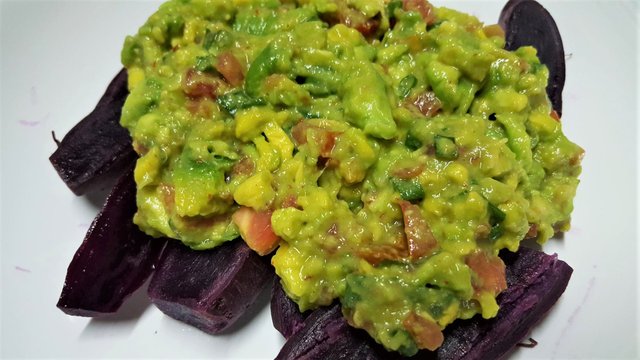 Seriously filling (we struggled to finished it) and a very nutrient-dense meal. Yummy. Very yummy.
What am I doing with the rest? While I was writing this blog just now, I enjoyed a mango-avocado-lime super smoothie which my daughter made in her class break. With coconut milk and moringa powder. And this evening we will try again for the guacamole at 5pm and the desk time that wasn't yesterday. Steamed purple potato on the side for dinner tonight, with dahl and rocket salad. The baby bok choy is very fresh and will keep just fine another day or 2. The balance of the purple potato I will steam, dice and keep as the basis for a salad in the coming days.
Feeling for my farming friend - for all our farmers.
Thinking we have a collective responsibility to buy whatever organic they have, rather that picking and choosing to fit our preconceived and overplanned ideas and IG meal plans. For us, this week, that means mango everything. LOL. And mushrooms, fresh greens, purple potatoes, lychees, pomelo and avocado.
It's tough living in paradise but I guess someone has to. 😍 🤣
We talk about consciousness with food:
the growing
the organic
the seasonality & food miles
the preparation
the mindful cooking
the shared mindful pleasure of eating
I think we should add another layer into that conscious food process: the relationship we can and should have directly with the grower, which means BUYING when his eyes are full of despair and his avocados are at glut levels due to restaurant, hotel and resort closures.
I'm going to visit my avocado man again tomorrow, and thinking about some different morning smoothie ideas using avocado. Thinking to try a #3speak video to show you more, too. Stay tuned.
Enjoying the moments. Grateful. Blessed with Abundance

All images used in my posts are created and owned by myself, unless specifically sourced. If you wish to use my images or my content, please contact me.
---
---
Come check out my natural Thai herbal business… yes, we ship world-wide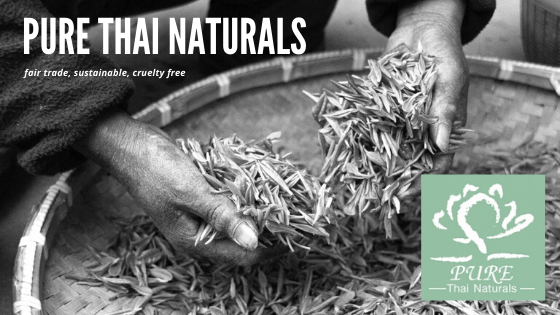 Visit our online store here


Join The Best Natural Health Community on Hive