I rarely use recipes, make it up as I go along and always start with one fresh, seasonal ingredient: today, it was straw mushrooms which had "bolted". Normally straw mushrooms are sold young, firm and unopened, and look like little buttons. But in the high heat & humidity in Thailand right now, they open literally in a day and spoil quickly. They were absurdly cheap.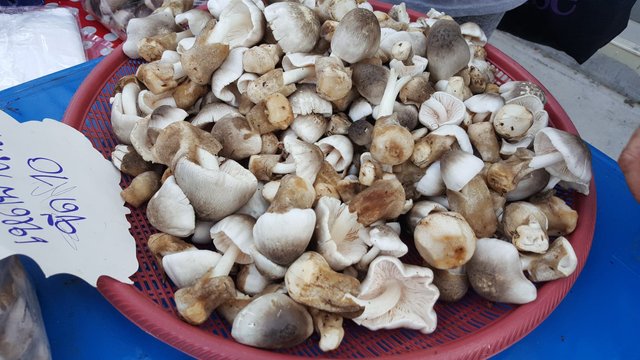 After a 2 minute ponder of what to cook with them standing in the market, I bought a small cauliflower which wouldn't compete too much with the gentle mushroom flavour and decided to make couscous. I went a bit lighter on the spices than usual, to let the mushroom and cauliflower flavours come forward.
Ingredients:
2 cups dry couscous
Big teaspoon each of coriander, cumin and turmeric powders
1 medium red onion
Garlic (I used 4 big cloves)
Little oil for frying spices - I use pure Rice Bran oil.
1 teaspoon good mineral salt
1 small cauliflower cut into small florets
Large pile of mushrooms
1 big handful of raisins or sultanas
Small handful of finely chopped spring onions
Method:
First thing I did was rinse the mushrooms and cut of the less-gorgeous bottom bits (the original button cover) - reserve those for making a stunning mushroom based broth later.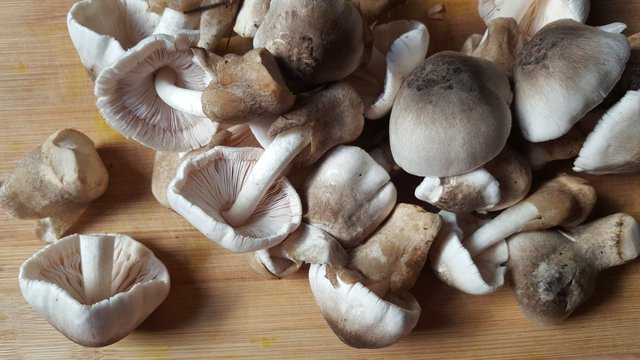 And I put my dry couscous in bowl and just covered it with boiled water.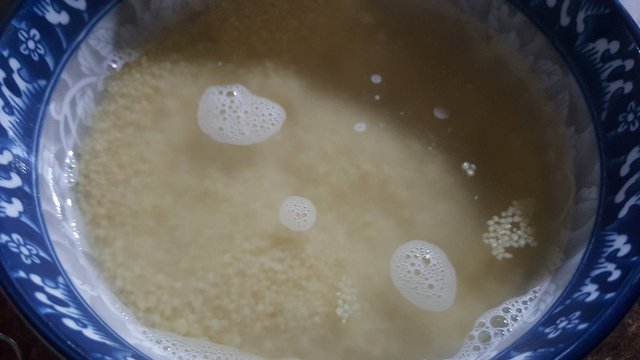 Next, the spices part. Usually I would use fresh turmeric root but ours in the kitchen was too dry and woody 😌 and will be planted back in the garden tomorrow instead. Cumin and coriander seed you can crush yourself in a stone mortar and pestle; but using pre-ground spices is fine if they are fresh and still wonderfully fragrant. If the turmeric no longer stains your fingers, toss it out!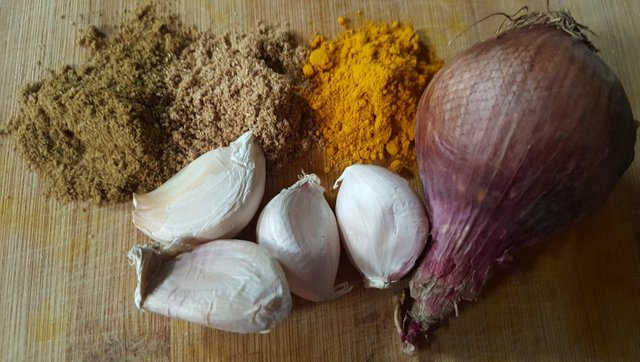 I peeled & chopped my onion & garlic fairly finely and fried them, with the dry spices over fairly low heat in a little rice bran oil. Why do I choose rice bran oil? Has almost no flavour of its own, has the highest known smoke point and therefore the best shelf life in a hot country (we live in Northern Thailand).
When everything was grooving along nicely, fragrant and starting to soften, I added my cauliflower florets and a little water. Cook for about 5 mins till the cauliflower is borderline tender.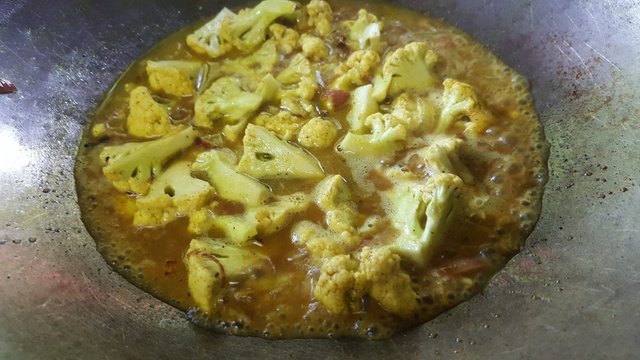 Add a teaspoon of great salt. I use fair trade mineral salt from along the Thai Laos border.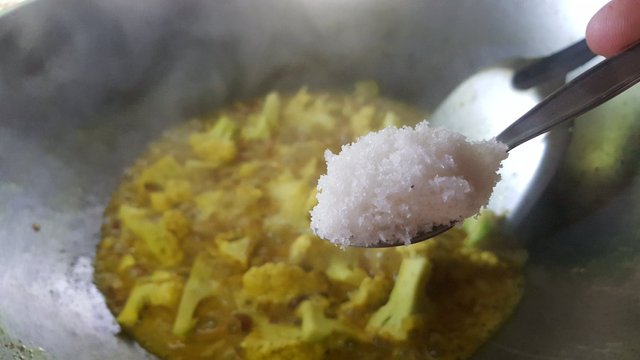 Ready for the magic middle-eastern touch? Raisins. Normally I use the darker ones, but this is what we had so this is what we used - Thai shops have very patchy supply of some western things, some times.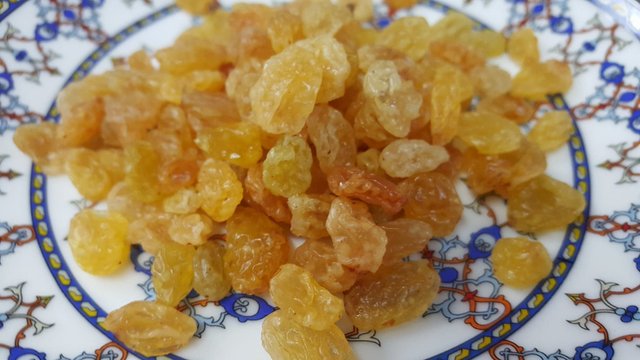 In they went!!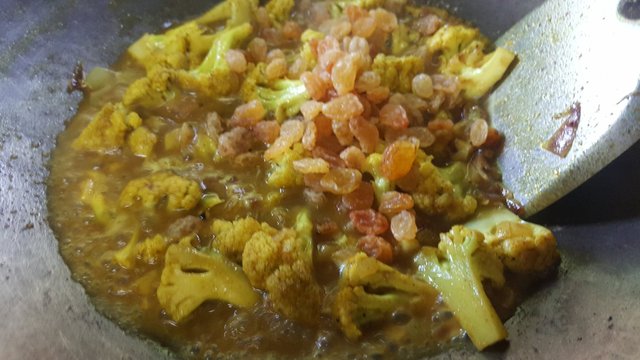 ... and then the mushrooms. Yum. Was smelling amazing at this point!!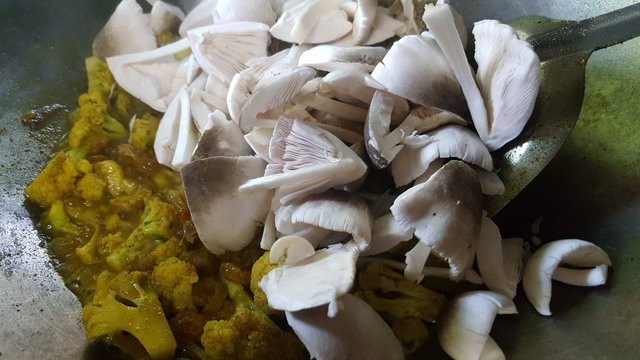 Add a bit more water, stir carefully so as not to mush it all up, and cook through for only a minute or two till the mushrooms wilt. Mine looked like this: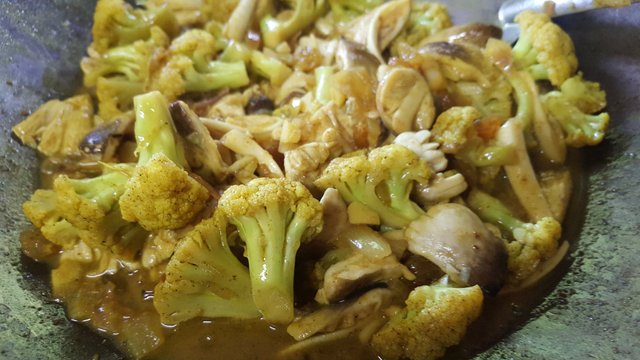 You want just a little bit of flavorful juices - too much and your couscous will be a sloppy mess, whereas not enough and the couscous has nothing to absorb.
Turn off the heat.
Now in the 10 mins it took you to get this far, the couscous has absorbed all the water and just needs fluffing up with a fork.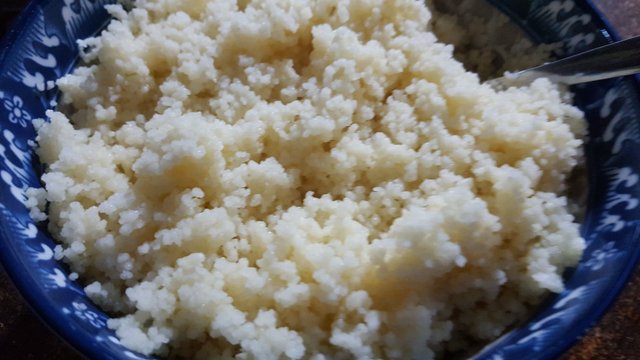 Toss it into your pan with the finely chopped spring onions and mix through lightly and then let it rest for 5-10 mins for the couscous to absorb the juices.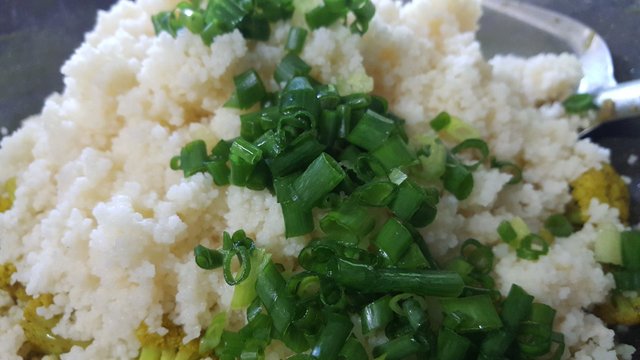 Voila!!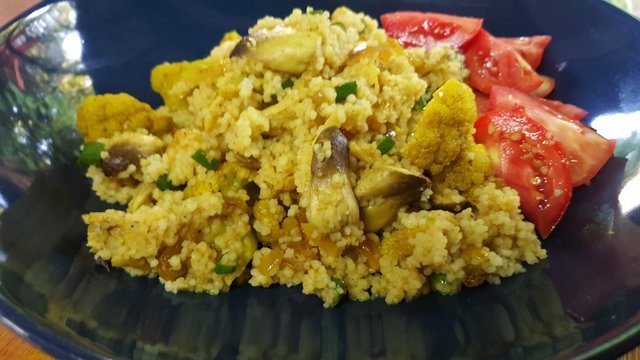 SOOO GOOD!!
The quantity I made served about 4 - my daughter and I for dinner and enough for lunch each the next day. It's yummy either warm or cold. I served with ripe fresh tomatoes on the side (for a nice colour and flavour contrast) but a green salad (something like rocket) would have been equally good. Both? Yup. That would have looked amazing on the plate and been the best move. 😆
While we were eating, the discarded unattractive bits of the mushrooms, the cauliflower leaves, 2 cloves of garlic and a bit of salt simmered in a pot of water for 30 mins to make a spectacular vegan broth that I will use to make some Asian soupy noodles in the next 1-2 days.
AFTER the veggie leftovers are cooked out for stock, THEN they go in the compost.
So there you have it: a simple, nourishing, seasonal, vegan meal that took less than 20 mins to make.
Feeling nourished in my Thai world!
---
All images used in my posts are created and owned by myself, unless specifically sourced. If you wish to use my images or my content, please contact me.
---
---
Come check out my natural Thai herbal business… yes, we ship world-wide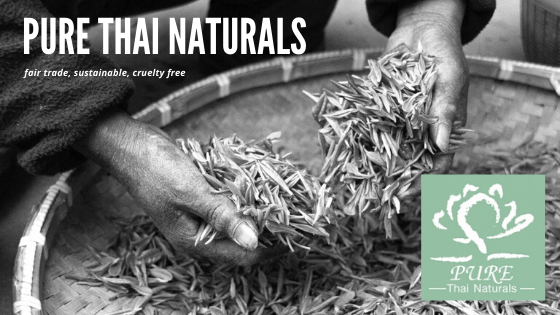 Visit our online store here

Join The Best Natural Health Community on Hive