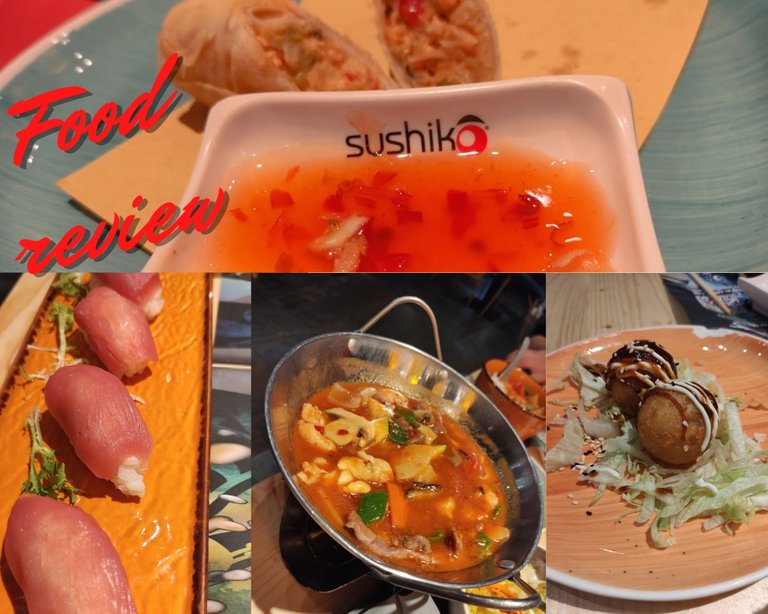 Hello everyone! Today I wanted to talk about an Asian food restaurant that I visited for the second time.
Sushiko is an a la carte buffet restaurant, that is, the system they have is that each person can order a maximum of 5 or 6 dishes at a time, write it down on a list that they have on the table and then the waiters pick up that list to start bringing you the dishes you ordered.
You have to be sure that you are going to eat what you ordered because if you order too much and there is too much left over, they will charge you extra for the wasted food.
This is actually an Italian restaurant chain, as when I was in Italy I also saw it. I guess it will also be in more European cities besides Italy and Spain. I think it is also in France. But in our case, we went to the one located in our city: Zaragoza (Spain).
What caught my attention is that since we went the first time in March this year, to a few weeks ago, they have slightly changed their menu. So there were more things to try.
@vonjerico and I love to eat, but we frequently visit Asian restaurants or buffets because besides we like it, it is usually cheap and also all you can eat because we eat a lot haha.
¡Hola a todos! Hoy quería hablar de un restaurante de comida asiática que visité por segunda vez.

Sushiko es un restaurante con buffet a la carta, es decir, el sistema que tienen es que cada persona puede pedir un máximo de 5 o 6 platos a la vez, lo anota en una lista que tienen en la mesa y luego los camareros recogen dicha lista para empezar a traerte los platos que pediste.

Tienes que estar seguro de que vas a comerte lo que has pedido ya que si pides demasiado y sobra demasiado, te cobrarán un suplemento por el desperdicio de comida.

Esta es una cadena de restaurantes italiana en realidad, ya que cuando estuve por Italia también la vi. Supongo que estará también en más ciudades europeas además de en Italia y España, creo que en Francia también está. Pero en nuestro caso, fuimos al que se encuentra en nuestra ciudad: Zaragoza(España).

Lo que me llamó la atención es que desde que fuimos la primera vez en marzo de este año, a hace unas semanas, han cambiado ligeramente su carta. Así que había más cosas que probar.

@vonjerico y yo amamos comer, pero visitamos frecuentemente restaurantes o buffets de comida asiáticas porque además de que nos gusta, suele ser barato y además all you can eat porque comemos mucho jaja.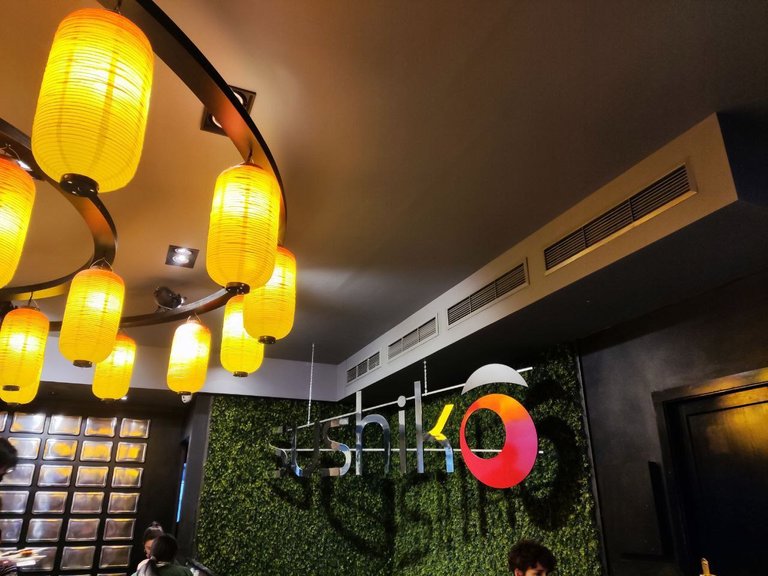 Ruben hates fish, all fish in general, I have always tried to get him to try some because it is impossible that they all taste the same to him because they are different, it is the same as saying that chicken and pork taste the same, when it is not so.
However Ruben says that just by smelling it or noticing its slight taste of anchovy in a caesar sauce he can't eat it, so all the sushi in this case was for me.
Here in the menu they offer several sushi boards that come between 4 and 6 pieces and if I ordered any of them I had to finish it all by myself, so I would leave less space in my stomach for the rest of the sushi. This already happened to me the last time we visited this place, so this time I ordered sushi boards with less pieces, I have to come to this place with someone who likes fish or sushi, so I can try more!
Rubén odia el pescado, todos en general. Siempre he intentado que pruebe alguno ya que es imposible que todos le sepan igual porque son diferentes, sería lo mismo que decir que el pollo y el cerdo saben igual, cuando no es así.

Sin embargo Rubén dice que ya sólo con notar el olor o sentir ligeramente el sabor a anchoa en una salsa césar, ya no puede comerlo, así que todo el sushi en este caso era para mí.

Aquí en la carta ofertan varias tablas de sushi que vienen entre 4 y 6 piezas y si pedía alguna así me la tenía que acabar entera yo sola, por lo que eso dejaría menos espacio en mi estómago para el resto de cosas. Ya me pasó la vez pasada que visitamos este lugar así que, esta vez pedí tablas de sushi con menos piezas. ¡Tengo que venir a este lugar con alguien a quien le guste el pescado o el sushi, para así poder probar más!
Upon entering, the place is decorated with Asian motifs as expected. Nice lamps hanging from the ceiling, and also a wall with a mural of manga/anime drawings. But I forgot to take a picture of the latter as I was too hungry. We sat down at the table that was designated for us and well, I took it from there, the mural is right behind the column.
Al entrar, el local está decorado con motivos asiáticos como es de esperar. Lámparas bonitas que cuelgan del techo, y también una pared con un mural de dibujos manga/anime. Pero a esto último se me olvidó hacerle foto ya que tenía demasiada hambre. Nos sentamos en la mesa que nos designaron y bueno, desde ahí la tomé, el mural está justo detrás de la columna.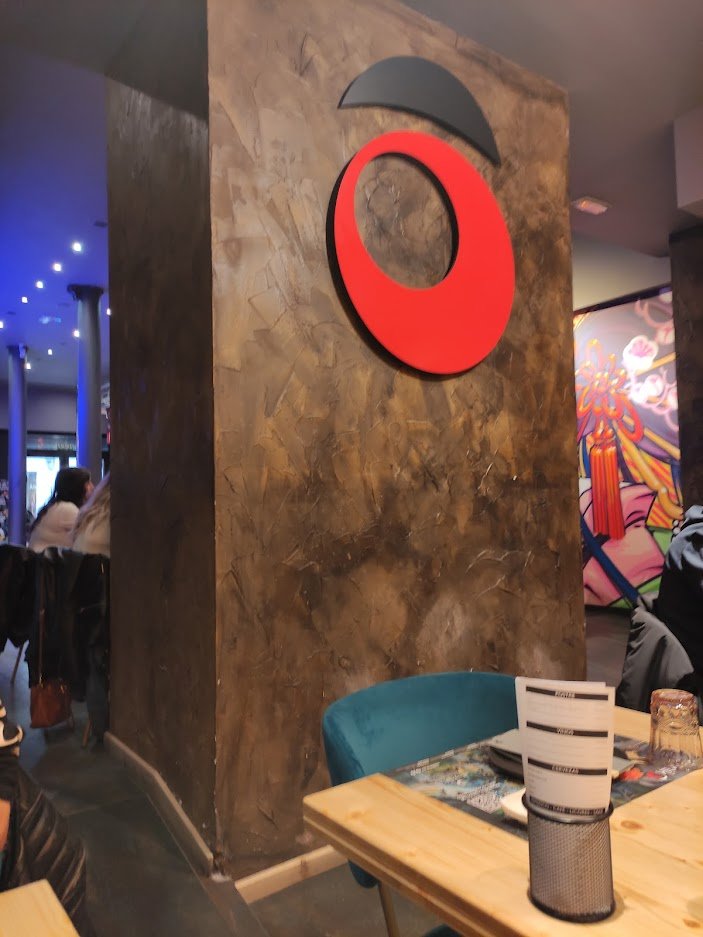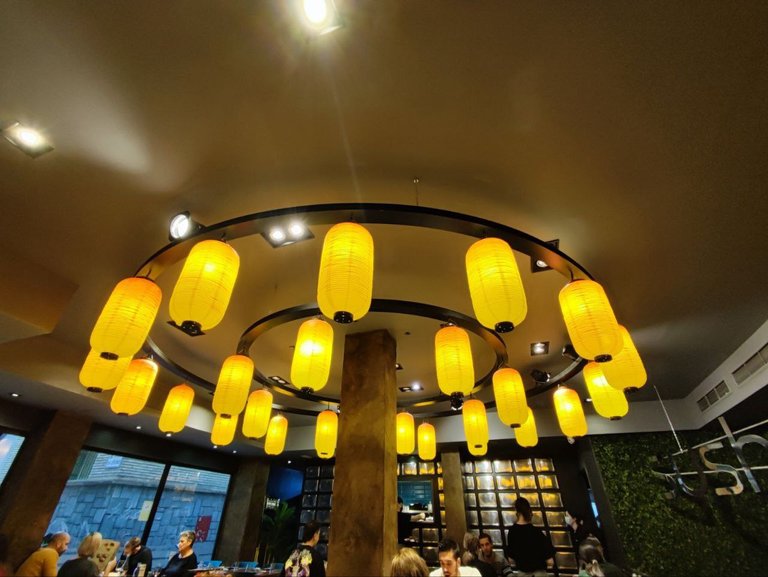 We sat down and began to write down the numbers of the dishes we wanted to order on the list left on the table.
Nos sentamos y empezamos a anotar los números de los platos que queríamos pedir, en la lista que dejan sobre la mesa.
To be honest, I think I forgot to take a picture of a dish, and sometime I remembered to do it when we had already started to eat it. As I was saying, I was hungry 😂. I started by ordering all the sushi and fish for myself.
Siendo sincera, creo que se me olvidó hacerle foto a algún plato, y alguna vez me acordé de hacerla cuando ya habíamos empezado a comerlo. Como decía, tenía hambre 😂. Empecé pidiendo todo lo de sushi y pescado para mí.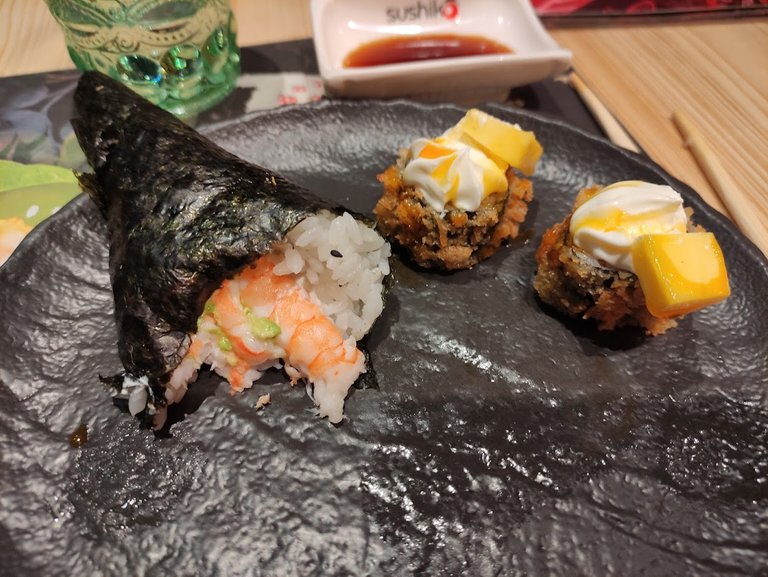 "Temaki Ebi" (cooked shrimp, avocado and philadelp cheese/langostino cocido, aguacate y queso philadelphia) y/and "Mangomaki": Salmon, philadelphia cheese, mango and mango sauce/ Salmón, queso philadelphia, mango y salsa de mango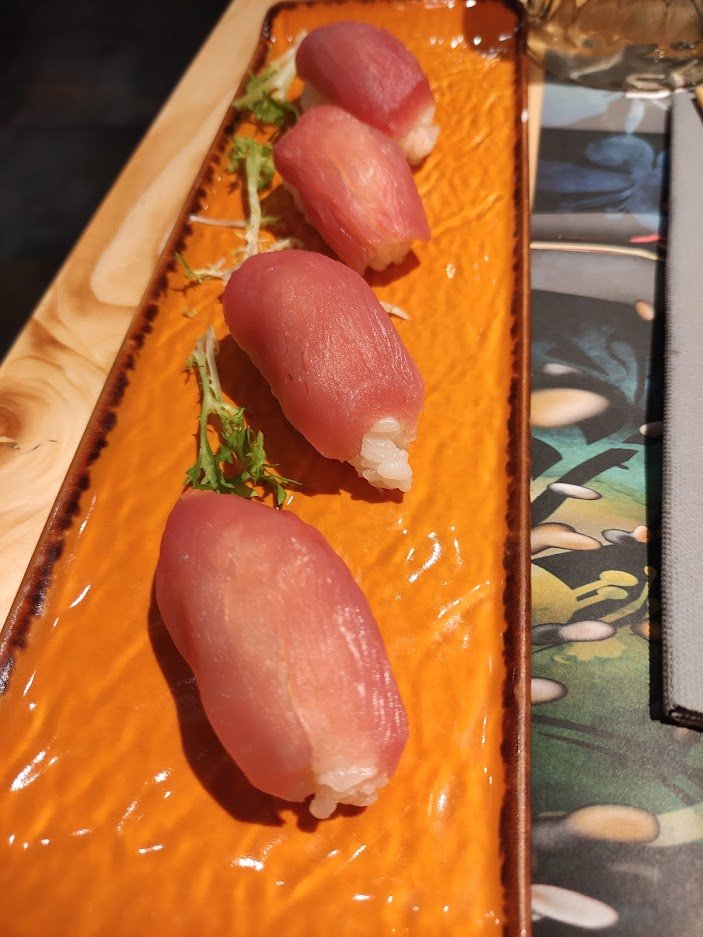 "Nigiris maguro" (with red tuna/de atún rojo)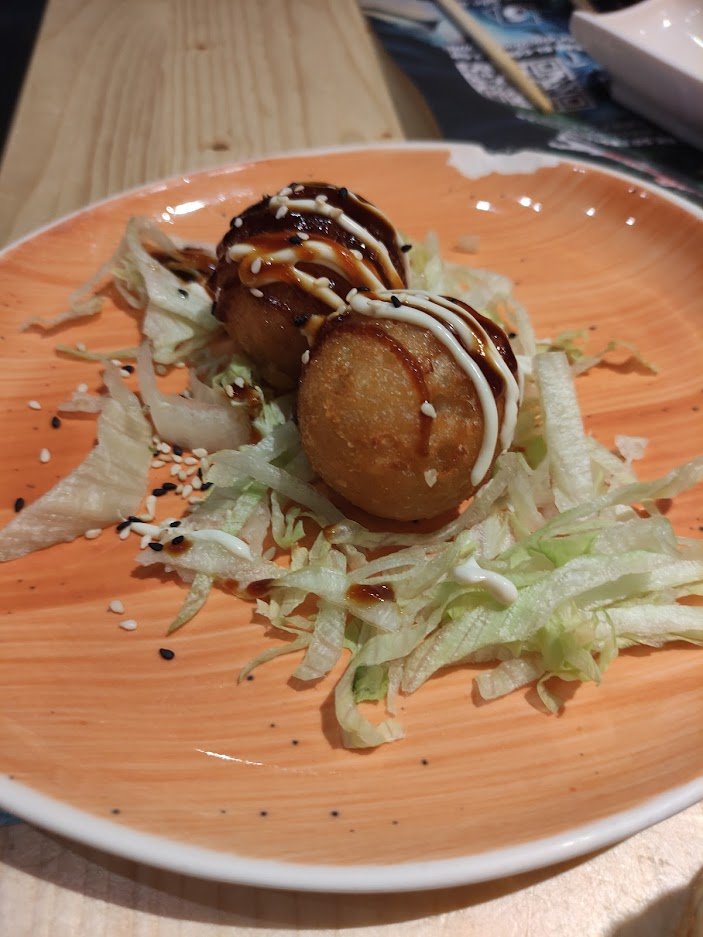 "Takoyaki" (Flour dumplings stuffed with octopus/Bolitas de harina rellenas de pulpo)
I have to say that regarding salmon, I have tried it in different ways: baked, grilled, smoked.... I can't stand its taste, I don't like it. The only way I have to eat it is in a sushi, I don't know why this way it tastes less strong and more adulterated so that I can eat it without blinking an eye.
And as for octopus, I hate it too. In Spain they eat a lot of "octopus a la gallega" where you see those horrible and gelatinous looking tentacles that doesn't encourage me to try it at all. So when I saw that as a novelty on the menu were the famous Takoyaki, which are round octopus croquettes, I thought about whether to order them or not to try them. If I ordered them and I didn't like them, Ruben wouldn't eat them either because he hates everything that comes from the sea. In the end I took the risk and ordered them, and I didn't regret it. They were good, it happens to me like with salmon: I didn't like the taste of octopus, it tasted different, and also battered and fried everything tastes better 🤣.
He de decir que respecto al salmón, lo he probado de diferentes maneras: Al horno, a la plancha, ahumado... No soporto su sabor, no me gusta. La única manera que tengo de comerlo es en un sushi, no sé por qué de esta manera me sabe menos fuerte y más adulzado de manera que me lo puedo comer sin pestañear.

Y en cuanto al pulpo, lo odio también. En España se come mucho el "pulpo a la gallega" donde se ven esos tentáculos horribles y de aspecto gelatinoso que no me incita nada a probarlo. Así que cuando vi que como novedad en la carta estaban las famosas Takoyaki, que son unas croquetas redondas de pulpo, me pensé si pedirlas o no para probarlas. Ya que si las pedía y no me gustaban, Rubén tampoco se las iba a comer porque odia todo lo que venga del mar. Al final me arriesgué y las pedí, y no me arrepentí. Estaban buenas, me ocurre como con el salmón: no le sentía mucho el gusto al pulpo, sabía diferente, además rebozado y frito todo sabe mejor 🤣.
We continued ordering dishes and sharing those without fish.
Continuamos pidiendo platos y compartiendo los que no tenían pescado.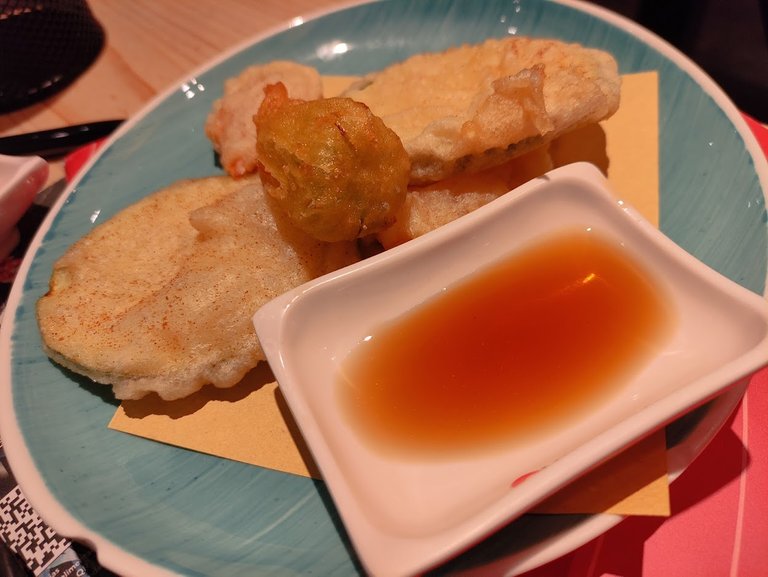 Vegetables in tempura/Tempura de verduras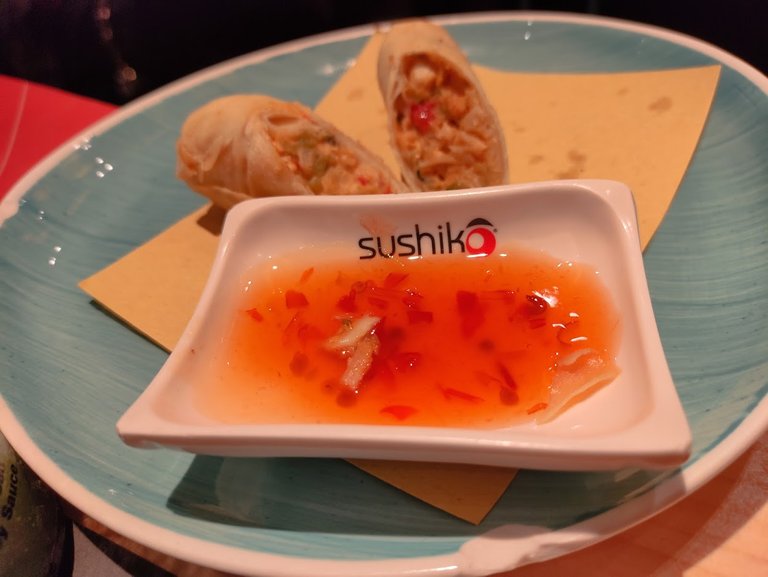 "Harumaki Tori" (Chicken and vegetable rolls with little spice/Rollitos de pollo y verduras poco picante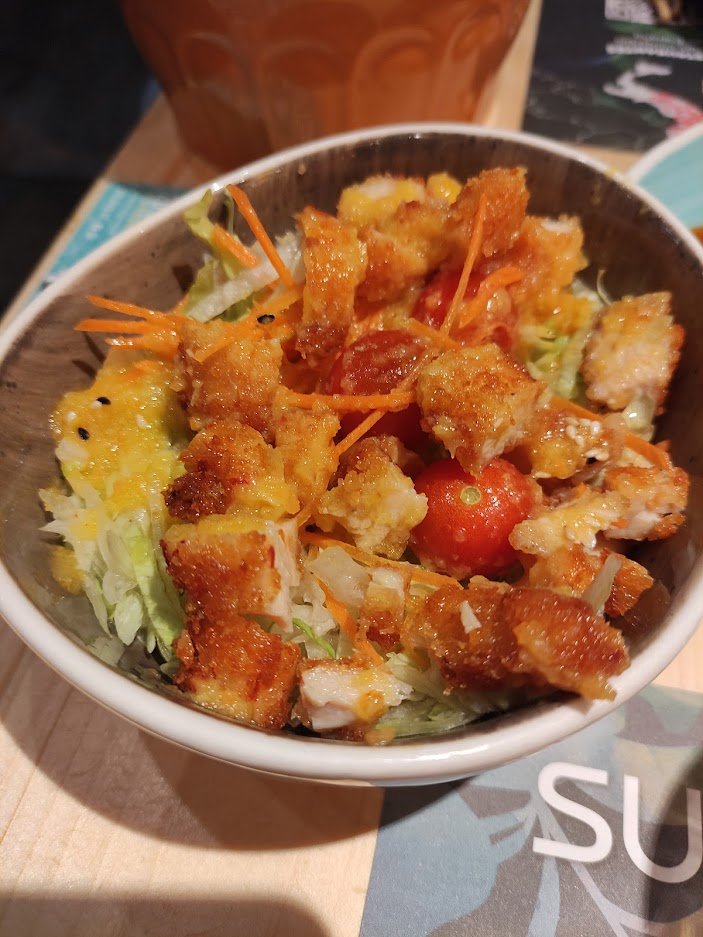 "Spicy Tori Salad" (Chicken salad with almond and paprika crust/Ensalada de pollo en costra de almendras y pimentón)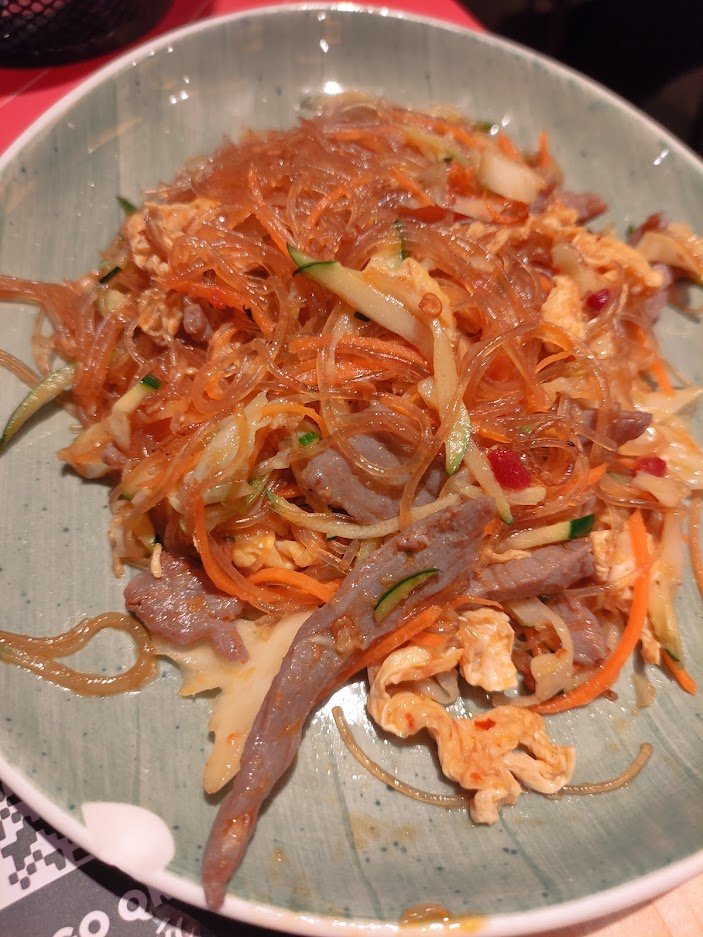 "Rice noodles GYU/Fideos de arroz GYU" (with vegetables, veal and egg/ con verduras, ternera y huevo)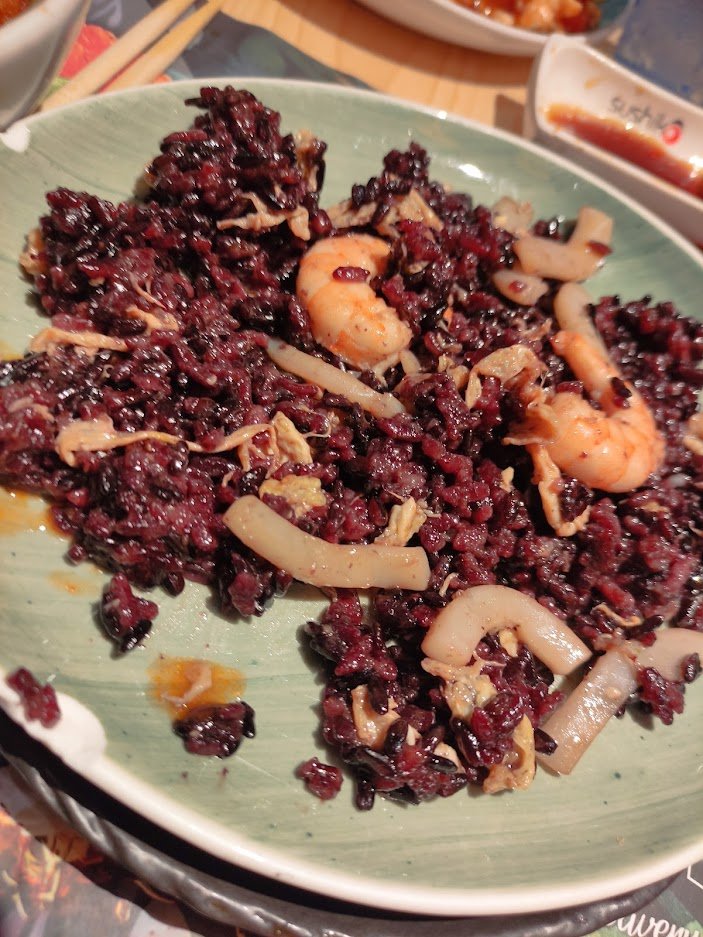 "Venere rice with seafood and egg/Arroz venere con marisco y huevo"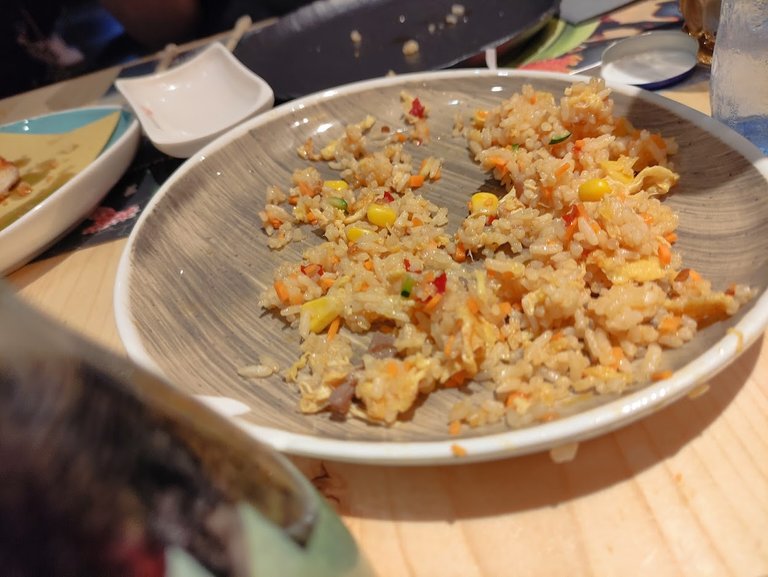 "Yaki Meshi Yasai" (Rice with vegetables and egg/Arroz con verduras y huevo)
The previous time we came, they had rice with vegetables on the menu, which I liked much better than this one with seafood. So if they never add the vegetable one again, I don't think I will repeat, as the seafood gave it a more acidic flavor that I didn't like very much. Venere rice is a dark colored rice from China that turns purple when cooked, it is brown so it takes longer to cook (40 or 50 minutes), it keeps a fantastic texture, crunchy and delicate at the same time, and a wonderful smell. The first time I heard about it and tasted it was here at Sushiko, as this rice is hardly produced in Europe, now it is starting to be produced in some regions of Italy and that is why I think it has reached this menu.
La anterior vez que vinimos, en la carta tenían arroz venere con verduras, que me gustó muchísimo más que este con marisco. Por lo que si no lo añaden nunca más el de verduras no creo que vuelva a repetir, ya que el marisco le daba un sabor más ácido que no me gustó mucho. El arroz venere es un arroz originario de China de color oscuro que se vuelve púrpura al cocerlo, es integral por lo que tarda más en cocinarse (40 o 50 minutos), mantiene una fantástica textura, crujiente y delicada a la vez, y un maravilloso olor. La primera vez que supe de su existencia y lo probé fue aquí en Sushiko, ya que en Europa apenas se produce este arroz, ahora está empezando a producirse en algunas regiones de Italia y por eso creo que ha llegado hasta este menú.
We started to order the meat, in between we had also ordered dim sum and gyozas but I forgot to take pictures haha.
Ya comenzamos a pedir la carne, entremedias habíamos pedido también dim sum y gyozas pero se me olvidó hacerle fotos jaja.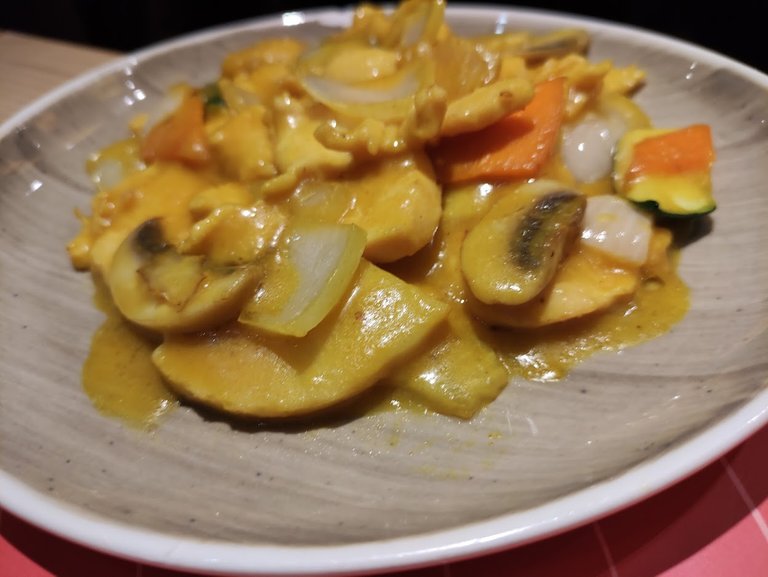 "Curry Tori"(chicken wok with curry sauce/wok de pollo con salsa de curry)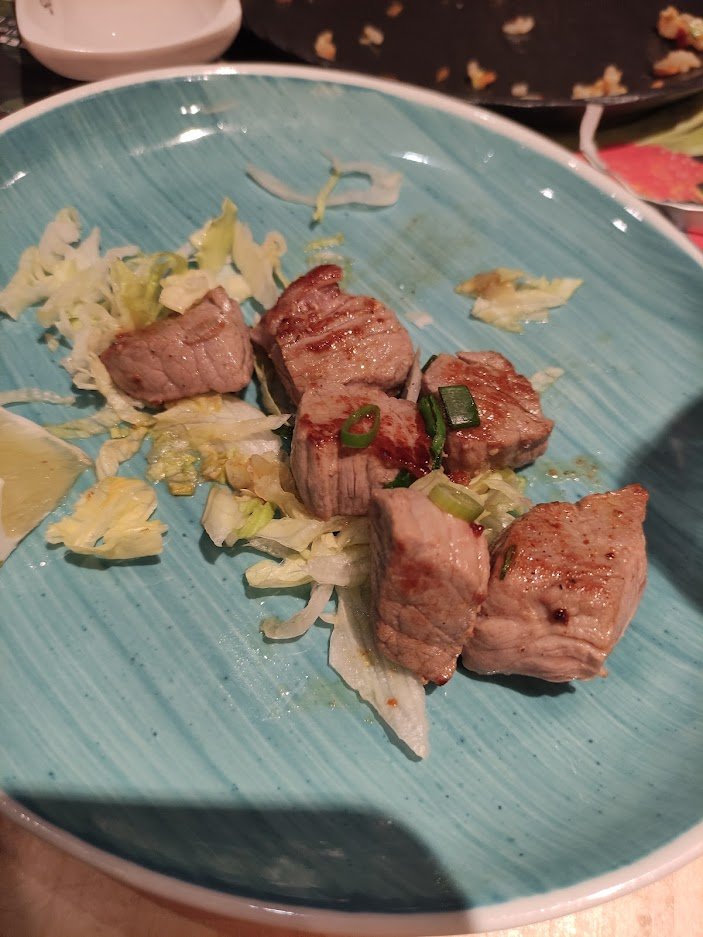 "Gyu Yaki" (Beef fillet with soy sauce and butter/Filete de ternera con salsa de soja y mantequilla)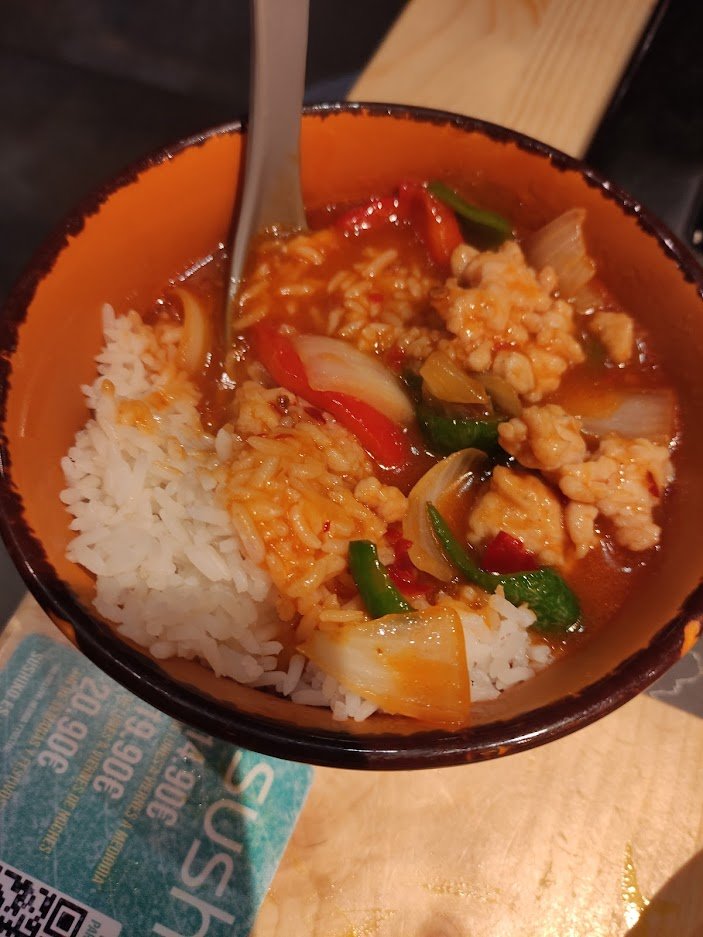 "Special Donburi sushiko"(rice coated with beef, chicken and shrimp with bell bell pepper, bamboo and carrots/arroz cubierto de ternera, pollo y langostinos con pimiento, bambú y zanahoria)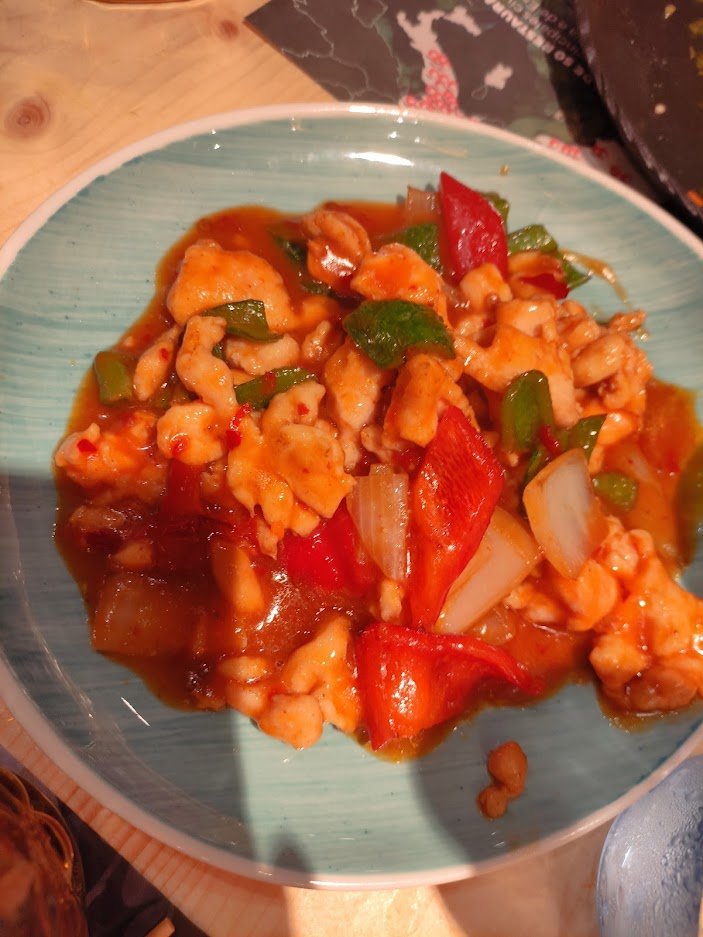 "Gongbao Tori" (chicken wok with peanuts and lightly spicy gongbao sauce/ wok de pollo con cacahuetes y salsa gongbao poco picante)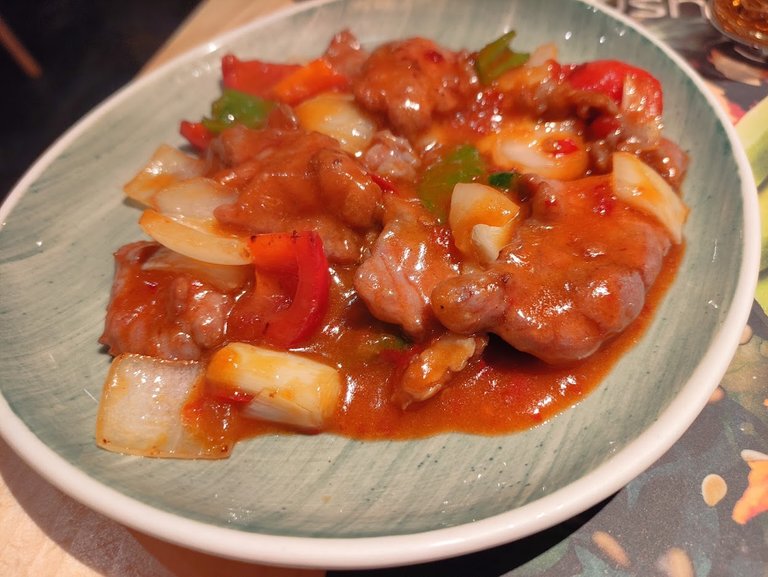 Spicy veal/Ternera picante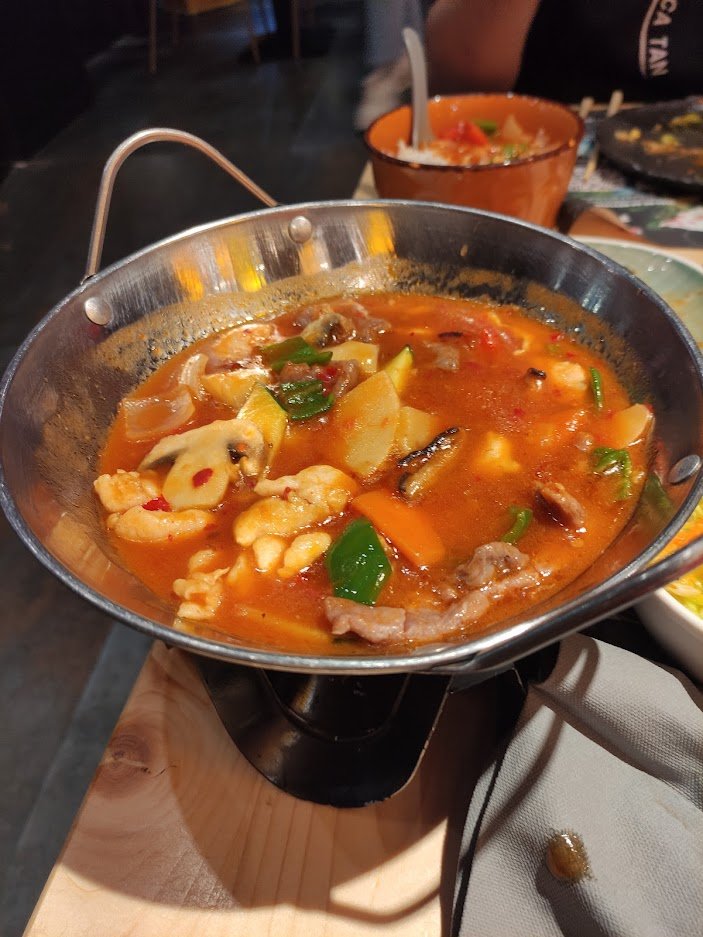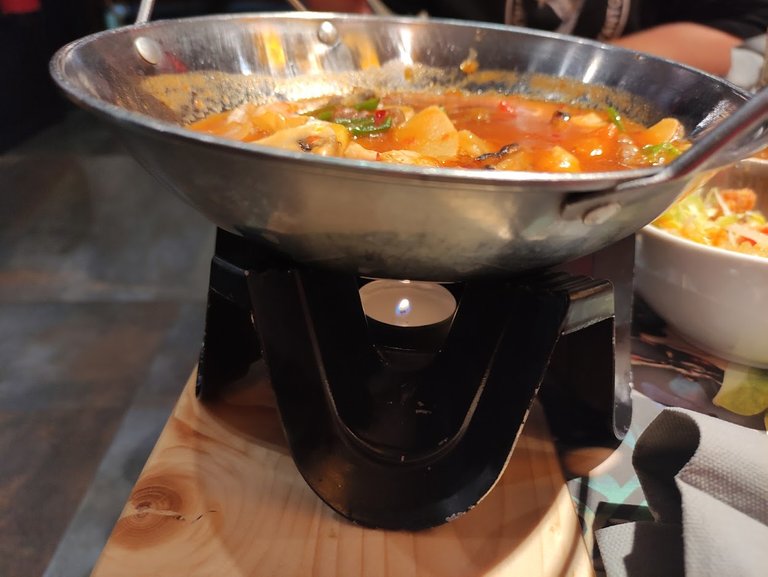 Vegetable and beef wok with sauce/wok de verduras y ternera en salsa
The donburi was ordered by Ruben and he didn't read that it had prawns so I ended up eating it myself, because it tasted like fish to him haha. I was about to burst from eating so much, so we didn't order dessert, besides the menu doesn't include dessert and otherwise it would have been more expensive. It's around 20€ per person depending if you go on the weekend or if you go during the week to eat, and the drink is not included either.
In general it has a good quality/price ratio and being an a la carte buffet you have to be pretty hungry to get a good value for your money. I like that they include dishes or recipes that are not seen in other restaurants of this type, such as venere rice, or that they include many types of sushi including those that are suitable for vegans / vegetarians as there are fruit or avocado, or even cooked chicken and fish for those who are reluctant to eat it "raw"; they have a great variety. See you next time!
El donburi lo pidió Rubén y no leyó que llevaba langostinos así que me lo terminé comiendo yo, porque le sabía a pescado jaja. Estaba ya a punto de reventar de tanto comer, por lo que no pedimos postre, además el menú no incluye postre y sino nos hubiese salido más caro. Ronda los 20€ por persona dependiendo si vas en fin de semana o si vas entresemana a comer, y la bebida tampoco está incluida.

En general tiene buena relación calidad/precio y al ser un buffet a la carta tienes que ir con bastante hambre para que te salga rentable. Me gusta que incluyan platos o recetas que no se ven en otros restaurantes de este tipo, como lo del arroz venere, o que incluyan muchos tipos de sushi incluidos aquellos que son aptos para veganos/vegetarianos pues los hay de frutas o de aguacate, o incluso de pollo y pescado cocinado para quien sea reacio a comerlo "crudo"; tienen gran variedad. ¡Nos leemos a la próxima!
---
All photos have been taken by me with my Xiaomi Poco X3, or failing that by my fellow foodie
@vonjerico
. The collage has been made with canva
Todas las fotos han sido tomadas por mí con mi Xiaomi Poco X3, o en su defecto por mi compañero de comida @vonjerico. El collage se ha realizado con canva


My social networks/Mis redes sociales:
Writer Instagram | Travel Instagram | Twitter | Facebook| Linktree