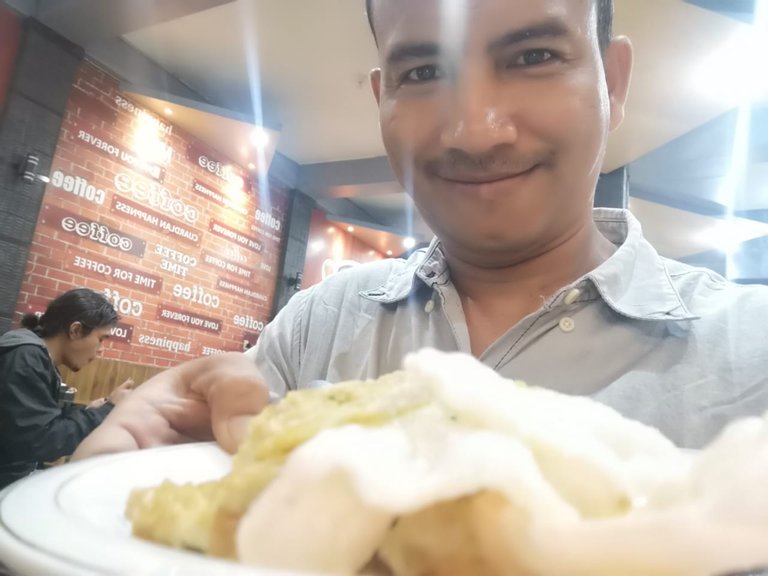 Indonesia
Halo Para Pencinta Makanan di Blockchain Hive. Malam ini (10:53 PM, Indonesia), saya berbagi dengan Anda semua sebuah makanan khas Indonesia dan yang paling digemari di sini yaitu Nasi Goreng. Saya menikmatinya di Zaraziq Cafe beberapa malam lalu. Zaraziq Cafe terletak di Matang Glumpang Dua, Bireuen. Di Cafe yang mewah ini tersedia banyak sekali makanan dan minuman dan ia dikunjungi oleh banyak orang. Postingan ini hanya akan membahas Nasii Goreng saja, dan saya janjikan pada Anda akan ada review khusus tentang Zaraziq Cafe dalam postingan saya berikutnya.
Saya senang mencicipi Nasi Goreng. Hampir di semua restoran dan Warung Kopi karena ia adalah salah satu makanan yang lezat. Ini adalah makanan khas dan menikmatinya membuat pikiran menjadi nyaman.
Bireuen adalah satu kota di provinsi Aceh. Indonesia yang terletak di bagian paling barat negara Indonesia. Kota Bireuen menyimpan pesona yang menarik. Ia tidak hanya memiliki banyak destinasi wisata alam yang mempesona. Jika Anda berkunjung ke Bireuen, Anda akan merasa nyaman dengan banyak sekali menu makanan yang lezat yang ditawarkan di Kota Ini. Selain Nasi Goreng, ada juga Nasi Bebek, Mie Goreng Aceh, Nasi dengan Sate Matang, Ayam Tangkap, Rujak Aceh, Engkot Keumamah, Kuah Beulangong, dan juga menu-menu khas Aceh lainnya yang tersedia di berbagai Restoran.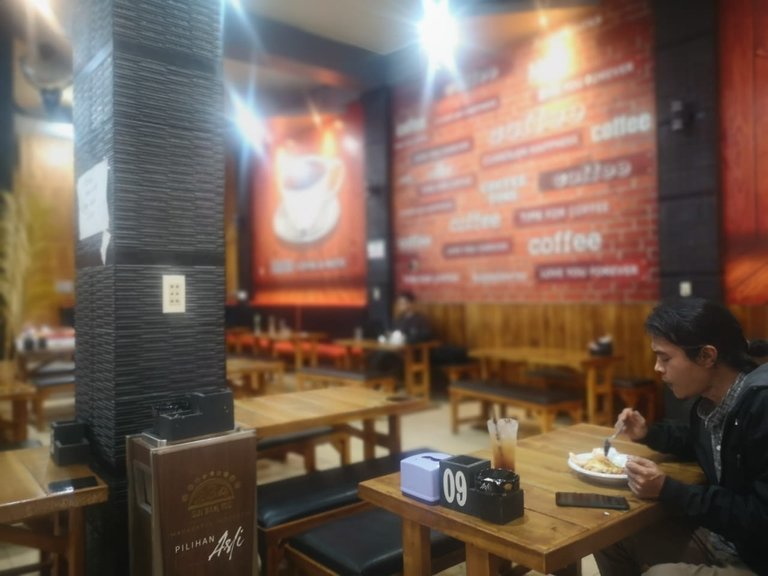 Nasi goreng merupakan menu umum yang kebanyakan dari Anda sudah memakannya. Namun di Zaraziq Café yang ada di Bireuen, Nasi Gorengnya memberikan sentuhan tersendiri pada menu masakan. Nasi Goreng di sini memiliki banyak jenis. Ada Nasi Goreng biasa seperti yang saya makan menggunakan Telor Dadar atau Mata Sapi. Anda dapat memesan Nasi Goreng dengan tambahan menu lain seperti Sea Food, Daging, dan lain-lain. Tentu Anda dapat memesannya sesuai selera Anda. Harganya sangat terjangkau yaitu 20.000 IDR atau sama dengan US$1,8.
Bila Anda datang ke Zaraziq Café maka Anda harus mencoba Nasi Goreng yang ada di sini. Rasa dahaga lapar yang menggebu bisa hilang seketika dengan sajian lezat pada resto ini. Biasanya, nasi goreng paling cocok kita makan saat malam hari.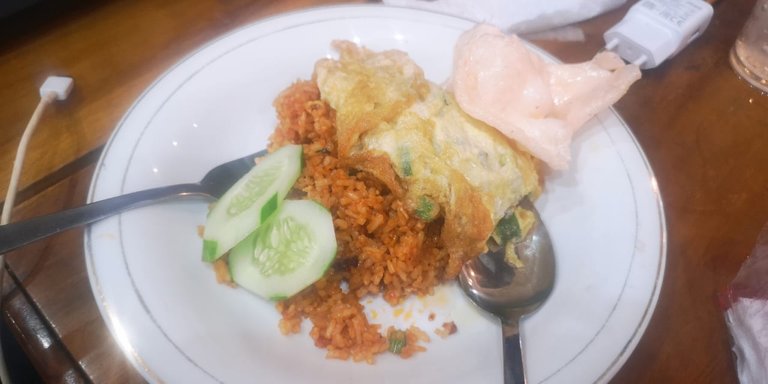 Inggris
Hello Food Lovers on Blockchain Hive. Tonight (10:53 PM, Indonesia), I am sharing with you all the Indonesian specialties and the most popular here is Nasi Goreng. I enjoyed it at Zaraziq Cafe a few nights ago. Zaraziq Cafe is located in Matang Glumpang Dua, Bireuen. In this luxurious cafe, there are lots of food and drinks and it is visited by many people. This post will only discuss Nasii Goreng, and I promise you there will be a special review about Zaraziq Cafe in my next post.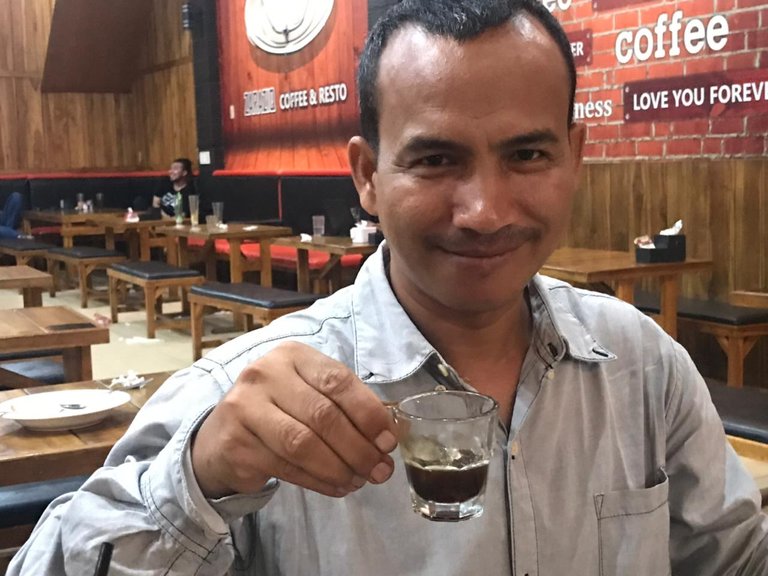 I love tasting Nasi Goreng. Almost all restaurant and coffee shop as it is one of the delicious food. This is a typical food and enjoying it makes the mind comfortable.
Bireuen is a city in the province of Aceh. Indonesia which is located in the westernmost part of the country of Indonesia. The city of Bireuen has an interesting charm. It not only has many enchanting natural tourist destinations. If you visit Bireuen, you will feel comfortable with the many delicious food menus offered in this city. In addition to Fried Rice, there are also Duck Rice, Aceh Fried Noodles, Cooked Satay Rice, Catched Chicken, Aceh Rujak, Keumamah Engkot, Beulangong Sauce, and also other Acehnese specialties available in various restaurants.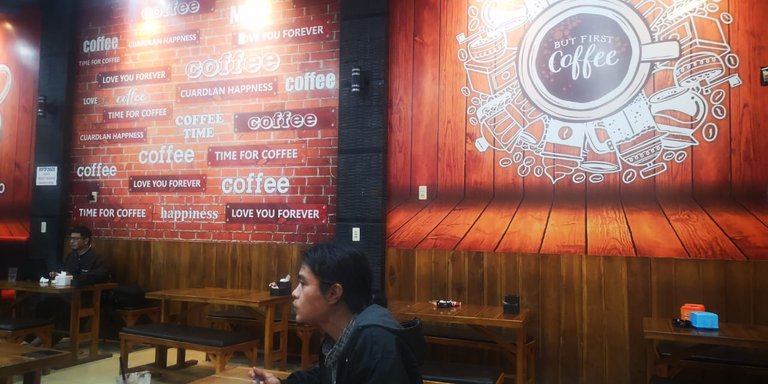 Fried rice is a common menu that most of you have eaten. But at Zaraziq Café in Bireuen, the Nasi Goreng gives its own touch to the menu. Nasi Goreng here has many types. There is regular Nasi Goreng like the one I eat using Egg Omelette or Beef Eyes. You can order Nasi Goreng with the addition of other menus such as Sea Food, Meat, and others. Of course you can order it according to your taste. The price is very affordable, 20,000 IDR or equal to US $ 1.8.
If you come to Zaraziq Café then you must try the Nasi Goreng which is here. The passionate thirst of hunger can disappear instantly with delicious dishes at this restaurant. Usually, fried rice is best suited for us to eat at night.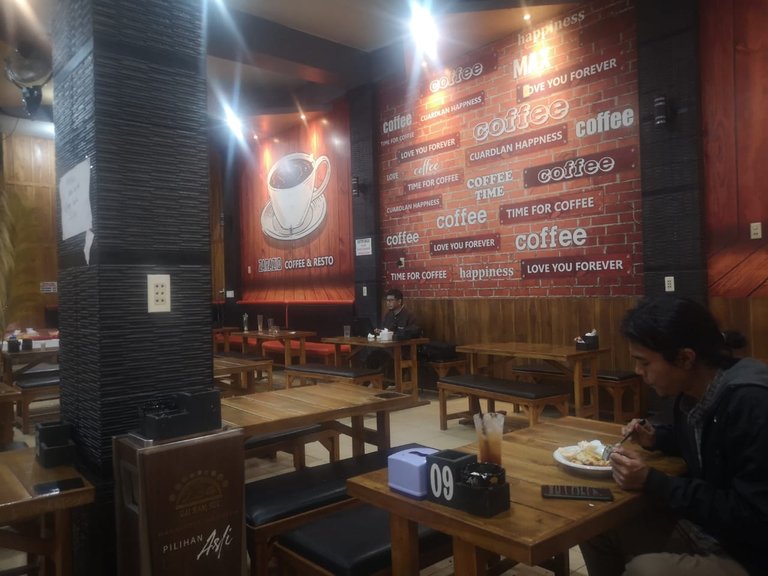 Demikianlah cerita tentang Nasi Goreng di Zaraziq Cafe di Bireuen. Terima kasih sudah membacanya, dan sampai juga di review Warung Kopi berikutnya. Salam dari Bireuen, Aceh, Indonesia.
This is my review about Rumoh Kupi in Bireuen. Thank you very much for reading it, and see you in the next review of Coffee Shops.