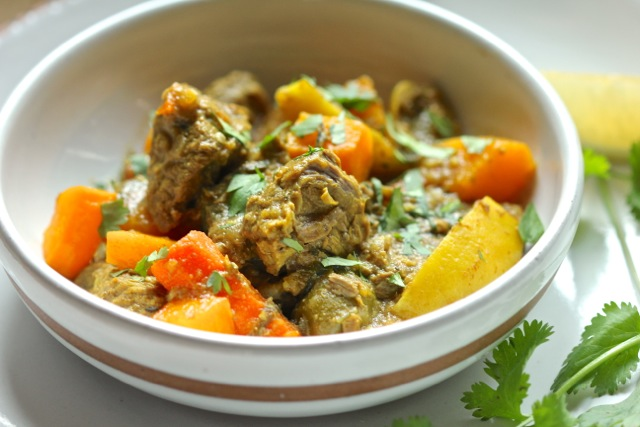 [English]: Lamb tagine is for those times when you need a warming , comforting, flavorful dish that's easy to make. This is a stew with a Moroccan theme: preserved lemons, lamb, warm spices, mint, harissa, couscous. You can adapt the dish to the season, make it ahead of time, and reheat any leftovers with success. You don't need a traditional "tagine" cooking vessel; a good, heavy Dutch oven will work fine.

Use lean lamb shoulder for the braise, to ensure tender and juicy meat. Add fresh lemons if you don't have preserved lemons, but, I urge you to try preserved lemons. They have a distinct salty tang that fresh lemons just can't provide (and they're really easy to make at home). Vegetables can vary so think about what's fresh and seasonal in the markets. I used carrots and butternut squash, and added lots of lively green and bright flavor with cilantro and mint. Serve the tagine with rice, couscous, or toasted pita bread, to soak up the delicious sauce.


[Turkish]: Kuzu tajin, yapımı kolay, sıcak, nefis ve lezzetli bir yemeğe ihtiyaç duyduğunuz zamanlar içindir. Bu Fas mutfağına ait bir güveçtir: limon turşusu, kuzu eti, baharatlar, nane, harissa ve kuskus. Malzemelerinizi mevsime göre ayarlayabilir, yemeğin kalanını gerektiğinde yeniden ısıtabilirsiniz. Geleneksel "tajin" pişirme kabına ihtiyacınız yok; toprak güveç işinizi görür.

Etin yumuşak ve sulu olmasını istiyorsanız yemekte yağsız kuzu omuzu kullanın. Limon turşunuz yoksa taze limon ekleyebilirsiniz, ancak limon turşusunuz denemenizi tavsiye ederim. Yemeğe taze limonların sağlayamayacağı belirgin bir tat katıyor (ve evde yapmak gerçekten çok kolay). Sebzeler değişebilirler, pazarlarda neyin taze ve mevsimlik olduğunu düşünün. Ben havuç ve balkabağı kullandım, kişniş ve nane gibi bolca yeşil ve taze lezzet ekledim. Lezzetli sosun yanında tajini pirinç, kuskus veya kızarmış pide ile servis yapabilirsiniz.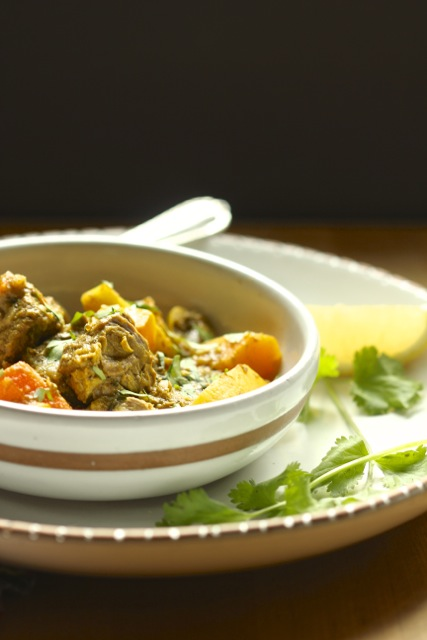 Lamb Tagine Recipe

A lamb stew full of the flavors of Morocco; versatile, adaptable, and easy to make. Serve with rice, couscous, or toasted pita bread.

Ingredients:
3 pounds boneless lamb shoulder, trimmed and cut into 2-inch chunks
1½ cups finely diced onion
1 tablespoon minced garlic
1 tablespoon paprika
1½ teaspoons ground ginger
½ teaspoon ground cumin
½ teaspoon turmeric
1 teaspoon salt, or more to taste
½ teaspoon freshly ground black pepper
Pinch of saffron (optional)
1 teaspoon dried mint
¼ cup chopped fresh cilantro stems (save the leaves for garnish)
1½ cups water
3 carrots, peeled and cut into 1½-inch chunks
2 preserved lemons, rinsed and cut into eighths, OR 1 fresh lemon, cut into eighths and seeded
2 tablespoons fresh lemon juice, or more to taste
20 kalamata or mild green olives, well rinsed and pitted
2 cups 1-inch chunks peeled butternut squash
Harissa or other hot sauce, for serving
A handful each of fresh cilantro and fresh mint, coarsely chopped, for garnish
Kuzu Tajin Tarifi

Fas lezzetleriyle dolu kuzu yahnisi; çok yönlü, uyarlanabilir ve yapımı kolay. Pirinç, kuskus veya kızarmış pide ile servis yapılabilir.

Malzemeler:
1.5 kilo kemiksiz kuzu omzu, 5 cm büyüklüğünde kuşbaşı doğranmış
1½ fincan ince doğranmış soğan
1 yemek kaşığı ezilmiş sarımsak
1 yemek kaşığı kırmızı biber
1½ tatlı kaşığı zencefil
½ tatlı kaşığı öğütülmüş kimyon
½ tatlı kaşığı zerdeçal
1 tatlı kaşığı tuz
½ tatlı kaşığı taze çekilmiş karabiber
Bir tutam safran (isteğe bağlı)
1 tatlı kaşığı kuru nane
¼ fincan kıyılmış taze kişniş sapı (yapraklarını süslemek için bekletin)
1½ su bardağı su
3 adet havuç, kabukları soyulmuş ve küp küp doğranmış
2 adet limon turşusu, yıkanmış ve doğranmış, VEYA 1 adet taze limon, çekirdeksiz ve dilimlenmiş
2 yemek kaşığı taze limon suyu veya isteğe göre
20 kalamata veya yeşil zeytin, iyice yıkanmış ve çekirdeksiz
2 fincan kabukları soyulmuş ve küp küp doğranmış balkabağı
Harissa veya başka acı sos (servis için )
Süslemek için bir avuç taze kişniş ve taze nane, irice kıyılmış


---

Instructions

Combine the lamb, onions, garlic, spices, saffron, mint, and cilantro stems in a large heavy pot or Dutch oven. Add the water and bring to a boil, adding more water if necessary to cover the lamb. Reduce the heat to a simmer. Cover the pot and cook for 1 to 1½ hours, or until the lamb is tender.

Add the carrots and fresh lemon, if using, to the pot making sure they are covered with liquid (add more water if needed), and cook for 10 minutes more.

Add the preserved lemons, if using them, the lemon juice, olives, and butternut squash and cook, covered, for 10 to 15 minutes more, or until the carrots and squash are tender.

Remove the solids from the pot with a slotted spoon. Arrange the meat and vegetables in a shallow serving dish or a deep platter. Degrease the sauce and boil to reduce it and concentrate the flavors. It should not get too thick, however-it should have a souplike consistency. Taste for salt, pepper, and lemon juice and adjust if necessary. Pour the sauce over the meat and vegetables. Garnish with the fresh herbs and let your guests add harissa or hot sauce as they like. Enjoy!

Yapılışı

Kuzu eti, soğan, sarımsak, baharatlar, safran, nane ve kişniş saplarını iri bir tencereye veya bir güvece koyun. Suyunu da ekleyip kaynatın, gerekirse kuzuyu kaplayacak kadar su ekleyin. Kaynamaya başladığında altını kısın. Kapağını kapatın ve 1-1.5 saat ya da et yumuşayana kadar pişirin.

Havuçları ve taze limonu tencereye ekleyin, üzerlerinin su ile kaplandığından emin olun (suyu az gelirse daha fazla su ekleyin) ve 10 dakika daha pişirin.

Limon turşusunu, limon suyunu, zeytinleri ve balkabağını ekleyin ve üstü kapalı olarak 10 - 15 dakika daha veya havuçla balkabağı yumuşayana kadar pişirin.

Kevgir yardımıyla katı malzemeleri tencereden çıkarın. Et ve sebzeleri bir servis tabağına veya derin bir tabağa yerleştirin. Sosu hazırlayın ve tatlarının karışması için kaynatın. Çok koyu olmamalı, hemen hemen çorba kıvamında olmalıdır. Tuz, karabiber ve limon suyunu tadın ve gerekirse miktarlarını ayarlayın. Sosu et ve sebzelerin üzerine dökün. Taze yeşilliklerle süsleyin ve misafirlerinizin isteklerine göre harissa veya acı sosla servise sunun. Afiyet olsun.