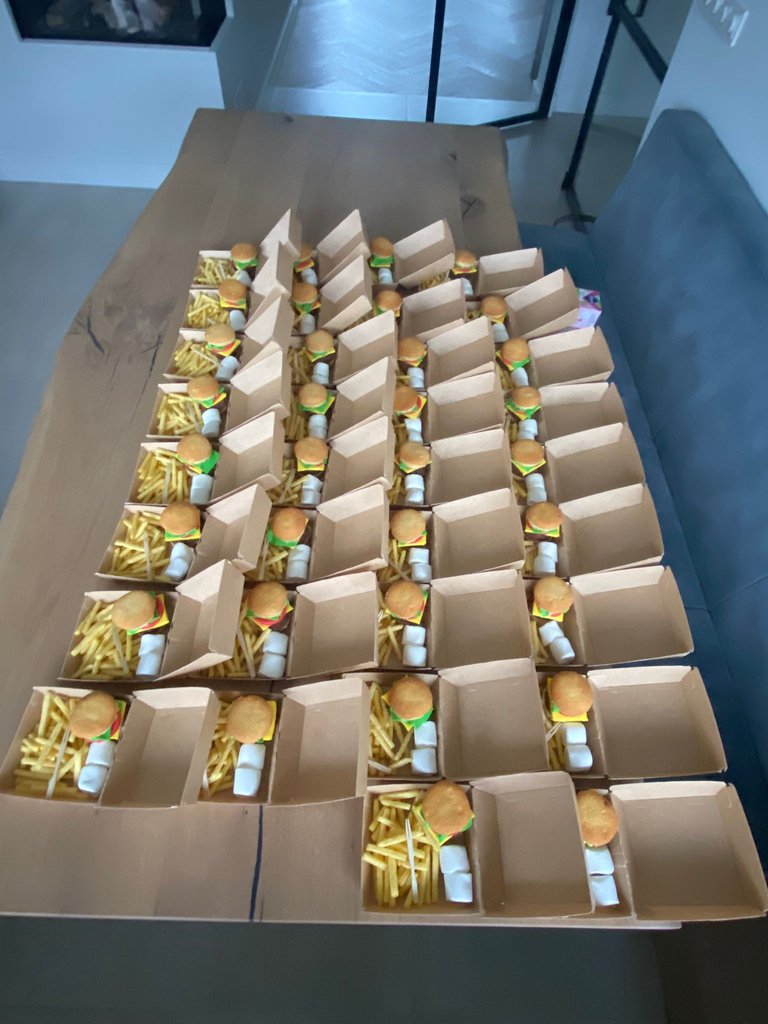 MAKING CAKE TREAT HAMBURGERS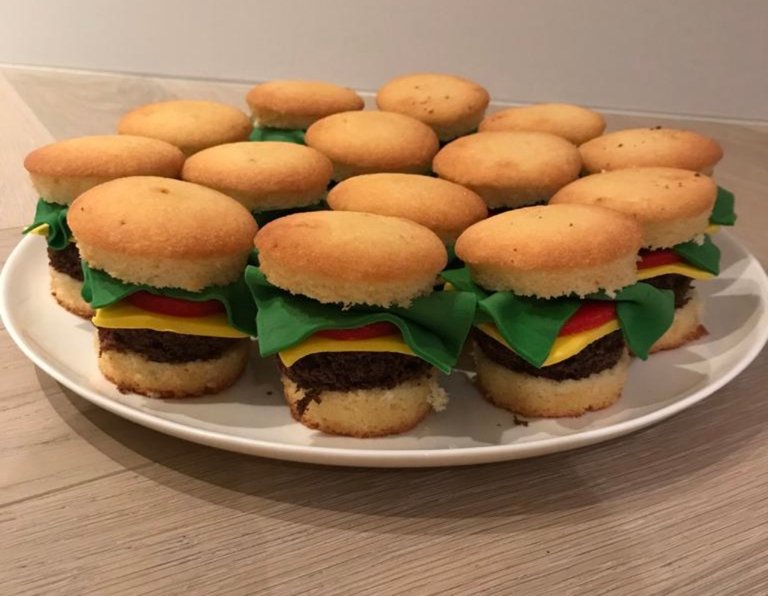 When your best friend daughter is turning 12 and she is in the last year on pre school before the middle school term starts she deserves a great thing to give out on her birthday.
So when my best friend called if i was able to help out making 40 hamburgers from cake I was immediately in and today we went to work in her kitchen.

THE PICTURES ARE MADE BY US DURING THE PROCESS, I HOPE THEY ARE CLEAR FOR YOU TO START MAKING THEM YOURSELF

RECIPE :

Cake vanilla / blanc cupcakes
Cake chocolate
Hamburger boxes
Fries chips pomtips by lays
Marsmellows white Haribo
Marzipan ( red, green and yellow )
Sugar paste ( red, green and yellow )
Knife
Cutting board and rings
Paper
Baking paper
Roller for dough
Wooden small forks
Stickers or markers for the boxes
Space to make it all !!!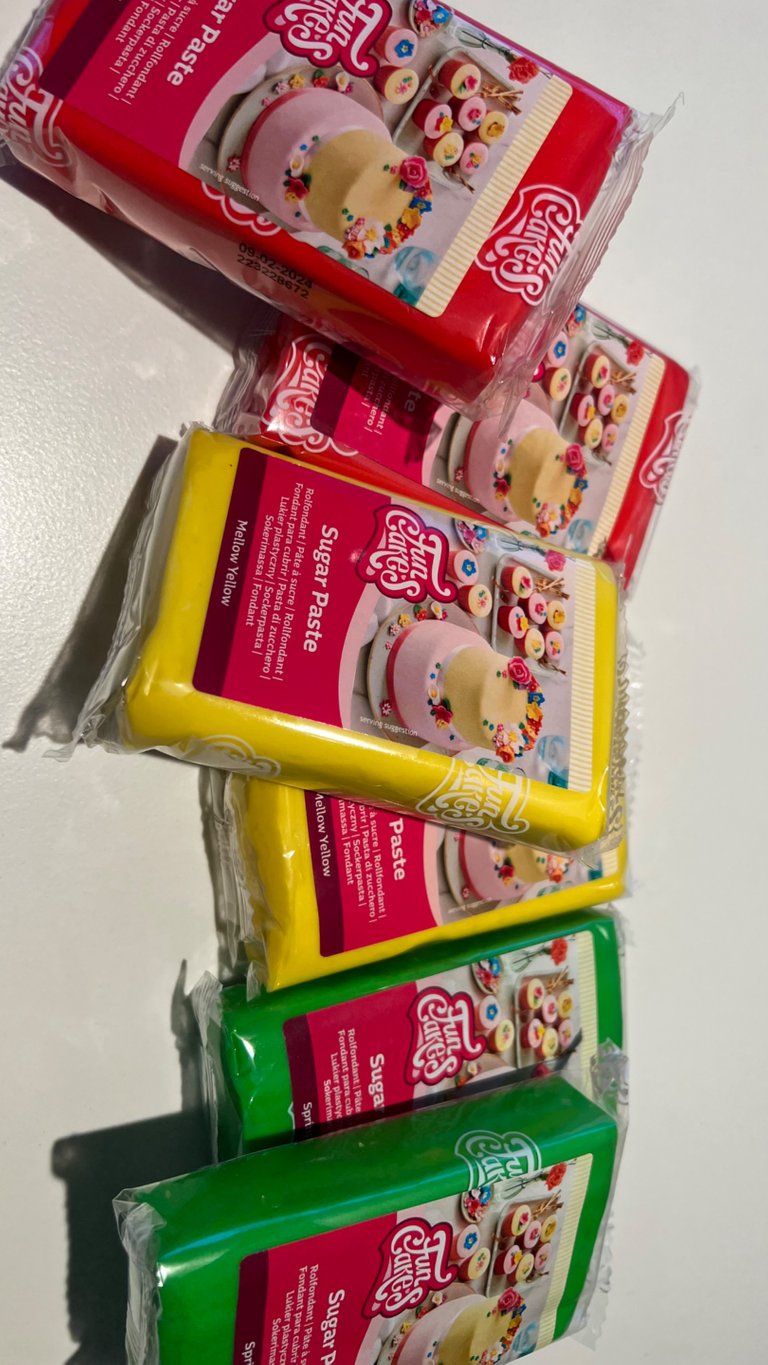 We did the layers that we needed to copy a real hamburger first. We needed sugar paste and marzipan for the cheese, lettuce and tomato out of those three and we ordered it online. I know some colors are available in the supermarket but not what we needed. We also ordered the boxes, forks, sugar spek and chips. We made sure the kitchen was free of stuff and started with red sugar paste for the tomato slice.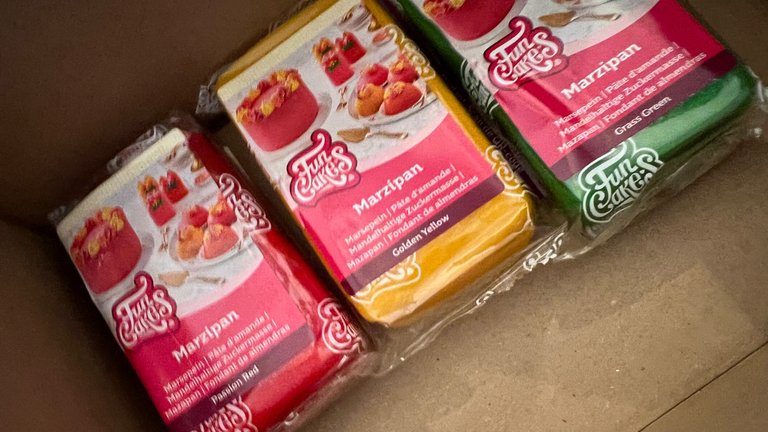 The yellow was for cheese and the green for lettuce all with a pice of paper for the size and a sharp knife. We made 40 from all of them. Put it on baking paper and put it on a flat baking plate from the oven and than in fridge till we would need it building or stacking the burger hahahah.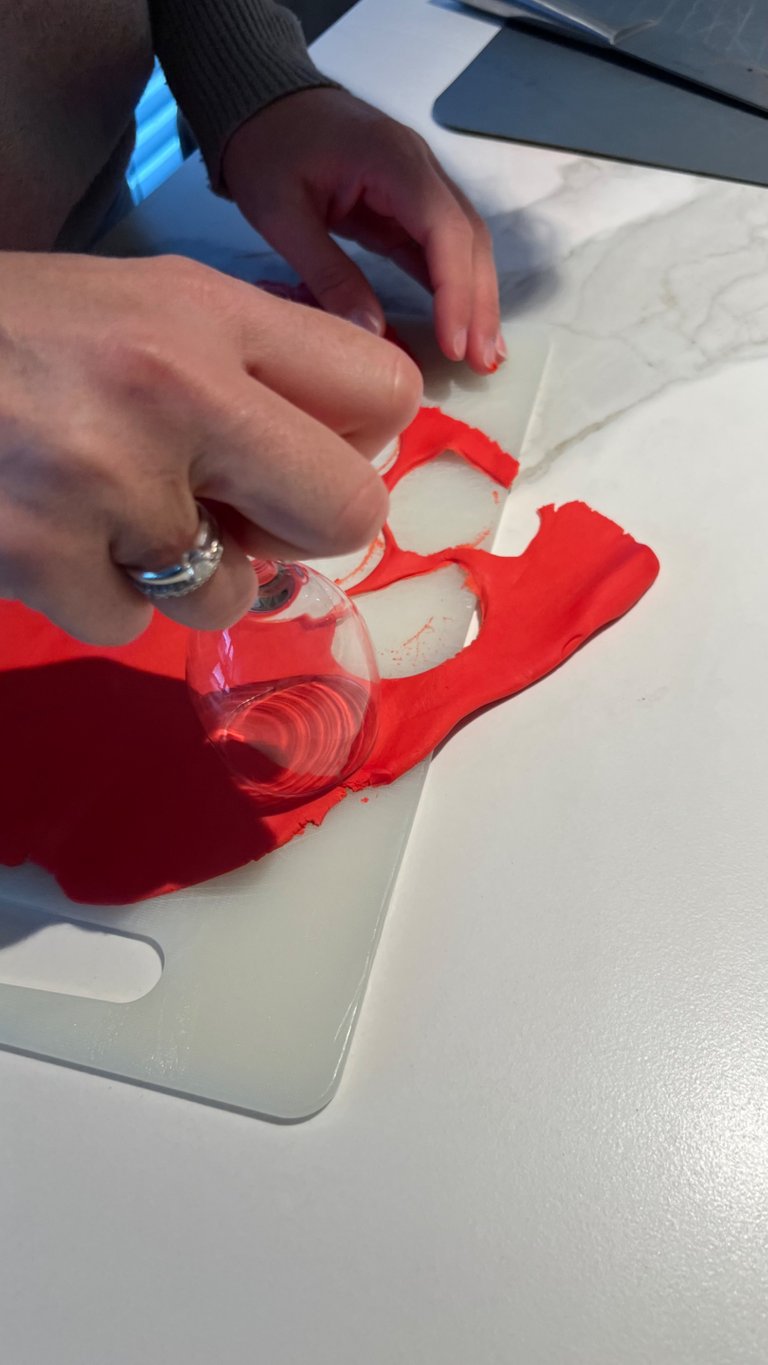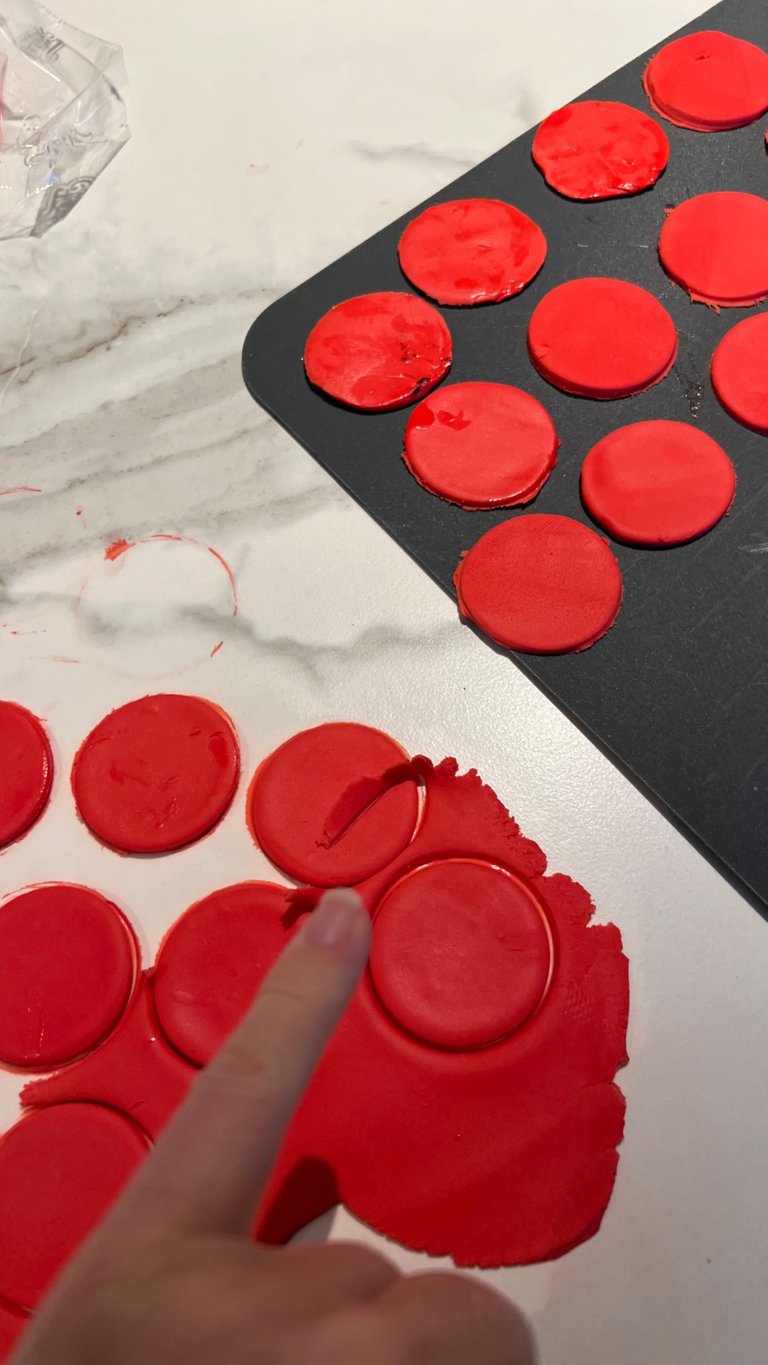 ME GIVING THE PINKY IN THE PHOTO
JUST TO SHOW THAT ITS US IN THE KITCHEN MAKING THE TREAT HAMBURGERS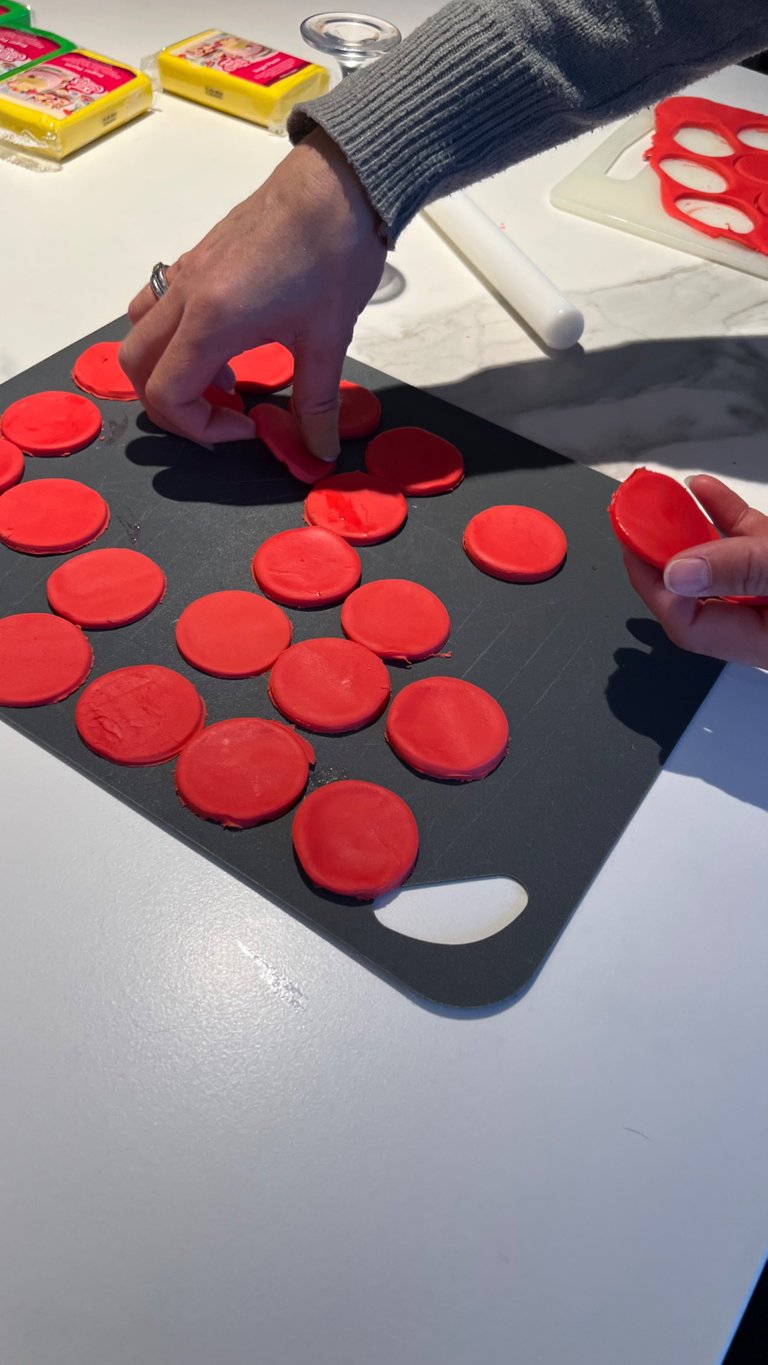 The tomato slices is ready. We are not pros because not all are even thick, but it looks great. I was amused how easy good sugar paste fondant is for use and making shapes.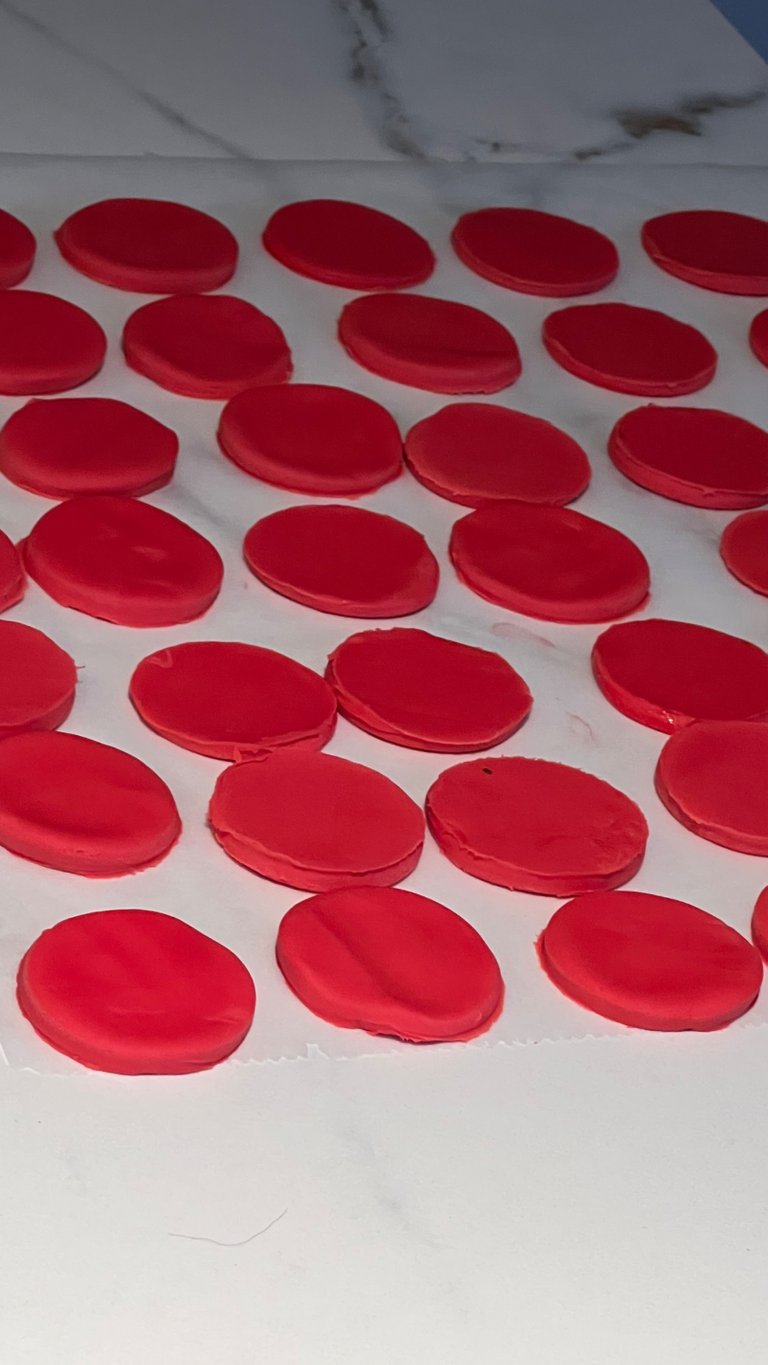 Now the green layer for the lettuce. The green has to be modded to be a bit warm to make it thin and roll it out.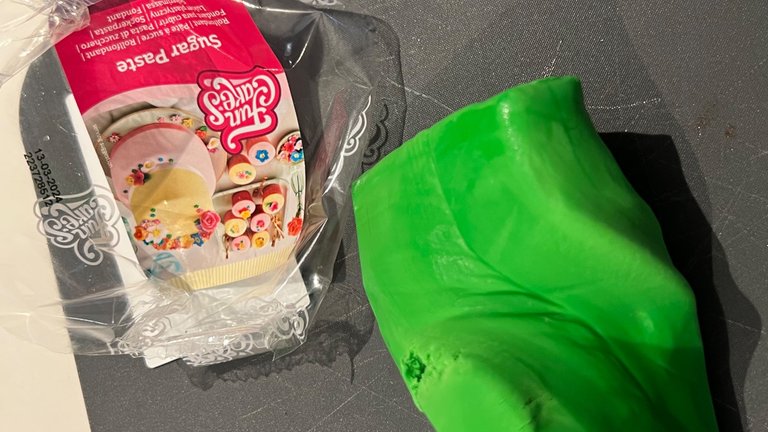 You see we worked next to eachother ansd we used a white paper for the exact shape and size. And ofcourse a sharp knife.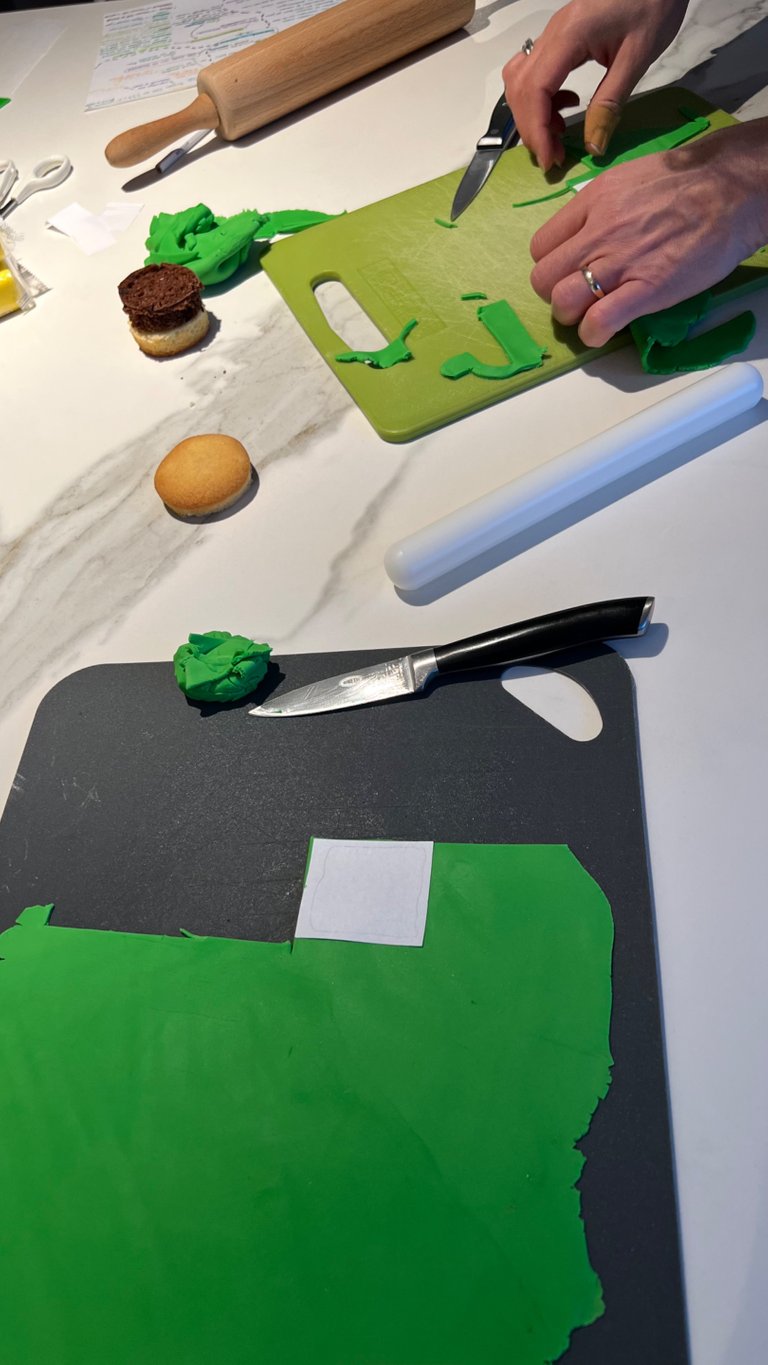 In between the home work is checked and next to all we are making. I love that my son is with us.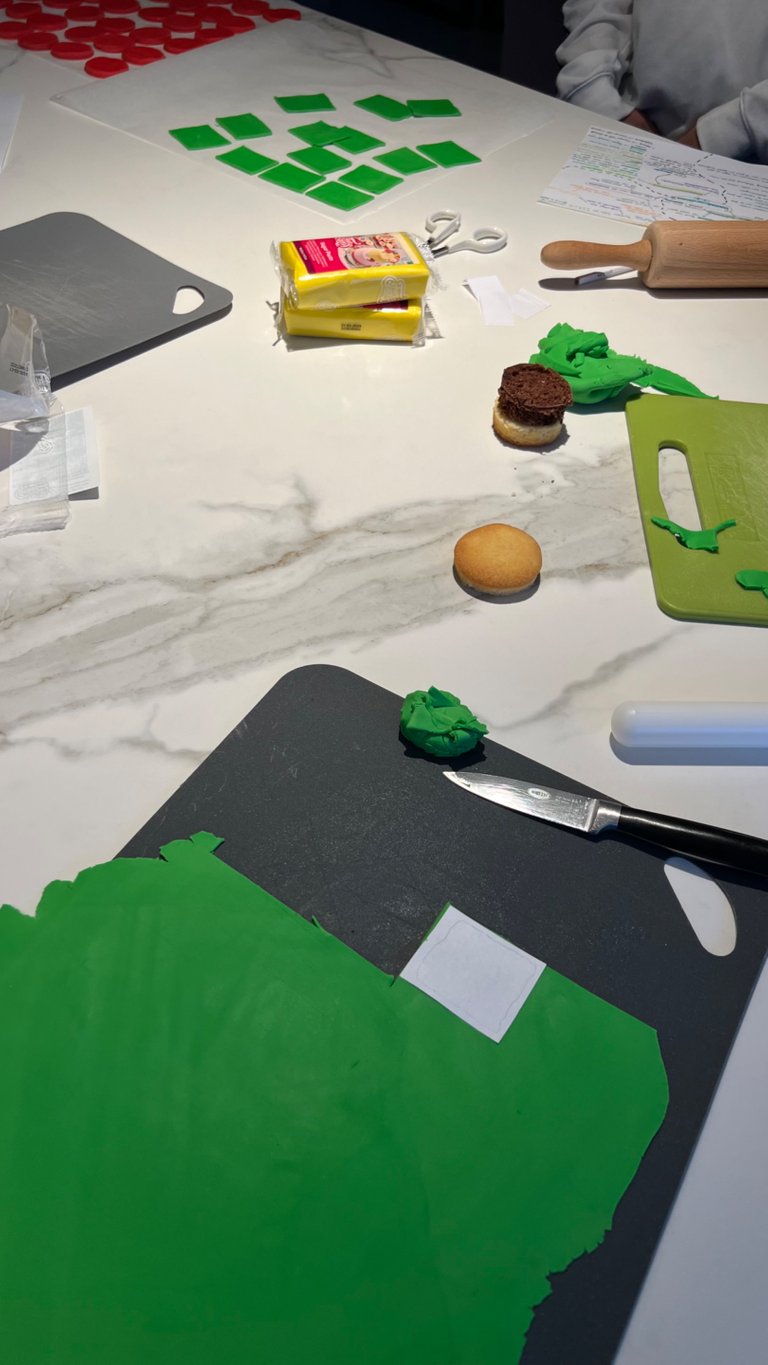 Ofcourse you need to roll the marzipan but also the sugar paste untill its thin enough so you will need a roller. The cheese is made of yellow and we used the light one, but we also had the cheddar one.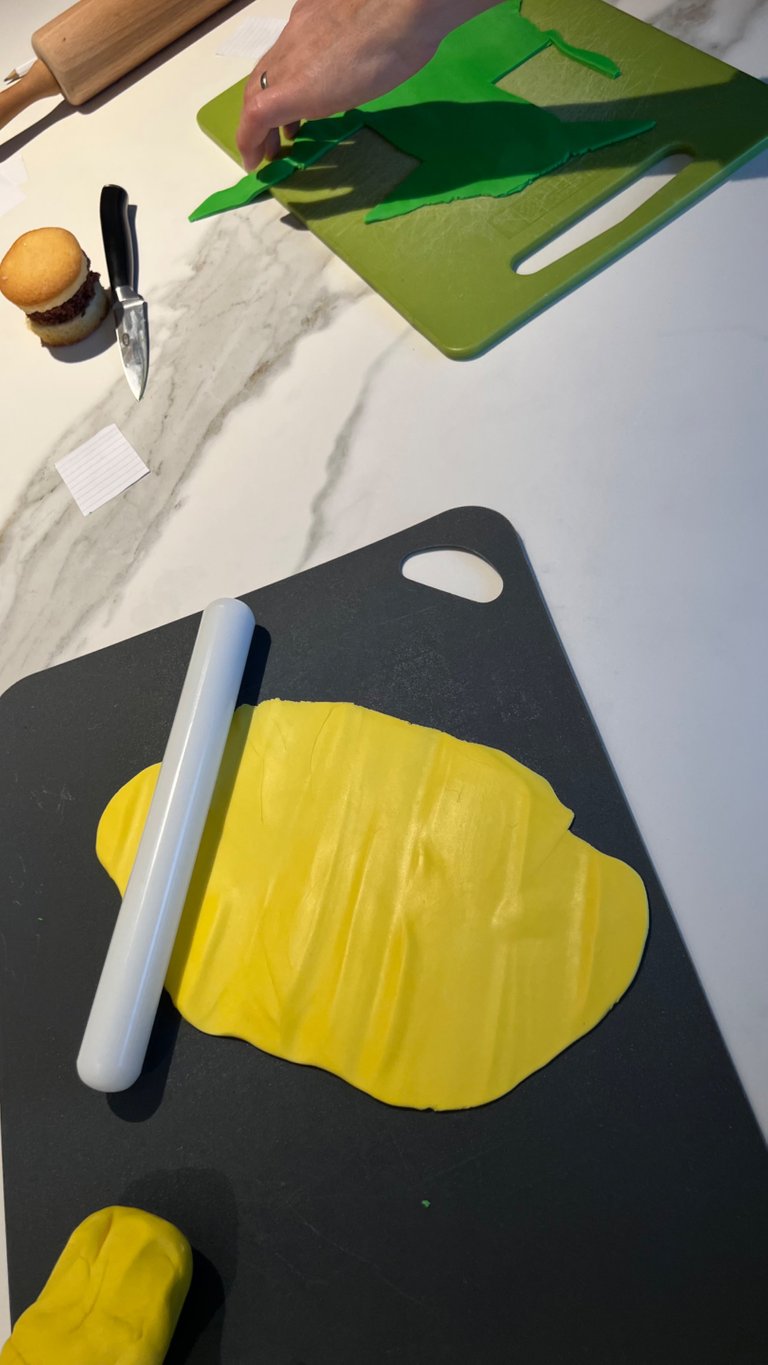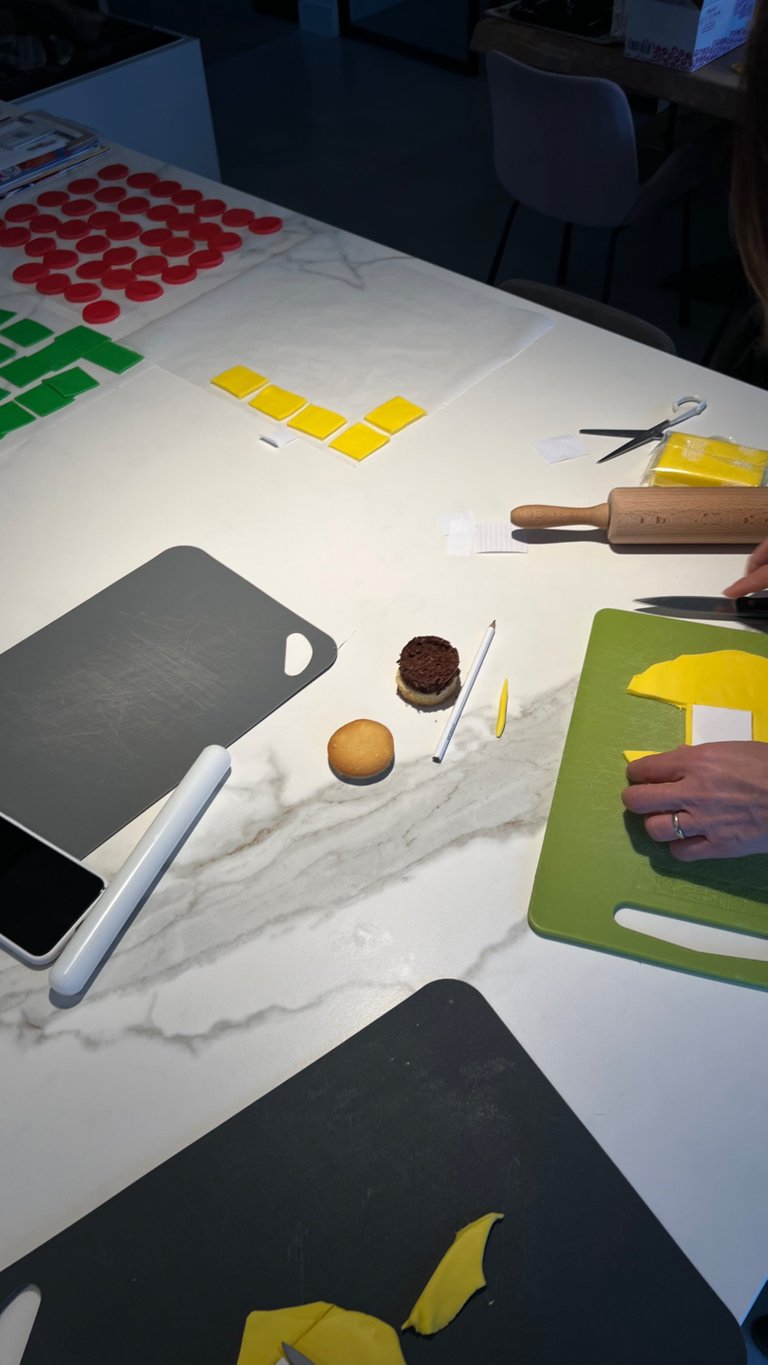 In the picture the phone because we both are photographing the process.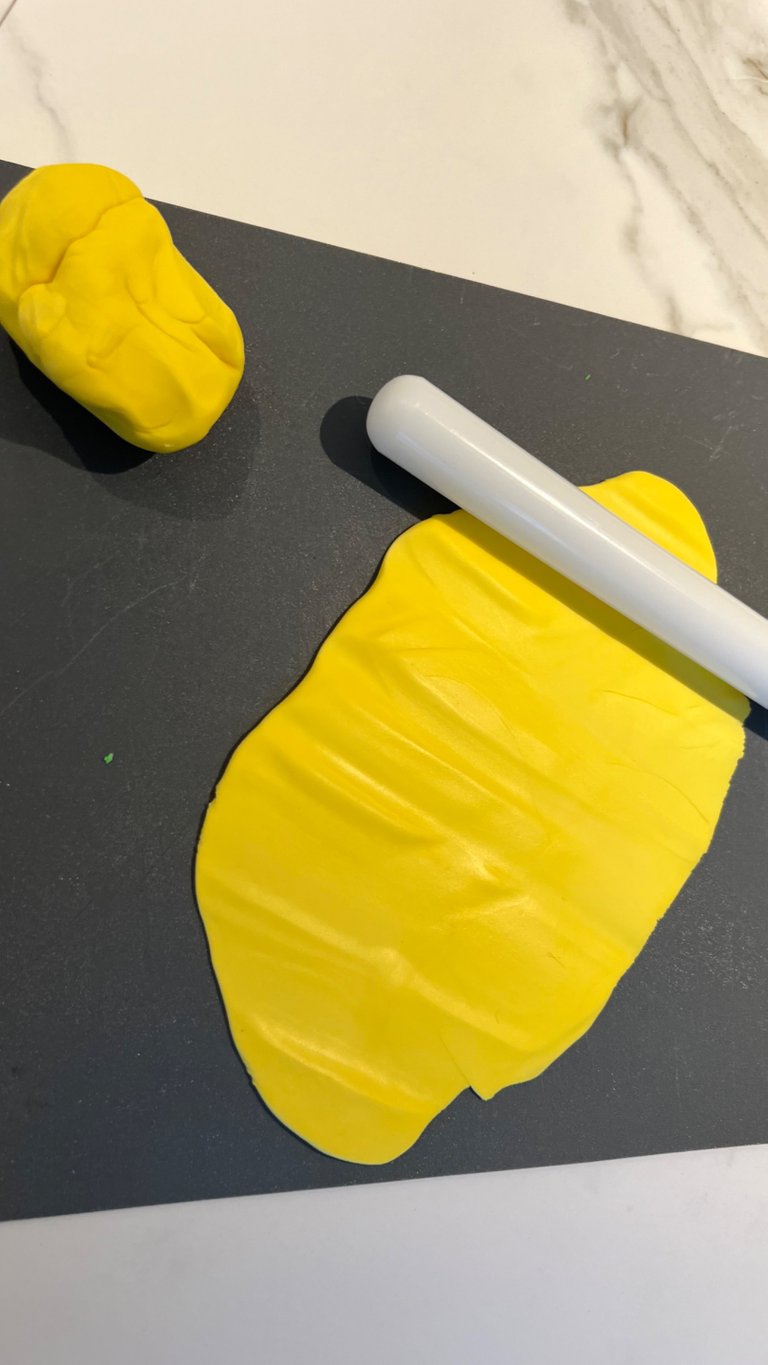 Roll, roll, roll and roll the dice ehhhh sugar paste.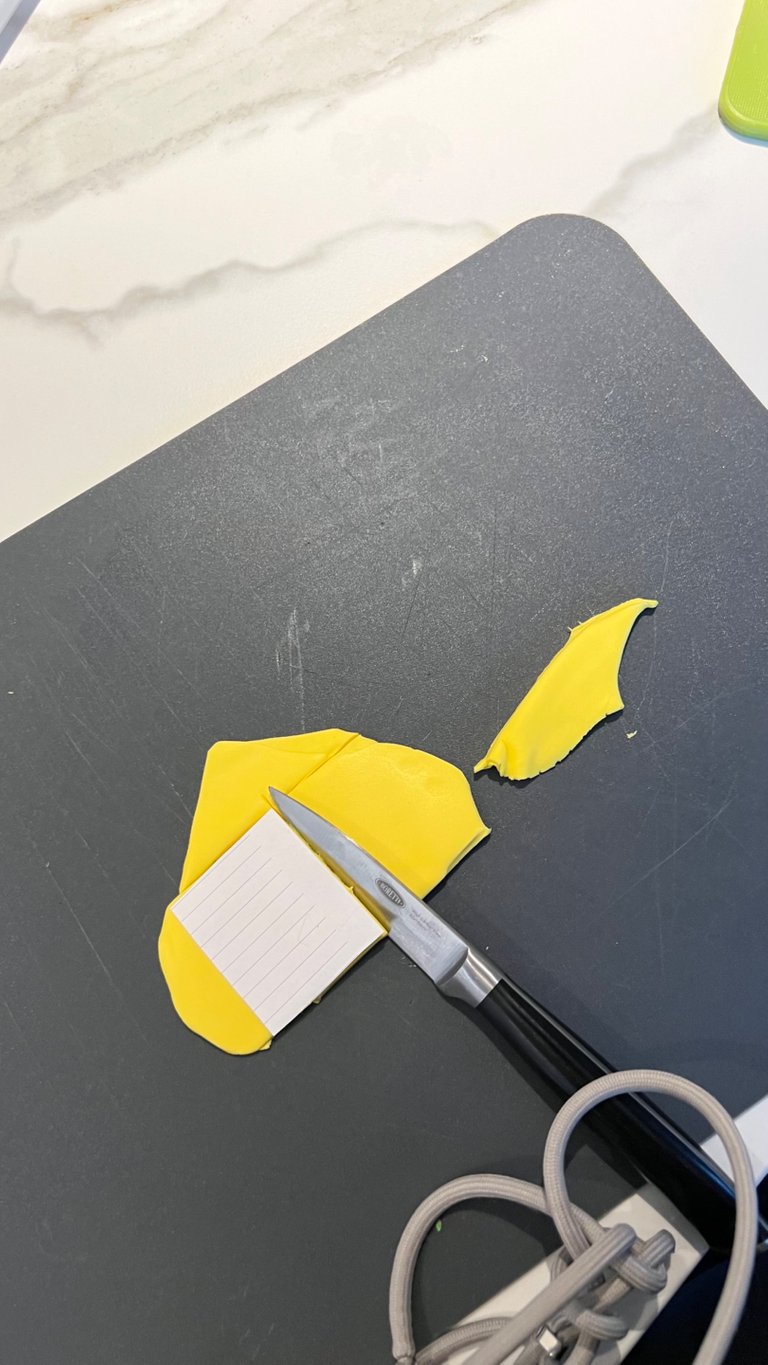 This is what we have so far:
Now its cake time. My friend baked chocolate cakes ( 4 in total ) for the hamburger and did that yesterday so the cake would be cold and ready to be cut.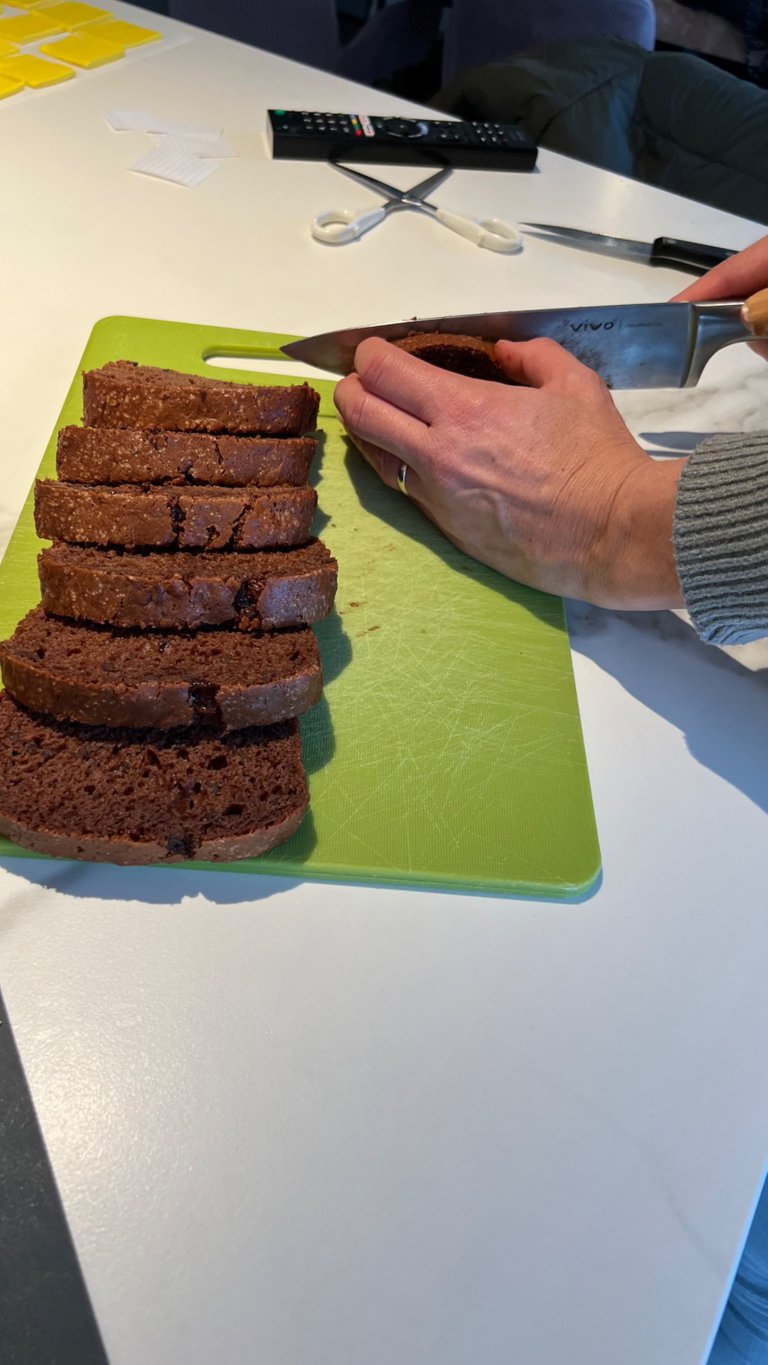 The cake that was left after the round shapes were cut out we ate ofcourse and the cake was delicious.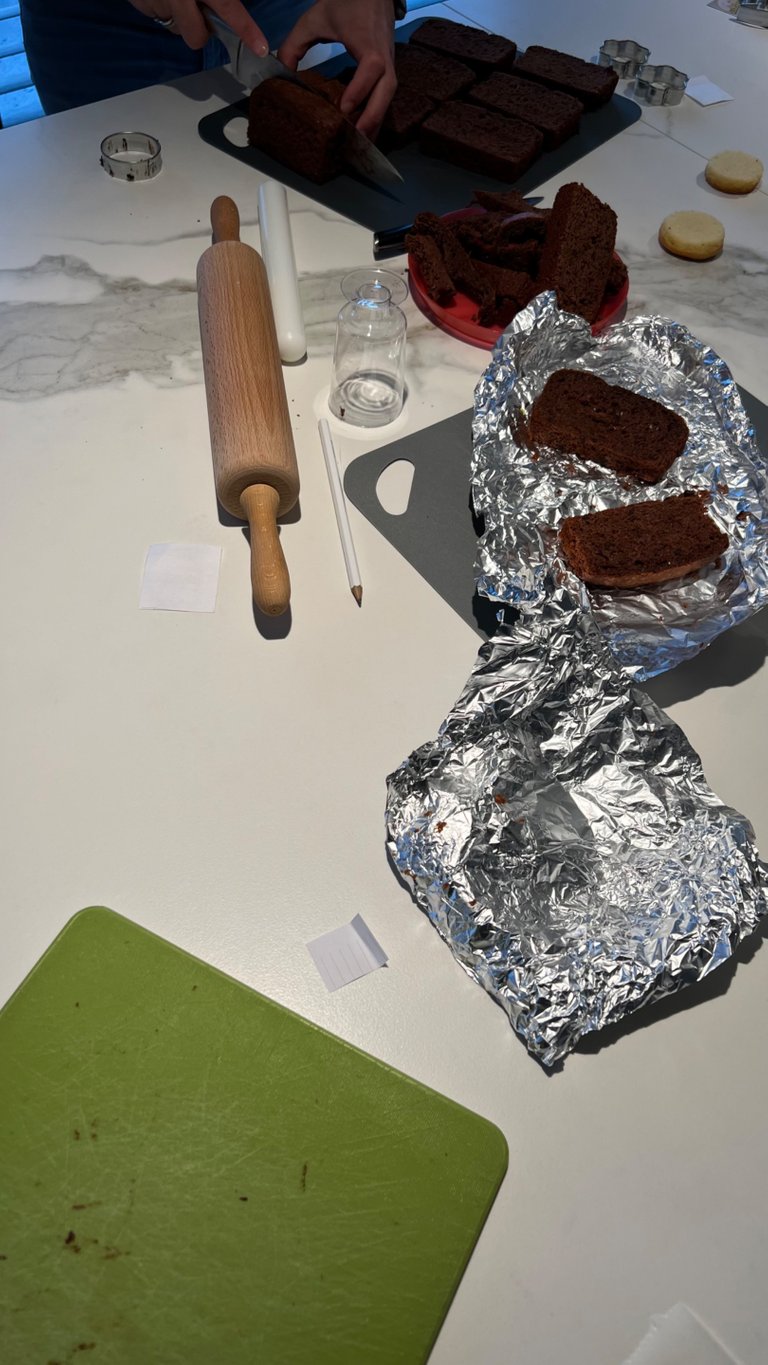 We used a glass but that didnt work because the cake would be stick inside the glass.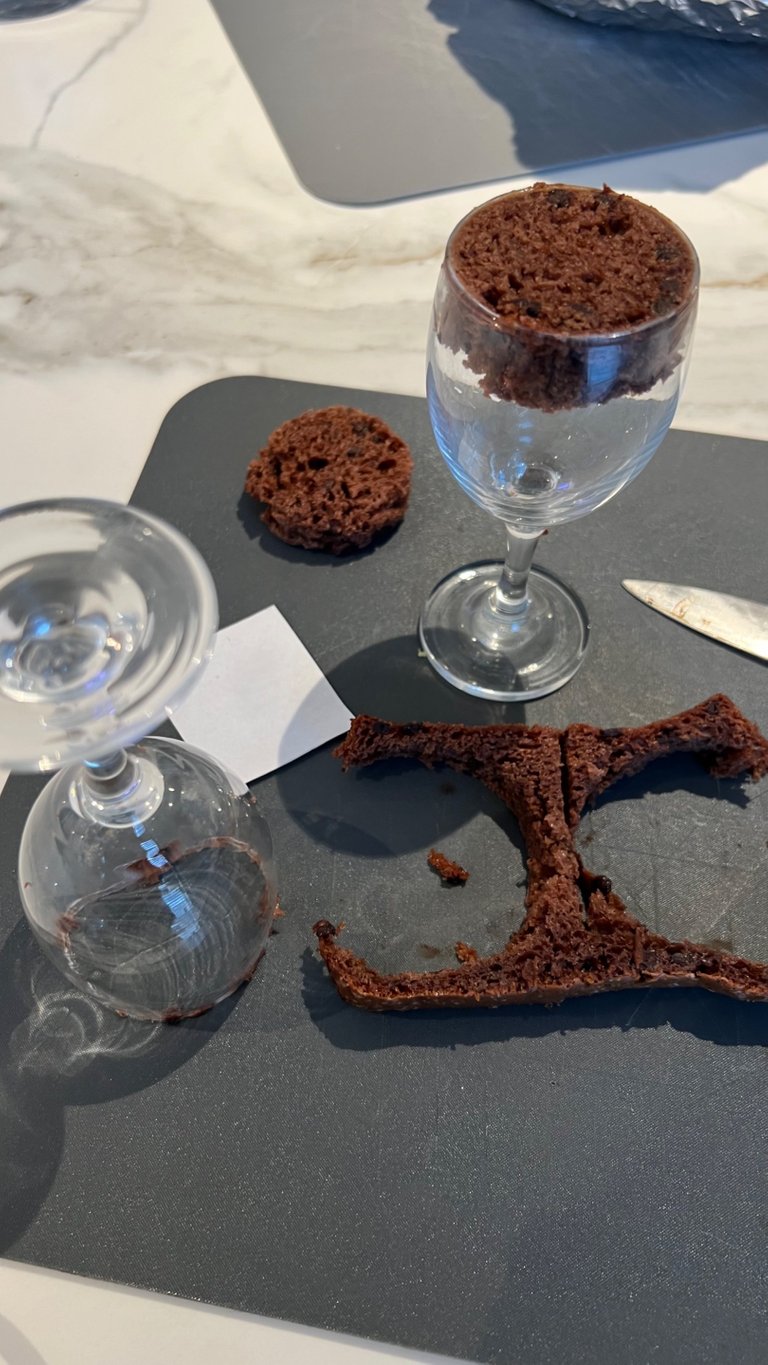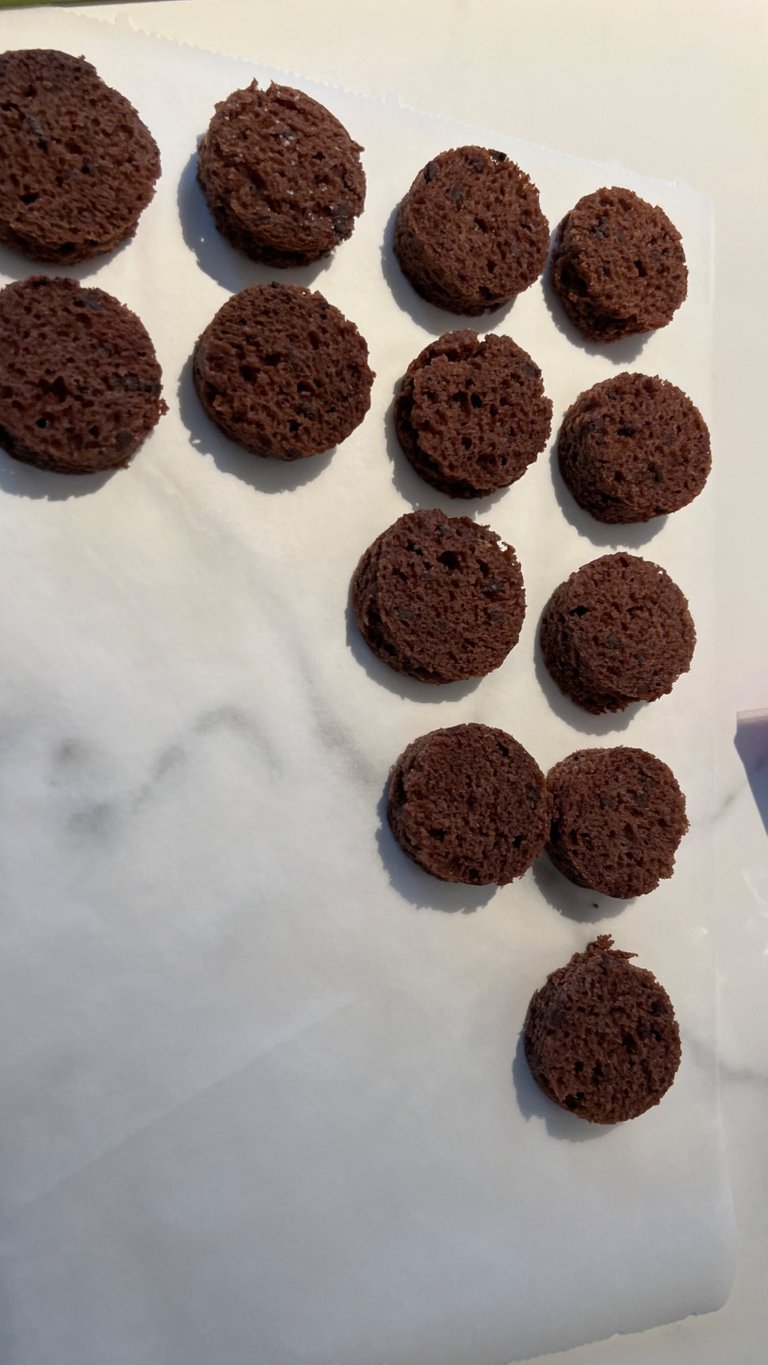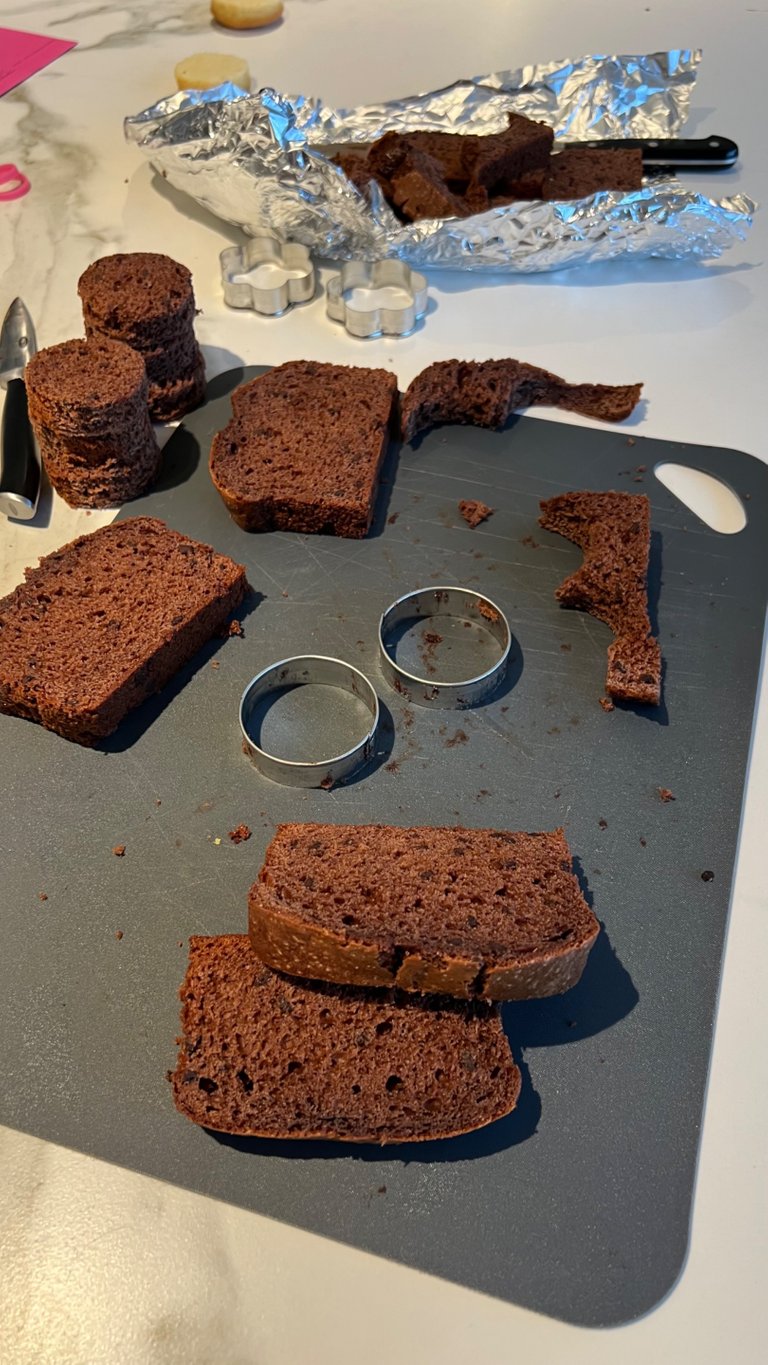 As you can see here we started to use baking rings of 12 cm wide to make the brown cake hamburger, and that worked like a charm.
Because the chocolate cake is moist is easy to cut the rounds. Again we put that on baking paper to rest untill we need it a little bit later.
Yes its very time consuming but its the last time befor you go away from this school so it needs to be special.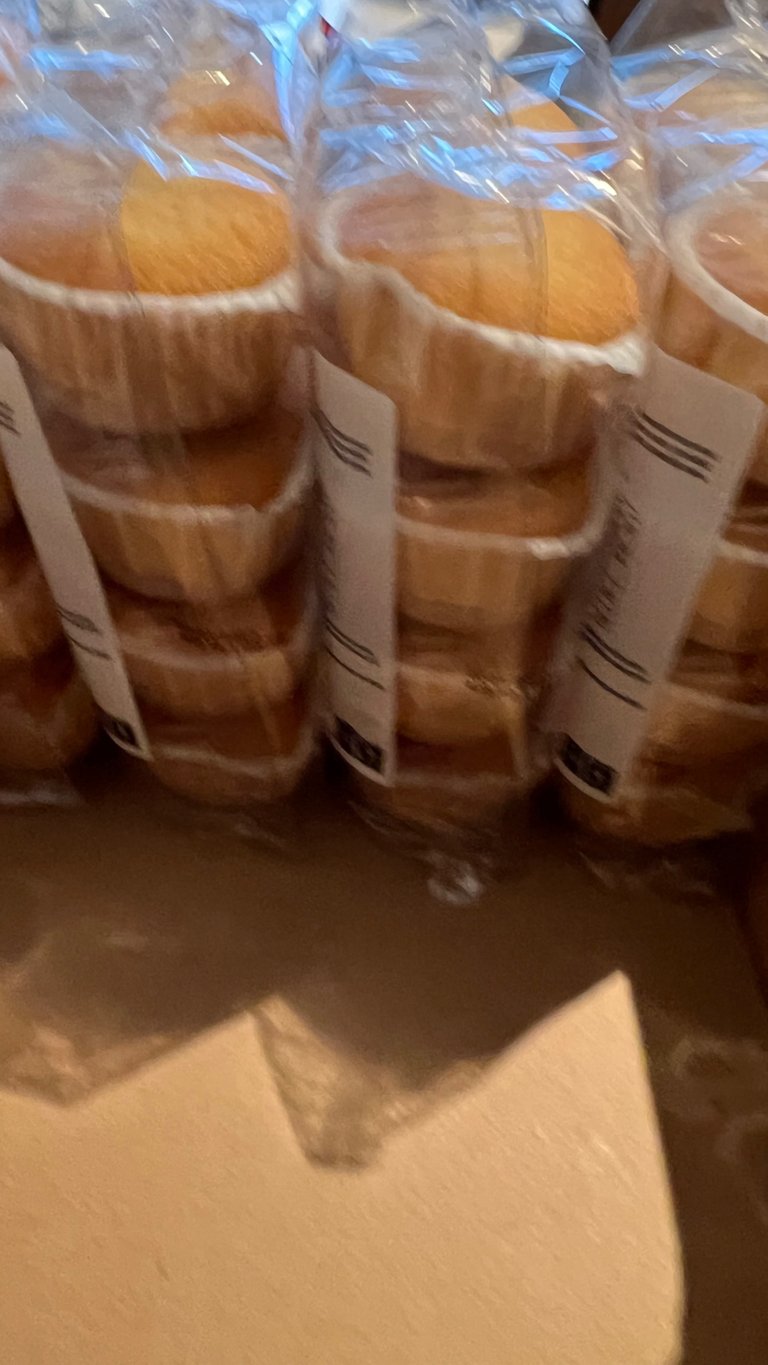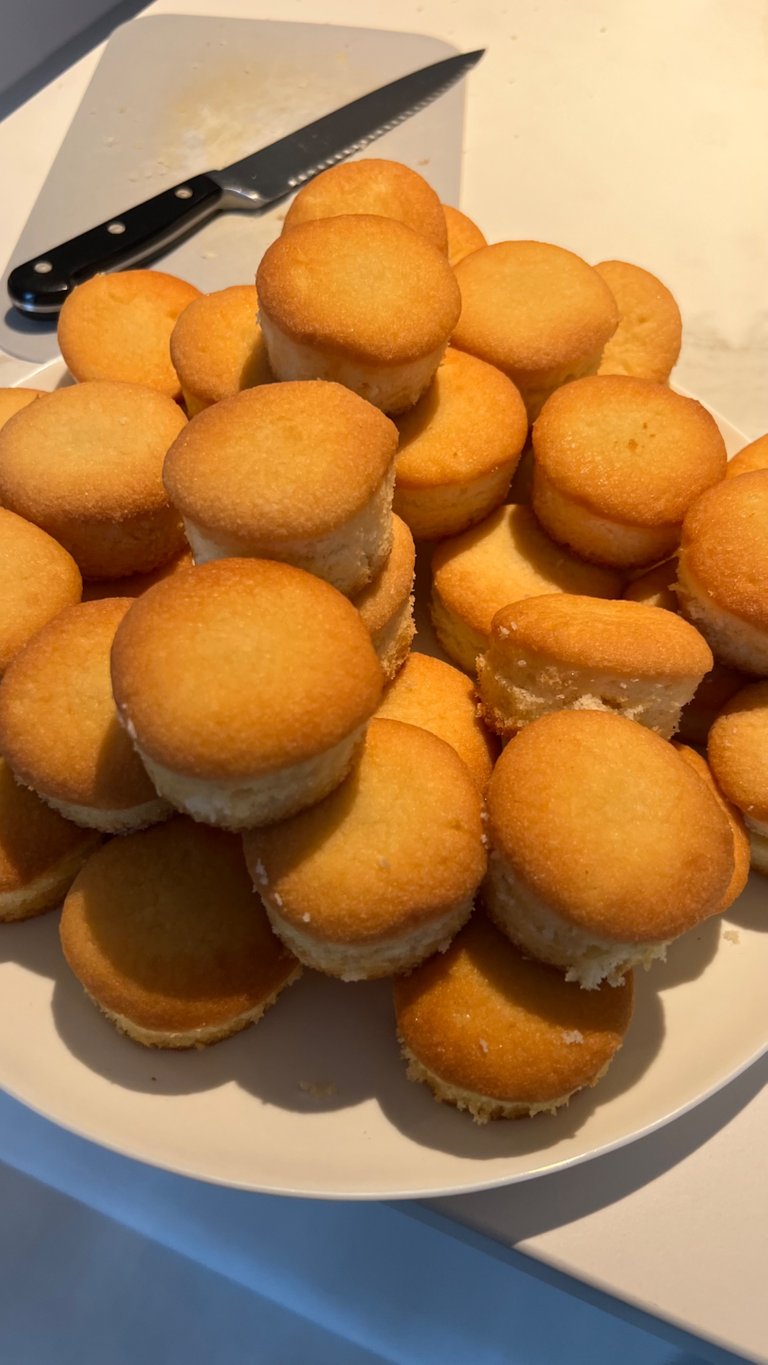 Now the bread is made out of vanilla cakes. You buy them as a cupcake with a paper wrap, that we removed and we cut the cakes in half from side to side. And stack them away for in a bit when we start the final product. My son was n the background doing homework and helping out, read tasting all the layers in between and loving it.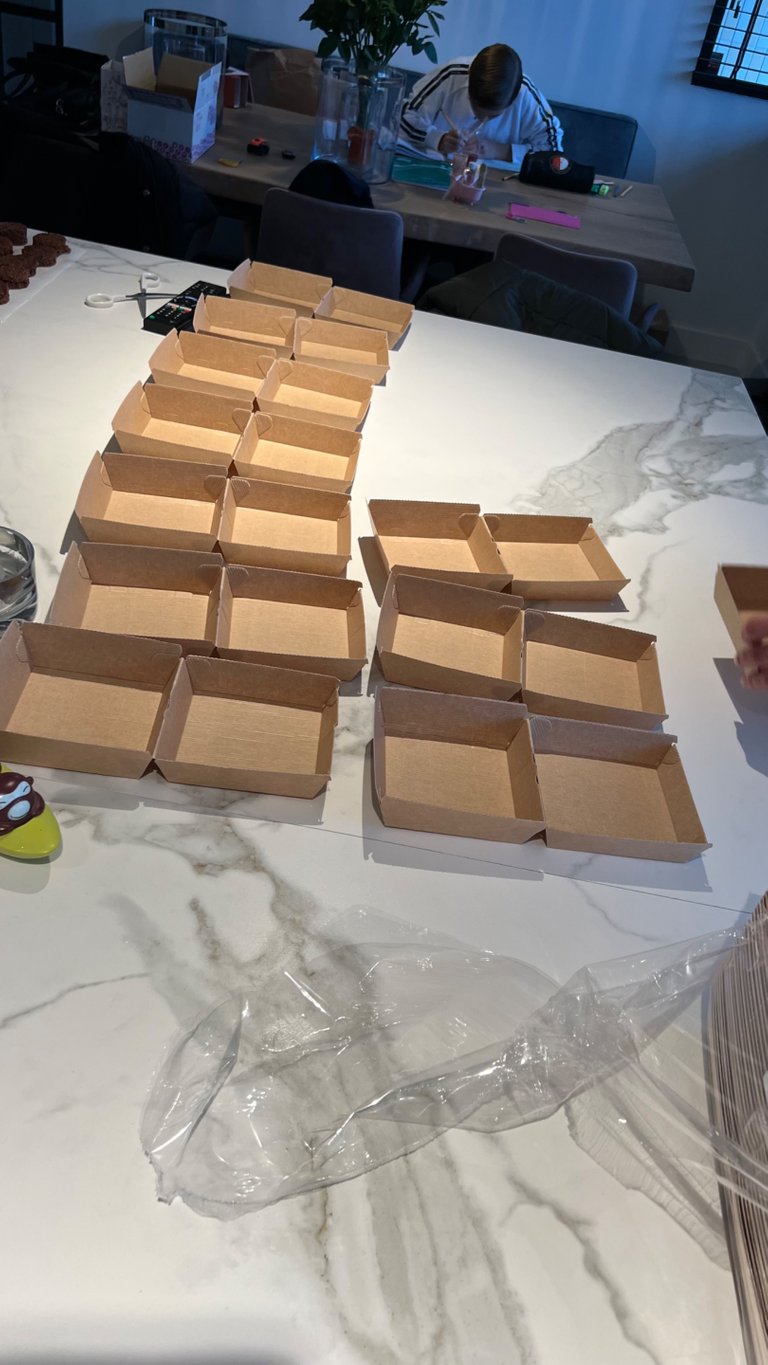 We used chips in long sticks as fries and we used marsmellows as mayonaise on the side.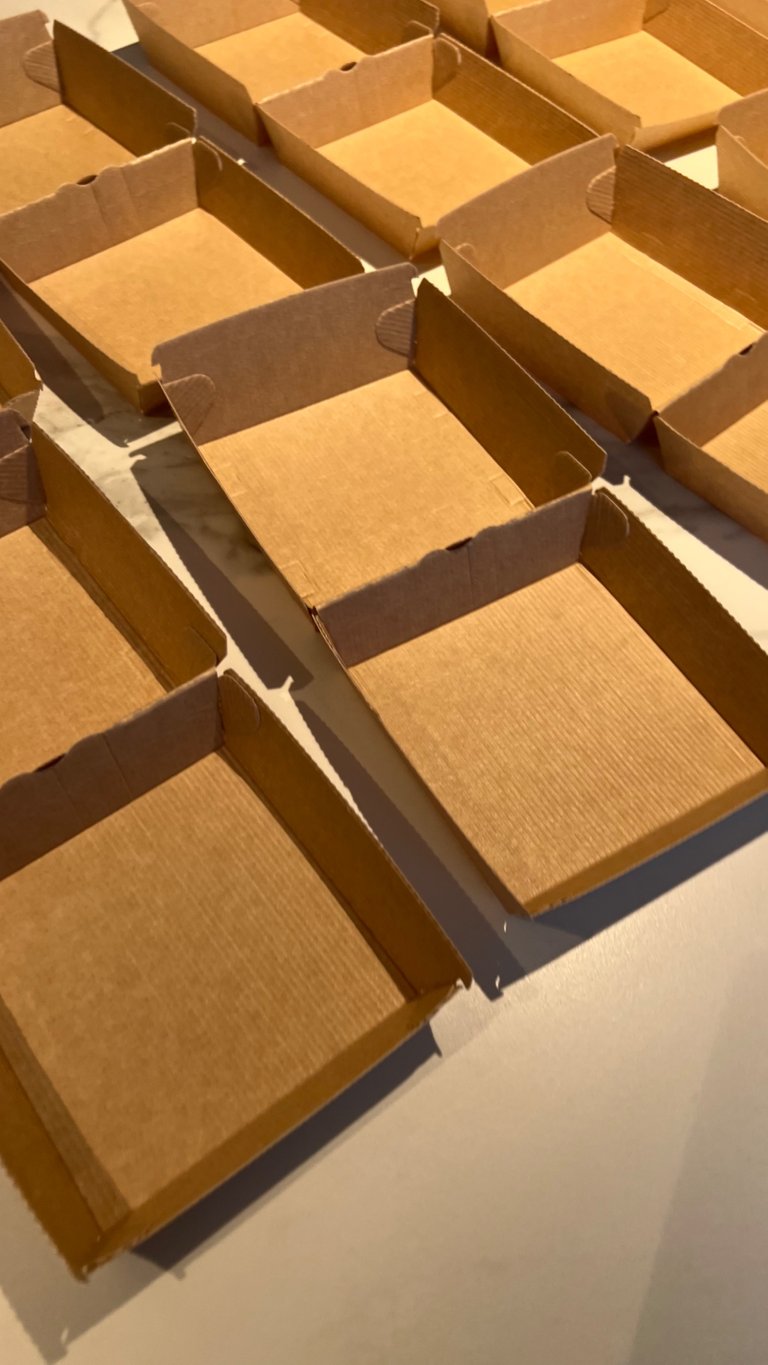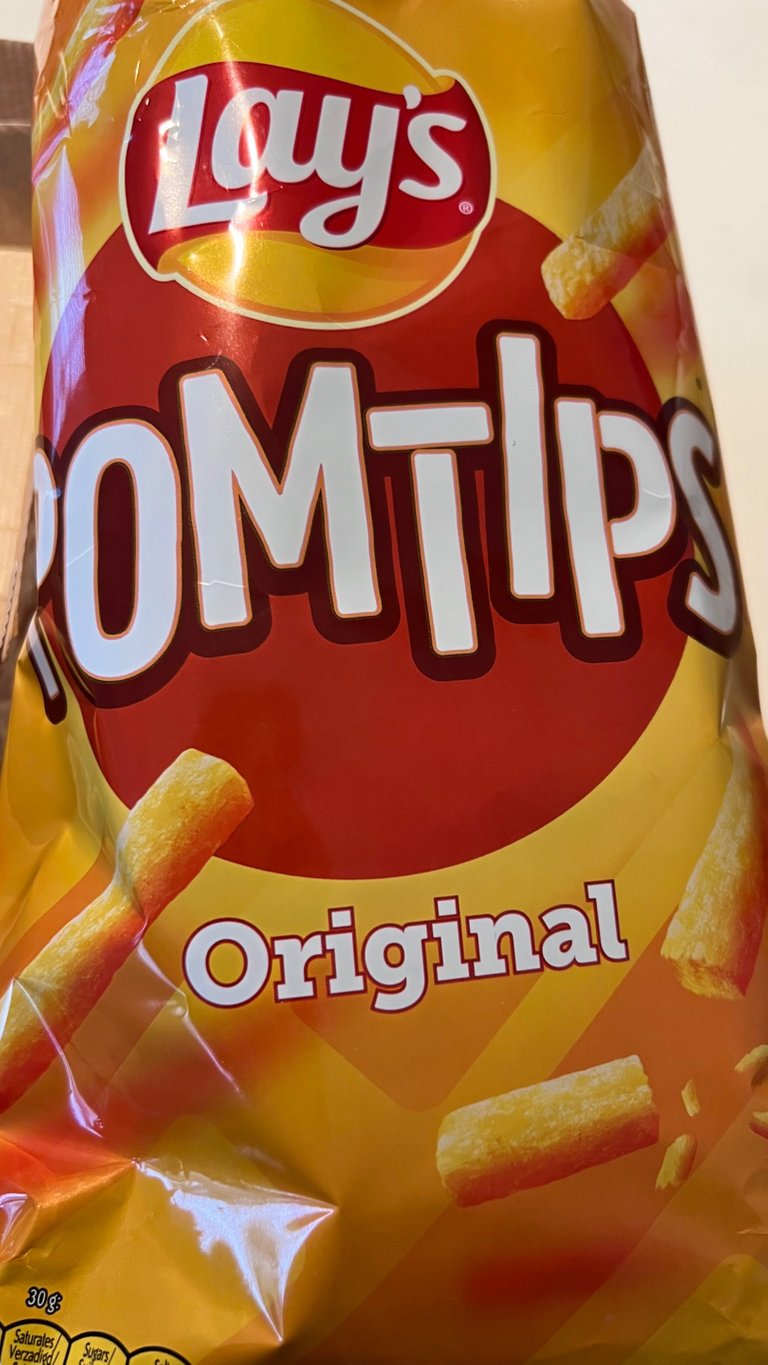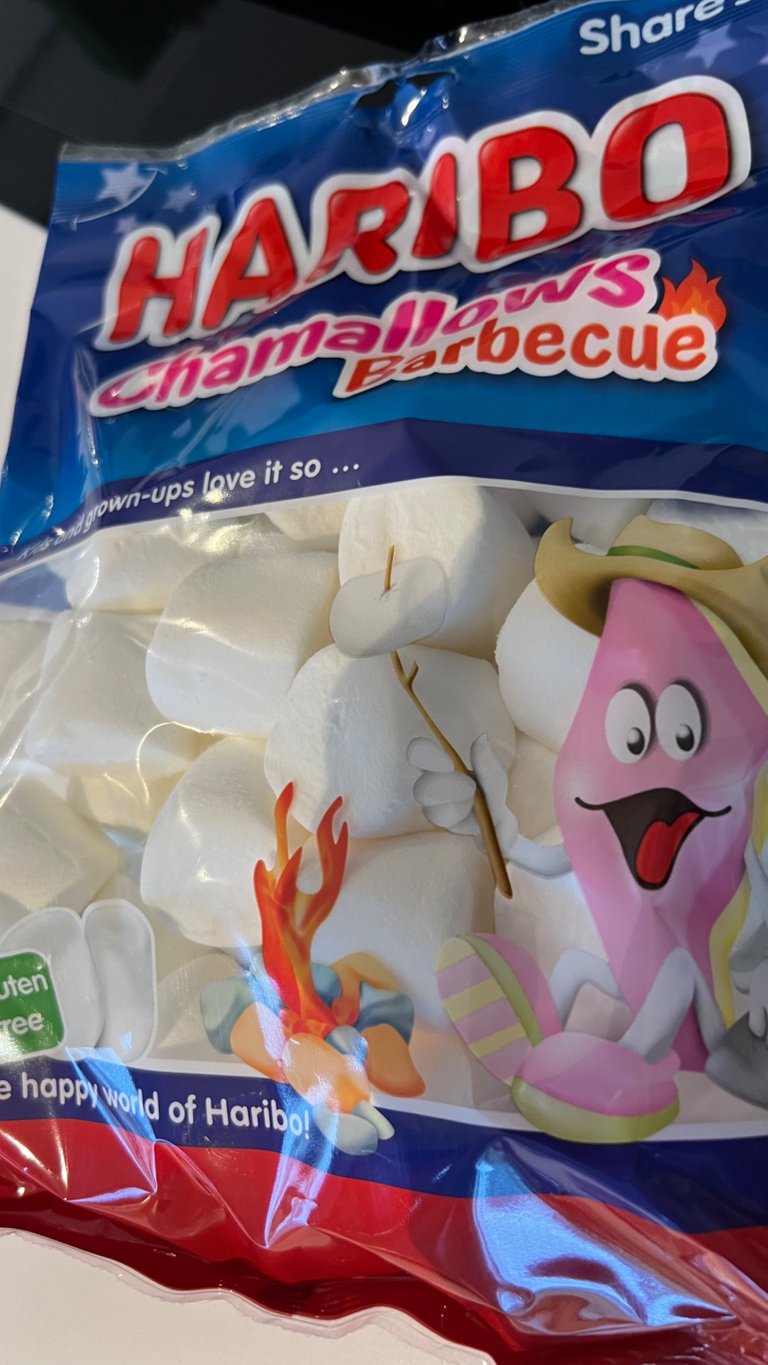 They were set on the kitchen counter and now the stacking and making of the final product could start.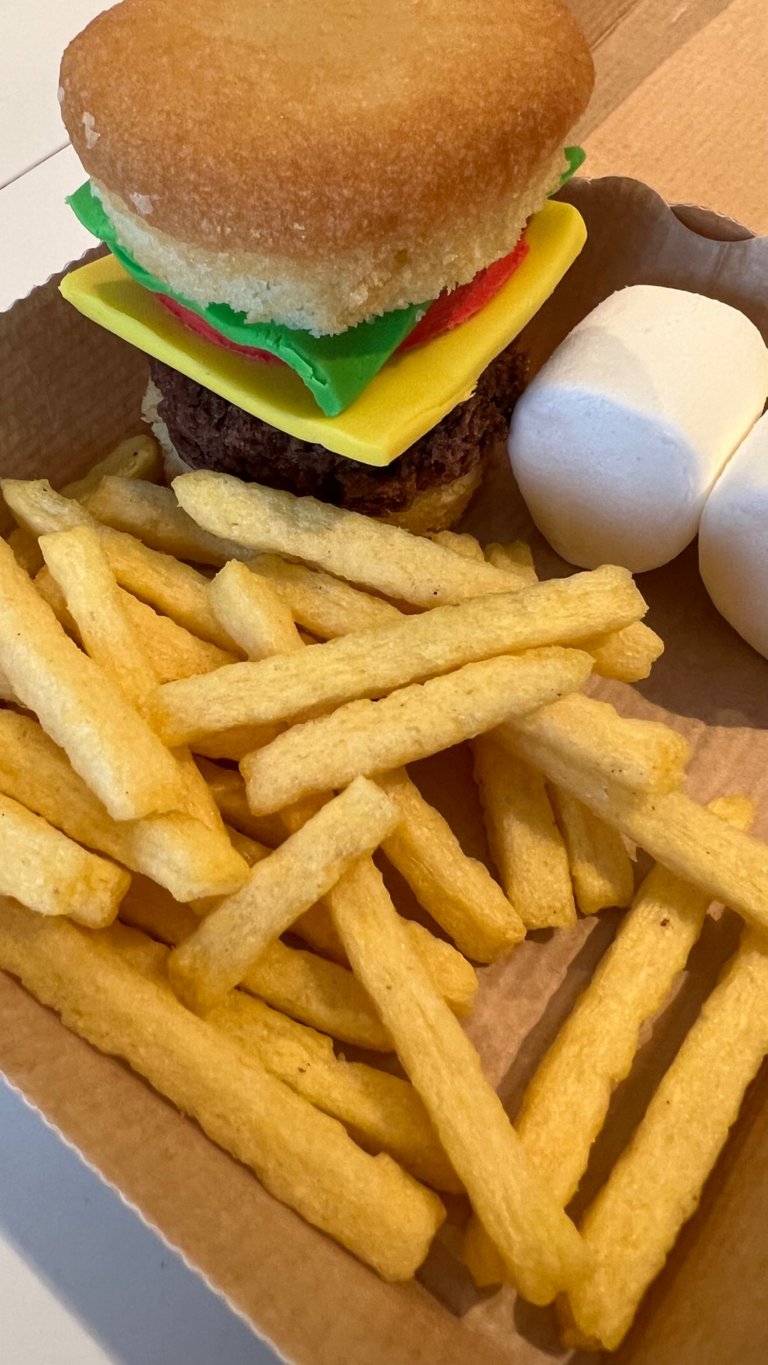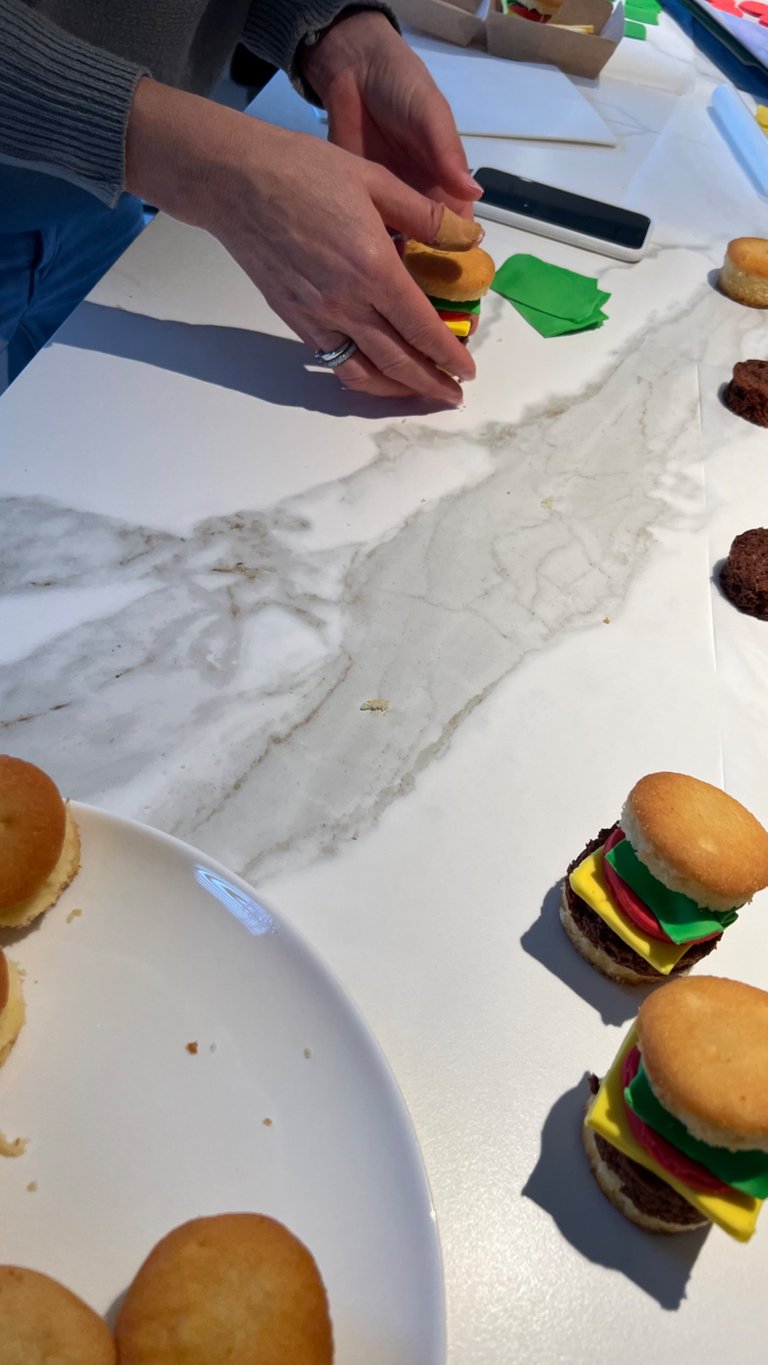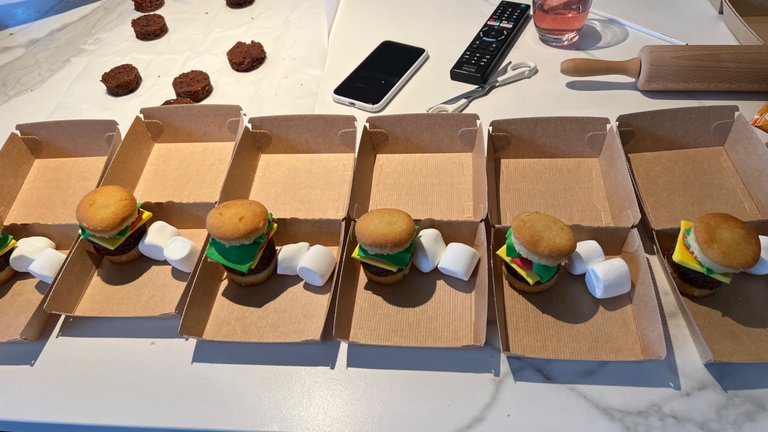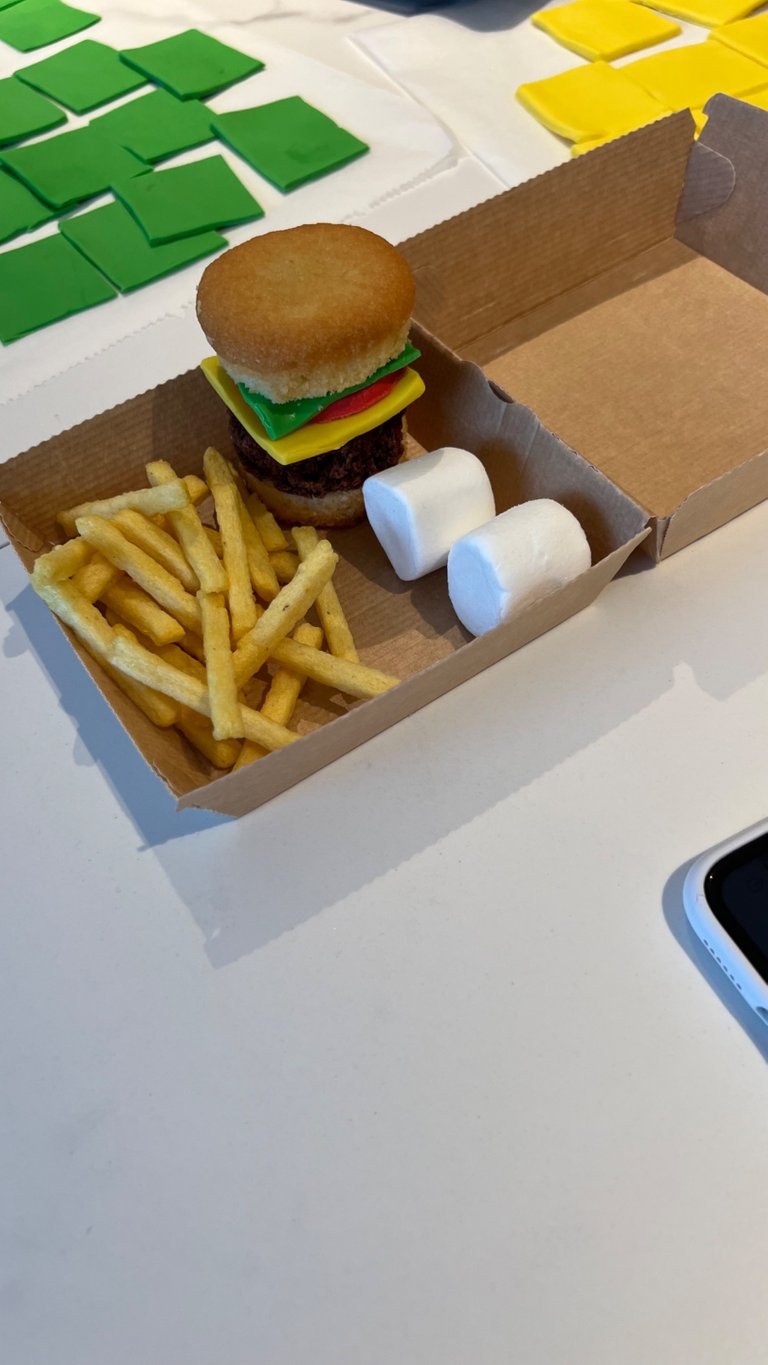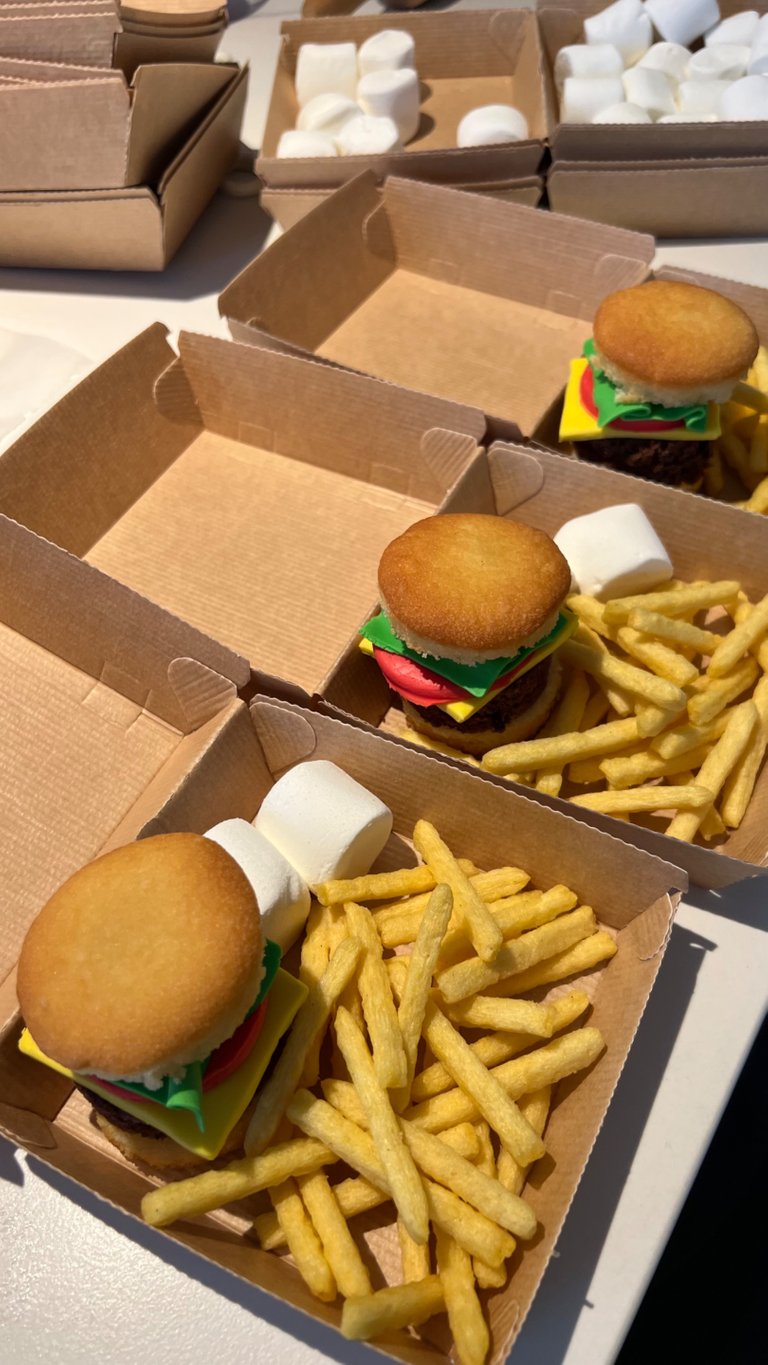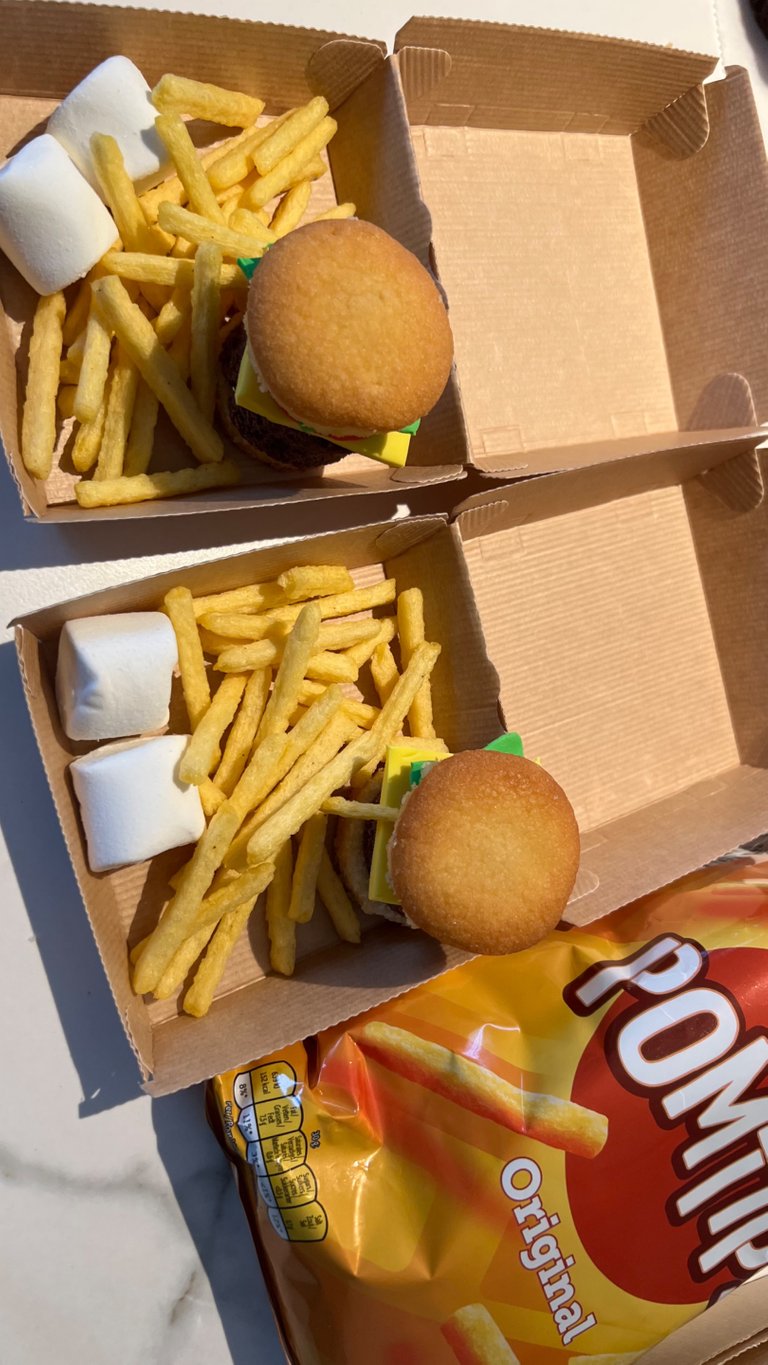 We layed all the layers on the paper behind eachother and just stacked and put it in the boxes. With the side products.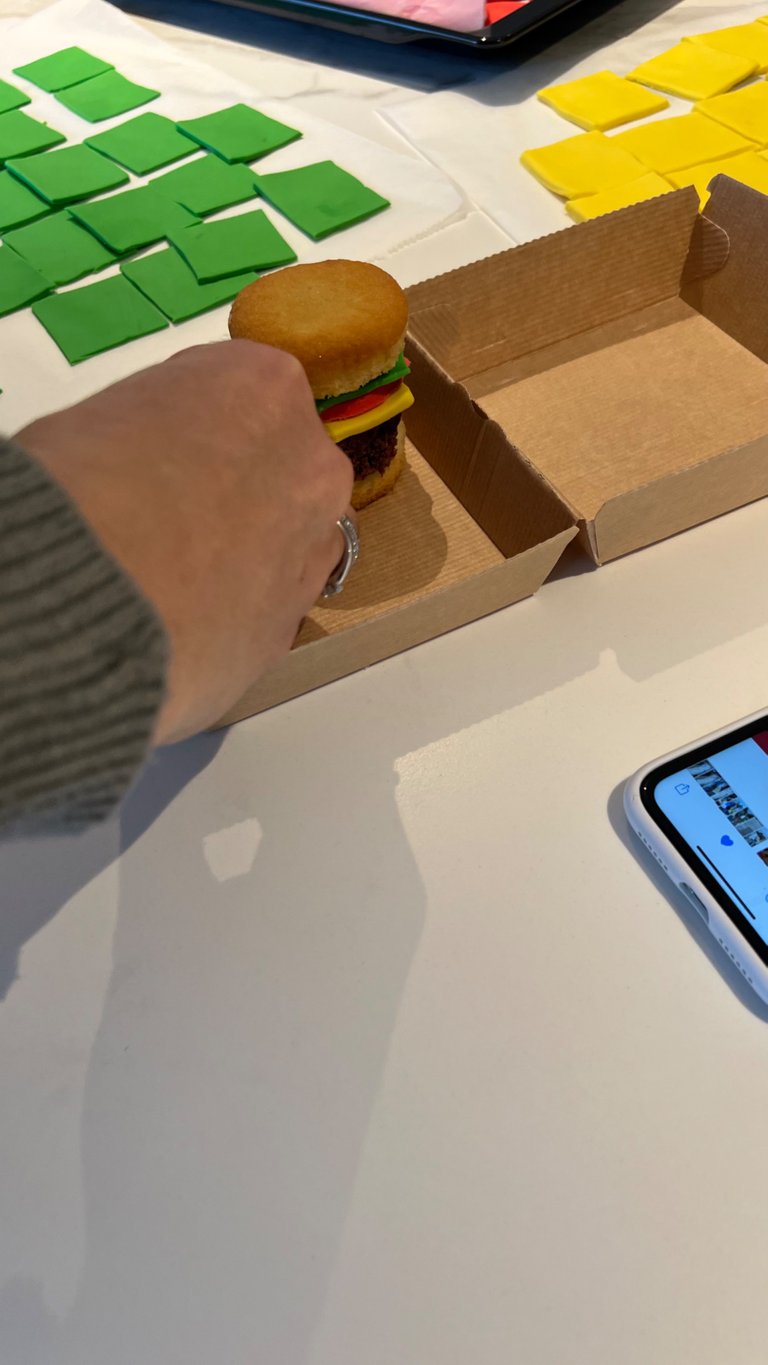 When we were ready it was the daughter that would do the final touches by pimping the boxes and putting a wooden little fork in it and close the box when she got home from school.
So this is when that was done :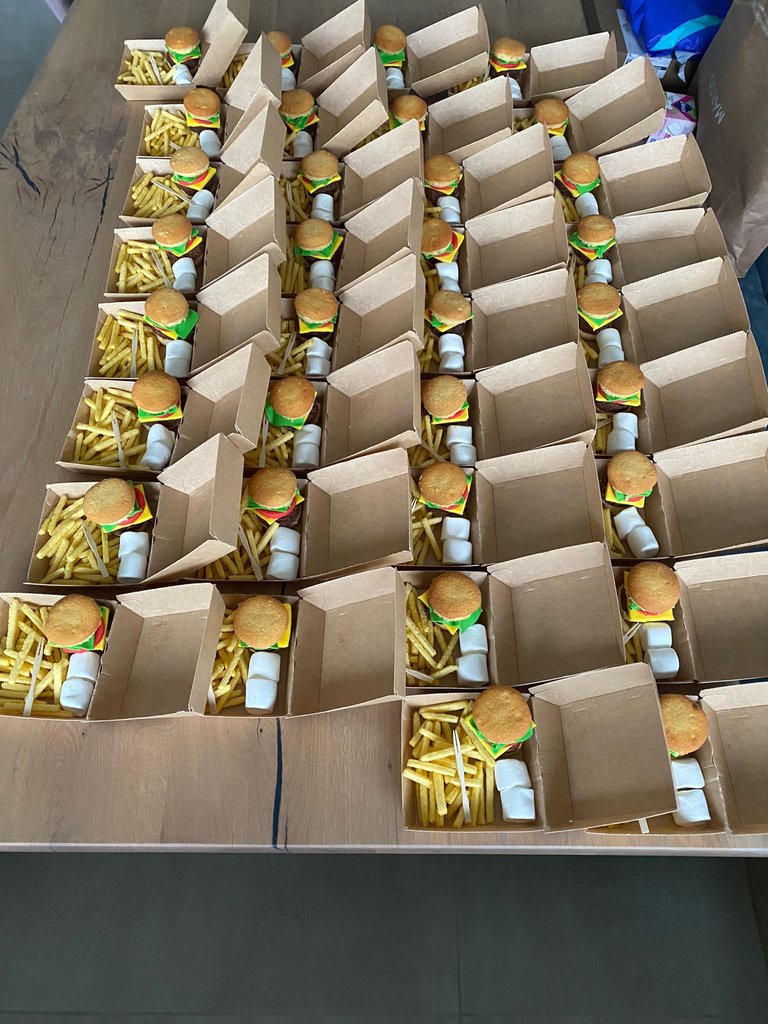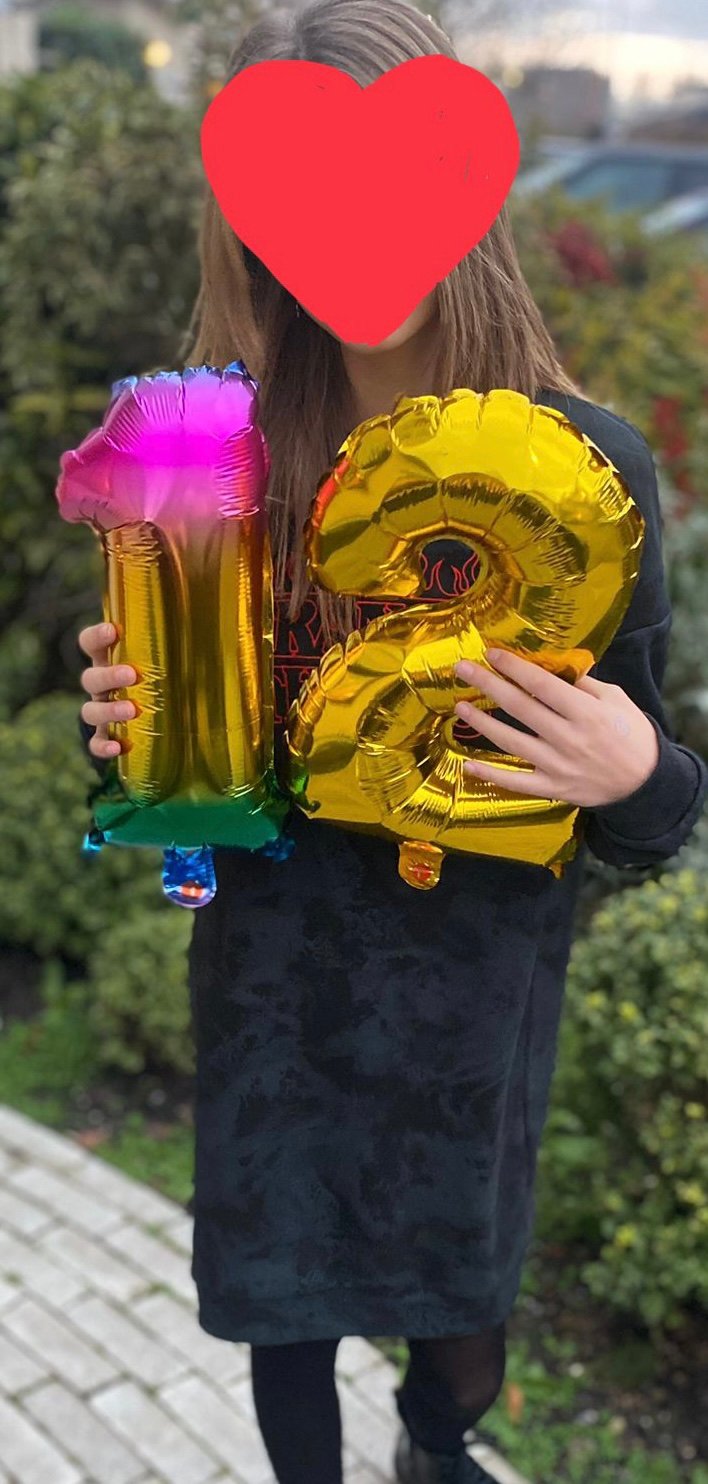 The birthday girl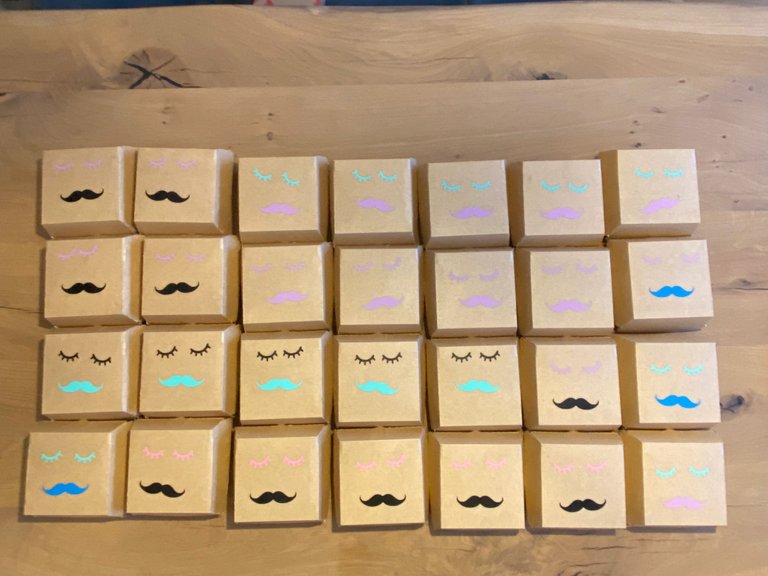 Boy boxes with moustache and girl boxes with lashes.
So the hamburgers are ready to go and be eaten tomorrow!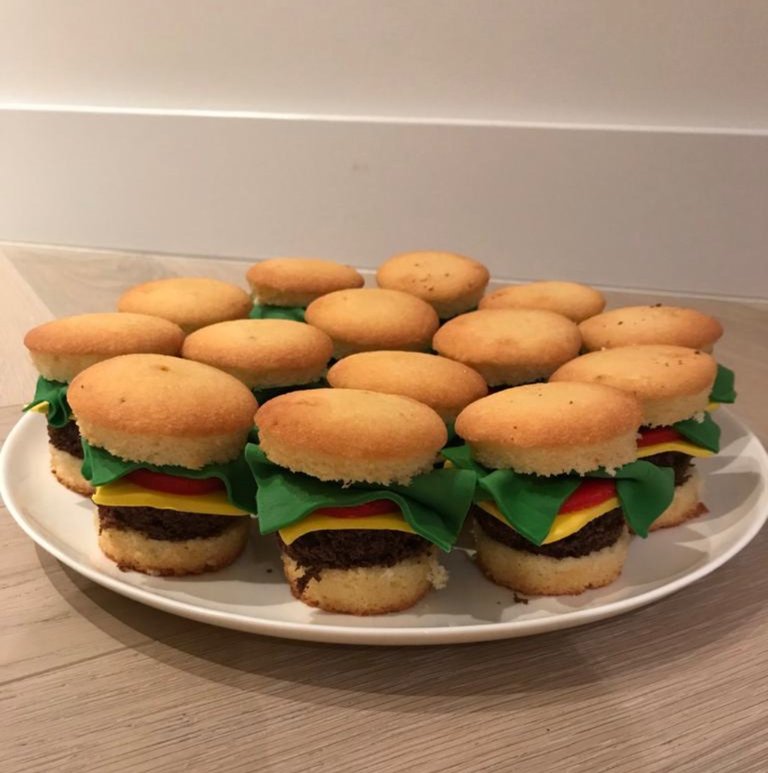 A lot of work but what a joy !
See you next time foodies for a real hamburger.
Until we read again, Thanks for stopping by,
its appreciated and remember always focus on being creative instead of being bee-zy.
Consistent Actions Create Consistent Results.
Not everyone is a blogger but everyone has something great to offer.
Lover of Life and L❤️ve in General - @brittandjosie

I am a proud member of DISCORD #theTerminal
#ladiesofhive and #amazingnature but also
Co founder for @theterminal, @heyhaveyamet @rc-assist and @steem-aide
(c)
All images and photographs are created and owned by me so @brittandjosie originals otherwise it will be specified.
Sources used : It is mentioned in my blog.
When the source is missing, please tell me I am only human and don't want to do anything wrong or even plagiarise. I do make mistakes. I only use a canon camera and my iPhone 13 pro max for my images.
I would like to thank you for reading my blog, feel free to leave me any feedback, if not, read you next time. #BENICE

Your personal Discord terminal invite : https://discord.gg/XZGPGpz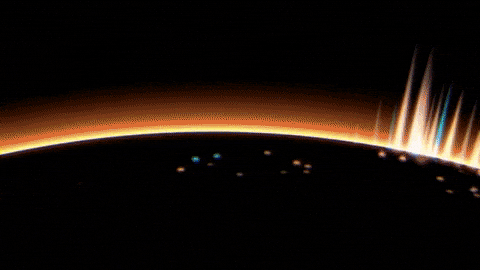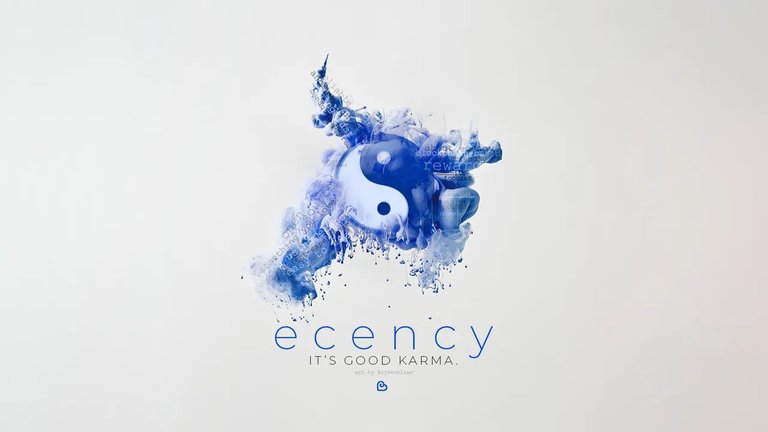 Date : 23 November 2022