Hola a toda la comunidad, espero estén bien.
Hoy les traigo una deliciosa receta y sobre todo muy fácil y lo mejor con pocos ingredientes, ideal para prepararla en casa.
Me encanta mucho preparar dulces y aprender cada día más.
LAS RECETAS LAS HAGO A MANO YA QUE NO TENGO BATIDORA, USTEDES PUEDEN USARLA O COMO QUIERAN, IGUAL QUEDARA DELICIOSA.
CHOCOFLAN O TORTA IMPOSIBLE, Es una combinación perfecta la torta y el flan juntos.
Hello to the whole community, I hope you are well.
Today I bring you a delicious recipe and above all very easy and the best with few ingredients, ideal to prepare at home.
I love preparing sweets and learning more every day.
THE RECIPES I MAKE THEM BY HAND SINCE I DO NOT HAVE A BLENDER, YOU CAN USE IT OR AS YOU WANT, IT WILL STILL BE DELICIOUS.
CHOCOFLAN OR CAKE IMPOSSIBLE, It is a perfect combination of cake and flan together.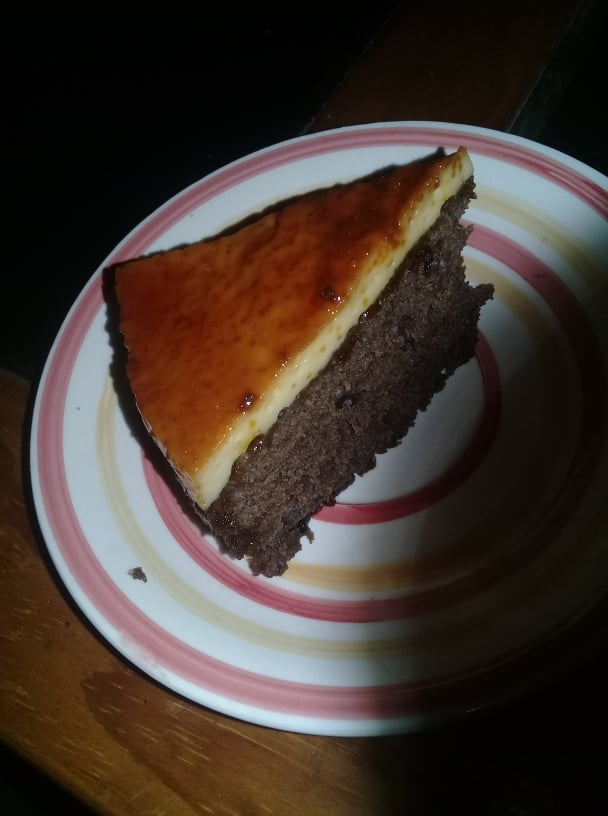 INGREDIENTES:
Para la Torta de chocolate
●2 huevos
●Media taza de azúcar
●Media taza de aceite
●1 taza de leche
● Una taza y media de harina
●1 cucharadita de polvo de hornear
●3 cucharadas de cacao
●Vainilla
INGREDIENTS:
For the chocolate cake
● 2 eggs
● Half a cup of sugar
● Half a cup of oil
● 1 cup of milk
● One and a half cups of flour
● 1 teaspoon of baking powder
● 3 tablespoons cocoa
● Vanilla

PARA EL QUESILLO
●50 gramos de leche el polvo o 5 cucharadas
●100 gramos de azúcar o media taza
●100 mililitros de agua o 100 gramos o media taza de agua.
●1 cucharada de vainilla
●3 huevos
FOR THE QUESILLO
● 50 grams of powdered milk or 5 tablespoons
● 100 grams of sugar or half a cup
● 100 milliliters of water or 100 grams or half a cup of water.
● 1 tablespoon vanilla
● 3 eggs

PARA EL CARAMELO
●5 cucharadas de azúcar o 50 gramos
●4 cucharadas de agua
FOR THE CANDY
● 5 tablespoons of sugar or 50 grams
● 4 tablespoons of water

PREPARACIÓN
1- Batir los huevos durante 1 minuto
PREPARATION
1- Beat the eggs for 1 minute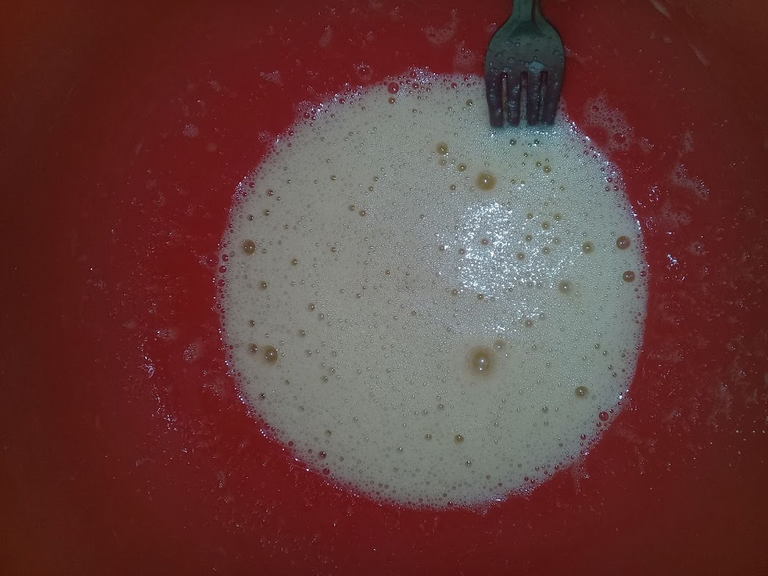 2- Agregar el azúcar y seguir batiendo.
2- Add the sugar and continue beating.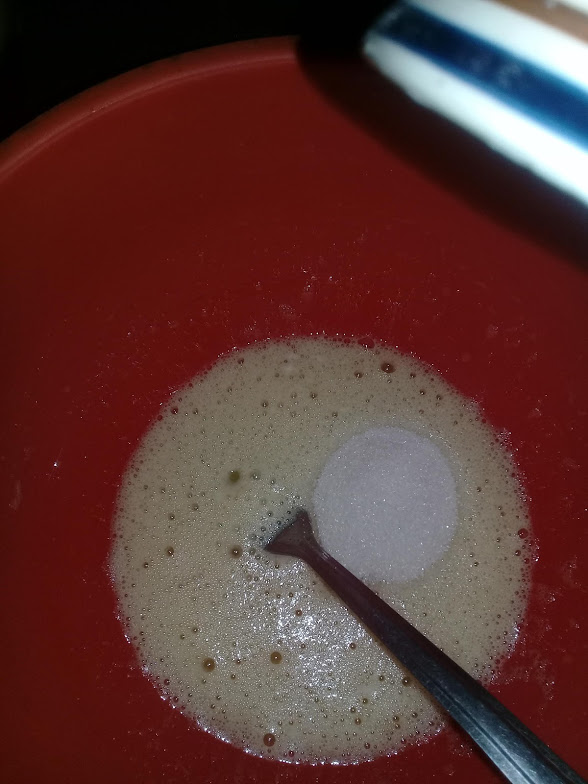 3- Agregar el aceite y seguir batiendo.
3- Add the oil and continue beating.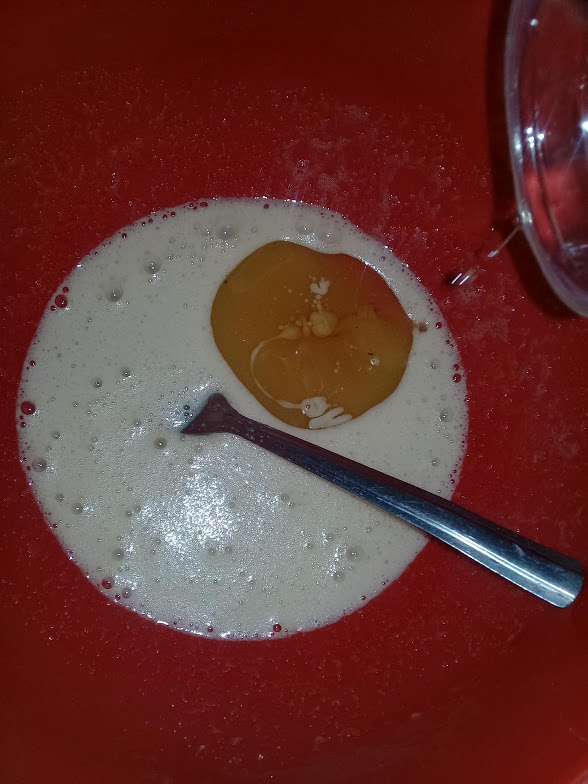 4- Agregar la harina, el cacao la sal y el polvo de hornear previamente tamizado.
4- Add the flour, the cocoa, the salt and the previously sifted baking powder.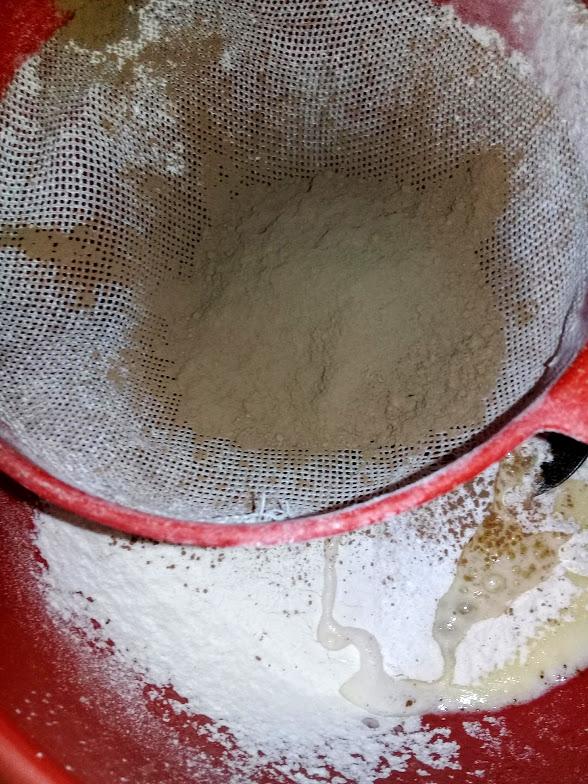 5- Agregamos la leche y vamos mezclando, por ultimo agregamos la vainilla.
5- Add the milk and mix, finally add the vanilla.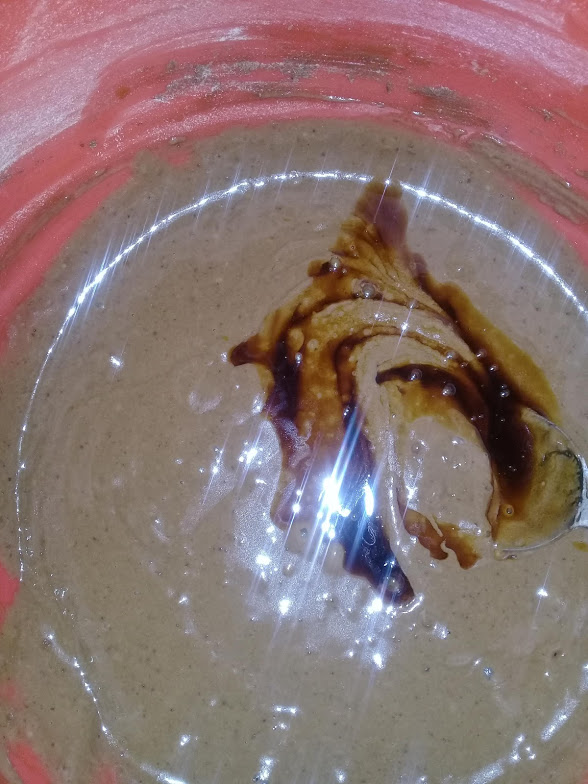 PARA EL QUESILLO O FLAN
Hacemos el caramelo hasta que dore un poco, luego lo agregamos en los moldes, antes de que se enfrié.
FOR THE QUESILLO OR FLAN
We make the caramel until it is golden brown, then we add it to the molds, before it cools down.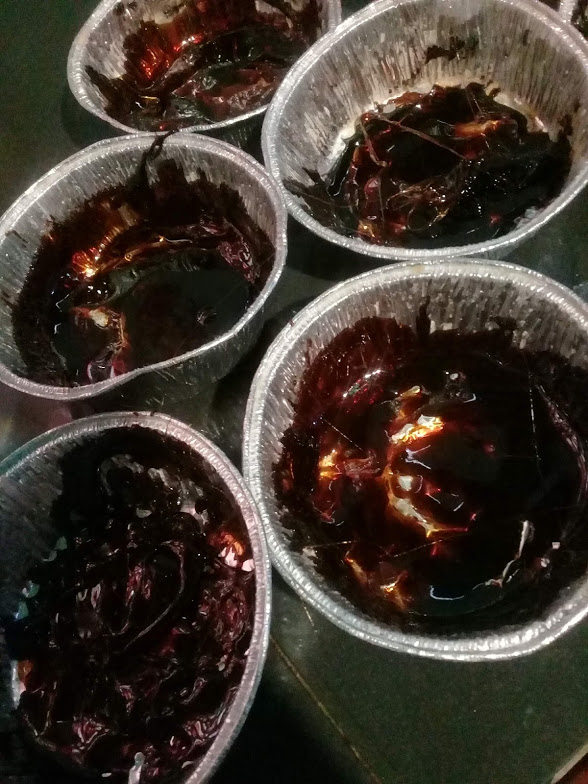 En la licuadora vamos a mezclar, el agua, los huevos, la azucar, la leche y la vainilla, batimos hasta integrar.
In the blender we are going to mix the water, the eggs, the sugar, the milk and the vanilla, beat until integrated.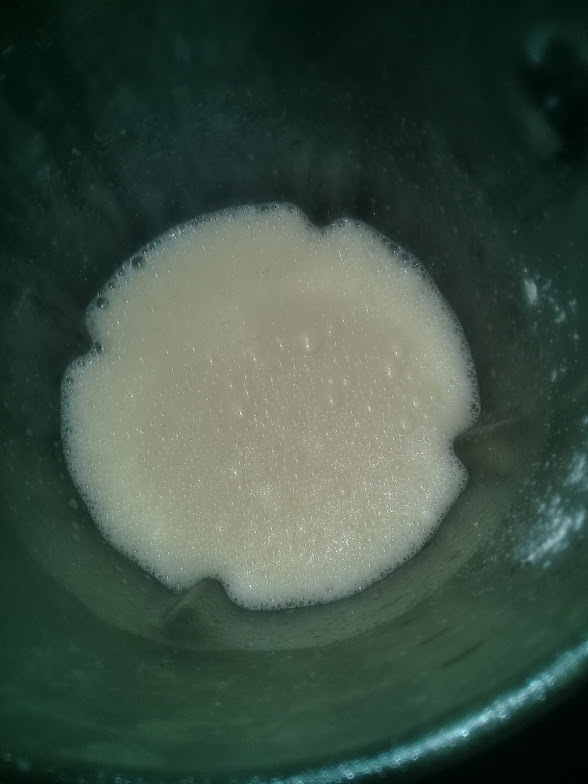 Primero vamos agregar en los moldes la mezcla de la torta hasta la mitad.
First we are going to add the cake mixture to the middle in the molds.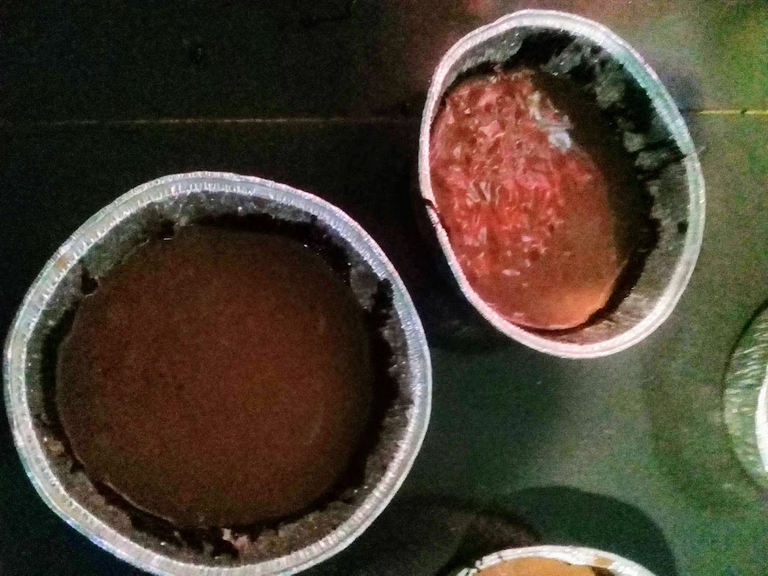 Luego vamos agregar el flan en una cuchara y va a ir cayendo tipo cascada, eso es para que no caiga directamente en la mezcla de la torta.
Then we are going to add the flan in a spoon and it will fall like a waterfall, that is so that it does not fall directly into the cake mixture.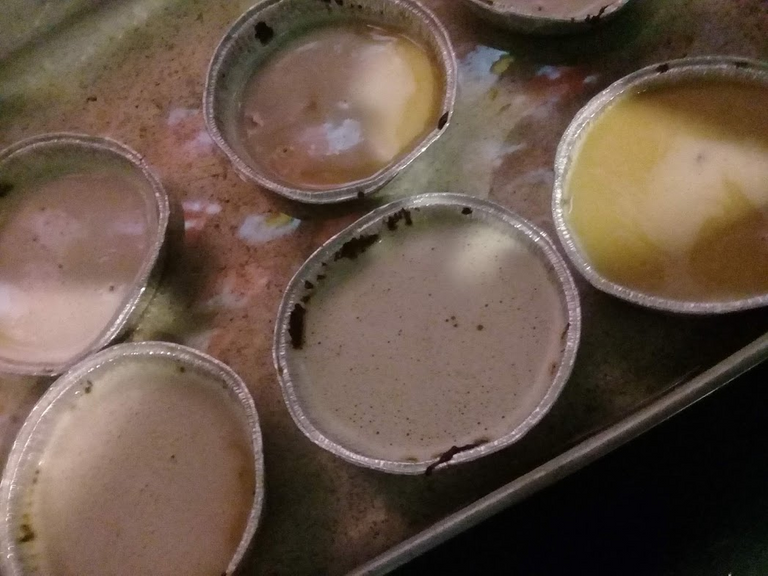 Precalentamos el horno a fuego medio, lo llevamos al horno a baño de maría, en una bandeja con agua a la mitad de los moldes, cuidadosamente para que no le entre agua.
We preheat the oven to medium heat, we take it to the oven in a bain-marie, in a tray with water in the middle of the molds, carefully so that no water enters it.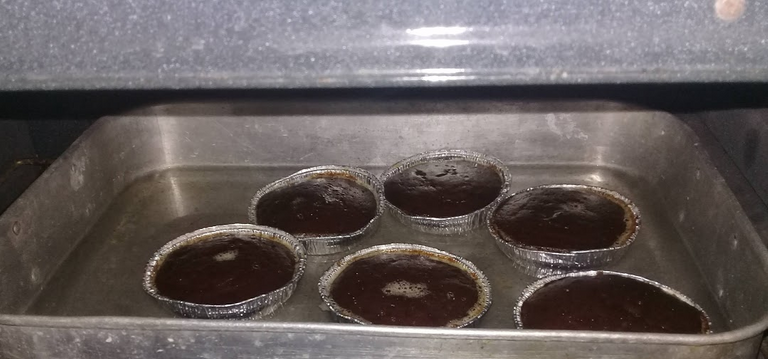 Duraron aproximadamente 1 hora y 20 minutos, estos varia dependiendo el horno.
Este es el resultado
They lasted approximately 1 hour and 20 minutes, these vary depending on the oven.
This is the result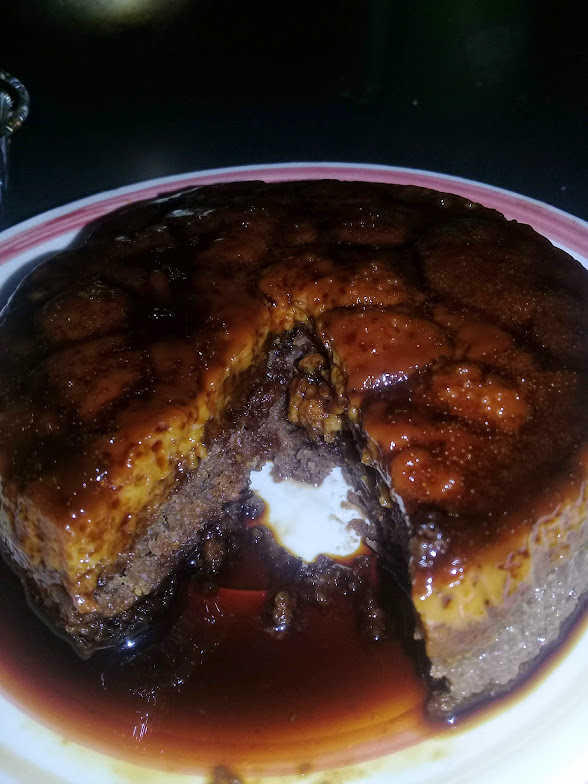 Quedaron deliciosas y super húmedas. El caramelo quedo un poco oscuro, les recomiendo dejarlo un tono mas claro.
They were delicious and super moist. The caramel was a bit dark, I recommend leaving it a lighter tone.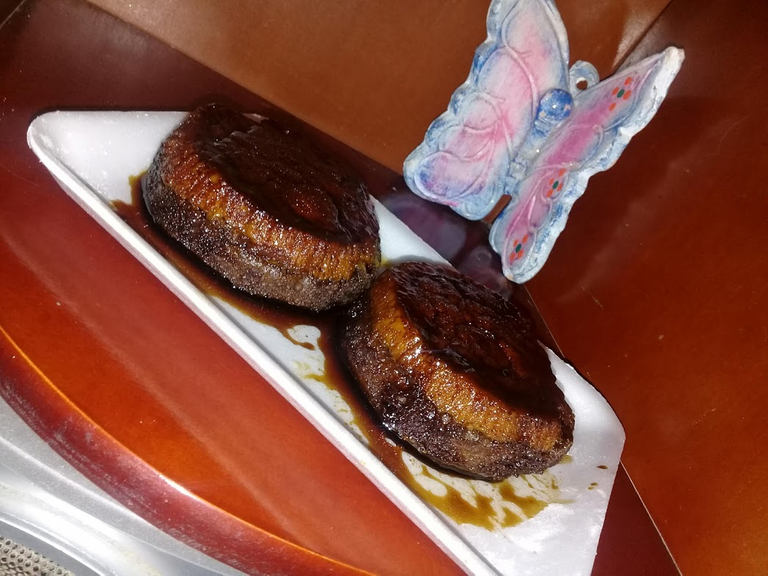 Me encanto mucho el resultado de mi CHOCOFLAN
Espero les haya gustado y puedan realizarla, cualquier duda me preguntar en los comentarios. ¡Saludos!
(Todas las fotos me pertenecen, son tomadas por mi desde mi teléfono Samsung J2 Prime)
I really loved the result of my CHOCOFLAN
I hope you liked it and can do it, ask me any questions in the comments. Cheers!
(All photos belong to me, they are taken by me from my Samsung J2 Prime phone)