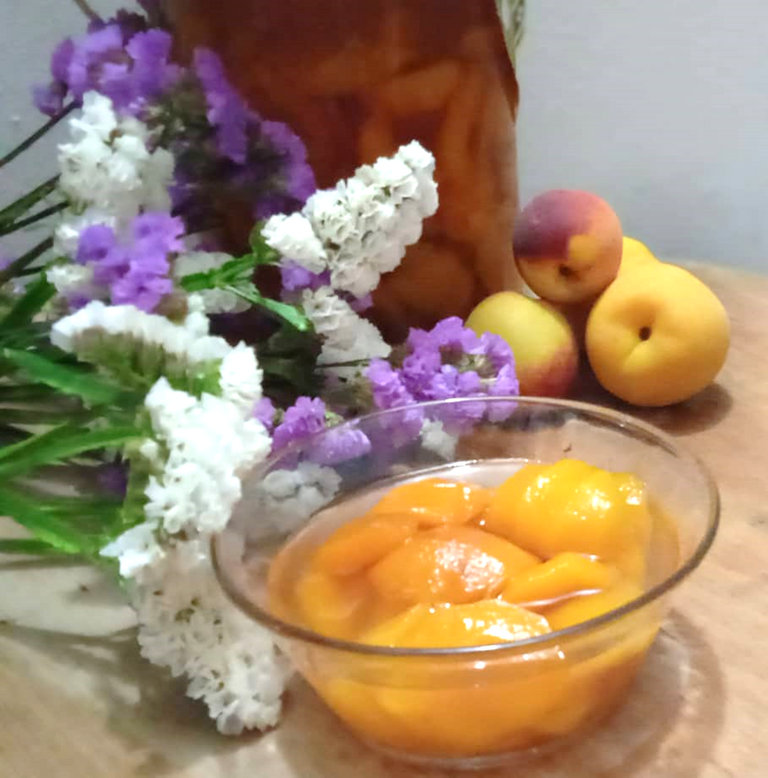 Sharing good news 🙌 Compartiendo buenas noticias

     Today is a nice day and I am charged with a lot of energy to work, I think this past week I recharged myself with good things or maybe I moved my energies practicing different things, going out of my comfort zone. All this is good, because beautiful things start to happen in your life and I want to share this with you today.
Hoy hace un lindo día y estoy cargada de mucha energía para trabajar, creo que esta semana pasada me recargué de cosas buenas o tal vez moví mis energias practicando cosas distintas, saliendo de mi zona de confort. Todo esto es bueno, porque empiezan a suceder en tu vida cosas lindas y eso lo quiero compartir hoy con ustedes.
---
~Now I am a beautiful Dolphin 🐬 Ahora soy una hermosa Delfín~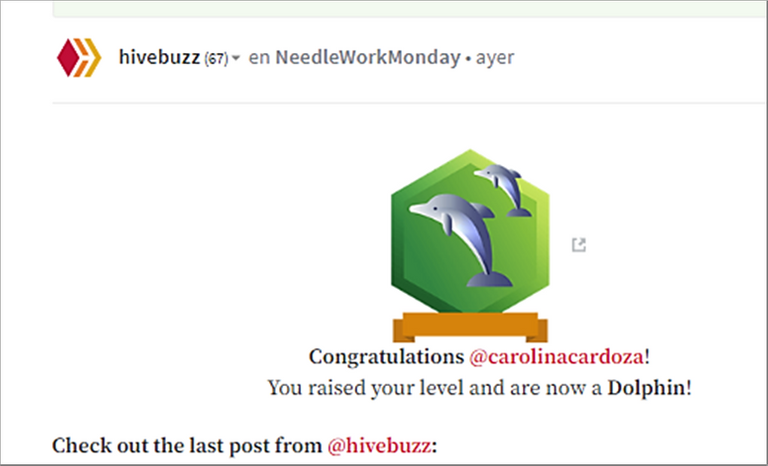 8 days ago I am a Dolphin, I am still surprised with the news, I really didn't expect it, I think I had concentrated so much on working that I forget things like this. I still do not know what it means or what all this entails, but what I can tell you is that it is a very big commitment and now I have to give the best of me every day to be at the level that the platform assigns me today.
Hace 8 días soy un Delfín, aún estoy sorprendida con la noticia, en verdad no me lo esperaba, creo que me había concentrado tanto en trabajar que se me olvidan cosas como estas. Aun no sé qué significa o a que conlleva todo esto, pero lo que si les puedo decir es que es un compromiso muy grande y ahora tengo que dar lo mejor de mi cada día para estar al nivel que la plataforma hoy me asigna.
---
Let's sweeten our life 😋 Vamos a endulzar nuestra vida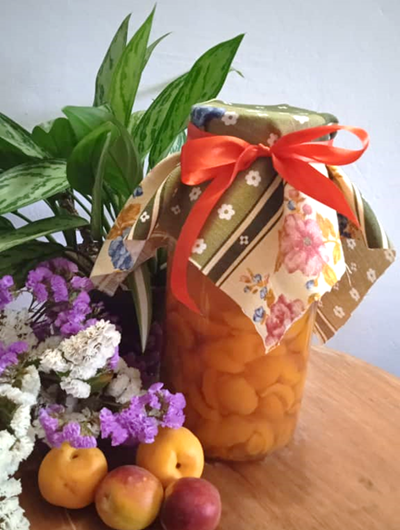 I know that part of this mention or recognition I owe to all those who follow me and support me really are the best of friends, so to celebrate our effort today I will sweeten your life or rather I'm going to cloy them with lots of LOVE and peaches.
Sé que parte de esta mención o reconocimiento se lo debo a todos los que me siguen y me apoyan en verdad son los mejores de los amigos, por eso para celebrar nuestro esfuerzo hoy les voy a endulzar la vida o más bien se las voy a empalagar con mucho AMOR y duraznos.
~My trip to Colonia Tovar ~ Mi viaje a la Colonia Tovar~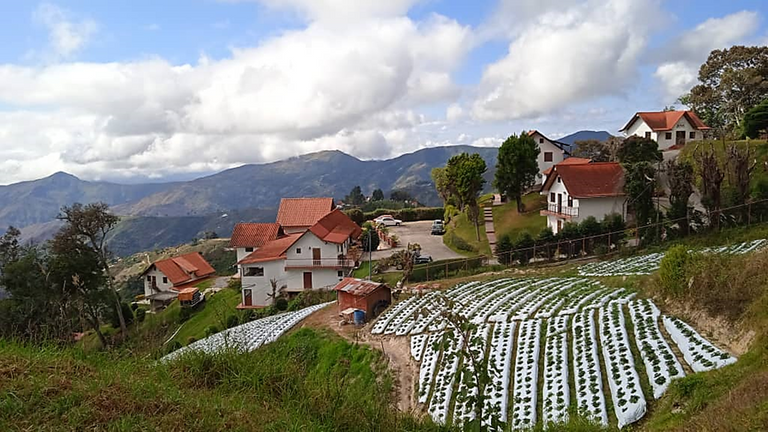 Cultivo de fresas
     Another good thing that happened to me this week was my trip to Colonia Tovar, here I enjoyed a lot with my family; although it is a long trip (3 hours) I am very happy and happy to have done it. As usual we always go to the beach during carnival time, but this time we did something different.
Otra de las cosas buenas que me sucedieron en esta semana fue mi viaje a la Colonia Tovar, aquí disfruté mucho junto a mi familia; aunque es un viaje muy largo (3 horas) estoy sumamente feliz y dichosa de haberlo hecho. Por costumbre siempre en las fechas e carnaval nos vamos a la playa, pero esta vez hicimos algo distinto.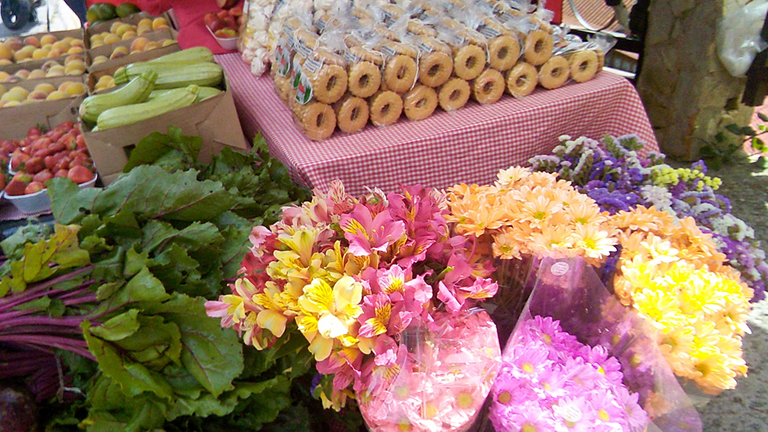 street sales in the town market/ventas ambulantes en el mercado del pueblo
     Here I was able to buy many fruits, flowers and vegetables that are grown on the hillsides and mountains of the colony. In these lands many unique crops are produced thanks to its special climate, for example the flavor of the peaches or the taste, size and color of the avocados are to die for.
En este lugar pude comprar muchas frutas, flores y vegetales que son cultivados en las laderas y montañas de la colonia. En estas tierras se producen muchos cultivos únicos gracias a su clima tan especial, por ejemplo el sabor de los duraznos o el sabor, tamaño y color de los aguacates son para morirse.
     The good treatment of the settlers has no comparison, also in the colony everything is very well organized, clean, identified and what I also liked were the prices to buy the products; really I can only say: "Thank you Colonia Tovar".
El buen trato de los colonos no tiene comparación, además en la colonia todo está muy bien organizado, limpio, identificado y lo que también me gustó fueron los precios para poder adquirir los productos; en verdad que solo puedo decir: "Gracias Colonia Tovar".
Peaches in syrup 🍑 Duraznos en almíbar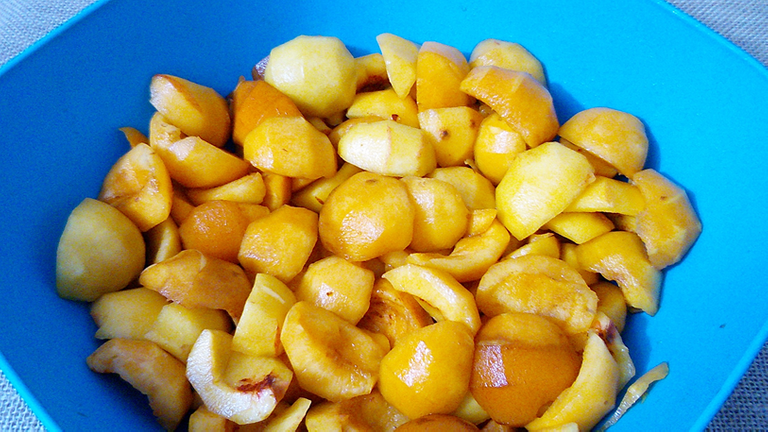 Here we went crazy buying peaches and peaches, plus my friend Belkis and my niece Emily gave me a package too, so I had peaches to give to everyone in Guatire. Thank God we ate and I kept a package to make some peaches in syrup as my sister Gloria used to make them.
Aquí nos volvimos locos comprando duraznos y melocotones, además mi amiga Belkis y mi sobrina Emily me regalaron un paquete también, así que tenía duraznos para regalar a todos en Guatire. Gracias a Dios comimos y me guardé un paquete para hacer unos duraznos en almíbar como los hacia mi hermana Gloria.
     With these peaches I want to make a cake or something special for my family later. To make this recipe you only have to do two very easy steps that I am going to tell you below.
Con estos duraznos quiero elaborar más tarde una torta o algo especial para mi familia. Para realizar esta receta solo debes realizar dos pasos muy fáciles que te voy a decir a continuación.
Ingredientes:
3 kilos of peaches -3 kilos de duraznos
1 1/2 liter of water -1 1/2 litro de agua
750 grams of sugar -750 gr de azúcar
Hands to the pots 🍑 Manos a las ollas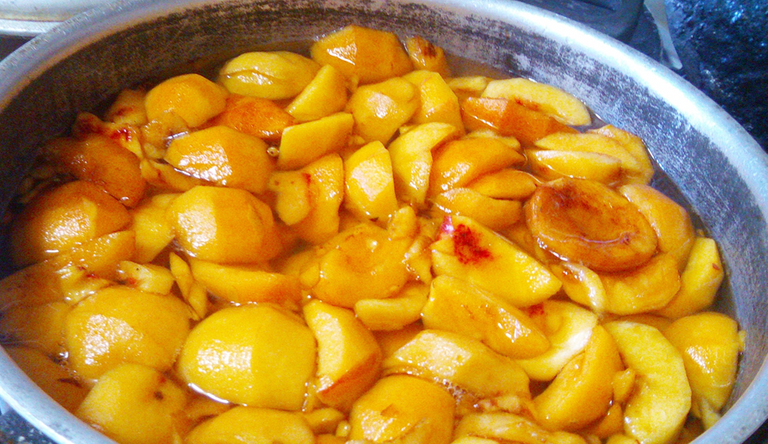 The first thing we must do is peel all the peaches very carefully, then you separate it from the seed and that's it.
Then you boil a liter and a half of water with 750 grams of sugar for 10 minutes, then add the peach and let it cook for about 20 minutes.
Lo primero que debemos hacer es pelar todos los duraznos con mucho cuidado, luego lo separas de la semilla y listo.
Luego pones a hervir un litro y medio de agua junto con 750 gris de azúcar durante 10 minutos, posteriormente agregamos el durazno y dejamos cocinar durante unos 20 minutos aproximadamente.
If you want to keep them I invite you to boil some jars and let them dry, then pack them and keep them in the refrigerator.
Si los quieres conservar te invito a hervir unos frascos y déjalos secar, luego envasas y conservas en la nevera.

     I hope you liked my recipe today and the good news I shared, I also hope that soon all of us in the community of Venezuela will be dolphins and much more, only success and more success I wish for everyone in this 2021. I say see you all later, take care of yourselves and remember....
Put flavor to life 💞
---
Espero que les haya gustado mi receta de hoy y las buenas nuevas que compartí, también espero que pronto todos en la comunidad de Venezuela seamos unos delfines y mucho más, solo éxito y más éxito deseo para todos en este 2021. Les digo hasta luego, cuídense mucho y recuerden...
💞 Pónganle sabor a la vida.
---
---

Imagen tomada de la comunidad #Foodiesbeehive y editada en powerpoint
Imágenes del post tomadas con mi cámara celular Kronos-net/https://www.deepl.com/translator