Dal, Baati Churma is a very popular meal in India, specially in the western states like Rajasthan, Madhya Pradesh and Gujrat. It is a very simple yet delicious meal and gives a lot of satisfaction.
In Mewar where I live in most of the household, it is must-have as a Sunday lunch. On the occasion of marriage, it is also prepared as lunch and also called Kachchi rasoi
---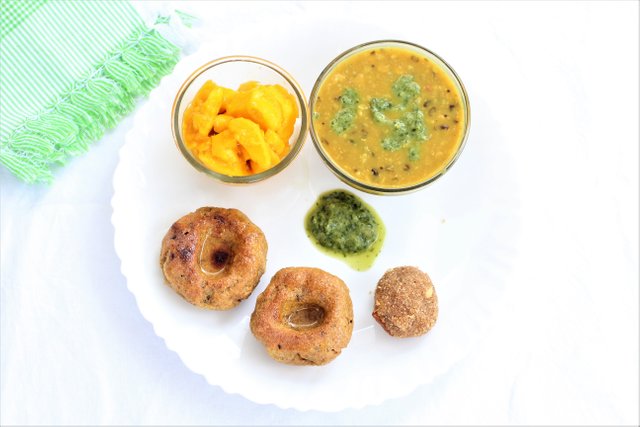 Dal, Bati, Churma... A satisfying Sunday Lunch
---
Dal - It is a combination of mix lentils. Boiled and saute with spices.
Baati - It is a wheat dumpling. First boiled in water for 15 minutes then baked in the oven. It is served with a lot of Ghee but here I used sesame oil or can be enjoyed without it. When it is boiled and then baked it is also known as Bafla. If made without boiling it is called Baati.
Churma - It is made by crushing Baati and sugar powder added to make it sweet. Traditionally a lot of animal fat like ghee is added but here I used sesame oil to make it vegan. Dry fruits and cardamom powder also added to make it richer.
---
Chatni (freshly made coriander sauce is also served to make Dal tastier.
Since it is a mango season so without mango the meal is incomplete.
---
All served in vegan crockery
---
What is the favourite meal of your area?
---

---