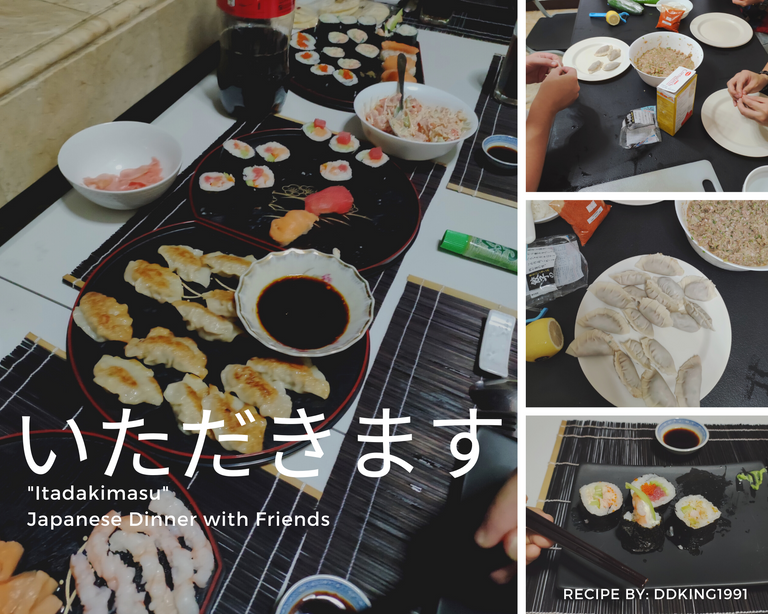 Hosted another dinner at my house for my friends but this time everyone wanted to help in preparing. I thought it would be nice if we do Japanese food. On my list are Gyoza, Sashimi and Sushi.
Check out the posters for ingredients and procedure.
---
GYOZA
---
Gyoza is one of my favorite dumplings. If I dine in a Japanese restaurant and they have gyoza on the menu it is my go-to appetizer. So I thought, why not make it myself so I can have gyoza at home whenever I crave for it. I did a 5-day Japanese cooking course in one of the local culinary schools a few years back and here I learned how to make gyoza. Looking for the recipe was a bigger challenge than making the dish. 😆 You can play around with the filling, but I kept it pretty traditional with the recipe I used.
Important thing is to fry one side and then sort of steam it by adding a little water to the pan and when plated, put fried side up.
For the dipping sauce, we put soy sauce, rice vinegar, japanese chili oil and a little extra sesame oil.
Fun fact, you can prep a bunch of them and just freeze them for another day.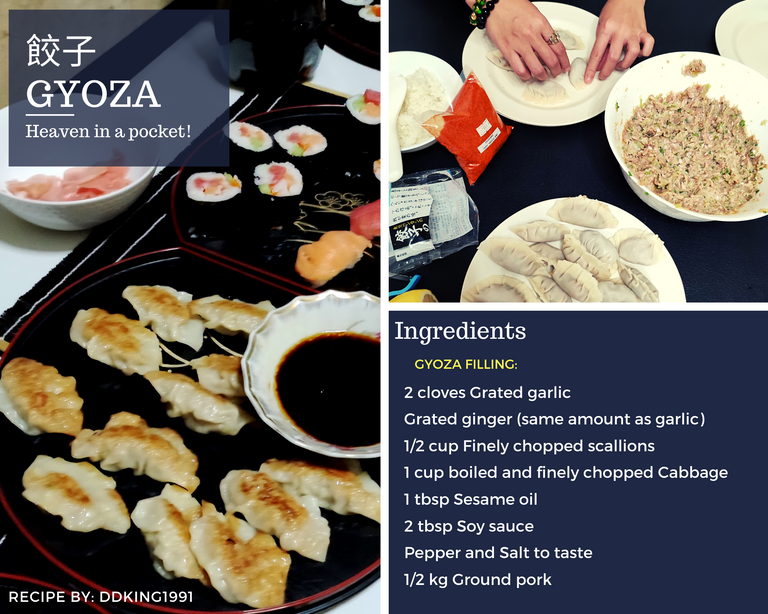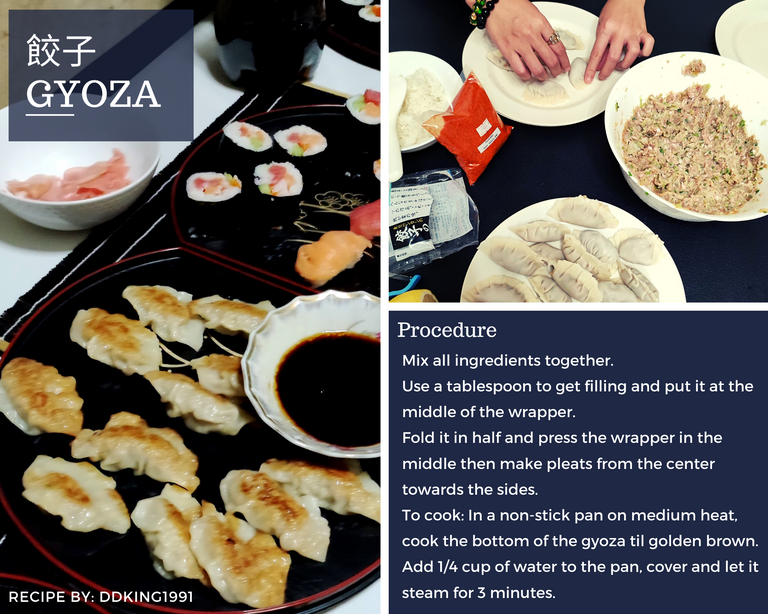 ---
SUSHI
---
About sushi , let's say I gave it a shot and I was happy with it. (Disclaimer: I am not a sushi chef, and lack the 10+ years of practice) Again quality of the ingredients is important. We used japanese rice which is a must, another shoutout to our local Japanese shop for having all these things available. Then with the fillings you can get creative. We tried a few things, but the sky is the limit.😆 Making the maki rolls will require some practice, but once you get the hang of it you roll roll roll roll away!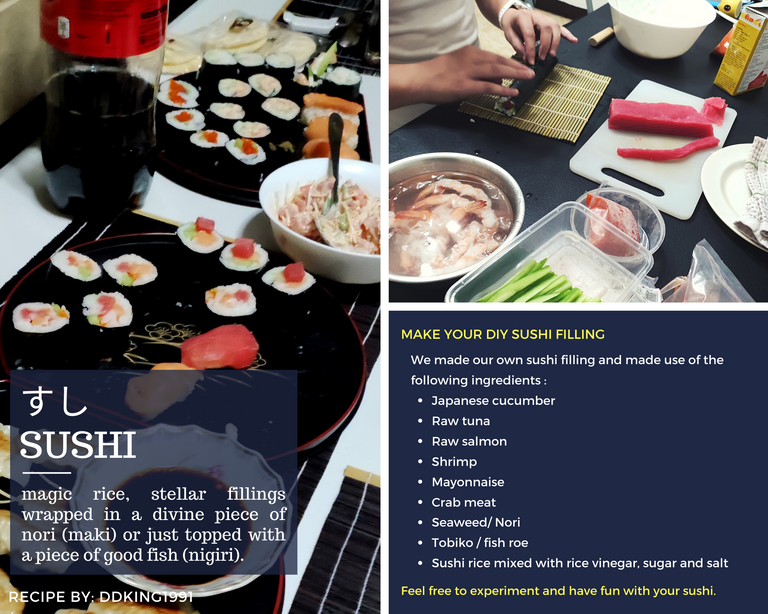 ---
SASHIMI
---
If it comes to sashimi it all boils down to the quality of your fish. We used the local japanese store that had sushi grade tuna and salmon available. As you can see I still need to practice how to slice a nice piece of sashimi, but at least the taste was good😅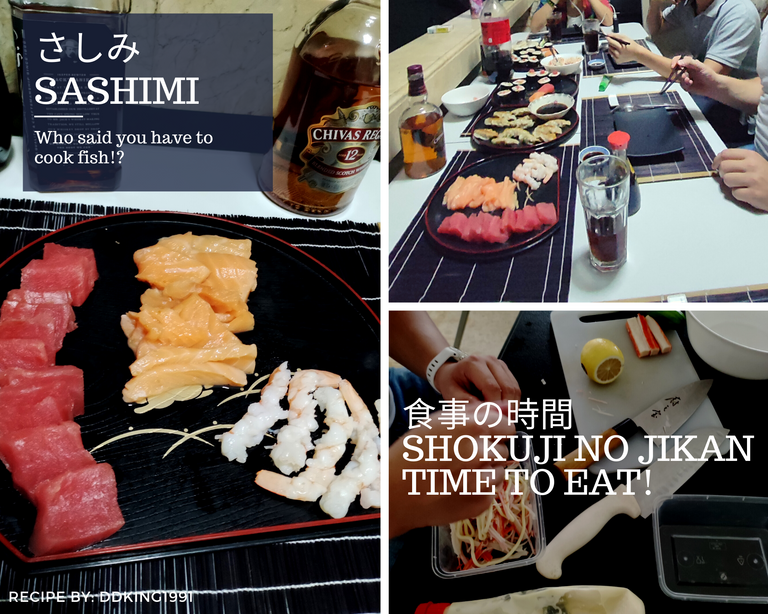 Another set of dishes that is simple to prepare for a small dinner party with your friends. I think they had fun making it even if I can see them struggling in the kitchen. 🤣 Highly recommend you to do it as a different kind of bonding with your friends.
---
Let me know what you think or what would you do different?
I would love to see pictures if you try it out yourself or tag me if you make a blog.
Always open to suggestions. Thank you!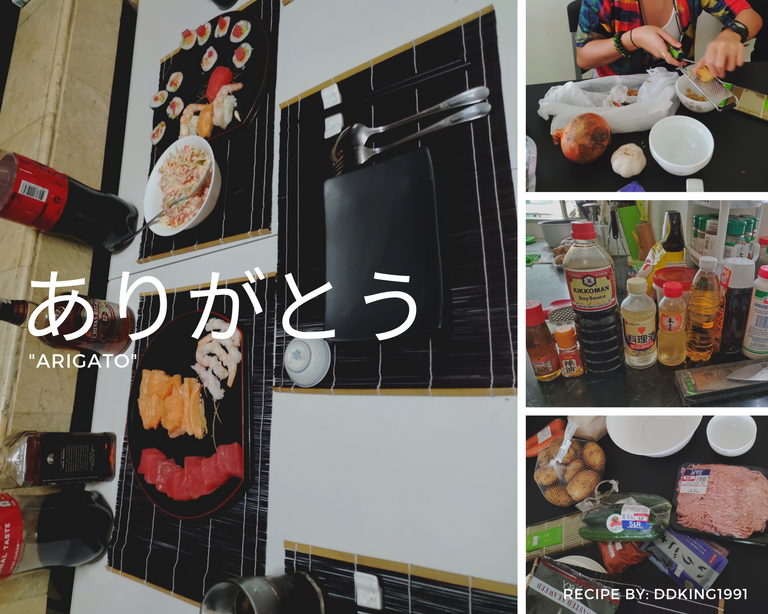 Follow for more recipes for your tastebuds!
Bon Appétit!
---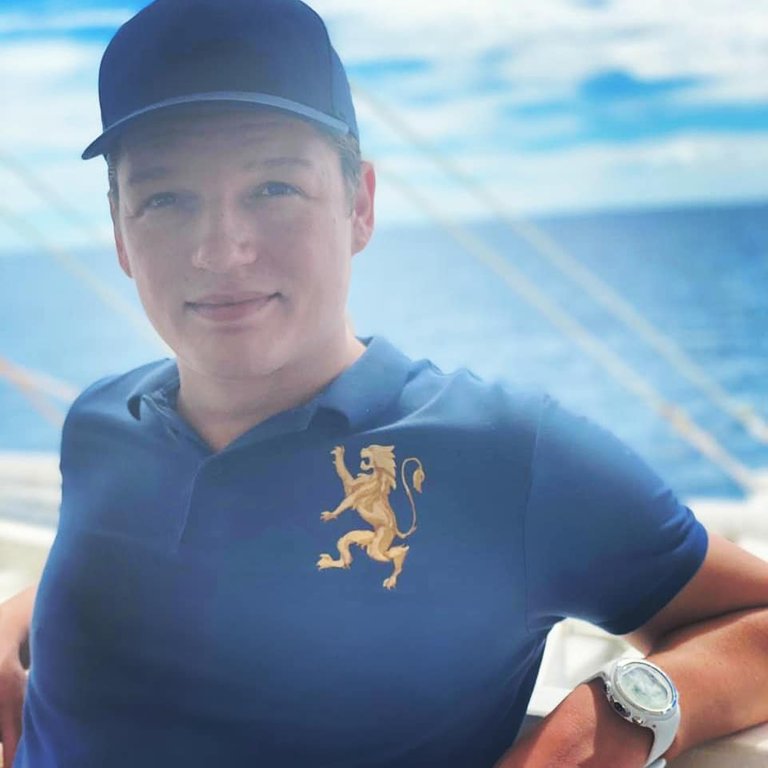 Diedrick
Hi, I am Diederick, but you can call me "D". My passion is eating, that is why I like exploring and cooking food!
If you like my content and the recipes that I make, I would appreciate your upvotes, suggestions and follow. Thank you for the support!