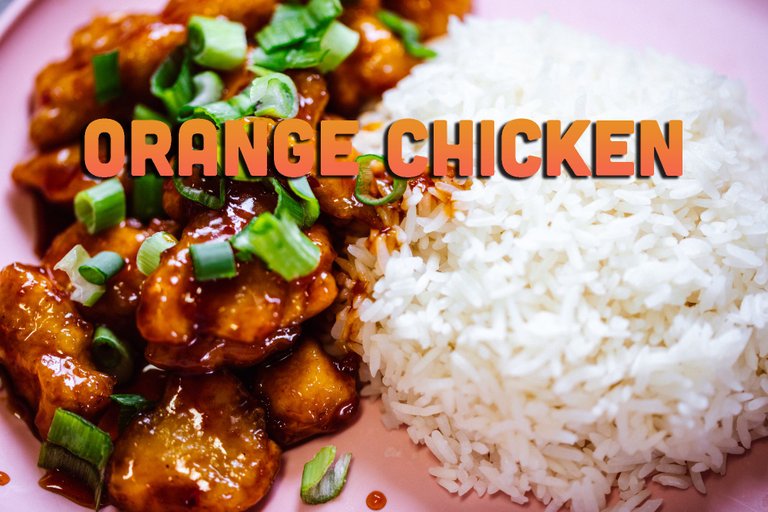 Photo by me
It was pretty dope

I have been doing Hello Fresh for a few weeks now and some of the recipes I get are amazing. There was a meatball one that was so delicious, so when I got this recipe for orange chicken I was super excited because I love orange chicken and have wanted to make it from scratch for a while.
Ingredients
Rice
Chicken
Orange
Green Onions
Sweet Soy Sauce
Tempura Mix
Sweet Thai Chili Sauce
Rice Wine Vinegar
Apricot Jelly
Chicken Stock Concentrate
Cornstarch
Cook your rice. I cooked about 2 cups of rice in my rice cooker and it was a perfect amount. The original recipe called for 3/4 cup of rice, but in America we eat more than we should, so I made more rice. The recipe is for two servings.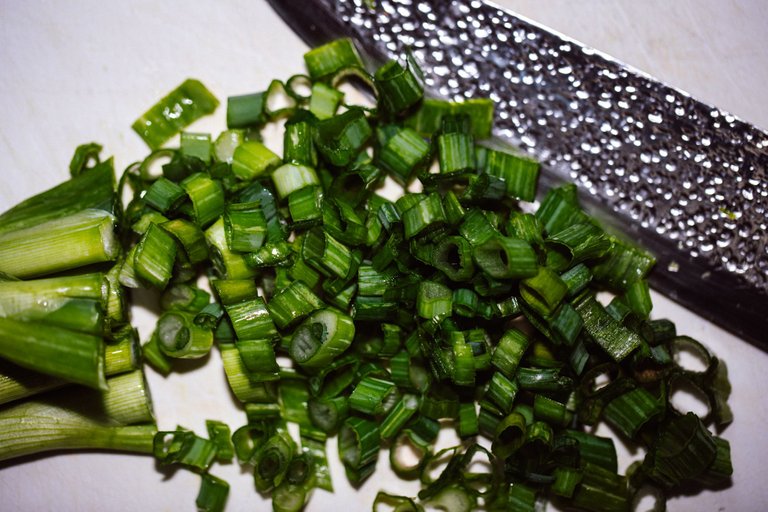 Photo by me
Wash your produce and chop up the green onions. I like a lot of green onions so I cut up quite a bit.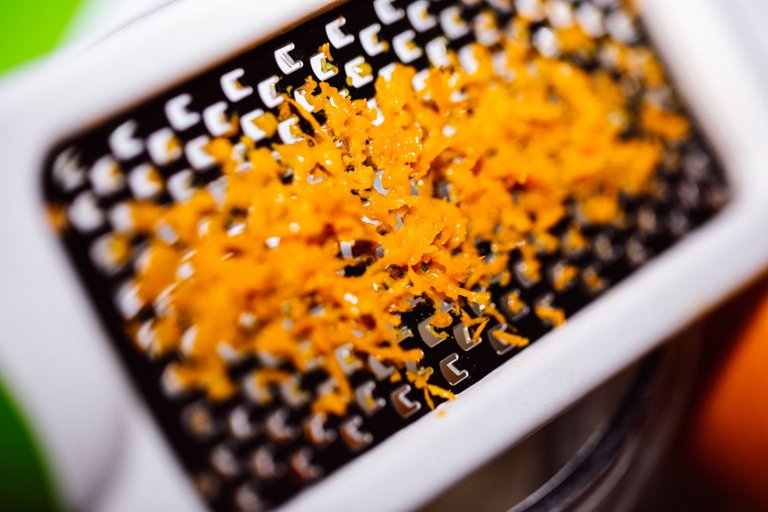 Photo by me
Zest the orange. I never knew how important zesting some of the citrus fruits was until I started making my own lemon meringue pies and the lemon zest added so much more flavor.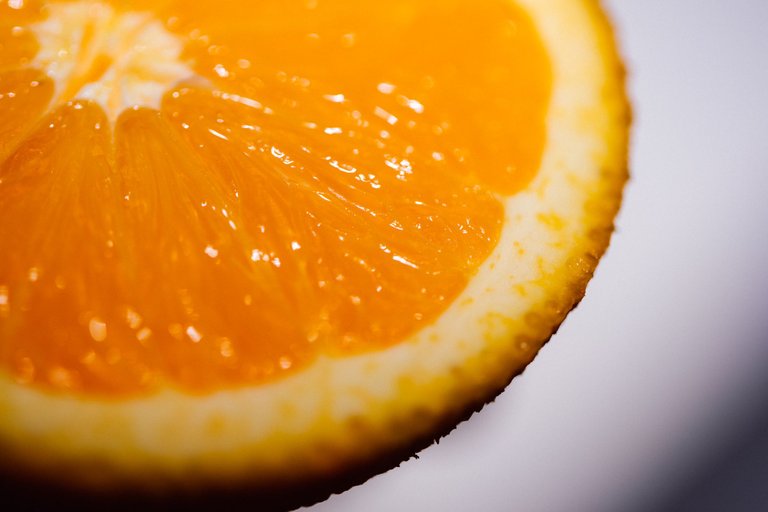 Photo by me
After you zest the orange, cut in half and then juice it. Then throw the orange zest in with the juice. Now add some vinegar (probably like 1 tbsp), 1 tbsp of water, cornstarch, apricot jelly, Thai chili sauce, some sugar, soy sauce and the chicken concentrate. Mix all of it together and then dump it in a small pan and cook it over high heat until it starts bubbling and thickens up. Then remove it from the heat and set it aside for later.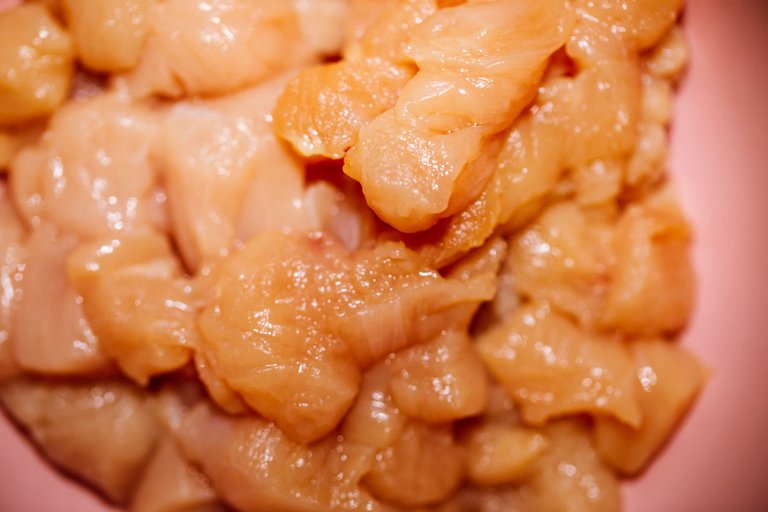 Photo by me
Cut the chicken up into small pieces and set it aside while you mix up the tempura and water.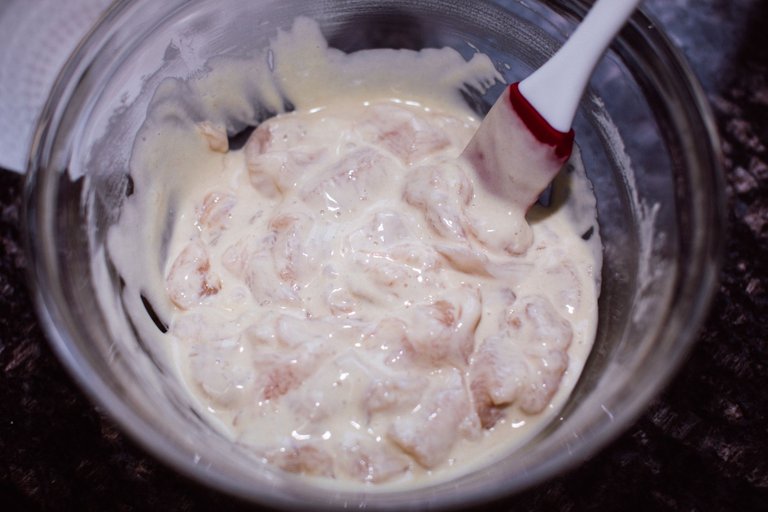 Photo by me
Heat up some oil in a pan. Dump the chicken into the tempura mix and stir it up all so get the chicken pieces covered with the mixture.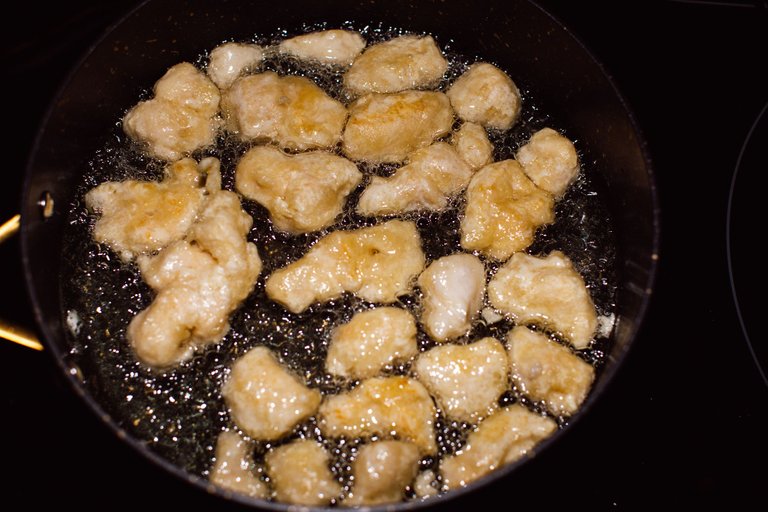 Photo by me
Then use the thongs and move the chicken piece by piece over into the oil. If you don't use the thongs and move them individually, you will just have a clumpy mess of chicken that wont cook correctly.
Cook the chicken for a couple minutes on each side and then flip them over. You could use a lot of oil to cook the chicken without flipping, but I didn't feel like wasting a lot of oil doing it that way. Plus my thong flip game is strong.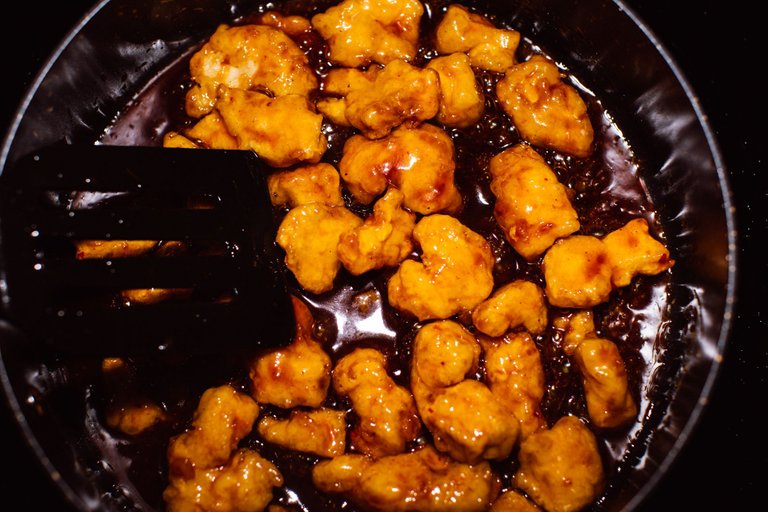 Photo by me
While the chicken is frying, warm up the orange mixture again. When the chicken is done, remove it from the oil and set it on a plate with paper towels to drain the oil.
Then dump the chicken into a pan over medium heat and add the orange chicken sauce. Wang jangle it all together to coat the chicken with the orangey goodness.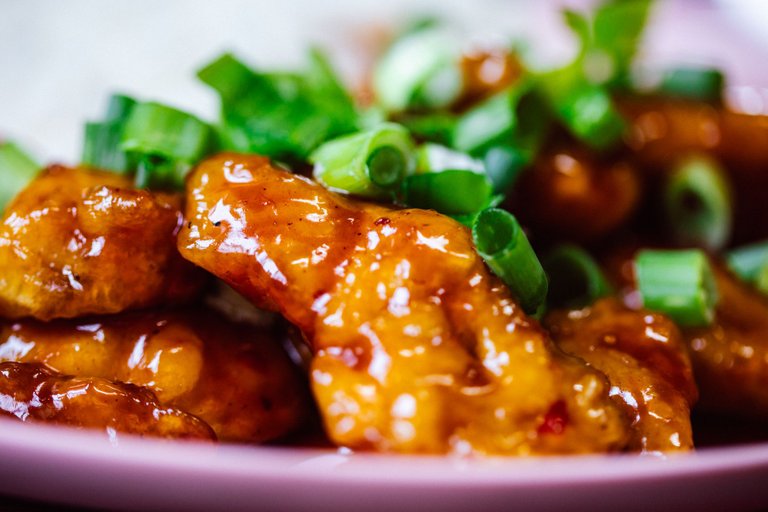 Photo by me
After you have sufficiently wang jangled the chicken, dump some rice on your plate and top it with the orange chicken. Add green onions to enhance the flavoring and enjoy.
I really liked this recipe from Hello Fresh and I am going to be making this more often. Right now I get three new recipes from them each week and have been collecting the recipes and will be cancelling my account with them soon. The recipes are really good, but it is pretty expensive. They do send you all the ingredients you need to make the recipes though, so it makes cooking awesome food super simple.
I really like this recipe for it because it has a strong orange flavor and doesn't taste too sugary and sweet. I think next time I make it, I will be frying the chicken a bit longer to give them more of a crunch. Have you made orange chicken before? Let me know what you do differently when you make it. I could always use some pointers to make my food taste a bit better.