Sunday usually is the day when people have time to cook, or others go to the restaurant to have lunch. I' not much a restaurant goer, as I like to know what I'm eating, so I cook for myself and my family and eat only out occasionally.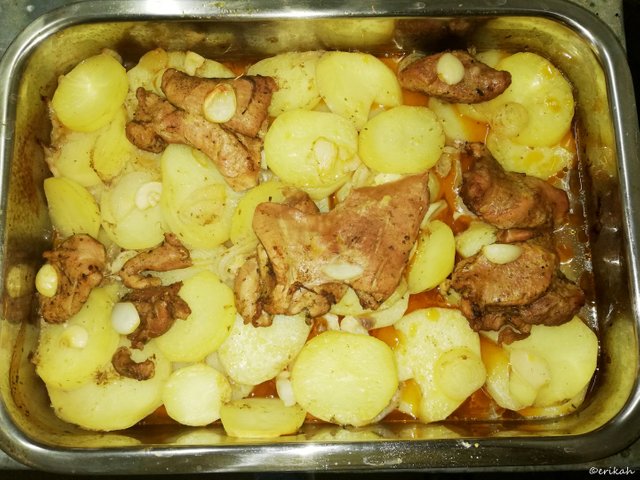 Chicken is my favorite but I like the other type of meats too. We got some turkey from the neighbor who has a few and today was the day to have turkey for lunch. I'd like to share the recipe as it's a healthy one.
Ingredients
1 or 2 turkey legs,
3 medium onions,
4 - 5 potatoes,
salt,
pepper,
garlic,
extra virgin olive oil,
other spices.
Marinating
Cut out the bone, slice the meat if it's needed. Add salt, pepper and any other spice you like. You can use marjoram, basil, even sage if you like. The other option is to use a mix you buy from the store but I prefer my own. Marinate the meat an store in the fridge between 1 and 12 hours, or a day, as you like.
Method
Add a one tablespoon of olive oil to the baking sheet, add the sliced onions, sliced potatoes. Add salt, then the meat. Pour the oil that's left from marination, add the sliced garlic, a little water and cover with a lid.
Cook till the meat is tender. Take off the lid and cook for another 10 - 15 minutes till the meat turns golden brown.
Suggestions
You can use almost any type of meat, doesn't have to be turkey. The only thing that changes is the cooking time as each meat time has its own cooking time. You can add other vegetables to the mix, like carrots, green beans.
---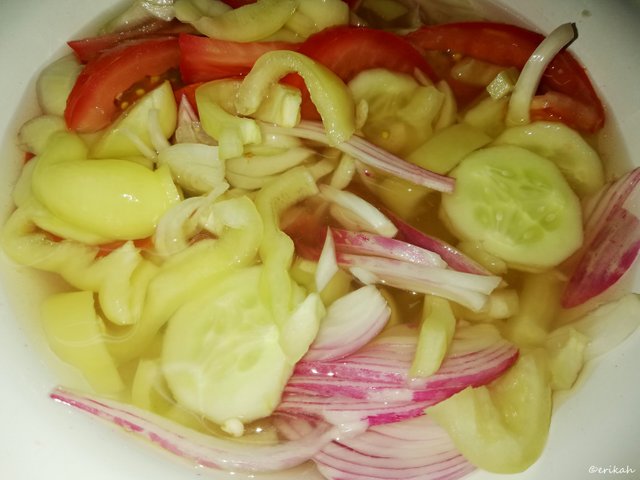 Fresh Vegetable Salad
This is the easiest and healthiest salad in the world. Basically you can use any type of vegetables. Tomato, cucumber, bell pepper, onion, cabbage, lettuce, olive, capers, arugula etc,
Put the chopped ingredients in a bowl and make the juice. This can be of many types, I'm giving you two recipes.
Vinegar salad juice
water,
salt,
sugar,
pepper (optional).
Add this juice to the salad and keep in fridge for 30 minutes before serving.
Oil salad juice
salt
pepper (optional),
vinegar,
extra virgin olive oil.
Add salt, pepper (optional), to the vegetables, vinegar if you like and extra virgin olive oil. Mix and keep in fridge for 30 minutes before serving.
---
This is a healthy lunch/dinner that can be ready in an hour.
Enjoy 😀