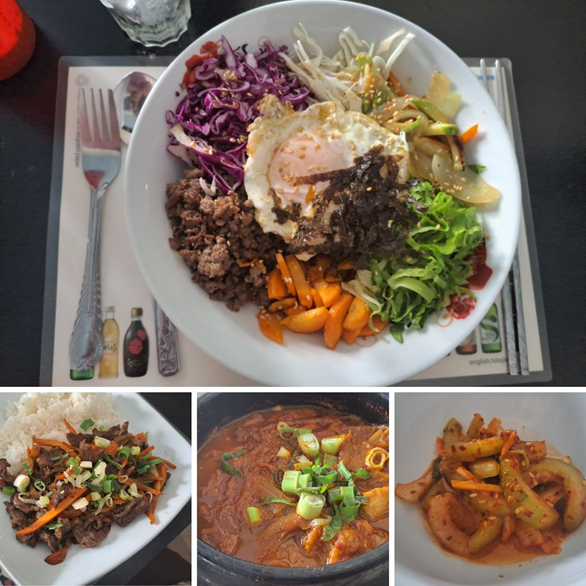 Tengo una prima que ha sucumbido ante las series coreanas y debido a eso se ha empezado a interesar en su cultura, es común que eso pase una vez que te enamoras de los doramas o k-dramas y algo que llama mucho a la atención es la comida, pues en muchos capítulos muestran platos típicos y les dan un toque emotivo, entonces provoca probarlos ¡De verdad que sí!
I have a cousin who has succumbed to the Korean series and because of that she has become interested in their culture, it is common that this happens once you fall in love with the doramas or k-dramas and something that attracts a lot of attention is the food, because in many chapters they show typical dishes and give them an emotional touch, then it provokes you to try them, it really does!
En la ciudad donde vivo contamos con un restaurante coreano al que he ido un par de veces y por petición de mi prima un grupo de familiares fuimos, nuevamente, al lugar para degustar la comida coreana. Fue un momento para disfrutar no solo de los sabores sino de un divertido rato en familia.
In the city where I live we have a Korean restaurant that I have been to a couple of times and at my cousin's request a group of family members went to the place again to taste Korean food. It was a moment to enjoy not only the flavors but also a fun family time.
Debo confesarles que fue una mezcla de sentimientos encontrados, una vez probé mi platillo, pues pensé que me iba a gustar más de lo que me gustó, en realidad lo conseguí muy simple, así que ya sé que no está dentro de mis favoritos. Les hablo del Bibimbab, esta comida es muy usual que aparezca en los doramas y se ve sumamente deliciosa, pero, para ser sincera, siento que algo le faltó. De toda la comida coreana que he probado en este sitio me quedo con la Barbacoa Coreana, la cual les mostré en una de mis publicaciones anteriores, pero en esta ocasión quise probar algo nuevo. Lástima que no me encantó.
I must confess that it was a mixture of mixed feelings, once I tasted my dish, I thought I was going to like it more than I did, actually I got it very simple, so I know it is not among my favorites. I'm talking about Bibimbab, this food is very usual to appear in doramas and it looks extremely delicious, but, to be honest, I feel that something was missing. Of all the Korean food I've tried at this place I'll stick with the Korean Barbecue, which I showed you in one of my previous posts, but this time I wanted to try something new. Too bad I didn't love it.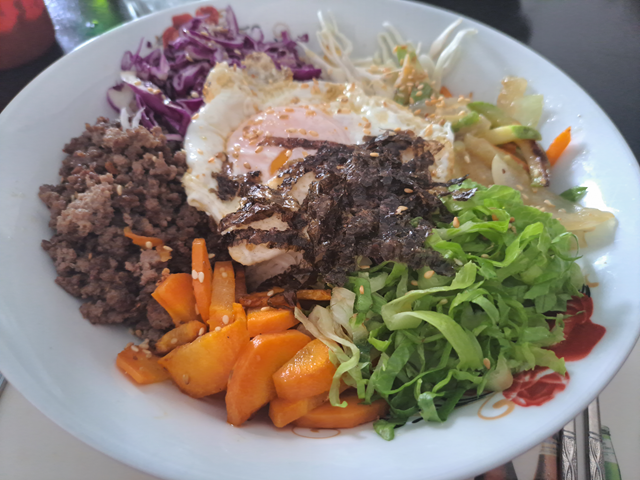 Más de los platillos que ordenamos... More of the dishes that we ordered

Les cuento que otros platillos me gustaron muchísimo más que el que yo ordené. El primero es un delicioso cerdo con queso (Cheese tonkatsu), el segundo es un caldo con un sabor bien rico (Doenjang jjgae & Bab) y el tercero es una carne con vegetales (Bulgogi). Todos vienen acompañados de contornos de vegetales, en este caso teníamos calabacín en dos preparaciones, una con picante estilo kimchi y otra sin picante.
I have to tell you that I liked other dishes much more than the one I ordered. The first is a delicious pork with cheese (Cheese tonkatsu), the second is a broth with a rich flavor (Doenjang jjgae & Bab) and the third is a meat with vegetables (Bulgogi). All are accompanied by vegetable contours, in this case we had zucchini in two preparations, one with kimchi style spicy and one without spicy.
Esta vez me encantó el Kimchi que aunque estaba bien picante me hizo el día, parece que he mejorado con mi tolerancia al picante (al menos un poco) aunque hubo un platillo que no me atreví a probar y fue el estofado kimchi (Kimchi Jjigae & Bab) pues quien lo comía terminaba con los ojos rojos ¡Imaginen!
This time I loved the Kimchi which although it was very spicy made my day, it seems that I have improved with my spicy tolerance (at least a little) although there was one dish that I did not dare to try and that was the kimchi stew (Kimchi Jjigae & Bab) because whoever ate it ended up with red eyes, imagine that!

Fue un fin de semana diferente dónde nadie se quedó en casa y es que hasta mi abuela se animó a salir, algo que no le gusta mucho, pero disfrutó bastante de su Kimbab, las porciones es tan grande que hasta quedó para llevar a casa. ¿Saben? Se me pasó tomarle la foto, pero también les he mostrado cómo lucen en una publicación anterior sobre una visita a este restaurante coreano. A mi abuela le encantan esos deliciosos rollos de arroz y además ella ama el picante, así que estuvo muy feliz.
It was a different weekend where no one stayed at home and even my grandmother was encouraged to go out, something she doesn't like very much, but she enjoyed her Kimbab, the portions are so big that she even had some to take home. You know, I forgot to take a picture of it, but I have also shown you how they look in a previous post about a visit to this Korean restaurant. My grandma loves those delicious rice rolls and she loves spicy, so she was very happy.

Hay que disfrutar de estos momentos cada vez que podamos, además de trabajar en algo que amemos, te invito a buscar el tiempo para disfrutar el dinero que ganas por hacer eso que amas. Compartir con la gente que te ama y te acepta incondicionalmente es lo mejor que tiene nuestra existencia ¡La vida tiene grandes sabores!
We have to enjoy these moments every time we can, besides working on something we love, I invite you to find the time to enjoy the money you earn for doing what you love. Sharing with people who love you and accept you unconditionally is the best thing about our existence Life has great tastes!
¡Un gran abrazo! A big hug!
Gracias por pasar por aquí, por detenerte a leer o a escuchar, por comentar, por votar.
¡Gracias por todo tu apoyo!
Thanks for all your support!
Portada hecha en Canva/ Fotos: Samsung A53/ Traducción: DeepL.

---
---