Good day to you #foodies out there in #hive land.
I would like to introduce you to my #biss of February, the month of "love". Meet Sally, a delicious sandwich that began with left over grilled salmon.
One of the foods I truly enjoy is fish. For last night's dinner I prepared grilled salmon. Before going onto the grill, I seasoned the salmon filet with dill, garlic powder, salt , black pepper and a drizzle of olive oil. I let the fish rest in the frig for about an hour. I then sprinkled some seasoned panko bread crumbs as well as a little parmesan cheese on top. After heating my cast iron skillet on the grill, I slid the filets into in pan.
Oh what a nice sizzle.
Dinner was excellent, but with all the other side dishes I added, there was no more room in our tummies to finish off the salmon.
Oh the joys of left overs.
Sally was born the next day.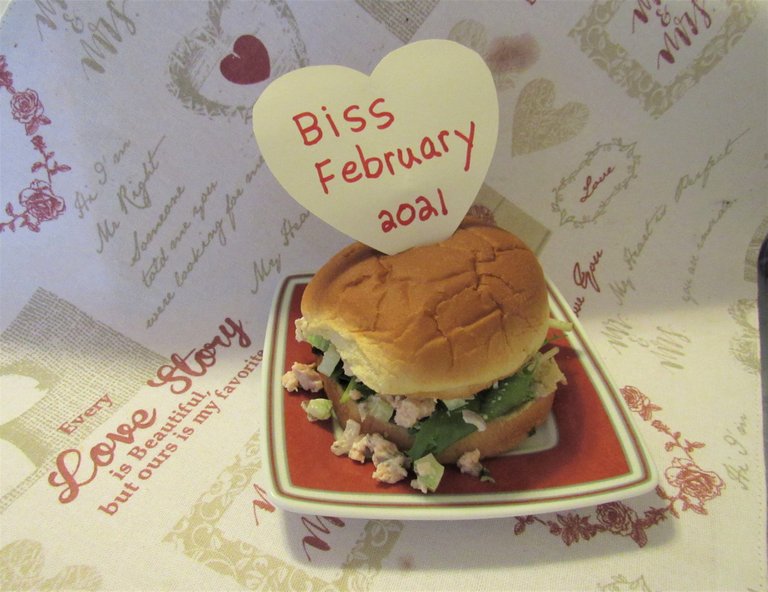 With such a flavorful piece of fish, already cooked and seasoned, it was easy to put together this gorgeous hand held masterpiece of a sandwich.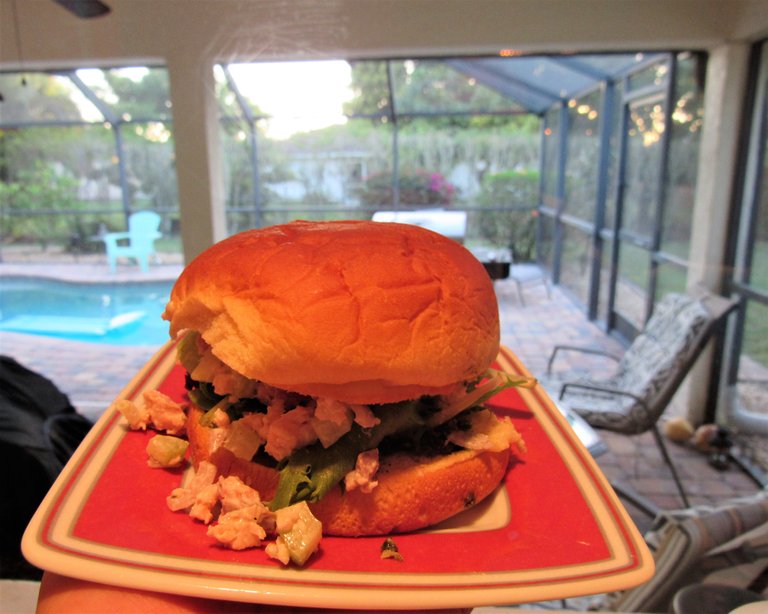 Here's all the ingredient I used.
Pesto, shallots, celery, mayonnaise, potato roll, some baby greens, and of course, my salmon filet.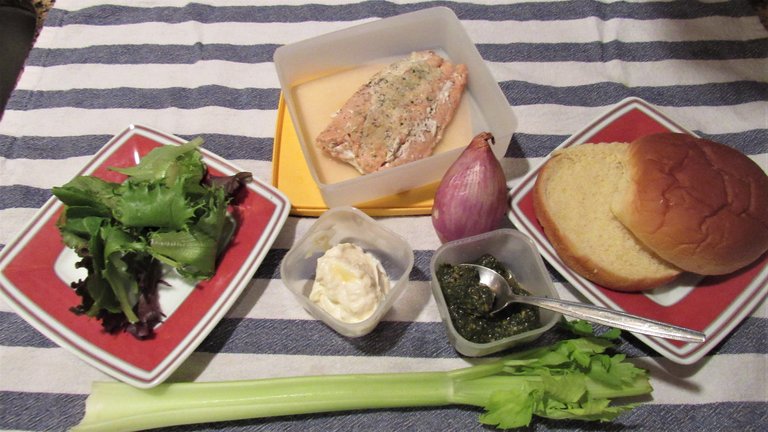 After flaking the fish, I added the finely chopped shallots and celery with a spoonful of mayonnaise.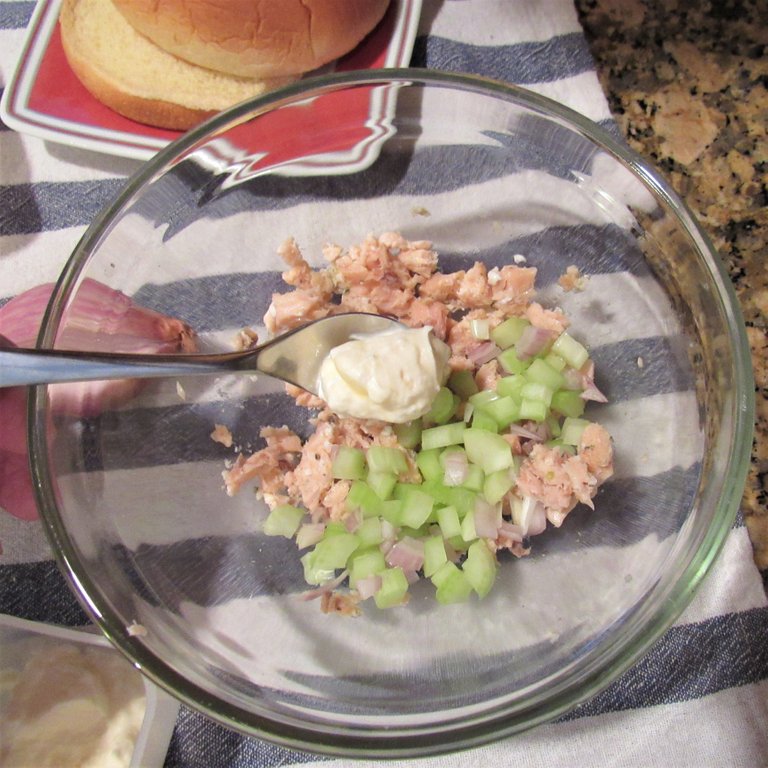 BUILD THE SANDWICH
Spread one side of the roll with a generous helping of pesto.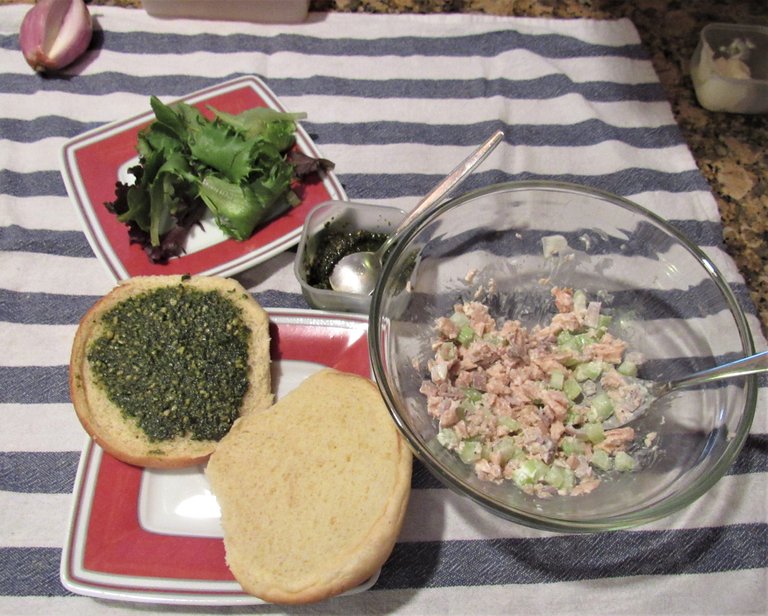 Load up the other side of the roll with the salmon salad.
Top with the baby greens and close it up.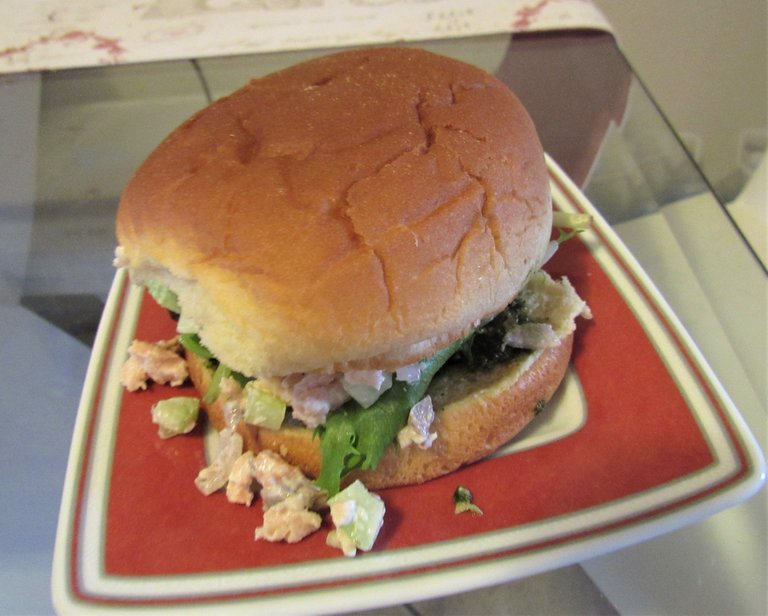 Hope you're hungry.🤗
Thanks to our host @mondoshawan. The #biss is a fun, gastronomical sensation. Lots of #food floats around the blockchain, but there something about a hand held meal that gets the juices flowing.
Have a wonderful food filled day.😎